Overview
Fly Fishing for Tarpon – Tarpon Cay Lodge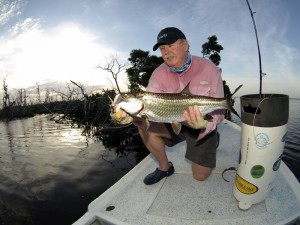 The northern Yucatan is famous for fly fishing for tarpon and this destination is one of the top 3 baby tarpon destinations in the world. Rio Lagartos is part of a National Park that holds huge populations of baby tarpon between 2 and 50 pounds. Add the migratory tarpon up to 200 pounds that arrive in the summer and you have a complete tarpon fishery.
Good clean accommodations are paired with the best guides in the preserve. The preserve has miles and miles of grass flats, mangrove creeks and lagoons to hunt for tarpon. Some of this is sight fishing and other time blind casting to a likely spot under the mangroves. You may need some weedless flies for this if your casting skills are a bit like mine!
The trip starts with your arrival in Cancun. You will make your way through customs and find our driver holding a sign with your name. From there it is about a 4 hour drive on smooth roads through flat terrain. Every so often you will slow down for a small village . These villages are usually made up of Mayan descent.
Read More about Rio Lagartos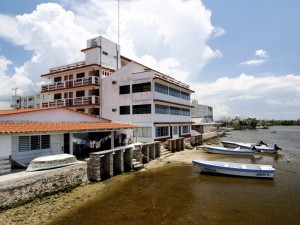 You will be driving to the village of San Felipe on the northwestern edge of the Yucatan Peninsula. There is one hotel in town and it is the San Felipe Hotel. This is your headquarters for the trip. You will get meals there daily and depart for the days fishing directly from the hotel. The hotel is nothing fancy, just clean comfortable rooms. It is not the Ritz! Breakfast is usually very early to make sure we get some good time in just as the light is coming up. Fly Fishing for tarpon means an early morning start as the tarpon are more active at night and in low light than during the heat of the day. We still find fish all day long it is just prime time very early. The hotel will prepare a lunch for us to enjoy out on the water. There is plenty of water and cervesa supplied with lunch as well.
It takes 20-30 minute to reach the prime water. The guides know the tides and winds very well so they will direct the days fishing taking you to where the tides and wind conditions are most favorable. If it is nice and calm you might look for some of the bigger fish out in the open flats. If it is a bit windy you will head directly into the sheltered ares of the Rio Lagartos preserve. There are hundreds on miles of mangrove lined lagoons a creeks to choose from. All of them harboring baby tarpon. After returning to the hotel there will be some time to explore the little town, tie some flies and relax. This area has more baby tarpon than we have seen any where in the world. During spring and summer there is also an influx of large tarpon.
Lodging
Fly Fishing for Tarpon – The Lodging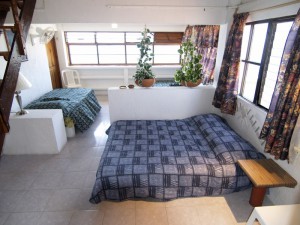 The accommodations at Rio Lagartos are comfortable, bright, and enriched with traditional Mexican decor. With the ocean at its doorstep, the sea breeze and beautiful scenery refreshes the spirit after a long day of fighting tarpon. A spacious lounge provides dining areas, comfortable seating for relaxing, and a nice workspace for fly tying or working on tackle at the day's end.
As we venture upstairs, you will find spacious guest rooms equipped with air-conditioning, fans, and a full private bath with shower. Rooms are bright with a nice ocean view. There is a housekeeping service that cleans the room and replaces linens, towels, bottled drinking water, cups, and bar soap each day. A unique feature of the lodge is a nice rooftop balcony. It provides a splendid 360 degree view of the charming area surrounding the lodge – perfect for after-dinner relaxation.
In addition to world-class fishing, the hallmark of Rio Lagartos is their warm hospitality and top-level service. The staff members at Tarpon Cay Lodge are some of the most friendly and hardworking people you will ever meet. They are sincerely committed to making your stay comfortable and enjoyable.
The hotel and food are not fancy, just simple, clean and basic. There is not a honeymoon suite within 200 miles!
Fishing
Rio Lagartos – Fly Fishing for Tarpon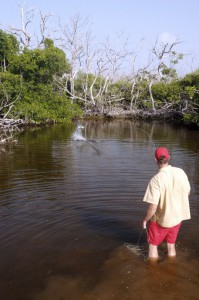 The tarpon fishing in this area is quite varied. There are open water flats with larger tarpon cruising around, Mangrove lined creeks and lagoons with mid sized tarpon cruising under the branches of the overhanging mangroves, inland lakes and lagoons . This is a nursery for fish between 2 and 50 pounds. Late spring and summer brings some larger fish into the mix as well, maybe over 100 pounds!
Snook are also in the mangrove areas and you will target these fish whenever we see them.
Tarpon are most active early in the morning saw we are usually off by dawn to the flats the guides have chosen to visit that the day. The area that has tarpon is quite large extending through the entire Rio Lagartos preserve. A good day of tarpon fishing means you might jump 20 fish – we have recorded a boat that jumped 50 fish in a day. Many tarpon are lost on one of the first few jumps so the percentage you actually get to the boat is low. 10-20% is the number that actually get all the way to the boat.Fly Fishing for tarpon here at Rio Lagartos is fly fishing heaven!
Read More About the Fishing at Rio Lagartos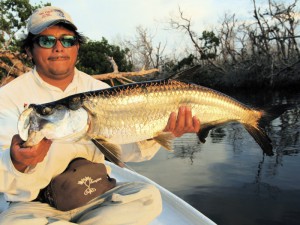 On the open flats your guide will pole and search for rolling tarpon ( which is about all you see when the light is low or as the sun gets higher you will be able to sight the fish in the clear water even if they are not rolling. Getting a tarpon to eat a fly is sometimes the easiest thing in the world of fly fishing or the most frustrating. Long follows are possible ending up in a refusal or a take 5 feet from the boat. Sometimes the tarpon attack as soon as they see movement, sometimes they spook just because the fly moves funny ( I don't really know what funny is to a tarpon). Long casts are helpful out here in the open as it will increase your circle of effectiveness.
In the mangrove areas accuracy can be more important, slinging it under some branches or hitting the pocket between the overhanging mangroves is a more important skill than casting 100 feet. In many area the water is clear and in others it is stained to the color of tea. Still most fish are sighted first. Often the fish will be clear of the mangrove but more often they will cruise just under the overhanging branches. A hook up in there is usually followed by a leap over the branches and off the hook, but what a blast. Once in a while we get lucky and the tarpon blasts out into the open, you just never know!
There are some smaller creeks and inland lakes that have lots of small fish in the 2-5 pound range. These are very aggressive fish and blind casting is most effective. It doesn't matter how big or small a tarpon is – they all jump once they are hooked. It is the best fighting game fish I know of. Add to that the fact that you can sight fish and hunt for these fish in shallow water and it is hard to argue that there is any better game fish on the planet.
I hope you get to experience this unique fishery while it is still undiscovered.
Fishing Photo Gallery
Tackle & Gear
Here is a list of the basics you will need for your trip.  Many of our destinations are pretty remote with no chance to buy things on site.
Yucatan Tarpon Gear List
Species
Rods
Reels
Line
Leaders
Snook
9 foot 9 or 10 wt.
Large Arbor Disc drag reel with 200 yards of 25 lb. backing.
Floating tropical line
9- ft leaders with 12-15 lb. tippet.
JuvenileTarpon
9 foot 10 wt.
Large Arbor Disc drag reel with 300 yards of 30-40 pound backing.
#1 Floating tropical line
#2 Floating with clear sink tip
9-12 ft leaders with 25-30 lb. class tippet and 60 lb shock tippet.
Large Tarpon
9 foot 11-12 wt.
Large Arbor Disc drag reel with 300 yards of 40-50 pound backing.
#1 Floating tropical line
#2 Floating with clear sink tip
9- ft leaders with 25-30 lb. class tippet and 80-100 lb shock tippet.
Offshore
Barracudas,
Sharks
9 foot 12 wt.
Large Arbor Disc drag reel with 300 yards of 40-50 pound backing.
#1 Fast Sinking line

6-9 ft leaders with 20-30 lb. steel bite tippets.
Fly List
YucatanTarpon Fly List
Fly Name
Colors
Sizes
Qty for a 1
Week Trip
Toad Fly
chatreuse, olive, tan, purple/black
1/0, 2/0
12
Cockroach
standard, Chatreuse
1/0, 2/0
12
Black Death
white, tan
1/0, 2/0
6
Purple Demon
purple/black
1/0, 2/0
4
Gurglers
Assorted
1/0, 2/0
6
Enrico's Tarpon Streamer
Purple & Black
1/0, 2/0
3
Enrico's Tarpon Pinfish
Olive/white
1/0, 2/0
3
Tarpon Bunny
Assorted colors
1/0, 2/0
6
Clousers
chatr/white
1/0, 2/0
6
Deceivers
Asssorted
1/0, 2/0
6
SST-Poon
Assorted
2/0
6
Packing List
Tropical Packing List
| √ | Packing Item | √ | Packing Item |
| --- | --- | --- | --- |
| √ | Passport | √ | Camera & media |
| √ | Photocopy of Passport (packed separately) | √ | Computer |
| √ | Airline tickets | √ | Cell Phone |
| √ | Itinerary with contact numbers | √ | Reading & writing materials |
| √ | Emergency Medical insurance docs ( if purchased) | √ | Rod repair (tip top and glue) |
| √ | Major credit card | √ | Sun gloves |
| √ | Cash for tips (there are a couple ATMs in San Pedro but they may not be working)) | √ | Face Sun protection (buff) |
| √ | 2 Hats with brim and neck guard (or sun hat for non anglers) | √ | Sunburn relief spray |
| √ | 2-4 long sleeve shirts for fishing (SPF fabric) | √ | Sunscreens SPF 30 or above |
| √ | 2 quick dry pant for fishing (SPF fabric) | √ | Sun block for lips and nose |
| √ | 2 quick dry shorts for fishing (SPF fabric) | √ | Toiletries |
| √ | White socks (tops of feet get burned in the boats or wear under wading shoes) | √ | Prescription meds |
| √ | Underwear | √ | Non-prescription Meds |
| √ | Casual pants or shorts | √ | Eyeglasses (and spare) |
| √ | Casual shirts, short sleeve | √ | Fly Rods |
| √ | Sandals | √ | Reels |
| √ | Belt | √ | Fanny or other small fishing pack |
| √ | Light sweater or fleece | √ | Water bottle ( Holster optional) |
| √ | Socks | √ | Waterproof boat bag |
| √ | Wading shoes | √ | Lines |
| √ | Bathing suits, | √ | Leaders |
| √ | T- Shirts | √ | Tippet |
| √ | Sandals or walking shoes ( Barefoot is good) | √ | Flies |
| √ | Rain jacket (an occasional cold squall will roll though or the boat spray may chill you to the bone!) | √ | Nippers |
| √ | Bug repellent (for dead clam days or evenings) | √ | Pliers/forceps |
| √ | Sunglasses (polarized with lanyard) | | |
Rates
Yucatan Tarpon Package Prices
Number of nights
Number of days fishing
Fishing
2 to a boat, 2 to a room
Price per person in $USD

Fishing
1 to a boat, 1 to a room
Price per person in $USD
7
6
$3775
$4745
4
3
$2495
$3150
3
2
$1600
$2320
Preferred arrival and departure days are Saturday and Wednesday
Want to visit more than one destination?
Take a tarpon tour of the Yucatan. Visit 2 Yucatan Lodges in one trip Note: it will require an extra non-fishing day mid trip to transfer by van to the next destination. You can combine Isla Blanca, Rio Lagartos, Isla del Sabalo and Campeche tarpon trips! My favorite combination is Rio Lagartos and Isla del Sabalo, or Isla del Sabalo and Campeche.

Yucatan Tarpon Combo Package Prices
Number of nights
Number of days fishing
Fishing
2 to a boat, 2 to a room
Price per person in $USD

Fishing
1 to a boat, 1 to a room
Price per person in $USD
10
8
$5325
$6600
8
6
$4350
$5495
Prices Include: round trip ground transportation from Cancun to the lodge, lodging, three meals a day, guided fishing each day ( for fishing packages), soft drinks. It also includes all taxes. Prices quoted are per person and in US dollars.
Prices do not include: Alcoholic beverages, fishing license or gratuities for your guide and resort staff
Why Book Through Flyfishingheaven.com?
Why book it through us when you could book direct?
1. Unbiased Advice:
Most people recognize the advantage of our unbiased advice, there are hundreds of destinations to choose from and our job is to know the ones that are right for your needs. We offer the real story you can't get from a lodge owner. Would the outfitter in questions tell you are booking in a less than stellar part of the year? Remember our unbiased advice is 100% free!
2. We Can Book Anywhere:
Our website highlights many of our favorite destinations but we have access to hundreds more. If there are fish there, we can book it. In fact, we will give you 5% back if you book a trip through us that is not on our website! We enjoy learning about new spots!
3. Loyalty Discounts:
2017 Special: You are automatically enrolled in our loyalty program before your first trip and will get the 5% cash back on your very first trip. This offer is good until December 31, 2017. In January you will ear your loyalty discount on the second trip and every trip thereafter. This discount applies to all your friends who are going with you as well. f you organize a group of 8 or more we will give you 10% off! All you have to do is book the first trip and you are a flyfishingheaven.com frequent fisher!
4. Price Guarantee:
If you find a price lower than ours we will beat that price by 5% if you book through flyfishingheaven.com!
Our Pledge
We promise to work for you, not a lodge, outfitter or resort. We pledge to get you you to a destination that will live up to your expectations at the best possible price. You will never be charged more than booking directly (in fact most of our clients are paying less - *see below). We will make sure you are well prepared for your trip with specific knowledge about the gear, the flies, the rods, packing lists, travel documents, connecting information everything. Since we are not tied to a particular destination we promise honest pros and cons of any destination at the time of year you are traveling.

We do earn a small commission when we book a trip as all lodges and outfitters offer this as they depend on agencies like ours for much of their business. This fee is paid by the lodge not you, and they do not keep different prices for direct bookings vs agency bookings, it is bad business.
Payment and Cancelation Polices
A 10% deposit is required if you are booking more than 6 months in advance, 50% deposit is required when less than 6 months until departure date with the balance due 60 days prior to departure. If you are forced to cancel with more than 60 days notice, you may keep full credit towards another trip or receive a refund less a 10% service charge. Deposits on cancellations with less than 60 days notice are not refundable unless your spot can be filled. MC, Visa, and checks are accepted. We recommend travel and or medical emergency insurance for all our trips.
Seasons
El Pescador Fishing Calendar
| Month | Bonefish | Permit | Tarpon | Reef Fish |
| --- | --- | --- | --- | --- |
| January | Good | Good | Good/Fair | Excellent/Good |
| February | Good | Good/Excellent | Good | Excellent/Good |
| March | Good | Excellent | Good | Excellent/Good |
| April | E/Good | Excellent | Excellent/Good | Excellent |
| May | Excellent | Excellent | Excellent | Excellent |
| June | Excellent | Good | Excellent | Excellent |
| July | Excellent | Good | Excellent+ | Excellent |
| August | Excellent | Good | Excellent+ | Excellent/Good |
| September | Excellent | Good | Excellent+ | E/Good |
| October | Excellent | Good | Good | Good/Fair |
| November | Excellent/Good | Good | Good | Good/Fair |
| December | Good | Fair | Good/Fair | Excellent |
Gallery
Please take a look at the  photo and video galleries related to Campeche Tarpon.

Fishing Photo Gallery
Lodge Photo Gallery
Scenic Photo Gallery
Video Gallery
Activities
If you don't like fly fishing for tarpon then this destination is not going to be for you. You could make some Mayan ruin tour happen, you could do some birding or other eco tours but the truth is there is nothing organized for these activities.
This is not a beachy location!
So please be forewarned and speak to me if you are considering bringing a non-fishing friend along on this trip.
Travel
Fly Fishing for Tarpon – Travel Tips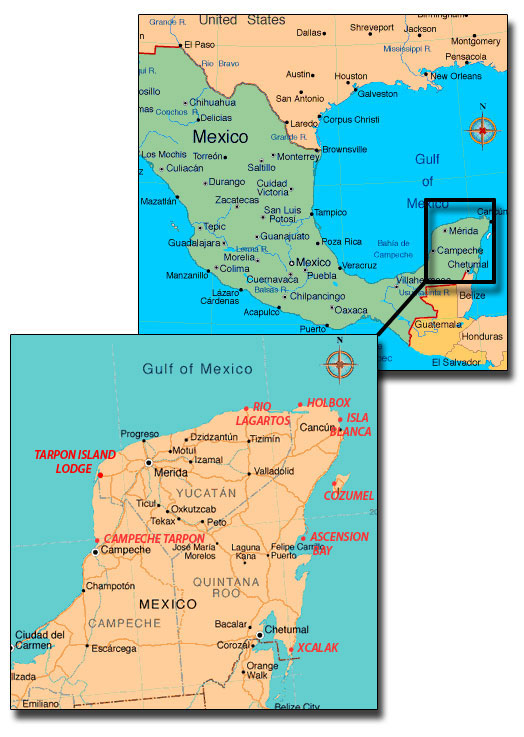 How To Get to Rio Lagartos Lodge
From your location, you will need to fly to Cancun International Airport. Most major USA, European, and Canadian cities have direct flights to Cancun. Upon arrival, a Tarpon Cay Lodge representative will greet you at the ground transportation area of the airport (just outside of Customs and Immigration.)
From Cancun, you will be driven 3 hours northwest in our shuttle van – a comfortable, air-conditioned extended van. The ride is very comfortable, as all roads traveled are paved and well maintained. During the drive, you will venture through the beautiful Yucatan countryside and a few very unique traditional Mexican towns.
Required Travel Documents
• A current U.S. passport is required for all United States citizens entering Mexico. It is highly recommended that U.S. citizens present a passport that is valid for at least six months after the last day of the trip. If your passport expires before then, please renew it prior to departing on your trip.
• If you hold citizenship in a country other than the United States, please check with your national consulate / passport center for citizenship documents required for travel to Mexico.
Packing List
Tropical Packing List
| √ | Packing Item | √ | Packing Item |
| --- | --- | --- | --- |
| √ | Passport | √ | Camera & media |
| √ | Photocopy of Passport (packed separately) | √ | Computer |
| √ | Airline tickets | √ | Cell Phone |
| √ | Itinerary with contact numbers | √ | Reading & writing materials |
| √ | Emergency Medical insurance docs ( if purchased) | √ | Rod repair (tip top and glue) |
| √ | Major credit card | √ | Sun gloves |
| √ | Cash for tips (there are a couple ATMs in San Pedro but they may not be working)) | √ | Face Sun protection (buff) |
| √ | 2 Hats with brim and neck guard (or sun hat for non anglers) | √ | Sunburn relief spray |
| √ | 2-4 long sleeve shirts for fishing (SPF fabric) | √ | Sunscreens SPF 30 or above |
| √ | 2 quick dry pant for fishing (SPF fabric) | √ | Sun block for lips and nose |
| √ | 2 quick dry shorts for fishing (SPF fabric) | √ | Toiletries |
| √ | White socks (tops of feet get burned in the boats or wear under wading shoes) | √ | Prescription meds |
| √ | Underwear | √ | Non-prescription Meds |
| √ | Casual pants or shorts | √ | Eyeglasses (and spare) |
| √ | Casual shirts, short sleeve | √ | Fly Rods |
| √ | Sandals | √ | Reels |
| √ | Belt | √ | Fanny or other small fishing pack |
| √ | Light sweater or fleece | √ | Water bottle ( Holster optional) |
| √ | Socks | √ | Waterproof boat bag |
| √ | Wading shoes | √ | Lines |
| √ | Bathing suits, | √ | Leaders |
| √ | T- Shirts | √ | Tippet |
| √ | Sandals or walking shoes ( Barefoot is good) | √ | Flies |
| √ | Rain jacket (an occasional cold squall will roll though or the boat spray may chill you to the bone!) | √ | Nippers |
| √ | Bug repellent (for dead clam days or evenings) | √ | Pliers/forceps |
| √ | Sunglasses (polarized with lanyard) | | |