Overview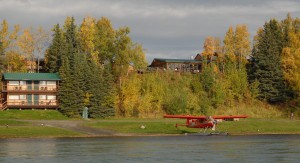 With our Orvis Endorsed riverfront lodge and out camps located on the Kenai Peninsula, cook inlet and Lake Clark, our guests can experience the thrill of remote Alaska, yet enjoy excellent accommodations that make everyone feel at home. We specialize in providing entire famiies with bountiful Salmon Fishing, Alaska Wildlife Safaris and exhilarating wilderness activities. Depending on the type of Alaska vacation you prefer, we offer a variety of lodging options to accommodate your tastes and your budget.
Stay in the three-star comfort of our main lodge with concierge service. Our lodge's rustic luxury is distinctly Alaskan, with excellent dining, full bar and meeting space available. Or, experience true Alaska adventure travel with our back country camping options. For those who prefer something in between, our permanent tented camps provide the prefect balance of rugged and civilized living.
Great Alaska's Adventure travel packages also allow you to choose just how adventurous you want your vacation to be. Our packages have a broad range of activities, prices and night-stays to suit the needs of your group of family. Salmon, Trout and Halibut fishing, bear viewing, sea kayaking, rafting, Denali flightseeing tours and glacier viewing are just some of the activities our guests can enjoy. Our combo packages allow a mix of activities. Avid anglers, for example, will want extra time to catch their limit, while others in the he group enjoy a spectacular glacier cruise. You're assured in finding an itinerary that fits your own group's "perfect Alaskan adventure".
Read More about Great Alaska Lodge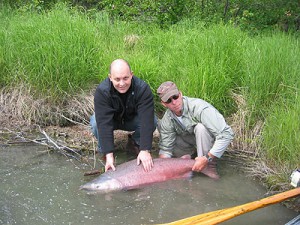 Smaller Groups; Better Travel Experience
Great Alaska Adventure travel is designed especially for smaller groups. We know the best experiences are shared with a few close friends and family. Smaller groups allow us to extend the personal service and guidance our guests have come to value. Smaller groups also let our knowledgeable, local guides focus their attention on your unique needs, preferences and questions. Our main lodge can accommodate up to 50 people and, ideally, groups of no more than 10 in our tented camps.
Our all inclusive prices include accommodations, meals, outfitting and transfers for the most spectacular fishing and Alaska adventure travel available. Depending on the package, transportation by plane, rail and boat are also provided to our remote locations. The only things to bring are the clothes you'll wear, your camera gear and the expectation of an awesome experience!
We're also happy to coordinate your visit to the Great Alaska Adventure Lodge with cruise stops or other Alaska travel plans. If your Alaska vacation is part of another tour or business trip, we offer day-trips and single-night stays so you can get a taste of what Alaska Adventure travel is all about. We'll gladly work with you or your travel agent to arrange the ideal itinerary.
Lodging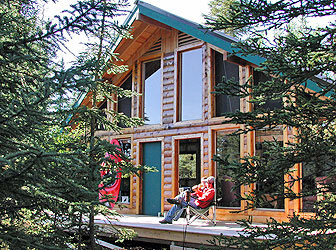 Our main lodge stands on an original homesite, overlooking the Kenai Mountains and the confluence of the Kenai and Moose rivers. This central location allows us to easily access the entire Kenai Peninsula – hundreds of square miles of impossible beauty and bounty. As to lodge amenities, expect welcome baskets, coffee- to- your- door wakeups, mints on the pillows, daily maid service, riverfront cabin with private bath, fine cuisine in the spectacular new dining room, fly fishing classes or kayak trips. It is our personal service and exceptional experiences that led Virtuoso Properties to select us as one of the "world's best resorts". Spread throughout the property, our deluxe riverfront cabins feature private bath and fireplaces with from standard double to spacious family suites with spiral staircase.
Testimonials
Took a family vacation here and did salmon fishing, bear viewing, kayaking in Homer, and rafting down the Kenai. It was an incredible stay! The lodge is peaceful and minimal. The meals each night along with the happy hour on the patio really added to the experience. You got to meet other people and tell stories of what you did for the day. Spent one night at the Bear Camp and it was an experience of a lifetime…something everyone must do once in their life. We saw a ton of bears and came within 15 feet of them, very scary for me at first. We did hear of people going the next night and seeing absolutely no bears. Our experience was quite the opposite, we watched a bear for about 45 minutes catch salmon after salmon right in front of us, amazing! The staff at the bear camp was so nice! We even met the homesteader of the land and enjoyed his company by the fire. It was nice to stay at a place and have them plan your activities and take you to them. Meals provided at all activities. We caught our limit of salmon and sent them home and are still feasting on them!

Would definitely recommend this place. Kinda funny, being from a metropolitan area, we were surprised that we were not given keys to our lodge rooms. We asked for keys and they said we wouldn't need them, theft never occurs. Imagine that! You can fish in the evenings right in front of the lodge before and after dinner, then your to bed to rest up for you next day's activities. Loved it and hope to go back!
We decided that this lodge would be the "big splurge" portion of our trip to Alaska. Spent 4 nights (one of which we stayed at Bear Camp). The lodging was spacious and the complimentary happy hour each evening was nice as you got to meet your fishing guide for the next day. Best part of the stay was the location – right on the river. No fighting the crowds. 12 yr old daughter caught a 46inch King Salmon right in front of the lodge. A guide is on the riverbank all the time – you can fish as late as you want (after a full day of fishing off a boat or touring). Very nice people – especially Nate (beach guide – excellent with young kids).
Lodge Photos
Fishing
Kenai River
We fish Alaska's most famous river from 20′ River Sleds and quiet drift boats. These boats are ideal fishing platforms for targeting the world's largest king salmon and casting for the acrobatic silvers.
Refuge Waters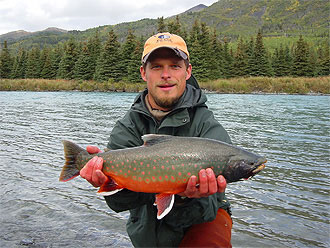 Our company is fortunate to have been permitted to fish the refuge trout waters of the upper Kenai. This area is one of the most spectacular trout fisheries in the state, catch and releasing 25 trout or char up to 10 lbs is not uncommon.
Kasilof River
The Kasilof produces quality king and silver salmon runs from May through September. This driftboat only river is a beautiful setting and the perfect place for a quiet drift and hot fishing.
Wadefishing Rivers
Selected for their peak periods, a handful of classic Alaskan streams and lakes offer variety to your week while fishing for grayling, steelhead, salmon and trout.
Fly Out Fishing
Many trips include fly outs to remote streams for king, red and silver salmon fishing at peak season. This includes the prolific untouched freshwater fishing available in a variety of areas.
Seward Offshore
The gulf of Alaska is home to glaciers, Orcas, monster halibut, giant lingcod, and huge numbers of silver salmon. For a trip to fill the freezer, there is no place like this area abundant with marine life.
Cook Inlet
Cook Inlet halibut and king salmon fishing is a treat with average halibut of 30-40lbs and many in the 100's. Early in the year quality king salmon are caught by trolling the beaches, this makes for an excellent combo trip.
Species
King Salmon
King salmon (5/15 – 7/31) are the world's largest, averaging 35 – 60 pounds. Fly fishing, trolling and drifting from power and drift boats in shallow water mean violent strikes with great fights. Beginners and experts enjoy success as our expert guides maneuver the boat to the fish- but once it's hooked…it's all you! 4 kings passing the 80 pound mark have fallen to our clients over the years, with countless 50, 60 and 70 pound specimens kept or released as well.
Acrobatic Silver Salmon
Silvers salmon (8/1 – 9/31) are an acrobatic species that readily take spinners, spoons and flies with equal abandon. Nearly as popular as the famous Kings, they are very popular with our returning guests. Perfect for catch and release, they are also excellent table fare and can be combined with our trophy trout in the later season.
Countless Sockeye & Pink Salmon
Sockeye Salmon (6/5 – 7/31) may be Alaska's most amazing sportfish. The first run migrates up the Kenai to the Russian, however it's the second run, in July, which our guests get excited about. Thousands upon thousands gang up in front of the lodge and make for great fun in the evenings after the King trips are over (in fact, some guests choose to target the Sockeye rather than the Kings!) A great bonus species in July, their eggs and decomposing bodies provide nutrients for the fat rainbows we love in August and September.
Spectacular Rainbow Trout, Dolly Varden/ Steelhead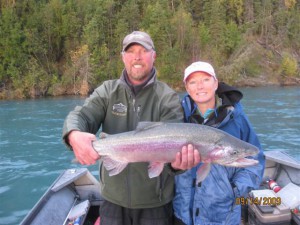 The Area and it's surrounding rivers consistently produces some of Alaska's most impressive Rainbow Trout and Dolly Varden catches. Our best fishing is August and September, with good catches available from the middle of June on. As they are a resident species we practice catch and release on all Trout species. Vying for the Kings for most popular sportfish in Alaska, the Rainbow combines with our excellent Silver salmon for great late season angling right up until the end of September.
Giant Pacific Halibut
Halibut reside in the deep, cold waters off the western and Eastern sides of the the peninsula. Early in the season we target them in Cook Inlet, often combining trolling for King salmon with bottom fishing for the giant Halibut. Later, we move to Kenai Fjords National Park and target the halibut and Silver salmon in Prince William Sounds beautiful waters. The Halibut is a delicious fish, best known for it's culinary, rather than it's fighting qualities. That being said, the large "barn door" specimens of 100+ pounds do put up quite a battle, and most guests long remember their trip on the "Captain Hook."
Fishing Photo Gallery
Tackle & Gear
Here is a list of the basics you will need for your trip. Many of our destinations are pretty remote with no chance to buy things on site.
Alaska Gear List
Species
Rods
Reels
Line
Leaders
Large Rainbows, Char
9 foot, 6-7 wt.
Large Arbor with 150 yards of 20 pound backing
#1 Floating easy to mend line
#2 Streamer line with 10 -15 foot sink tip (Type 6 fast sink)
Floating setup needs 9 foot leaders ending in 10-15 pound tippet.
Sink tip set up needs 3-5 foot leaders ending in 10-15 pound tippet
Small Trout and Grayling
9 foot, 4-5 wt.
Basic reel with 100 yards of 20 lb. backing.
#1 Floating easy to mend line

9 foot leaders ending in 8-12 pound tippet.
Sockeye, Chum and Silver salmon
9 foot, 8-9 wt.
#1 Floating easy to mend line
#2 Streamer line with 10 -15 foot sink tip (Type 6 fast sink)
Floating setup needs 9 foot leaders ending in 12-15 pound tippet.
Sink tip set up needs 3-5 foot leaders ending in 12-15 pound tippet
King Salmon
9 foot, 10-12 wt.
Large Arbor with 200 yards of 30 pound backing
# 1 Streamer line with 10 -15 foot sink tip (Type 6 fast sink)
Sink tip set up needs 3-5 foot leaders ending in 15-25 pound tippet
Fly List
Alaska Fly List
Fly Name
Color
Size
June 8

through

July 1
July 1

through

July 15
July 15

through
Aug 15
Aug 15

through

Oct 1
Elk
Hair Caddis
Tan,
Brown
12-14
12
12
6
6
Royal
Wulff
(Nice
and bushy)
10-12-14
24
24
6
6
Stimulator
Green/Gray
10
12
12
6
6
Basic
nymphs
Prince-PT
etc
10-14
12
12
0
0
Egg
Patterns*
Pink,
peach, orange
10
0
0
24
24
Egg
sucking leech
Pink/Purple
4-6
12
12
12
12
Flesh
Fly
Natural,
nat/pink
4-8
0
0
0
0
Woolhead
Sculpins
Olive,
black, brown
2,4,6
24
24
12
12
Wooly
Buggers
Olive,
black, purple
2,4,6
24
24
12
12
Smolt
imitation
4
12
0
0
0
Secret
Sockeye
Green,
red
6
0
18
0
0
Comet
Gold
6
0
12
0
0
Flash
Fly
Pink,
red, purple
2
0
0
12
12
Alaskabou
Pink/purple
2
0
0
12
12
Bunny
Fly
Pink,
Cerise, Purple
2
0
0
12
12
Packing List
Alaska Camp Packing List
| Packed? | Item | Packed? | Item |
| --- | --- | --- | --- |
| | Airline Tickets | | Photo Id/Passport |
| | 1 sleeping bag - synthetic fill - rated 20 degrees or colder | | Prescription Medicines |
| | 1 insulating pad to put on top of cots | | Cash |
| | 1 Gortex waders & repair kit - neoprene is not advised | | Traveler's Checks |
| | 1 Wading Shoes – no studs please | | Boat Bag |
| | 1 Rain jacket w/hood (top quality breathable ) | | Bug Spray |
| | 1 Heavy fleece jacket | | Bug head net |
| | 1 Medium weight fleece top | | Camera / film/ batterries |
| | 3 Lightweight fleece or Polypropylene tops or turtlenecks | | Reading & writing materials |
| | 2 long sleeve lightweight fishing shirt | | Bandana/ face sun protector |
| | 3-7 pair underwear ( synthetic is better than cotton) | | Persription glasses |
| | 4 pair wool/ blend insulating socks for under waders | | spare perscriotion glasses |
| | 1 wool or fleece hat (ski type)- | | Toiletry Kit |
| | 1 cap with brim | | Zip lock bags (for lens cleaning cloth,, cash, etc) |
| | 2 pair fleece pants (under waders) – | | Fly Rods |
| | 2 - Pants (Long) | | Fly vest, or chest pack |
| | 2 pair Polypropylene long underwear bottoms | | Reels |
| | 1 pair water proof boots for around camp | | Flies/Fly box |
| | 1 pair fishing gloves - fingered or fingerless | | Fly Lines |
| | 1 polarized sunglass - as good as you can get! | | Tippets / leaders |
| | 1 spare pair polarized sunglasses ( cheap is OK) | | Clippers |
| | Camp towel (not cotton) | | Hemostat |
| | Flashlight or headlamp with batteries | | Reel Lube |
| | 1 Folding wading staff (optional) | | |
Rates
Fishing Trips
Premier – with 1-2 days of fly out
This is the package for the fly angler who wants it all.  All day, every day Alaska Fly Fishing for every species we target (depending upon season)with drift boat and wade fishing an emphasis, plus 1 or 2 big days of Fly out fishing. Target a variety of species, or hit your favorite many times….it's your call with this great trip. Your riverfront cabin with private bath and fireplace is only steps away from the Kenai's best "beat", so you can literally fish as long as the sun shines. Nightly happy hour and great meals make your time off the river nearly as memorable as the fishing. June 1 – September.designed to fill your memory and your freezer!
7 days of fishing   2 flyouts – $6195 p/p
5  days of fishing – 1 flyout $4795 p/p

Prices Include: round trip ground transportation from Anchorage to the lodge, lodging, three meals a day, guided fishing each day ( for fishing packages), soft drinks. It also includes all taxes. Prices quoted are per person and in US dollars.
Prices do not include: Travel to Anchorage, Alcoholic beverages, fishing license or gratuities for your guide and resort staff
All Round Alaska Fishing Package
Complimentary Anchorage pickup, from 2 to 7 big days of Alaska guided spin or Fly Fishing, with any day arrivals. Riverfront cabins with private bath and view from our world renowned Kenai Riverside Lodge the confluence of the Kenai and Moose rivers. Seasonally target the World's largest King Salmon, spectacular trophy Rainbow Trout, Offshore Halibut (5 day and longer stays only), Silver, Sockeye and Pink salmon and much, more. Of course our riverfront cabins plus nighty happy hour and great meals make your time off the river nearly as memorable as the fishing. May 25 – tail end of September.
7 days of fishing  – $4995 p/p
6  days of fishing – $4595 p/p
5  days of fishing – $4595 p/p
4 days of fishing – $2895 p/p
3  days of fishing – $2195 p/p
2  days of fishing – $1395 p/p
Prices Include: round trip ground transportation from Anchorage to the lodge, lodging, three meals a day, guided fishing each day ( for fishing packages), soft drinks. It also includes all taxes. Prices quoted are per person and in US dollars.
Prices do not include: Travel to Anchorage, Alcoholic beverages, fishing license or gratuities for your guide and resort staff
World Class Fishing Plus Bear Camp
The Fishing and Bear Viewing Combination is one of our favorites…a great trip that combines either 1, 3 or 5 days of main lodge-based sport fishing with an overnight experience at our spectacular fly-in Bear Viewing Camp. This just may be the perfect blend of remote wilderness, world class fishing, wildlife viewing and comfortable accommodations. Available any time Bear camp is open- June 1 – Aug 31 7 day: 5 days fishing plus overnight with bears 5 day: 3 days fishing plus overnight with bears 3 day: 1 day fishing plus overnight with bears.
7 day trip – $5395 p/p
5 day trip – $4595 p/p

Sample Fishing Itinerary
Day 1
7:30 a.m. pickup for your scenic transfer to Great Alaska (included). Following orientation and lunch, you'll board one of our boats for a guided afternoon Salmon trip targeting the world's largest Kings or Sockeye, Silver Salmon, or pinks…or perhaps our trophy Trout, depending upon Seasons and conditions- Check our seasonal chart:
Day 2
Salmon fishing in a power or drift boat. You may even target a combination of species, depending upon conditions and season. The Worlds's largest Kings, ocean bright Silvers and Sockeye and crowd pleasing Pink salmon daily, in season.
Day 3
Choose from another boat charter or a day of wade fishing in one of our favorite local streams – fly fish for Arctic Grayling in a high mountain lake, sight-fish for large Rainbows in clear waters or float tube a secluded trout lake
Day 4
Trophy Trout in the Kenai National Wildlife Refuge –Two to four anglers per boat can drift the Upper Kenai River in search of Char, Silvers, Sockeye, and especially Rainbow Trout Excellent for fly-fishing or spinning enthusiasts seeking large trout. (All of our amazing Trout and Char are strictly catch and release).
Day 5
Pacific Halibut are offshore in the cold, nutrient-rich waters surrounding Kenai Fjords National Park and Cook Inlet. You'll could fish either or both, for Halibut, Cod, Black Bass and Salmon in full view of glaciers, puffins, otters and occasionally even whales.
Day 6
Another day of Salmon, Halibut or Trout fishing – it's your choice. While we practice Catch and release on all native trout species and encourage catch and release on large King salmon, our healthy populations of Pacific Salmon and Halibut allow most of our guests to bring some tasty fillets home as well. Smoking/vacuum sealing and shipping of your catch is available.
Day 7
One final wake up and a morning Salmon fishing charter in power or drift boats. Returning to the lodge at noon in time for check-out and departure. At approximately 2:30PM, you will depart camp for Anchorage via your commuter flight or floatplane at your cabin's front door (return transfer not included).;
Combination Alaskan Family Adventure Package Prices
The Alaska Family Fishing Adventure is perfect for the family that wants to share an Alaskan experience that features guided hiking, wildlife cruising, and most of all, world class Alaska fishing, 4 days of guided fishing (3 boat trips and 1 beach fishing trip) plus scenic rafting, Kenai Fords cruising a day of calm water paddling. An amazing family adventure for your family. Choose gentle or more strenuous hiking, spin or fly fishing to make this trip your own. 7 days of great activity and 6 nights at our renowned riverside lodge. 50% off Kids under 16 (minimum 1 full pay adult per discounted child – see terms and conditions for more info.)
7 days/6 nights – $4395
5 days/4 nights- $2395
June – September
Why Book Through Flyfishingheaven.com?
Why book through flyfishingheaven.com?
1. Unbiased Advice:
Most people recognize the advantage of our unbiased advice, there are hundreds of destinations to choose from and our job is to know the ones that are right for your needs. We offer the real story you can't get from a lodge owner. Would the outfitter in questions tell you are booking in a less than stellar part of the year? Remember our unbiased advice is 100% free!
2. We Can Book Anywhere:
Our website highlights many of our favorite destinations but we have access to hundreds more. If there are fish there, we can book it. In fact, we will give you 5% back if you book a trip through us that is not on our website! We enjoy learning about new spots!
3. Loyalty Discounts:
2017 Special: You are automatically enrolled in our loyalty program before your first trip and will get the 5% cash back on your very first trip. This offer is good until December 31, 2017. In January you will ear your loyalty discount on the second trip and every trip thereafter. This discount applies to all your friends who are going with you as well. f you organize a group of 8 or more we will give you 10% off! All you have to do is book the first trip and you are a flyfishingheaven.com frequent fisher!
4. Price Guarantee:
If you find a price lower than ours we will beat that price by 5% if you book through flyfishingheaven.com!
Our Pledge
We promise to work for you, not a lodge, outfitter or resort. We pledge to get you you to a destination that will live up to your expectations at the best possible price. You will never be charged more than booking directly (in fact most of our clients are paying less - *see below). We will make sure you are well prepared for your trip with specific knowledge about the gear, the flies, the rods, packing lists, travel documents, connecting information everything. Since we are not tied to a particular destination we promise honest pros and cons of any destination at the time of year you are traveling.

We do earn a small commission when we book a trip as all lodges and outfitters offer this as they depend on agencies like ours for much of their business. This fee is paid by the lodge not you, and they do not keep different prices for direct bookings vs agency bookings, it is bad business.
Payment and Cancelation Polices
A 10% deposit is required if you are booking more than 6 months in advance, 50% deposit is required when less than 6 months until departure date with the balance due 60 days prior to departure. If you are forced to cancel with more than 60 days notice, you may keep full credit towards another trip or receive a refund less a 10% service charge. Deposits on cancellations with less than 60 days notice are not refundable unless your spot can be filled. MC, Visa, and checks are accepted. We recommend travel and or medical emergency insurance for all our trips.
Seasons
The fishing calendar is a guide to our major rivers and streams – please keep in mind that each season's timing can vary and many of our fly out destinations are not reflected in this calensdar at all. One river will have runs of silver in July and another in August.
Please contact us if you have some preferences of species and fishing techniques. Some people will only dry fly, some want to fish only for King Salmon or large fall rainbows.
More Information About the Fishing Seasons
Spring Season –
May and June this is the time for the big kings…trout season yet to open, so the variety is limited. Our fly fishing guests will be targeting the mighty kings of the Kenai and Kasilof Rivers, as well as some custom flyout's across Cook Inlet in early and mid June. This is all about trophy fishing rather than numbers, and it takes a commitment on an anglers part to meeting these mighty fish on a "one to one" basis, but for those persistent anglers, the catches are truly life changing.
Summer Season – July
The summer offers many fly fishing opportunities, with Sockeye Salmon in the river in growing numbers, (peaking the last two weeks of the month) and of course the big Kings peaking at about the same time… so the opportunity to catch a variety of species is great. In addition, the rainbow trout are on the move, aggressive and hungry as they look for salmon eggs, flesh and insects to hold them over until "the big show" begins next month! This is also the prime season for Arctic Grayling on our flyout experiences, as the warm water has awakened the fish and they are feeding on surface and subsurface insects with abandon!
Fall Season – August and September
For most of flyfishing guests who return year after year, this is it. "The drop" as it is called, when the sockey salmon and Kings begin releasing their eggs into the redds that they have dug over the last few weeks. Rainbow Trout and Dolly Varden begin voraciously eating as many as they can as fast as they can, and the fish will put on nearly 50% of their own body weight in the next 5 or 6 weeks. The very same trout that was 26″ and 6 pounds in June may well reach 10 or 11 pounds by the end of the season. In addition to the incredible trout fishing, the silvers are taking flies in the wildlife refuge, the steelhead and Silves are entering the tidal streams and your daily choices may very well outnumber number of days you have to do it in.
King Salmon 5/25 – 7/31
The mighty Kings enter our rivers beginning as early as the first week of May, with the first run peaking around the 1st or 2nd week of June. Fly rodders lover this time frame, as the lower water levels of spring allow for easy wading, as well as increased structure for the big fish on their way up river. Most Kenai river King salmon during this time frame are targeting the Killey river for spawning, which departs the Kenai about 10 miles upstream from the lodge- that means that nearly every single early run fish that enters the river passes our lodge on their way to their Natal spawning grounds. Our guests have caught more than twenty King salmon over 60 pounds during this time frame as well as countless numbers of fish in the 25 – 50 pound range. To target these great gamefish, plan on extensive wading with high quality 9, 10 or 11 weight rods. Great casting skill is not required, as the fish lay close to the bank, however the fights are incredible and many of us have been drug up to a mile downstream during these epic battles! We encourage catch and release for these beautiful and important gamefish.
Silver Salmon 8/1 – 9/30
Silver salmon enter our rivers in late July and throughout August (and all the way through december on the Kenai!). Among the most aggressive of the salmon species (along with pinks) Silvers take flies with abandon. In the saltwater estuaries at our bearcamp, hyped up silvers even take surface flies like East Coast Atlantic Salmon! On the Kenai and Kasilof rivers, downstream swinging with quick strips produce bone jarring strikes. This fishing has been likened to bonefishing in the flats of Mexico or Belize. We also catch silvers on the fly when wade fishing in some of our favorite Steelhead streams in September.
Rainbow Trout 6/15 – 9/30
The Kenai's Rainbow Trout fishery is a thing to behold. Great Alaska Adventure Lodge has been practicing strict catch and release on all Trout, Char and Steelhead for over a decade, and the fishing has simply gotten better and better each year. I have fished the river for nearly thirty years, and can say with confidence that your chances of catching a truly phenomenal Trout (double digits easily) are better here than perhaps anywhere in the world. In addition to the spectacular Rainbow Trout, Dolly Varden (Char family) are also an amazing sport fish and readily availalbe alongside the popular Rainbow, as well as available in August in some of the smaller streams that we frequent. In addition to the trophy Rainbow of the Kenai, we target the 'Bows in high alpine lakes on flyouts, small hike-in tributaries of unnamed streams and even via float tubing on the world famous Kenai National Wildlife Canoe Trail.
Steelhead 9/1 – 9/30
The Kenai Peninsula's steelhead fishery is healthy and growing, and with the strict catch and release policy in effect, that should not be changing any time soon. Many of our guests combine the incredible Rainbow Trout fishery with a trip targeting these incredible gamefish. Wade fishing only, you'll need to be on the top of your game as you fish with small rods nymph-style in these tiny tidewater streams. Amazing.
It is this variety of fishing that makes the area so special.
Gallery
Please take a look at the  photo and video galleries related to Great Alaska Lodge.

Fishing Photo Gallery
Lodge Photo Gallery
Scenic Photo Gallery
Video Gallery
Activities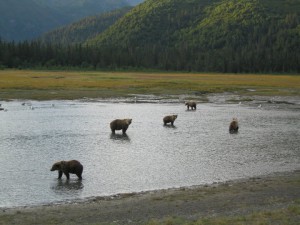 Since 1987, Great Alaska Safaris has been providing uncommon adventures for those who want more. Over the years, we have fine tuned our itineraries until they became what they are today – intimate adventure travel in small groups to places unique from the rest of the world. For over a decade now, we have been guiding small groups of people seeking a unique experience- one of adventure and discovery.
Alaska is known as "The Greatland", however, its very size belies the delicate nature of its ecosystems. Traveling in groups of 6-12, we are able to access areas that might otherwise be "too small" or delicate to support the typical groups of 15-25 that van through the state.
Brown Bear viewing, glacier cruising, scenic rafting, sea kayaking, hiking, canoeing, flightseeing and mountain biking are just some of the adventures that await you. Come see for yourself. Come experience the Greatland – Great Alaska style!
Bear Camp
Camp, named "Best bush camp in North America" by Outside Magazine, boasts comfortable "weather-port" custom tent-cabins (in a electrified fence perimeter), beds with mattresses, and with propane heat and light). Meals are flown in daily from the main lodge and finished by your guides. In addition to the nearly unlimited time on the viewing platform (the camp is limited to 12 guests per night), available activities include hiking, clamming and beachcombing. Most of our guests, however, seem happy to spend most of their time in the presence of the incredible animals while in Alaska's most private Bear-viewing venue. This experience is available in a stand-alone version or in many of the Fishing and Safari itineraries at Great Alaska Adventure Lodge.
One Day Bear Camp Stay: We'll pick you up in Anchorage at 7:45 AM at the Anchorage Hilton for the beautiful trip to Great Alaska. Check into the lodge, and following a detailed orientation and salmon lunch, you'll take a quick shuttle to the airstrip, then board the plane for the spectacular flight to Bear Camp. Spend the day with your guide at several viewing positions. (It is possible to drive from Anchorage in your own rental car).
$495.00 Per Person (From Anchorage)
$445.00 Per Person (From Soldotna)
Two and Three Day Bear Stays: We'll pick you up in Anchorage at 7:45 AM at the Anchorage Hilton for the beautiful trip to Great Alaska. Check into the lodge, and following a detailed orientation and salmon lunch, you'll take a quick shuttle to the airstrip, then board the plane for the spectacular flight to Bear Camp. Spend the day with your guide at several viewing positions
2 days/ 1 night- $895 (from Anchorage) or $845 (from Soldotna)
3 day/ 2 nights- $1195 (from Anchorage) or $1145 (from Soldotna)
Our remote brown bear viewing camp is located on the shores of Cook Inlet in a rugged wilderness. With towering mountains behind and shimmering waters ahead, the location is truly spectacular.
Accessible only by boat or plane, it has been a homesteaders dream for years and years. In the early spring, female brown bear (Ursos Arctos) leave their dens with young in tow, to feed on the succulent grasses found around our camp. This allows us the opportunity to view and photograph the magnificent animals.
Like the grasses and salmon that they feed upon, the bears are transitory- one day trips May, June and July only, with overnights throughout the season (6/1-9/10).
The number of bears seen on each trip differs, with the possibility of seeing none- however the camp's incredible location, great staff and the flight into and out of camp alone are worth the price of admission. (Alaskan weather can occasionally cancel flights)
The camp itself sits in the trees between the mountains and the shoreline- custom "weather-port" cabin/tents are on raised platforms and sleep two with wooden floors, solid doors, propane heaters and twin beds and porta potties (showers are available).
Meals are family style featuring fresh seafood, meats and pasta, and wine.
You will fly in five and six passenger Cessna 207's, landing on the shoreline right in front of the camp. During the flight you will pass over towering mountains and rugged glaciers, often spotting bear and moose along the way.
Plan on having some great photo opportunities- it is a fantastic flightseeing trip that includes a fly-by of Mount Iliamna, a recently active volcano.
Multi Sport
7 day/ 6 night $1995
5 day/ 4 night $1495
Safari Camp packages sprang from a single idea- a need for moderately priced, fully guided, energetic Alaskan adventures featuring everything you need and nothing you don't.
Depending upon the itinerary you select, activities can include sea kayaking, rafting, hiking, mountain biking and fully guided sportfishing. Perfect for families and those on a budget, or anyone who loves the camping experience.
Kenai Wildlife Lodge:
Perched on a riverbank, this tent lodge is home for adventure seekers. Overlooking mountains and forests at the border of the Kenai National Wildlife Refuge, this location allows easy access to countless square miles of wilderness with unlimited fishing, hiking, kayaking and rafting. The new day lodge and cozy dining room compliment tent cabins with wooden floors and decks, beds with mattresses, showers available, food, canoes and campfire camaraderie.
Kayak Adventure Camp:
Seward, Alaska's history includes Earthquake destruction, Iditarod beginnings, the entrance to the Prince William Sound of Pristine Wilderness and Exxon infamy, and the creation of the Kenai Fjords National Park and Harding Ice field. This stunning seacoast community is a must for any Alaska visit and it is the jump-off point to our permanent and remote Kayak Adventure Camp.
Encamped in a protected cove surrounded by jagged peaks, hanging glaciers and cascading waterfalls, you and a few other lucky adventurers will spend three days and two nights in what can best be described as "Yosemite" in Alaska.
The perfection of this location guarantees your access to the incomparable Birds and Marine Animals of Kenai Fjords National Park. Kayaking, Glacier Hikes, Bird Watching and Beachcombing, and Breathtaking Scenery fill your days and nights during the coastal portion of your Adventure Safari with Great Alaska.
Designed as a great value in Alaskan travel, our Safari Camp itineraries provide fully guided experiences with all necessary equipment provided. Unlike many "bus tours", this trip is based out of our fixed tent camp on the Moose River and our mobile Seacoast Adventure Camp in gorgeous Resurrection Bay. Perfect for families, those who simply love camping, and those on a budget that aren't budget-minded, this active adventure includes sea kayaking at our Adventure Camp, mountain biking in the National Forest, a scenic float through the Kenai National Wildlife Refuge, as well as a great hike to stream to view spawning Salmon.
Travel
Your adventure starts with your arrival into Anchorage (ANC). Many of the packages include your first night stay in Anchorage. Great Alaska Lodge is about 3.5 hours by van from Anchorage and is on the baks of the famous Kenai River.
Packing List
Alaska Camp Packing List
| Packed? | Item | Packed? | Item |
| --- | --- | --- | --- |
| | Airline Tickets | | Photo Id/Passport |
| | 1 sleeping bag - synthetic fill - rated 20 degrees or colder | | Prescription Medicines |
| | 1 insulating pad to put on top of cots | | Cash |
| | 1 Gortex waders & repair kit - neoprene is not advised | | Traveler's Checks |
| | 1 Wading Shoes – no studs please | | Boat Bag |
| | 1 Rain jacket w/hood (top quality breathable ) | | Bug Spray |
| | 1 Heavy fleece jacket | | Bug head net |
| | 1 Medium weight fleece top | | Camera / film/ batterries |
| | 3 Lightweight fleece or Polypropylene tops or turtlenecks | | Reading & writing materials |
| | 2 long sleeve lightweight fishing shirt | | Bandana/ face sun protector |
| | 3-7 pair underwear ( synthetic is better than cotton) | | Persription glasses |
| | 4 pair wool/ blend insulating socks for under waders | | spare perscriotion glasses |
| | 1 wool or fleece hat (ski type)- | | Toiletry Kit |
| | 1 cap with brim | | Zip lock bags (for lens cleaning cloth,, cash, etc) |
| | 2 pair fleece pants (under waders) – | | Fly Rods |
| | 2 - Pants (Long) | | Fly vest, or chest pack |
| | 2 pair Polypropylene long underwear bottoms | | Reels |
| | 1 pair water proof boots for around camp | | Flies/Fly box |
| | 1 pair fishing gloves - fingered or fingerless | | Fly Lines |
| | 1 polarized sunglass - as good as you can get! | | Tippets / leaders |
| | 1 spare pair polarized sunglasses ( cheap is OK) | | Clippers |
| | Camp towel (not cotton) | | Hemostat |
| | Flashlight or headlamp with batteries | | Reel Lube |
| | 1 Folding wading staff (optional) | | |