Overview
Tarpon Fishing in Campeche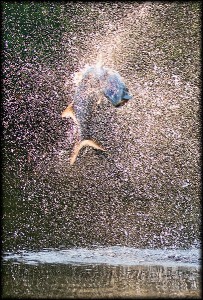 Campeche is the capital of the Mexican state of Campeche. It is a beautiful colonial city located on the northwestern side of the Yucatan Peninsula. This gorgeous, unique and picturesque baroque city was designated a United Nations' World Cultural Heritage for Humanity (UNESCO) site in 1999. The fishing for baby tarpon, however, is the perhaps the greatest thing about Campeche and the surrounding area! With an extensive mangrove lagoon structure stretching to the north for more than 120 kilometers, the fishing for tarpon in the 5-to-20 pound range can be fantastic.
If you're a seasoned saltwater angler looking to catch large numbers of baby tarpon, or if you're a first-time tarpon fisherman looking to cut your teeth on smaller "Silver Kings," then a trip to Campeche should strongly be considered.
Campeche is an excellent add-on fly fishing trip if you are planning an Ascension Bay, or Isla Holbox package. We can easily arrange a two, three or four day package that can be added to the front or back end of any regional Yucatan trip. This is also is also an ideal destination for non-anglers and non-fishing significant others. With a large variety of activities, regional sites and day trips, Campeche is an excellent vacation for the entire family.
Lodging
Tarpon Fishing in Campeche – Your Lodging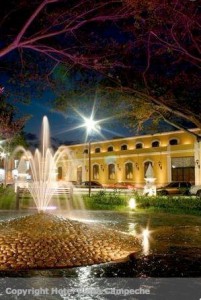 You will be catered to like no other fishing lodge. It is hard to believe you are so close to the deserted mangrove shoreline when you experience this historic hotel and the city in general.
Located in the heart of Campeche's downtown historic district, the Hotel Plaza Campeche is within walking distance of the town's Cathedral Plaza, central park, the oceanfront Malecon, and a large number of restaurants and bars.
The rooms at the Plaza are clean, modern and air conditioned, and the hotel features such amenities as a swimming pool, 24-hour cafe, bar, gift shop, laundry services, and close proximity to downtown.
Breakfast and lunch are provided in our package but since there is a lot of nice restaurants in the area we do not include dinner with the package. This will give you a great chance to get out and explore this beautiful city.
This fine hotel is a great base for the non fishing activities that are found nearby. The culture is much different here than the Cancun area. It is a combination of Europe and Mexico.
Fishing
Fly Fishing for Tarpon in Campeche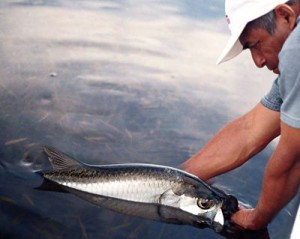 Campeche offers some of the finest and most consistent fishing for baby tarpon that have found anywhere in the Caribbean. Almost all of the fishing is site fishing from the bow of the panga, with most tarpon averaging five to fifteen pounds. Tarpon in the 20 pound range are considered large in this area. The primary fishing area near Campeche is a huge network of mangrove lagoons, flats and creeks that begin immediately north of the city and run north for more than 120 kilometers.
Most of the fishing is near the mangrove lined shore, creeks, and lagoons. Some of the fish will be sighted and then cast to, others will require blind casting in likely looking water. There are lots of tarpon in this area and the prime season is March through December. You will use traditional streamer flies as well as poppers or surface gurglers for some spectacular takes. People average around 7-10 fish jumped each day although there have been a few days where we have been shutout it is very rare. Some of the best days have been 30 fish jumped in a single day.
The Guides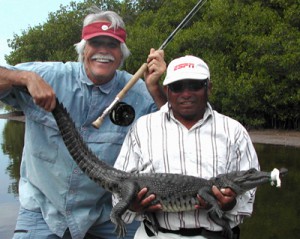 The guides of Campeche Tarpon are hard working and enthusiastic, and they will work hard to put you on fish and ensure that your overall experience is as positive as possible. They are dedicated, professional and experienced, and they know their waters very well! Your host Alejandro has won many awards for fishing in the last few years including:
* First place in the tournament realized by the CLUB DE PESCA SIGLO XXI (PRIZE : A Ford Ikon Full)
* Again He won the golden Tarpon for having captured the best species in size and weight in an official competition
* Special prize given for, SBS, dealers of Orvis Mexico, for there being the best position in the style of Fly fishing in the Tournament of the same year
Testimonials
Campeche Tarpon, the town is beautiful, the people are friendly, the water is clear, and THE FISHING IS GREAT!

Steven Charles
Magnificent! An incredible fishing, thanks for all the hospitality and care to our group. Great fishing.
Keep on with the great Baby tarpon.
Thanks Pechuga & Alejandro

Chris Wells
To those interested in fishing Campeche:

Throughout my fishing adventures I have never found such a fishery that provides so many shots at baby tarpon. The beautiful lagoons and mangrove lined coast provide some of the rarest settings you will find anywhere. The city of Campeche is a real jewel that I haven't experienced elsewhere. The history, architecture, and culture will keep me coming back to this amazing city for years to come. Alejandro Hernandez has the dedication in providing an experience of a lifetime. He and his guides are extremely knowledgeable and enthusiastic about fishing for baby tarpon. I have never been on a fishing adventure where I woke up so early to get out on the water so I could have time in the afternoon to see the city. Both the fishing and the city are a magnificent experience.

Tim O'Brien
I have made this trip every year for the last seven years, in campeche and intend to continue to come at least once and preferably twice each year for as long as I am able. I find the site fishing for baby tarpon mostly on the surface,very exciting and plenty of challenge , I prefer a nine weight with a floating line. both Alejandro and guides are very knowledgeable and more importantly lots of fun, we consider retiring in Campeche so obviously we think it a great place. Campeche is a real place not a tourist center,and does not cater to Americans so be prepared. That being said we have never had a problem with the food,which I really like, thinking about that guacamole makes my mouth water. Alejandro knows the mangroves, the hotels, the restaurants, the town, and the fishing spots and tides (very important)."

Tomas Obermeier
Fishing Photo Gallery
Tackle & Gear
Here is a list of the basics you will need for your trip. Many of our destinations are pretty remote with no chance to buy things on site.
Yucatan Tarpon Gear List
Species
Rods
Reels
Line
Leaders
Snook
9 foot 9 or 10 wt.
Large Arbor Disc drag reel with 200 yards of 25 lb. backing.
Floating tropical line
9- ft leaders with 12-15 lb. tippet.
JuvenileTarpon
9 foot 10 wt.
Large Arbor Disc drag reel with 300 yards of 30-40 pound backing.
#1 Floating tropical line
#2 Floating with clear sink tip
9-12 ft leaders with 25-30 lb. class tippet and 60 lb shock tippet.
Large Tarpon
9 foot 11-12 wt.
Large Arbor Disc drag reel with 300 yards of 40-50 pound backing.
#1 Floating tropical line
#2 Floating with clear sink tip
9- ft leaders with 25-30 lb. class tippet and 80-100 lb shock tippet.
Offshore
Barracudas,
Sharks
9 foot 12 wt.
Large Arbor Disc drag reel with 300 yards of 40-50 pound backing.
#1 Fast Sinking line

6-9 ft leaders with 20-30 lb. steel bite tippets.
Fly List
Tie a few patterns with just the weight of the eyes as a variable 1 with lead eyes, 1 with chain, 1 with small chain, and 1 with no weight or mono eyes just to make sure you have flies for very skinny water all the way to waist deep water. Presentation seems to be much more important than fly selection.

YucatanTarpon Fly List
Fly Name
Colors
Sizes
Qty for a 1
Week Trip
Toad Fly
chatreuse, olive, tan, purple/black
1/0, 2/0
12
Cockroach
standard, Chatreuse
1/0, 2/0
12
Black Death
white, tan
1/0, 2/0
6
Purple Demon
purple/black
1/0, 2/0
4
Gurglers
Assorted
1/0, 2/0
6
Enrico's Tarpon Streamer
Purple & Black
1/0, 2/0
3
Enrico's Tarpon Pinfish
Olive/white
1/0, 2/0
3
Tarpon Bunny
Assorted colors
1/0, 2/0
6
Clousers
chatr/white
1/0, 2/0
6
Deceivers
Asssorted
1/0, 2/0
6
SST-Poon
Assorted
2/0
6
Packing List
Tropical Packing List
| √ | Packing Item | √ | Packing Item |
| --- | --- | --- | --- |
| √ | Passport | √ | Camera & media |
| √ | Photocopy of Passport (packed separately) | √ | Computer |
| √ | Airline tickets | √ | Cell Phone |
| √ | Itinerary with contact numbers | √ | Reading & writing materials |
| √ | Emergency Medical insurance docs ( if purchased) | √ | Rod repair (tip top and glue) |
| √ | Major credit card | √ | Sun gloves |
| √ | Cash for tips (there are a couple ATMs in San Pedro but they may not be working)) | √ | Face Sun protection (buff) |
| √ | 2 Hats with brim and neck guard (or sun hat for non anglers) | √ | Sunburn relief spray |
| √ | 2-4 long sleeve shirts for fishing (SPF fabric) | √ | Sunscreens SPF 30 or above |
| √ | 2 quick dry pant for fishing (SPF fabric) | √ | Sun block for lips and nose |
| √ | 2 quick dry shorts for fishing (SPF fabric) | √ | Toiletries |
| √ | White socks (tops of feet get burned in the boats or wear under wading shoes) | √ | Prescription meds |
| √ | Underwear | √ | Non-prescription Meds |
| √ | Casual pants or shorts | √ | Eyeglasses (and spare) |
| √ | Casual shirts, short sleeve | √ | Fly Rods |
| √ | Sandals | √ | Reels |
| √ | Belt | √ | Fanny or other small fishing pack |
| √ | Light sweater or fleece | √ | Water bottle ( Holster optional) |
| √ | Socks | √ | Waterproof boat bag |
| √ | Wading shoes | √ | Lines |
| √ | Bathing suits, | √ | Leaders |
| √ | T- Shirts | √ | Tippet |
| √ | Sandals or walking shoes ( Barefoot is good) | √ | Flies |
| √ | Rain jacket (an occasional cold squall will roll though or the boat spray may chill you to the bone!) | √ | Nippers |
| √ | Bug repellent (for dead clam days or evenings) | √ | Pliers/forceps |
| √ | Sunglasses (polarized with lanyard) | | |
Rates
Campeche Tarpon Package Prices
Number of nights
Number of days fishing
Fishing
2 to a boat, 2 to a room

Fishing
1 to a boat, 1 to a room

7
6
$3397
$4250
6
5
$2782
$3750
5
4
$2467
$3250
4
3
$2025
$2650
3
2
$1200
$1990
Prices Include: round trip ground transportation from Campeche Airport to the lodge, Campeche Plaza Hotel lodging, breakfast and lunch daily, , guided fishing each day ( for fishing packages), unlimited use of all amenities of the hotel, It also includes all taxes. Prices quoted are per person in US dollars.
Prices do not include: Alcoholic beverages, fishing license or gratuities for your guide and resort staff
Why Book Through Flyfishingheaven.com?
Why book it through us when you could book direct?
1. Unbiased Advice:
Most people recognize the advantage of our unbiased advice, there are hundreds of destinations to choose from and our job is to know the ones that are right for your needs. We offer the real story you can't get from a lodge owner. Would the outfitter in questions tell you are booking in a less than stellar part of the year? Remember our unbiased advice is 100% free!
2. We Can Book Anywhere:
Our website highlights many of our favorite destinations but we have access to hundreds more. If there are fish there, we can book it. In fact, we will give you 5% back if you book a trip through us that is not on our website! We enjoy learning about new spots!
3. Loyalty Discounts:
2017 Special: You are automatically enrolled in our loyalty program before your first trip and will get the 5% cash back on your very first trip. This offer is good until December 31, 2017. In January you will ear your loyalty discount on the second trip and every trip thereafter. This discount applies to all your friends who are going with you as well. f you organize a group of 8 or more we will give you 10% off! All you have to do is book the first trip and you are a flyfishingheaven.com frequent fisher!
4. Price Guarantee:
If you find a price lower than ours we will beat that price by 5% if you book through flyfishingheaven.com!
Our Pledge
We promise to work for you, not a lodge, outfitter or resort. We pledge to get you you to a destination that will live up to your expectations at the best possible price. You will never be charged more than booking directly (in fact most of our clients are paying less - *see below). We will make sure you are well prepared for your trip with specific knowledge about the gear, the flies, the rods, packing lists, travel documents, connecting information everything. Since we are not tied to a particular destination we promise honest pros and cons of any destination at the time of year you are traveling.

We do earn a small commission when we book a trip as all lodges and outfitters offer this as they depend on agencies like ours for much of their business. This fee is paid by the lodge not you, and they do not keep different prices for direct bookings vs agency bookings, it is bad business.
Payment and Cancelation Polices
A 10% deposit is required if you are booking more than 6 months in advance, 50% deposit is required when less than 6 months until departure date with the balance due 60 days prior to departure. If you are forced to cancel with more than 60 days notice, you may keep full credit towards another trip or receive a refund less a 10% service charge. Deposits on cancellations with less than 60 days notice are not refundable unless your spot can be filled. MC, Visa, and checks are accepted. We recommend travel and or medical emergency insurance for all our trips.
Seasons
Yucatan Tarpon Fishing Calendar
| Month | Tarpon |
| --- | --- |
| January | Good |
| February | Fair |
| March | Fair |
| April | Good |
| May | Excellent |
| June | Excellent |
| July | Excellent |
| August | Excellent |
| September | Excellent |
| October | Excellent |
| November | Excellent |
| December | Good |
Gallery
Please take a look at the  photo and video galleries related to Tarpon Fishing in Campeche.

Fishing Photo Gallery
Lodge Photo Gallery
Scenic Photo Gallery
Video Gallery
Activities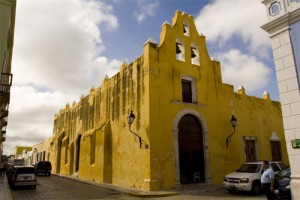 A UNESCO World Heritage site, the city of Campeche may be among the most beautiful and unique in all of Southern Mexico. Visitors will enjoy strolling the clean and colorful streets of the historic downtown area. Here, one can find numerous shops, museums, art galleries, outdoor restaurants, historic cathedrals and churches. The city is also home to several outstanding examples of military architecture, including the Fort of San Jose el Alto, the Puerta de Tierra access door, Fuerta de San Miguel, and numerous other sites. For those interested in Mayan ruins and ancient Mayan architecture, the Campeche region is home to some of the largest, most spectacular, and least visited sites anywhere in the Mayan world. Archeological sites such as Edzna, Balamku, Chicanna, and several others are all easy day trips from Campeche.Tarpon Fishing in Campeche is not just about tarpon, well…ok, for me it is!
Travel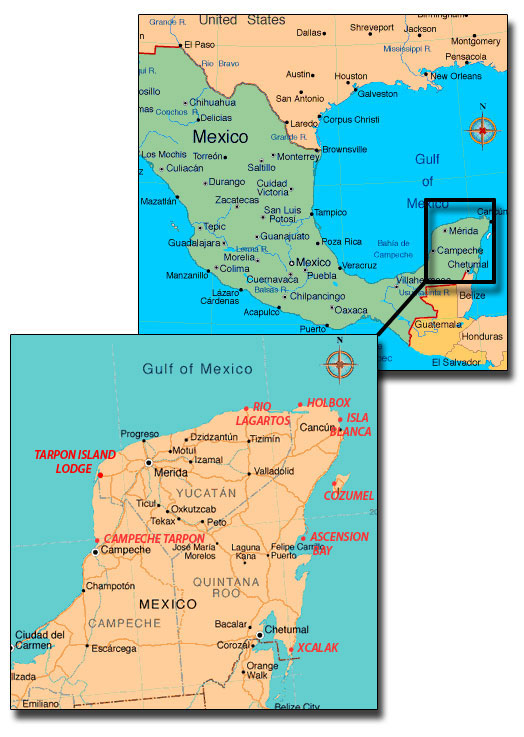 International Airport: You will fly to Campeche International Airport (CPE). ………You will be staying at Campeche Plaza Hotel in Campeche, Mexico.
Documents: You will need a passport or a notarized birth certificate and a picture Id to enter Mexico.
Money: Dollars or Pesos are accepted everywhere even Campeche! There are ATM's in Campeche that dispense Pesos; You will need cash for tips.
Van Service: After clearing customs or getting your bags you will pass numbers of people offering information, taxis, van service etc. You must keep going all the way outside. Then there are even more people asking you if you need a taxi – just look for your driver. He will have a sign in hand with your group leader name or "Campeche Tarpon". If for any reason you cannot find the van, the local contact for them in Campeche is: 52 981 12 0 47 08 or 52 981 81 6 44 50
The Head guide and owner is Alejandro Hernandez.
Phone: The Plaza has full phone service but it is an extra charge to call the US. Internet is available in their business center. Please inquire with the hotel about costs before you use any services. The direct number for the Plaza Hotel is: 52 981 811 9900 – http://www.hotelplazacampeche.com/ingles.htm
Average Tips: $20-25 per day per person for the guides – double this if you have a private guide (give this directly to them at the end of your trip)- $2 day/person for the breakfast staff – $2 /day/person for housekeeping 10% for bartenders, $5-10 per trip for a van driver if applicable ( not per person)
Alcohol: You can bring your own stash and there is a full bar open to 2 AM at the hotel. The bar tab is not included in your package.
Food: Your package includes breakfast at the hotel each morning and lunch provided by Campeche Tarpon on the boat. Dinner is not included in the packages as there are many great restaurants to try in Campeche.
Packing List
Tropical Packing List
| √ | Packing Item | √ | Packing Item |
| --- | --- | --- | --- |
| √ | Passport | √ | Camera & media |
| √ | Photocopy of Passport (packed separately) | √ | Computer |
| √ | Airline tickets | √ | Cell Phone |
| √ | Itinerary with contact numbers | √ | Reading & writing materials |
| √ | Emergency Medical insurance docs ( if purchased) | √ | Rod repair (tip top and glue) |
| √ | Major credit card | √ | Sun gloves |
| √ | Cash for tips (there are a couple ATMs in San Pedro but they may not be working)) | √ | Face Sun protection (buff) |
| √ | 2 Hats with brim and neck guard (or sun hat for non anglers) | √ | Sunburn relief spray |
| √ | 2-4 long sleeve shirts for fishing (SPF fabric) | √ | Sunscreens SPF 30 or above |
| √ | 2 quick dry pant for fishing (SPF fabric) | √ | Sun block for lips and nose |
| √ | 2 quick dry shorts for fishing (SPF fabric) | √ | Toiletries |
| √ | White socks (tops of feet get burned in the boats or wear under wading shoes) | √ | Prescription meds |
| √ | Underwear | √ | Non-prescription Meds |
| √ | Casual pants or shorts | √ | Eyeglasses (and spare) |
| √ | Casual shirts, short sleeve | √ | Fly Rods |
| √ | Sandals | √ | Reels |
| √ | Belt | √ | Fanny or other small fishing pack |
| √ | Light sweater or fleece | √ | Water bottle ( Holster optional) |
| √ | Socks | √ | Waterproof boat bag |
| √ | Wading shoes | √ | Lines |
| √ | Bathing suits, | √ | Leaders |
| √ | T- Shirts | √ | Tippet |
| √ | Sandals or walking shoes ( Barefoot is good) | √ | Flies |
| √ | Rain jacket (an occasional cold squall will roll though or the boat spray may chill you to the bone!) | √ | Nippers |
| √ | Bug repellent (for dead clam days or evenings) | √ | Pliers/forceps |
| √ | Sunglasses (polarized with lanyard) | | |