Overview
Fly Fishing for Dorado at Pira Lodge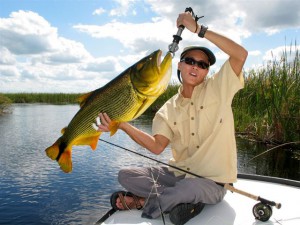 Pira Lodge is the ultimate destination for to enjoy fly fishing for dorado. As the oldest and most experienced lodge it is unequalled in quality and location. Dorado are hunted from Hells Bay flats boats that negotiate the creeks lagoons and rivers found in our area. Most of the waterin this area is quite clear which is not the case with other Dorado destinations. You can see the dorado as it slashes your fly. The dorado is oddly part of the salmon family (salminus maxillosus). It is one of the best if not the best fighting warm water species I have seen. They all jump and fight longer and harder than another famous species the peacock bass.
Pira was built as a fly fishing lodge from the ground up to take advantage of this marshlands of the area. The lodge has 5 rooms and can accommodate up to 10 guests. The culture is more friendly than you can imagine. The food is typical Argentine fare with the best meats in the world with local produce that is fresh each day. The Iberá Marshland home to more than to hundreds of species of birds, mammals and reptiles, not to mention the incredible plant life through the marsh. Your guide can make sure you see all the wildlife in the area anytime you want a break from fishing.
Read More about Pira Lodge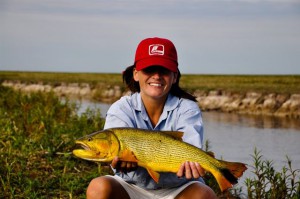 It is a long trip from the States to Argentina. Most of the flights from the US to Buenos Aires are overnight flights arriving in the morning. Most people choose to overnight at least one day in Buenos Aires just to help with the jet lag and enjoy this beautiful and fun city.
You will then need to take a commercial flight or charter flight to Corrientes or Resistencia. Another option is an overnight sleeping bus complete with meals and first class full reclining seats. Once you arrive in in town you will be met by our driver for your drive to the lodge. You will have a chance to explore the grounds, organize your gear and get fishing the day of arrival so get here early!.
Lodging
The Lodging at Pira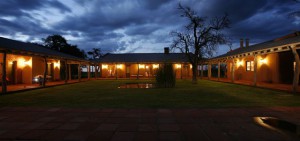 Pirá is designed to provide its guests not only with a remarkable fly fishing experience, but also with maximum comfort. The lodge has only five bedrooms, each one of them fully air-conditioned, with two double beds and large bathrooms with double windows, which provide a peaceful space to unwind in a warm bath.
The rooms: French windows open out to the shaded veranda with easy access to our 20-meter pool and a beautiful view of the surrounding wilderness. In addition to the comfort of a spacious sitting room, with unique furniture crafted by local artisans, anglers will appreciate the convenience of a fly-tying table, and an on-site fly shop, fully equipped with flies, rods, reels and clothing.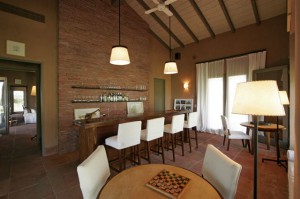 The living and dining section of the lodge is a separate building connected to the rooms by covered walkway. Like teh bedrooms, the windows are usually open to views of the river and marsh. Gourmet dining with Argentina´s famed beef and fine wines, traditional "asados" (BBQ´s),f=local farm fresh produce and delicious regional and international cuisine desserts are a treat. Even though you are not coming for the food, it is equal in quality to the fishing. the bar, fully stocked with local spirits, contribute to create the setting for perfect moments at the end of a perfect day.
Food and Drink at Pira Lodge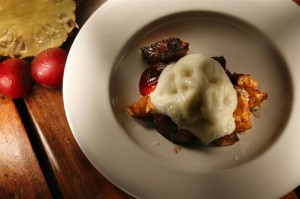 Pira offers wonderful cuisine based on local meats, fresh vegetable and delicious
deserts. A traditional Asado (BBQ) will be held once during your stay, and you can sample different cuts of meat and wonderful salads. A full cooked breakfast is available, together with fresh fruit, yogurts, home baked breads and jams and a selection of cereals.
No trip to Argentina would be complete without tasting some of the fine wines produced here. Pira's cellars feature a wonderful selection of fine wines from the Luigi Bosca Bodega, which will be served during lunch and dinner. If you are going to go fly fishing for dorado in the middle of nowhere, why not do it in style?
Electric Current
* 220 volts, 50 cycles, generator powered.
* a standard converter and European adapter for two pronged plug should work fine
throughout Argentina.
* The lodge has reliable electric power and back-up battery lighting.
Lodge Photos
Fishing
Fly Fishing for Dorado at Pira Lodge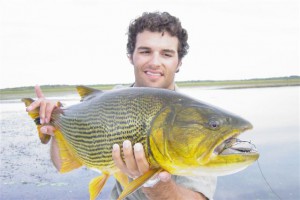 The fishing here at Pira Lodge is done on the Iberá Marshlands, one of the most fascinating wetlands in the world. 3,500,000 (that´s three million five hundred thousand) acres of unexplored and uninhabited marshland in the northeastern corner of Argentina will be the setting for some of the most exciting fishing you will ever do. The marsh is a vast system of non-polluted crystal-clear creeks, rivers, shallows, and lakes roughly 2.5 times bigger than the Florida Everglades and you will spend your days here in state-of-the-art Hell´s Bay flats skiffs exploring this enormous expanse.
The swamps are the home to more than 350 species of birds, 85 mammals and almost 70 reptiles, including major populations of Marsh Deer and South American Cayman.
For many years , one of Latin America´s most exciting game fish was kept a secret in its heartland. In the last few years, the golden DORADO, or "river tiger" as it is affectionately called in Argentina due to its impressive fighting spirit and jumping characteristics, has rocketed to the top of the hot fish list.
Read More About the Fishing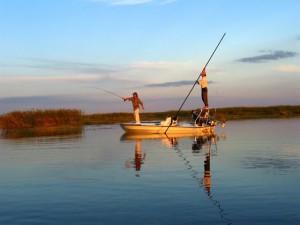 The freshwater Dorado belongs to the Salmon family. It is a hard fighting and acrobatic fish, well known for strong runs and relentless jumps. Throughout much of its range , the Dorado is caught in colored or murky waters and generally with heavy spinning tackle.
The establishment of Pirá lodge in the Iberá marshland has generated a new alternative, allowing for clear water fishing on light spinning tackle and on fly rods, with plenty of opportunity for sight casting. 7and 8 wt 9 foot rods are recommended, as well as floating and sinking heads. Traditional saltwater streamers and deceivers in black, purple chartreuse and white complete the required gear.
Fishing schedule: Fishing times vary depending on month and weather. A typical spring fishing day will start in the morning from 8:00 to 12:30, lunch at the lodge, and then afternoon fishing from 3:30 to 7:30.
Transport is provided from the lodge´s private dock to the fisheries in Hells Bay flat skiffs, fitted with VHF radios. Other activities available are bird watching, horseback riding and snorkeling. Pirá is a strictly CATCH AND RELEASE fishery.
Fishing Photo Gallery
Tackle & Gear
Here is a list of the basics you will need for your trip. Many of our destinations are pretty remote with no chance to buy things on site.
Dorado Gear List
Species
Rods
Reels
Line
Leaders
Golden Dorado
9 foot rods 6-8 wt. (maybe even a 9!)
Medium or Large Arbor with 150 yards of 30 pound backing
#1 Floating easy to mend line,
#2 Floating with 8-15 fast sink tip (Type 6)
#3 full sinking fast sink
9 ft leaders with 15 lb. wire bite tippet for floating setups, 3-5 foot leader 15 lb. wire bite tippet with the sinking line setups
Fly List
Golden Dorado Fly LIst
Fly Name
Colors
Sizes
Qty for a 1
Week Trip
Tarpon Bunny FLy
chatreuse, olive, tan, purple/black
1/0, 2/0, 3/0
6
Darlberg Diver
black, white olive
1/0, 2/0, 3/0
8
Poppers
assorted
1/0, 2/0, 3/0
6
Gurglers
Assorted
1/0, 2/0, 3/0
6
Enrico's Tarpon Streamer
Assorted
1/0, 2/0, 3/0
12
Assorted big game streamers
Assorted
1/0, 2/0
12
Clousers
chatr/white
1/0, 2/0
12
Packing List
Tropical Packing List
| √ | Packing Item | √ | Packing Item |
| --- | --- | --- | --- |
| √ | Passport | √ | Camera & media |
| √ | Photocopy of Passport (packed separately) | √ | Computer |
| √ | Airline tickets | √ | Cell Phone |
| √ | Itinerary with contact numbers | √ | Reading & writing materials |
| √ | Emergency Medical insurance docs ( if purchased) | √ | Rod repair (tip top and glue) |
| √ | Major credit card | √ | Sun gloves |
| √ | Cash for tips (there are a couple ATMs in San Pedro but they may not be working)) | √ | Face Sun protection (buff) |
| √ | 2 Hats with brim and neck guard (or sun hat for non anglers) | √ | Sunburn relief spray |
| √ | 2-4 long sleeve shirts for fishing (SPF fabric) | √ | Sunscreens SPF 30 or above |
| √ | 2 quick dry pant for fishing (SPF fabric) | √ | Sun block for lips and nose |
| √ | 2 quick dry shorts for fishing (SPF fabric) | √ | Toiletries |
| √ | White socks (tops of feet get burned in the boats or wear under wading shoes) | √ | Prescription meds |
| √ | Underwear | √ | Non-prescription Meds |
| √ | Casual pants or shorts | √ | Eyeglasses (and spare) |
| √ | Casual shirts, short sleeve | √ | Fly Rods |
| √ | Sandals | √ | Reels |
| √ | Belt | √ | Fanny or other small fishing pack |
| √ | Light sweater or fleece | √ | Water bottle ( Holster optional) |
| √ | Socks | √ | Waterproof boat bag |
| √ | Wading shoes | √ | Lines |
| √ | Bathing suits, | √ | Leaders |
| √ | T- Shirts | √ | Tippet |
| √ | Sandals or walking shoes ( Barefoot is good) | √ | Flies |
| √ | Rain jacket (an occasional cold squall will roll though or the boat spray may chill you to the bone!) | √ | Nippers |
| √ | Bug repellent (for dead clam days or evenings) | √ | Pliers/forceps |
| √ | Sunglasses (polarized with lanyard) | | |
Rates
Pira Lodge Package Pricing
Package
4 nights

3 days Fishing
5 nights

4 days Fishing
6 nights

5 days Fishing
7 nights

6 days Fishing
2 people fishing/boat

2 per room
3400/person

4250/person
4950/person
5565/person
1 person fishing/boat

1 person non fishing

2 per room*
3400/person

4250/person
4950/person
5565/person
1 person fishing/boat

private room
5440/person

6800/person
7920/person

8904/person
Prices Include: Ground transportation between Mercedes and the lodge, Fishing License, Lodging, Meals, Wines, beer and local spirits at the Lodge, Professional guide services. Prices quoted are per person and in US dollars.
Prices do not include: Flights to Argentina, Flights or transfers from Buenos Aires to Corrientes or Resistencia, Ground Transfers from Corrientes or Resistencia to the lodge*, Gratuities for guides and lodge staff, Buenos Aires transfers and hotels, Laundry service.
Pira is in the very northeast corner of Argentina. You will need to fly to Buenos Aires and then you have 3 choices: (1)Take commercial flights to Corriente or Resistencia via domestic airlines out of Buenos Aires. The lodge will meet you at the airport for the 3.5 hour drive to the lodge (the price for ground transport is not included see below*). (2) Charter a flight from Buenos Aires to Pira's airstrip. (3)Another comfortable alternative is the overnight sleeper bus out of Buenos Aires to Mercedes. This is about 1 hour from the lodge, (ground transportation in this case is included). Many people overnight in Buenos Aires the night before the trip start.
*Round Trip Ground transfers between Resistencia and Pira
1-3 people – $ 450 total
4-6 people – $ 900 total
7 or more – $1000 total
Why Book Through Flyfishingheaven.com?
Why book through flyfishingheaven.com?
1. Unbiased Advice:
Most people recognize the advantage of our unbiased advice, there are hundreds of destinations to choose from and our job is to know the ones that are right for your needs. We offer the real story you can't get from a lodge owner. Would the outfitter in questions tell you are booking in a less than stellar part of the year? Remember our unbiased advice is 100% free!
2. We Can Book Anywhere:
Our website highlights many of our favorite destinations but we have access to hundreds more. If there are fish there, we can book it. In fact, we will give you 5% back if you book a trip through us that is not on our website! We enjoy learning about new spots!
3. Loyalty Discounts:
2017 Special: You are automatically enrolled in our loyalty program before your first trip and will get the 5% cash back on your very first trip. This offer is good until December 31, 2017. In January you will ear your loyalty discount on the second trip and every trip thereafter. This discount applies to all your friends who are going with you as well. f you organize a group of 8 or more we will give you 10% off! All you have to do is book the first trip and you are a flyfishingheaven.com frequent fisher!
4. Price Guarantee:
If you find a price lower than ours we will beat that price by 5% if you book through flyfishingheaven.com!
Our Pledge
We promise to work for you, not a lodge, outfitter or resort. We pledge to get you you to a destination that will live up to your expectations at the best possible price. You will never be charged more than booking directly (in fact most of our clients are paying less - *see below). We will make sure you are well prepared for your trip with specific knowledge about the gear, the flies, the rods, packing lists, travel documents, connecting information everything. Since we are not tied to a particular destination we promise honest pros and cons of any destination at the time of year you are traveling.

We do earn a small commission when we book a trip as all lodges and outfitters offer this as they depend on agencies like ours for much of their business. This fee is paid by the lodge not you, and they do not keep different prices for direct bookings vs agency bookings, it is bad business.
Payment and Cancelation Polices
A 10% deposit is required if you are booking more than 6 months in advance, 50% deposit is required when less than 6 months until departure date with the balance due 60 days prior to departure. If you are forced to cancel with more than 60 days notice, you may keep full credit towards another trip or receive a refund less a 10% service charge. Deposits on cancellations with less than 60 days notice are not refundable unless your spot can be filled. MC, Visa, and checks are accepted. We recommend travel and or medical emergency insurance for all our trips.
Seasons
Fly Fishing for Dorado – The Seasons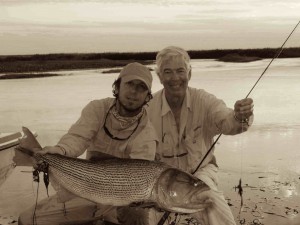 Although fly fishing for dorado is possible year round, the fishing varies throughout the year. Pira operates in the prime season only from November to May. The Ibera area is subtropical, similar to northern Florida in the U.S.
The water levels start to drop by early fall, until the year lowest usually in August and September.
The first spring rains in late September or early October bring many small creeks back to life and most baitfish species start moving up into the tributaries to spawn, followed by the schools of Dorados.
In summer, December through February we find Dorados all over the area, in any type of faster water where they can ambush their prey.
In fall, March through May, the baitfish that spent the summer in swamped areas are forced into the rivers as waters recede, and Dorados are waiting for them in the places where this waters are poured back into the rivers. In winter and early spring, when the waters are the lowest and clearest, Dorados tend to concentrate in the rivers where they find the largest source of baitfish. It's also the time when Dorados start to follow the large schools of mojarras to the upper rivers, where they spawn in late spring and summer.
Gallery
Pira Lodge Photo Gallery
Please take a look at the  photo and video galleries related to fly fishing for dorado at Pira Lodge.

Fishing Photo Gallery
Lodge Photo Gallery
Scenic Photo Gallery
Video Gallery
Activities
Non-Fishing Activities at Pira Lodge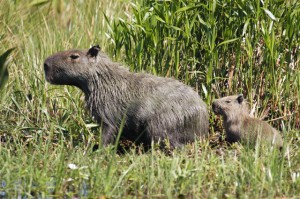 Pira Lodge is a beautiful facility with unmatched service, food and staffing. However, there are very little non fishing adventures here. So if your non fishing member of your group would enjoy the marsch, the bird and wildlife found while e out on the boat they will have an awesome time out with you on the water. Otherwise please beware that there may be more appealing places for your non fishing friends and family.
Travel
Travel Hints for Pira Lodge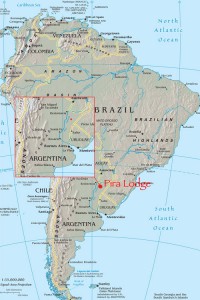 Air:
You will need to fly into Buenos Aires, Argentina (EZE) then take ground transportation – or charter air transportation to Pira.
Flights and Timing:
Most flights to Argentina are overnight flights arriving early in the AM the following day. From BA you have three choices: (1)Take commercial flights to Corriente via domestic airlines out of Buenos Aires. The lodge will meet you at the airport for the 3.5 hour drive to the lodge. (2) Charter a flight from Buenos Aires to Pira's airstrip. (3) Another comfortable alternative is the overnight first class sleeper bus out of Buenos Aires to Mercedes. This is about 90 minutes from the lodge. I recommend the overnight first class bus.
Passports and Visas
A visa is not required for a stay of up to 90 days. Traveler must be in possession of a passport valid for 6 months beyond stay and a round-trip airline ticket. A visa may be required if trip purpose is other than basic business meetings.
Passport Requirements:
Original, signed passport valid for 6 months beyond stay, and with at least one blank visa page available for visa stamp(s).
2Proof Of Departure:
Confirmed round-trip or onward airline ticket.
Special Instructions:
US citizens must pay a "reciprocity fee" to enter Argentina. This is not a visa, since a visa is not required for US business and tourist visitors. It is a fee based upon the fees that Argentinian citizens pay for a visa to the United States. The fee amount will be subject to change.
The National Immigration Agency (Direccion Nacional de Migraciones) has added a new online form of payment of this reciprocity fee (visitor visa- rate for Americans of USD $160), through the Provincia Payment System. Online payment may now be made in advance for arrival at all airports.
How to pay the reciprocity fee on-line:
Enter the web site https://virtual.provinciapagos.com.ar/ArgentineTaxes/ and register to start the process.
Complete the form with the corresponding personal and credit card information.
Print the payment receipt.
On arrival in Argentina, this printed receipt must be presented at Immigration Control. The receipt will be scanned by the Immigration officials, the information will be checked, and the traveler's entry to the country registered.
Effective October 31, 2012 for arrivals to Aeroparque and effective December 28, 2012 for arrivals to Ezeiza International airport, all U.S. tourist or business visitors must pay the reciprocity rates (USD $160 for Americans) with their credit card through the on-line system. After these dates, cash payments will NOT be accepted at the airports.
Packing List
Tropical Packing List
| √ | Packing Item | √ | Packing Item |
| --- | --- | --- | --- |
| √ | Passport | √ | Camera & media |
| √ | Photocopy of Passport (packed separately) | √ | Computer |
| √ | Airline tickets | √ | Cell Phone |
| √ | Itinerary with contact numbers | √ | Reading & writing materials |
| √ | Emergency Medical insurance docs ( if purchased) | √ | Rod repair (tip top and glue) |
| √ | Major credit card | √ | Sun gloves |
| √ | Cash for tips (there are a couple ATMs in San Pedro but they may not be working)) | √ | Face Sun protection (buff) |
| √ | 2 Hats with brim and neck guard (or sun hat for non anglers) | √ | Sunburn relief spray |
| √ | 2-4 long sleeve shirts for fishing (SPF fabric) | √ | Sunscreens SPF 30 or above |
| √ | 2 quick dry pant for fishing (SPF fabric) | √ | Sun block for lips and nose |
| √ | 2 quick dry shorts for fishing (SPF fabric) | √ | Toiletries |
| √ | White socks (tops of feet get burned in the boats or wear under wading shoes) | √ | Prescription meds |
| √ | Underwear | √ | Non-prescription Meds |
| √ | Casual pants or shorts | √ | Eyeglasses (and spare) |
| √ | Casual shirts, short sleeve | √ | Fly Rods |
| √ | Sandals | √ | Reels |
| √ | Belt | √ | Fanny or other small fishing pack |
| √ | Light sweater or fleece | √ | Water bottle ( Holster optional) |
| √ | Socks | √ | Waterproof boat bag |
| √ | Wading shoes | √ | Lines |
| √ | Bathing suits, | √ | Leaders |
| √ | T- Shirts | √ | Tippet |
| √ | Sandals or walking shoes ( Barefoot is good) | √ | Flies |
| √ | Rain jacket (an occasional cold squall will roll though or the boat spray may chill you to the bone!) | √ | Nippers |
| √ | Bug repellent (for dead clam days or evenings) | √ | Pliers/forceps |
| √ | Sunglasses (polarized with lanyard) | | |