Overview
Fly Fishing Bahamas – Bair's Lodge
Bair´s Lodge has come to represent the benchmark in terms of quality guiding, delicious food, ideal accommodations and courteous hospitality. Ideally located to access Deep Creek, Little Creek, the West side and the Southern Flats. Bair's Lodge has easy access to some of the most under-fished flats in South Andros. Perfect for small groups, the charming house has seven air-conditioned guest rooms, each with private bathroom. Limiting the occupancy to twelve anglers enables the staff to provide exceptional personalized guest service.
Superb cuisine includes beautifully prepared Bahamian specialties concentrating on magnificent fresh seafood, and when applicable, "the catch of the day". In addition to the comfort of our dining room, sitting room and bar, anglers will appreciate the convenience of our fly-tying table and facilities, as well as the on-site fly shop, fully equipped with flies, rods, reels, lines and selected items of flats wear and local crafts.
Read More about Bair's
Andros Island is the largest and least-explored island in the Bahamas. This 2,300-square-mile island paradise is not only known as the bonefishing capital of the world, but also boasts the second-largest reef in the Northern Hemisphere and is home to the oldest dive resort on the planet. There are also some big but stupid bonefish !
The diverse topography which rises from these tropical waters is full of life, some of which can only be found on Andros. Over forty kinds of wild orchids, rare, endemic birds, wild boar, iguanas as long as four feet and a recently discovered tribal group all make their homes among the miles of deserted beaches, freshwater mud flats, thick brush, lush pine forests and inland waterways that make up this Atlantic oasis.
Read a little bit more!
Sharing this magical island are the locals, or Androsians. These peaceful people pride themselves as skilled artists and craftsmen whose origins are believed to date back to the Seminole Indians, runaway slaves from Florida and an ethnic mix of different people from Africa to South America.
The Tongue of the Ocean runs along the coast of Andros, just off the third largest barrier reef in the world. Seasonal fishing for Wahoo, Dolphin and Tuna, (plus occasional Marlin and Sailfish) outside the reef, can be excellent and along the reef itself there are ample opportunities to tangle with species such as; Barracuda, Snapper and Grouper.
Lodging
Fly Fishing Bahamas – The Lodging at Bair's Lodge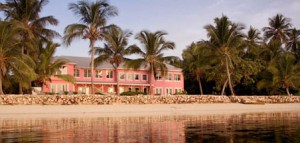 Bair's Lodge is idyllically situated on the ocean with easy access to the boat launch. The lodge itself is an attractive Colonial style building surrounded by white sand, tropical flowers, and palm trees. There is beach right in front of the lodge, and a wonderful sand bank, sparkling white, just a few minutes away in the lodge's clear lucite canoe-designed for observing all the sea life below.
The airy living room and dining room area has comfortable rattan sofas, plenty of reading material and faces the ocean. There is a buffet where you will find breakfast laid out in the mornings. There are 2 ceiling fans and air-conditioning.
The lodge has a main bar fully stocked with spirits, cold beers, (in a convenient mini fridge) soft drinks, plenty of ice, a blender and mixers for cocktails. There is also a beach bar by the dock. Next to the indoor bar, we have a fully stocked fly tying table for guests to use. Satellite television has been installed for those who wish to catch-up on news or sports during cocktail hour. The guest office is located between the bar and the sitting room. You will find telephone facilities and a computer station with satellite internet access and e-mail facilities.
The Rooms
All the rooms in the house open on to a long verandah facing the ocean, with comfortable benches and tables to sip coffee in the morning or cocktails in the evening. Handy rod racks line the verandah, and we have a hose with fresh water to wash down your tackle in the evenings…From the verandah you just walk along the path to the dock where the flats boats are moored. Right by the verandah we have comfortable lounge chairs, a hammock and a beach bar deck right by the sea. The prevailing Southeast wind and verandah ceiling fans ensure there is always a breeze, so you can usually enjoy evenings outdoors without insects.
All of our bedrooms are light and airy, with terra cotta tiled floors, 100% white cotton sheets as well as tropical-weight duvets and plenty of down pillows. They are fully air-conditioned, with lots of storage space and electricity outlets to recharge appliances, and a comfortable chair. All have en-suite bathrooms, full baths, powerful showers with hot water 24 hours a day, lots of white towels, robes, and amenities. Three of the bedrooms are furnished with two queen-size beds, while the upstairs suite has a queen and a twin-size bed with dressing area and dressing table. Our house keeper takes pride is maintaining the rooms spotless and will happily do your laundry. Laundry bags are provided in all the bedrooms. There is a wonderful outdoor shower right on the beach, we highly recommend you enjoy showering al-fresco!
Lodge Photos
Fishing
Fly Fishing Bahamas – The Fishing at Bair's
The fishing on Andros has long been synonymous with the biggest bonefish in the Caribbean. The South and more particularly, West of the Island have built the reputation as the place to try for a trophy fish of ten pounds or more. The flats in Andros are some of the largest and most varied in the world, offering both opportunities to wade or fish from the boat, in the ocean flats or creeks and bights. Some are lined or dotted with mangroves for extra challenge while other flats are wide open white sand. This incredible choice of classic bone-fishing environments, as well as the numbers and size of the bonefish is what makes South Andros so productive.
Bair's Lodge, famed for its access to the vast and largely under-fished flats of the South and West, is strategically situated between the South Bight and Water Cayes, near Little Creek. This location gives our guests easy access to the flats of the South, while providing many sheltered locations irrespective of wind direction, within the interior of the Island. In addition, from Bair's Lodge, guests have the opportunity to try for occasional Permit, Tarpon and Snook, as well as offshore and reef species such as Wahoo, Tuna, Dorado,(Seasonal Billfish), Snapper, Barracuda and Grouper. fishing areas
Every morning, you step out of the lodge into a boat, and can be fishing within a few minutes, or you can choose to ride further a-field to explore the more remote, pristine white sand flats Andros is famous for. Deep Creek and Little Creek a few minutes run from the lodge, open into large bay areas dotted with many small cayes, where there are always flats that offer protection from the wind.
More about the fishing
Both creeks allow access to the fabled West Side and other remote cayes to the South and South- West that may provide lucky anglers with the possibility of trying for Permit and Tarpon to complete the famous "Grand Slam." The Southern flats are home to some of the largest schools of bonefish. Grassy Creek is a 40 min boat ride from the lodge. Weather permitting you can ride on to Hawksbill Creek and onto Cistern Point. This area sees little fishing pressure and is regarded as the place to come for numbers of fish. The flats stretch as far as the eye can see and wading next to these huge schools is the experience of a lifetime.
The average flat depth, whether you're wading or poling, ranges from 12″-30″. In this depth, a Gotcha or Shrimp pattern with medium sized bead chain eyes should provide close to the perfect sink rate without overweighing the fly (and potentially spooking the fish). A good rule of thumb is your fly should reach the bottom in about 3 seconds. If you find your fly is not getting to the bottom, you should switch to a fly with lead eyes or add a few wraps of lead wire to the eye of the fly. The angler who is willing to fish deeper flats will often be rewarded with the largest bonefish. Big bonefish prefer the protection of deeper flats or shallow flats close to deep water. When you're fishing water 3-4 feet deep, you'll need a fly with lead eyes to get to the bottom quickly. A proven deep water fly is the Clouser minnow and the two best color combinations for bonefish are tan and white and chartreuse and white.
Andros' combination of proximity to the states, tons of bonefish terrain, high numbers and sizes of the fish make it a destination you will never forget. DO it sooner rather than later so you can return again and again.
Our brand-new 16 foot Dolphin flats skiffs acquired in Fall, 2004, accommodate 2 anglers and the guide. They have elevated poling platforms and have a forward casting deck, cushioned seats and rod racks. All of our boats are equipped with a leaning rail and should you require this extra balancing aid please let the lodge managers know on your arrival. Our skiffs are powered by 50HP Mercury engines, which put the boat on plane well, are fast enough to get you to the Southern or Western flats in less than an hour and are light enough not to "bump" the bottom in shallow water. Whilst the hull design on the boats eliminates backache on longer journeys, be sure you have reel covers on all your reels, as they will bounce with the ride out. The guides are equipped with satellite telephones, emergency flares, first aid kits, leatherman tools, IGFA rated 30 lbs Boga grips (for your record bonefish!), life jackets, and a human de hooker!
Off-shore fishing: Reef fishing for snapper, grouper or barracuda as well as ocean fishing for Tuna, Wahoo and dolphin can be arranged for your trip. This can provide a wonderful day off from the flats. Please let us know in advance if you would like us to arrange this.
Our Guides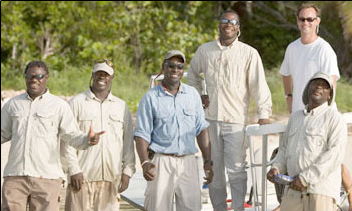 Our guides are the best in Andros and we are proud to have them working with us at the lodge. Between them they have18 years guiding experience at Bair's and have extensive knowledge of S. Andros flats. They are highly professional, hard working, personable, and more than meet the high standards of our operation. Our guides are also commercial fishermen for lobster and conch in the off season, and as such they know these waters inside out. They understand the effect of the tides and know where to go under different weather conditions. They also know the honey holes where a Permit, Snook or Tarpon can be found, and this can be a nice addition to bone-fishing. With their skills as boat handlers, and great eyes developed over years of spotting bonefish, they will put you on fish and give you as much or as little guidance and instruction as you want. Each day your guide will decide where to go, given the weather conditions and guest preference as discussed with the lodge manager. You should express any special preferences to the lodge manager, such as wading versus boat fishing. If you only want to target large individual bones, or if you prefer to fish to large shoals of fish, just let us know. We will work with your guide and try to tailor your day accordingly! Our policy of rotating guides, gives anglers the opportunity to fish with all of these top notch guides. We would be hard-pushed to recommend one over the other!
Our Boats
We have 16 foot Dolphin skiffs that accommodate 2 anglers and the guide. They have elevated poling
platforms and have a forward casting deck, cushioned seats, and rod racks. All of our boats are equipped 7
with a leaning rail. Should you require this extra balancing aid please let the lodge managers know on your
arrival. Our skiffs are powered by 50HP & 60HP Yamaha engines, which put the boat on plane well, are fast
enough to get you to the Southern or Western flats in less than an hour, and are light enough not to
"bump" the bottom in shallow water. While the hull design on the boats eliminates backache on longer
journeys, be sure you have reel covers on all your reels, as they will bounce on the ride out. The guides are
equipped with emergency flares, first aid kits, IGFA rated 30 lb. Boga grips (for your record bonefish!),
lifejackets, and a human de hooker!
Fishing Photo Gallery
Tackle & Gear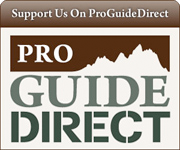 Here is a list of the basics you will need for your trip. I have organized this list on Pro Guide Direct where you can actually purchase the brands and items that I have found to be the best of the best. Any Items that you purchase from Pro Guide Direct will help us earn a living and help you by being ensuring that you have the right gear for the trip. Many of our destinations are pretty remote with no chance to buy things on site.

Caribbean Gear List
Species
Rods
Reels
Line
Leaders
Bonefish
9 foot 8 or 9 wt. (maybe a 10 wt. on a windy day)
Large Arbor Disc drag reel with 200 yards of 20 lb. backing.
Floating tropical line
9 ft-12 ft leaders with 10-12 lb. tippet.
Permit
9 foot 9 or 10 wt.
Large Arbor Disc drag reel with 200 yards of 25 lb. backing.
Floating tropical line
9-14 ft leaders with 12-15 lb. tippet.
JuvenileTarpon
9 foot 10 wt.
Large Arbor Disc drag reel with 300 yards of 30-40 pound backing.
#1 Floating tropical line
#2 Floating with clear sink tip
9-12 ft leaders with 25-30 lb. class tippet and 60 lb shock tippet.
Large Tarpon
9 foot 12 wt.
Large Arbor Disc drag reel with 300 yards of 40-50 pound backing.
#1 Floating tropical line
#2 Floating with clear sink tip
#3 Full intermediate sink line
9-12 ft leaders with 25-30 lb. class tippet and 80 lb shock tippet.
Barracudas,
Sharks
9 foot 9-12 wt.
Large Arbor Disc drag reel with 300 yards of 40-50 pound backing.
#1 Floating tropical line
#2 Floating with clear sink tip
6-9 ft leaders with 20-30 lb. steel bite tippets.
Barracuda/Sharks
bring the wire bite guards!!
The Fly List:
Go a little smaller than you might think, better to have too many 8's than 4's for the bonefish. Tie a few patterns with just the weight of the eyes as a variable 1 with lead eyes, 1 with chain, 1 with small chain, and 1 with no weight or mono eyes just to make sure you have flies for very skinny water all the way to waist deep water. Presentation seems to be much more important than fly selection. Weed guards will be a plus on the grass flats.

Fly Name
Colors
Sizes
Qty for a 1
Week Trip
Toad Fly
chatreuse, olive, tan, purple/black
1, 1/0
12
Cockroach
standard
1/0, 2/0
4
Black Death
white, tan
1/0, 2/0
4
Purple Demon
purple/black
1/0, 2/0
4
Layup tarpon fly
brown, chatreuse ,yellow
1, 1/0
6
Enrico's Tarpon Streamer
Purple & Black
2/0
4
Enrico's Tarpon Pinfish
Olive/white
3/0
4
Del's Merkin
tan/brown
1/0, 2, 4
6
Turneffe Crab
Cream, olive
2, 4, 6
4
Clouser minnow
chatr/white
1/0-2/0
6
Bonefish CLouser
assorted
4-6
12
Crazy Charlie
bead eye
pink,white,tan,brw
4, 6, 8
12
Moe bonefish
amber, pink
4
6
Christmas Island Specials
pink, orange
6, 8
18
Gotcha
standard
4, 6, 8
12
Rates
Abaco & Bair's Package Prices
Number
of Lodge
Nights


Number
of Fishing
Days

Two per Boat , 2 per room
High Season: Oct 2014 to Mar 15, 2015 & July 2015
High Season /LowSeason

One per Boat (all single rooms)
High Season: Oct 2014 to Mar 15, 2015 & July 2015
High Season /LowSeason
Non fishing partner
High Season: Oct 2014 to Mar 15, 2015 & July 2015
High Season /LowSeason
3
2
$2850 / $2650
$4560 / $4240
$1185 / $1185
4
3
$4100 / $3895
$6560 / $6232
$1580 / $1580
5
4
$4950 / 4750
$7920 / $7600
$1975 / $1975
6
5
$5495 / $5295
$8792 / $8472
$2370 / $2370
7
6
$5850 / $5650
$9360 / $9040
$2765 / $2765
Prices Include: Transfers from Marsh Harbour airstrip to the lodge, three meals a day, guided fishing each day ( for fishing packages), It includes an open bar. It also includes all taxes. Prices quoted are in US dollars.
Prices do not include: Gratuities for your guide and resort staff
Full Day Fishing on Arrival/Departure date: $ 750 p/boat
Half Day Fishing on Arrival/Departure date: $ 550 p/boat
Why Book Through Flyfishingheaven.com?
Why book through flyfishingheaven.com?
1. Unbiased Advice:
Most people recognize the advantage of our unbiased advice, there are hundreds of destinations to choose from and our job is to know the ones that are right for your needs. We offer the real story you can't get from a lodge owner. Would the outfitter in questions tell you are booking in a less than stellar part of the year? Remember our unbiased advice is 100% free!
2. We Can Book Anywhere:
Our website highlights many of our favorite destinations but we have access to hundreds more. If there are fish there, we can book it. In fact, we will give you 5% back if you book a trip through us that is not on our website! We enjoy learning about new spots!
3. Loyalty Discounts:
2017 Special: You are automatically enrolled in our loyalty program before your first trip and will get the 5% cash back on your very first trip. This offer is good until December 31, 2017. In January you will ear your loyalty discount on the second trip and every trip thereafter. This discount applies to all your friends who are going with you as well. f you organize a group of 8 or more we will give you 10% off! All you have to do is book the first trip and you are a flyfishingheaven.com frequent fisher!
4. Price Guarantee:
If you find a price lower than ours we will beat that price by 5% if you book through flyfishingheaven.com!
Our Pledge
We promise to work for you, not a lodge, outfitter or resort. We pledge to get you you to a destination that will live up to your expectations at the best possible price. You will never be charged more than booking directly (in fact most of our clients are paying less - *see below). We will make sure you are well prepared for your trip with specific knowledge about the gear, the flies, the rods, packing lists, travel documents, connecting information everything. Since we are not tied to a particular destination we promise honest pros and cons of any destination at the time of year you are traveling.

We do earn a small commission when we book a trip as all lodges and outfitters offer this as they depend on agencies like ours for much of their business. This fee is paid by the lodge not you, and they do not keep different prices for direct bookings vs agency bookings, it is bad business.
Payment and Cancelation Polices
A 10% deposit is required if you are booking more than 6 months in advance, 50% deposit is required when less than 6 months until departure date with the balance due 60 days prior to departure. If you are forced to cancel with more than 60 days notice, you may keep full credit towards another trip or receive a refund less a 10% service charge. Deposits on cancellations with less than 60 days notice are not refundable unless your spot can be filled. MC, Visa, and checks are accepted. We recommend travel and or medical emergency insurance for all our trips.
Seasons
Bair's Lodge Fishing Calendar
Month
Bonefish
Permit
Tarpon
Off shore
January
Good
Good
Fair
Excellent/Good
February
Good
Good
Fair
Excellent/Good
March
Excellent
Good
Fair
Excellent/Good
April
Excellent
Good
Good
Excellent
May
Excellent
Good
Good
Excellent
Jun
Closes mid June
Excellent
Excellent
Good
Excellent
July
Closed
Closed
Closed
Closed
August
Closed
Closed
Closed
Closed
September
Closed
Closed
Closed
Closed
October
Reopens Mid Oct.
Closed
Good
Fair
Excellent/Good
November
Closed
Good
Fair
Excellent/Good
December
Good
Fair
Fair
Excellent/Good
Gallery
Activities
Fly Fishing Bahamas – Activities at Bair's Lodge
Although Bairs Lodge is a beautiful spot with the best service, food etc of any lodge on earth, there is still not much to do but fish, so it may not be the best destinations for the non fishing spouse, or family member! Drop me an email so we can make sure that this destination will meet your non fishing needs.
Travel
Fly Fishing Bahamas – Travel Tips for Bair's Lodge
Guests can either reach Congo Town on a commercial Western Air flight from Nassau, or they can take a
private charter from Florida directly to Congo Town.
Commercial flights via Nassau
Many airlines fly into Nassau including:
US Airways
Website: www.usairways.com. Phone: 800-622-1015
Continental Airways
Website: www.continental.com. Phone: 800-231-0856
American Airways
Website: www.aa.com. Phone: 800-433-7300
Delta
Website: www.delta.com. Phone: 800-221-1212
From Nassau, Western Air has two daily flights to Congo Town. These can be reserved directly with Western
Air at (001)-242-329-4000. However, please be aware that tickets cannot be pre-purchased and must be
paid for in cash when you check-in. A return ticket is approximately $150.
Charter flights from Fort Lauderdal
Charters
A private or shared charter can be a time and cost efficient way of getting to Congo Town. There are several
companies that fly from Florida directly to Congo Town. We recommend Watermakers Air, who operates a
daily shared charter service from Fort Lauderdale Executive Airport.
Watermakers Air:
Website: www.watermakersair.com. Phone: 954-771-03303
On arrival at Congo Town you will be met by a lodge representative, who will transfer you to the lodge. It is
a short 20 minute drive and the cost is included in the package.
If you are delayed or miss your flight please contact the lodge on the number provided at the bottom of this
document.
When you arrive at the lodge, staff will greet you and show you to your room, where you will find your bags.
There is no organized fishing on arrival day. However, it can be arranged upon previous request or you can
wade in front of the lodge, walk the beach, or relax in the pool with a refreshing drink.
On your departure day, you will be taken back to Congo Town with plenty of time to catch your flight. The
Bair's Lodge Manager will assist you with timing your departure from the lodge the night before.
Travel documents
You will need a valid passport. No Visa is required for US or UK passengers, but other nationalities should
check with their local consulate.
Health concerns
You do not need any inoculations to travel to the Bahamas. If you have a health condition, please make sure
to bring ALL the medication you will require for your stay.
Please notify the lodge of any health conditions or concerns we should be aware of. You can do this with
the Pre Trip Questionnaire which you can submit online at www.nervouswaters.com/PreTrip.aspx
The lodge has a basic first aid supply, but do bring any item you think you might need.
As with all destination travel, you should be covered by a general Health and Travel Insurance.
There is an efficient Air Ambulance service available for serious emergencies. The service evacuates to Fort
Lauderdale or West Palm Beach, and it is very costly. We recommend you always buy private travel
insurance before any trip to cover you in case of an emergency.
Packing List
Tropical Packing List
| √ | Packing Item | √ | Packing Item |
| --- | --- | --- | --- |
| √ | Passport | √ | Camera & media |
| √ | Photocopy of Passport (packed separately) | √ | Computer |
| √ | Airline tickets | √ | Cell Phone |
| √ | Itinerary with contact numbers | √ | Reading & writing materials |
| √ | Emergency Medical insurance docs ( if purchased) | √ | Rod repair (tip top and glue) |
| √ | Major credit card | √ | Sun gloves |
| √ | Cash for tips (there are a couple ATMs in San Pedro but they may not be working)) | √ | Face Sun protection (buff) |
| √ | 2 Hats with brim and neck guard (or sun hat for non anglers) | √ | Sunburn relief spray |
| √ | 2-4 long sleeve shirts for fishing (SPF fabric) | √ | Sunscreens SPF 30 or above |
| √ | 2 quick dry pant for fishing (SPF fabric) | √ | Sun block for lips and nose |
| √ | 2 quick dry shorts for fishing (SPF fabric) | √ | Toiletries |
| √ | White socks (tops of feet get burned in the boats or wear under wading shoes) | √ | Prescription meds |
| √ | Underwear | √ | Non-prescription Meds |
| √ | Casual pants or shorts | √ | Eyeglasses (and spare) |
| √ | Casual shirts, short sleeve | √ | Fly Rods |
| √ | Sandals | √ | Reels |
| √ | Belt | √ | Fanny or other small fishing pack |
| √ | Light sweater or fleece | √ | Water bottle ( Holster optional) |
| √ | Socks | √ | Waterproof boat bag |
| √ | Wading shoes | √ | Lines |
| √ | Bathing suits, | √ | Leaders |
| √ | T- Shirts | √ | Tippet |
| √ | Sandals or walking shoes ( Barefoot is good) | √ | Flies |
| √ | Rain jacket (an occasional cold squall will roll though or the boat spray may chill you to the bone!) | √ | Nippers |
| √ | Bug repellent (for dead clam days or evenings) | √ | Pliers/forceps |
| √ | Sunglasses (polarized with lanyard) | | |