Overview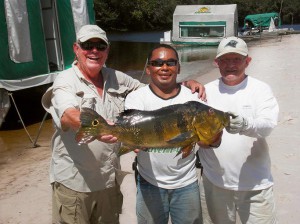 This is the most convenient and efficient operations in the Amazon Basin. A float plane delivers you directly to the portable floating cabins or the Backwater explorer live-aboard ship. There is no wasted time getting to the fishing spots each day, the cabins move daily to the next un-fished area, the Backwater Explorer moves nightly – No long boat rides to get to the lodge, then to the fishing you are delivered by float plane directly from Manaus to your floating cabin or live aboard which is already relocated in the best un-fished areas for that time of the season.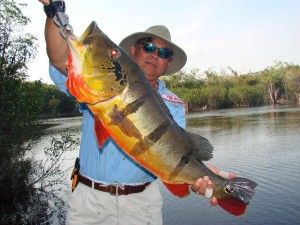 River Plate is the only outfitter in Brazil that has legally obtained fishing permits for Indian reserves by negotiating in good faith with the Brazilian government authorities. These permits restrict potentially damaging commercial (for profit) fishing, so our arrangements greatly benefit the Indian tribes by preserving land, water courses and wildlife in these delicate ecosystems.
We operate with "zero footprint" procedures—spending very little actual time in the rainforest (guests are either in the fishing boats or eating and resting in our floating cabanas), and by using many biodegradable products and carefully removing all garbage and signs of our passing.
Testimonials – River Plate and the Amazon Fishing
Eight in our party landed and released over 1850 peacocks in six days. Approximately 40 in the 10-15 pound range. Approximately 10 in the 15-20 pound range. A large number of other fish were also caught and released. A few small peacocks and other fish were kept for meals.

Essentially all facets of the trip were really exceptional. The logistics were clearly very well thought out and optimized to effect maximum convenience and benefit for the clients. The accommodations, though basic (it is a remote fly-in camp) were remarkably comprehensive — camping with essentially every creature comfort (flush johns, showers, air conditioners!). The food was basic local fare, but rich and delicious, and more than you could possibly eat. The camp staff was very friendly and accommodating. Fishing was excellent, both in quantity and quality. These Amazon peacocks are incredible fish — more fight per pound than anything I've had the pleasure to fish for. The guides were extremely well-skilled, and consistently put us on fish. In that you spend the majority of the trip with them, their competence is clearly critical, and they exceeded expectations in every respect, bending over backwards to insure our success and enjoyment. They will do as much, or as little, as you wish, and truly "guide" you with skill and tact — regardless of any language barrier. You do not need to speak a lick of Portuguese to have a great experience.
Camp total-8 fishermen–3,249–5 days -About 500 less than the group preceding us, but they didn't have a bad rainy day like we did.. Suze & Jim– 916– With Suze more than half Suze also beat my 15 #r with a 17 #r She listened to our guide, Sid ! Camp – big ones 144 – -10- 16 # 9 fish — 17 to 19 # 2 — 20# 1 — 21# This is my 5th peacock bass fishing trip & by far the best with no problem catching more than 100 fish / day
Lodging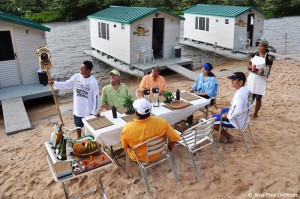 This is the unique part about these trips, a series of cabins that can be hitched together like a train to navigate up or downstream to a new section of river every day. As you head off fishing each morning our crew will pack up, secure the floating cabins together and haul them to the next overnight spot. Maybe you fished your way 10 miles up stream.. guess what, your cabins followed you!
We literally outdistance the competition!
River Plate's six independent Fly-In Floating Cabins are the ultimate solution for optimizing shallow drafting mobility, comfort and luxury. On arrival into Manaus from the US, you fly 1 to 2 hours directly to one of our six Floating Cabins via a new state-of-the-art 8 passenger Cessna Caravan turbo prop float plane.
Each cabin has 2 twin beds, a desk area, full bathroom with flush toilets, showers and even air conditioning! There is a central dining cabin for getting together and meals.
Every evening, the manager will discuss the following day's plan with you. You will typically be awakened by 6:30 a.m. by one of the members of our staff. Breakfast will be served by 7:00 and your guide will be ready to leave by 7:30.
You may start to fish in the adjoining lagoons while the Floating Cabins navigate to un-fished river segments. At midday you may return for lunch and a "siesta" at the fully air-conditioned Floating Cabins or, you may take a packed lunch prepared by our cook and continue fishing until late in the afternoon.
Appetizers and dinner are served after all the guests return.
A Little More About the Accommodations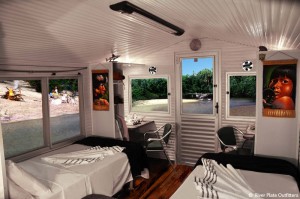 Our Cabins cruise the headwaters of small tributaries with fish-filled secluded lagoons, which are 3 – 5 hours on a fast bass boat from the cluster of competing house boats and lodges on the Negro's river deep channel waterways.These floating cabines can make it over shallow bars and rapids that liveaboards can't!
These cabins can only be reached by float plane, plus the daily shallow drafting Cabin cruising, effectively replaces daily 3-5 hour fast bass boat traveling, or expensive daily Fly-Outs, from the main waterways to the secluded lagoons which are protected by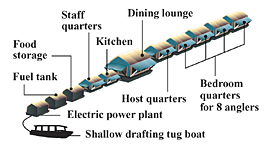 shallow water entry barriers. Although many well established land based lodges, including our ex-Shufari and Tapera Lodges, are situated past these natural barriers, they have no mobility to seek better water levels. Plus, more importantly, their areas become rapidly over fished 2 to 3 hours upriver or down river. Our cabins, however, move daily to un-fished river segments overnighting along Caribbean-like beaches. Walk-in at any time to comfort from the nearby secluded prehistoric-looking lagoons to your 10' X 15' elegant roomy cabin with private full bathroom. The Cabins are fully carpeted, tastefully decorated, and every detail has been carefully considered.
A Closer Look at the Cabins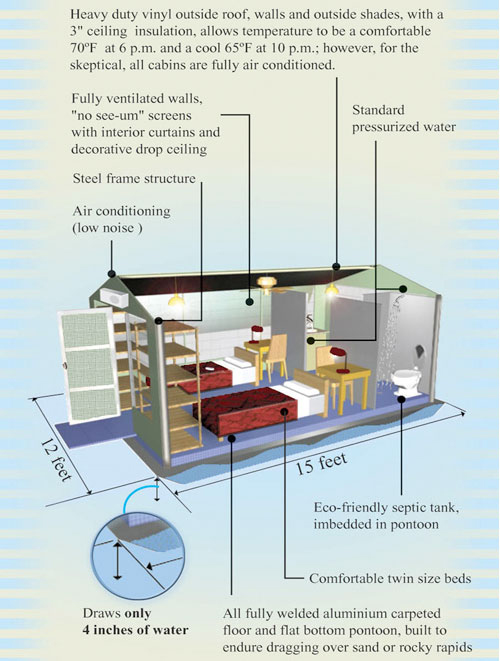 Lodge Photos
Fishing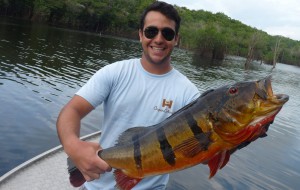 Peacock Bass are the prized species here in Brazil. (See the total species list below) They attack surface flies hard and fast… they miss a lot, they jump a lot. There is pretty much nothing that isn't fun about them! The big difference in this area is the water that they have exclusive access to. The fish are not pressured as they have access to hundreds and hundreds of miles of rivers and lagoons that others can't get to.
Mobile Camps:
The big advantage to this outfitter is the proximity to the fishing these mobile floating cabins get you to the fishing. You leave in the morning, maybe go 5 minutes, fish for 45 minutes, move 5 minutes fish for an hour and so on. Usually you will eat lunch back at the camp. When you head out for the afternoon fishing the crew will secure the cabins and is towing them to your next spot and may pass where you are fishing. The camp follows the best fishing every single day. If the water at your camp is not right they will fly you to another camp where the levels of water are better.
Guides:
River Plates' guides are undoubtedly the best in the business. Most Amazon outfitters employ poorly-trained, unenthusiastic "boat drivers". River Plate's carefully trained guides are hard core sport fishermen who are intimately familiar with the complexities of Amazon angling. Many have guided for River Plate for over 15 years. With thousands of fish boated for clients, they'll put you onto big numbers of big fish like no one else in the Amazon.
Boats:
With a 16-year learning curve on how to overcome the Amazon's shallow sand bars in order to reach remote un-fished areas, we have gone from the attractive but ineffective U.S. 120HP high-speed bass boats to our today's "in house" designed, built and field tested all-aluminum welded shallow drafting tunnel boat. They are 20 feet long with a 40 HP outboard and all the standard bass boat features (trolling motor, high swivel seats, etc.), yet they are still sufficiently light to navigate pass the shallow sandbars.
The list of Amazonian freshwater gamefish is as extensive and exotic as the land itself. Depending upon the region there are as many as twenty different species that will take a fly or lure – all with fantastic names to match their peculiar appearances.
Species
The peacock bass' explosive strikes and spectacular fighting prowess serve to rank it among the greatest fighting fish in the world. Even the biggest specimens don't hesitate to go airborne. Bringing big, powerful fish like these to the boat in the tight quarters in which they are usually found is a great challenge for any angler.
Yatorana, called bocón, in Colombia and Venezuela, jump and fight like dorado and run in schools, so once you're into them the action is fast and furious.
Yatorana can grow upwards of 15-pounds. This is all the fish you'd want to tangle with one light tackle.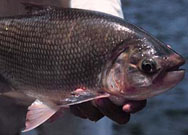 Matrinchá are fierce fighters on light tackle. They strike baits at high speed and continue moving right through the drag. Within seconds they're out of the water and flying through the air. A small specimen of matrinchá shows off its brightly marked tail and dorsal fins. These highlights fade and ultimately disappear in older specimens.
Freshwater dorado are a distinct migratory gamefish not to be confused with the saltwater dolphin fish. Physically, the freshwater dorado is best described as a prehistoric golden trout or salmon with the jaws of a pit bull terrier. Ichthyologists have appropriately given the southern species of dorado the Latin name, Salminus maxillosus. Salminus, meaning trout-like, and maxillosus referring to the fish's immensely-powerful jaws.
Members of the sub-family Colossoma of the Characidae, tambaqui (Colossoma macroponum) are physically built like a stocky permit or jack – think of a trash can lid with fins. They have a pleasant grey-blue back which fades into a purple-brown shade near the belly of the fish. An omnivorous distant relative of the piranha, tambaqui have dazzling teeth which look exactly like a set of human dentures.
Pacu, with their mouths full of molars are the "lotus-eaters" of the Amazon fish fauna. Most species belong to the genus Mylossoma. Their diet consists mostly of flowers and fruits, with an unlucky bug occasionally joining the menu. Although they look awfully similar to their razor-toothed brethren, they have a reputation for placidity.
There are over a dozen species of piranha (Serrasalmus sp.) swimming the rivers from Argentina to Venezuela. Some grow larger than 6-pounds and can be fantastic light tackle adversaries (especially on smaller spinning/casting rods or a 5-6-weight fly rod). Needless to say, piranha are not picky eaters and take literally anything remotely resembling a baitfish. A small Rat-L-Trap tipped with meat is deadly. These feisty little creatures can, at times, be quite a nuisance as they have a nasty habit of destroying your lures or that custom-tied eight-dollar streamer the second it hits the water.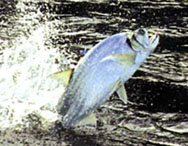 Payara take the art of the fight to another level. They combine some of the best characteristics known among fighting fish to provide an extraordinary angling experience. Payara are extremely aggressive and strike with intense power. They peel off line in long fast runs. And when all else fails, they hurl their huge, slablike bodies high into the air. If these fish were commonly found in the same "small-water" conditions as peacock bass, they would rarely be landed.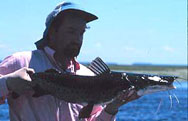 There are countless species of catfish throughout the Amazon and Paraná drainages. They range in size from the diabolical candirú (Pygidiidae), a tiny parasitic catfish that lodges itself in the urethral openings of other fish or animals (or humans) to the monstrous lau lau or valentón/piraiba (Brachyplatystoma filamentosum), which is said to grow over 10-feet long and weigh in excess of 500-pounds).
Fishing Photo Gallery
Tackle & Gear
Here is a list of the basics you will need for your trip.  Many of our destinations are pretty remote with no chance to buy things on site.
(Travel rods in 3-4 piece construction are helpful for carry-on purposes. Extra rod , reel, and fly lines are strongly suggested.):
Rods: An 8-10 weight rod will be sufficient for the species that are caught on a fly.
Reels: You will want at least two set-ups – one with a floating line, and the other with a sink tip line like a Teeeny 300. Then I would add a full sinking line as wellBoth will need at least 100 yd. of backing.
Leaders: Short leaders of 4-6 feet work well for the majority of fish. Bring both 30 lb. shock tippet and 30 lb. wire leaders. For peacocks bring a large spool of 40 pound mono – you will go through a lot. If you're trying for a IGFA record, you'll have to follow their leader specifications.

Other Gear:

Wire in weights 30, 40, and 50 lb.
Nippers, wire cutter, hook hone, forceps and pliers
Reel lubricant, line cleaner, rod and reel repair kit
Waterproof tape to protect fingers
Tape measure
Remember that most of the fish have sharp or rough teeth and will destroy your line, leaders and lures readily. You will want to be prepared with plenty of extras .
Fly List
Pacu—Flies: poppers sizes 4-8, in chartreuse or orange (imitating the fruit food sources.) They will occasionally take streamers sizes 1/0- 2/0, all with white belly and silver flash in yellow, red, blue or green.
Peacock Bass—Flies: poppers sizes 2/0-4/0 in red/white, blue/white and green/white. Streamers fished on sinking lines seem to be most productive (not only in terms of overall numbers of peacocks, but for larger-sized fish as well). Popular streamers include 6-inch (5/0) bi-colored, heavily-dressed bucktails in red/yellow, olive/white, black/white, and orange/black. Big Deceivers, Bunnies, Saltwater Zonkers, Clousser Minnows, and other flashy bait-fish imitations all take fish. All patterns should have generous amounts of matching Flashabou or Crystal Flash. Big saltwater poppers are exciting to fish, but can be extremely exhausting to cast and retrieve for a prolonged period. Gaines saltwater popper in red/yellow and pearl/olive hold up well and are hard to beat in terms of their 'action' in water. 'Sliders' are productive in clear water situations. Popovic's 'Silicone Mullet' in olive and white is hard to beat. Fly SHADE seems more important than COLOR depending upon light conditions. For this reason have an adequate selection of light and dark patterns. We recommend that you bring at least two dozen streamers
Matrinxa—Flies: streamers similar to those for Peacocks work well in sizes 2 – 2/0. Also 4" grasshoppers in bright green with orange or yellow underbody.
Piranha—Flies: streamers in sizes 2 – 2/0 in blue or green with heavy silver flash.
Payara/Cachorra—Flies: streamers the same as for Peacocks, with wire leader and very sharp hooks.
Traira—Flies: streamers in sizes 1/0 – 4/0 with wire leaders in same colors as for Peacocks.
Catfish—Bait: is by far the best way to catch the catfish. Hooks in sizes 4/0 – 10/0 are required for the different species, with wire leaders and sliding sinkers from 1-3 oz.
Packing List
Tropical Packing List
| √ | Packing Item | √ | Packing Item |
| --- | --- | --- | --- |
| √ | Passport | √ | Camera & media |
| √ | Photocopy of Passport (packed separately) | √ | Computer |
| √ | Airline tickets | √ | Cell Phone |
| √ | Itinerary with contact numbers | √ | Reading & writing materials |
| √ | Emergency Medical insurance docs ( if purchased) | √ | Rod repair (tip top and glue) |
| √ | Major credit card | √ | Sun gloves |
| √ | Cash for tips (there are a couple ATMs in San Pedro but they may not be working)) | √ | Face Sun protection (buff) |
| √ | 2 Hats with brim and neck guard (or sun hat for non anglers) | √ | Sunburn relief spray |
| √ | 2-4 long sleeve shirts for fishing (SPF fabric) | √ | Sunscreens SPF 30 or above |
| √ | 2 quick dry pant for fishing (SPF fabric) | √ | Sun block for lips and nose |
| √ | 2 quick dry shorts for fishing (SPF fabric) | √ | Toiletries |
| √ | White socks (tops of feet get burned in the boats or wear under wading shoes) | √ | Prescription meds |
| √ | Underwear | √ | Non-prescription Meds |
| √ | Casual pants or shorts | √ | Eyeglasses (and spare) |
| √ | Casual shirts, short sleeve | √ | Fly Rods |
| √ | Sandals | √ | Reels |
| √ | Belt | √ | Fanny or other small fishing pack |
| √ | Light sweater or fleece | √ | Water bottle ( Holster optional) |
| √ | Socks | √ | Waterproof boat bag |
| √ | Wading shoes | √ | Lines |
| √ | Bathing suits, | √ | Leaders |
| √ | T- Shirts | √ | Tippet |
| √ | Sandals or walking shoes ( Barefoot is good) | √ | Flies |
| √ | Rain jacket (an occasional cold squall will roll though or the boat spray may chill you to the bone!) | √ | Nippers |
| √ | Bug repellent (for dead clam days or evenings) | √ | Pliers/forceps |
| √ | Sunglasses (polarized with lanyard) | | |
Rates
River Plate Pricing
FLOATING CABINS
Standard Trip
2 to cabin
FLOATING CABINS
Premium Trip 1 per cabin
Season Dates
November through February
November through February
Cabin Size
10' x 15'
10' x 15'
Anglers per Cabin
2
2
Distance to fishing grounds
5-15 Minutes
5-15 Minutes
Minimum - Maximum group size
4-12
4-6
Fishing Days
6-1/2
6-1/2
Price
$5595 per person
$6995 per person
Prices Include:
Guide –operated 21-foot fully equipped shallow drafting bass boat every two anglers.
All meals at fishing destination, including wine, beer and hard liquor
Daily laundry and maid service at fishing destination
Fishing licenses
All necessary local transfers as per itinerary
One night hotel in Manaus, or River Plate´s House, on arrival
See baggage packing weight limits
Prices do not include:
International airfare (abt. $1.000 Miami round trip to Manaus)
Brazilian visa
Suggested voluntary tips to camp staff ($250) and fishing guides ($250)
Jigs at camp for sale : abt. $5 each
Food an beverages in Manaus and private city tours
Special transfers and hotel reservations when not arriving and/or departing with the group
Airport departure tax
Satellite phone calls ($5/minute)
Extra hotel nights
Customized transfer requirements: ask your agent
Why Book Through Flyfishingheaven.com?
Why book through flyfishingheaven.com?
1. Unbiased Advice:
Most people recognize the advantage of our unbiased advice, there are hundreds of destinations to choose from and our job is to know the ones that are right for your needs. We offer the real story you can't get from a lodge owner. Would the outfitter in questions tell you are booking in a less than stellar part of the year? Remember our unbiased advice is 100% free!
2. We Can Book Anywhere:
Our website highlights many of our favorite destinations but we have access to hundreds more. If there are fish there, we can book it. In fact, we will give you 5% back if you book a trip through us that is not on our website! We enjoy learning about new spots!
3. Loyalty Discounts:
2017 Special: You are automatically enrolled in our loyalty program before your first trip and will get the 5% cash back on your very first trip. This offer is good until December 31, 2017. In January you will ear your loyalty discount on the second trip and every trip thereafter. This discount applies to all your friends who are going with you as well. f you organize a group of 8 or more we will give you 10% off! All you have to do is book the first trip and you are a flyfishingheaven.com frequent fisher!
4. Price Guarantee:
If you find a price lower than ours we will beat that price by 5% if you book through flyfishingheaven.com!
Our Pledge
We promise to work for you, not a lodge, outfitter or resort. We pledge to get you you to a destination that will live up to your expectations at the best possible price. You will never be charged more than booking directly (in fact most of our clients are paying less - *see below). We will make sure you are well prepared for your trip with specific knowledge about the gear, the flies, the rods, packing lists, travel documents, connecting information everything. Since we are not tied to a particular destination we promise honest pros and cons of any destination at the time of year you are traveling.

We do earn a small commission when we book a trip as all lodges and outfitters offer this as they depend on agencies like ours for much of their business. This fee is paid by the lodge not you, and they do not keep different prices for direct bookings vs agency bookings, it is bad business.
Payment and Cancelation Polices
A 10% deposit is required if you are booking more than 6 months in advance, 50% deposit is required when less than 6 months until departure date with the balance due 60 days prior to departure. If you are forced to cancel with more than 60 days notice, you may keep full credit towards another trip or receive a refund less a 10% service charge. Deposits on cancellations with less than 60 days notice are not refundable unless your spot can be filled. MC, Visa, and checks are accepted. We recommend travel and or medical emergency insurance for all our trips.
Seasons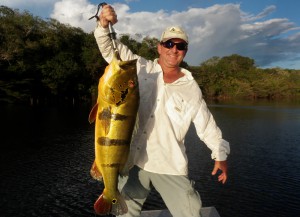 The season for River Plate is longer than any non mobile Amazon lodge. The fishing is good between July through March. The mobile live aboard Black water Explorer and the Floating Cabin Camps are moved hundreds of miles through the season to stay in the right water levels where we know the fish are. A fixed lodge will either have to fly out or spend several hours in a fast boat to access the right water levels throughout a season.
Gallery
Please take a look at the  photo and video galleries related to River Plate Fishing.

Fishing Photo Gallery
Lodge Photo Gallery
Video Gallery
Activities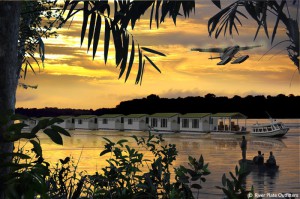 There is nothing to do but fish or hang out with a fisherman and enjoy the scenery.
Travel
Useful information for your fishing adventure
Manaus was founded in 1669 by the Portuguese as a small fishermen's village. Its name is of Indian origin and its literal translation is "Mother of God".
During this time, wealthy plantation owners flocked to Manaus and a "belle epoque" splendor prevailed. Today, the glamour of this period is reflected in the ornate Opera House, which was built in 1892 with distinct European influence, both in style and materials.
Today Manaus is a duty-free zone and a center of ecotourism in the Amazon.
Situated just 3 degrees below the equator and over 1000 miles inland, it is one of the busiest ports in the region where cargo ships distribute their goods throughout the Amazon basin. With the discovery of rubber trees in the area in the 1850's, Manaus flourished for a period of about 20 years, from 1890 – 1910, and was known as "Paris of the Jungle".
Passport and Visa considerations
A valid U.S. passport is required for entrance into all South American countries. Make sure your passport is valid and does not expire before or during the time you will be outside the United States. It takes up to a month to process a new passport, so please plan accordingly.
To obtain a visa, your valid passport must be sent to the nearest Brazilian General Consulate. For your visa, your passport cannot expire within three months of entrance into Brazil.
Flight Information
Plan to travel to Miami on Friday, in order to connect with the flight to Manaus. We suggest you arrange your flight to Miami to arrive with enough time to make the connecting flight to Manaus.
On the return trip, connecting flights home should be planned no sooner than 2 hours after arriving in Miami. Most likely, your flights home will not be available until the next morning, in which case you should plan to overnight in Miami.
Our US Agents carefully arrange air travel from home cities to Manaus. Working together with their travel agent partners and directly with the senior sales departments of the major international carriers, they block-off plenty of seats before our fishing season starts, providing efficient schedules and ticketing, and in many cases with prices significantly below published discount fares.
We strongly suggest you check your luggage from your home city to Miami, claim it there, and re-check it on the international carrier to Manaus.
Weather
Mid-day temperatures in the Amazon range from 85º – 95ºF. Generally there is some wind and intense sun during the day, so please be mindful of dehydration and overexposure to the sun. At night the temperature drops to 65º – 75ºF. Although you will be fishing in the dry season, there are occasional rain showers (you are in the rain forest).
Don't forget to drink plenty of fluids, even if you do not feel thirsty. Water is best. Beer and soda can actually dehydrate you (alcohol and caffeine are diuretics), so drink these liquids in moderation until you become acclimated. For safety reasons; we limit the beer to 4 cans per angler, per day.
Baggage Packing
There is a strictly-enforced restriction on all our flights as follows:
Up to 12pax Charter flight 45 lbs.
Float-plane flight 30 lbs.
Commercial flight 20 lbs.
"Check-in" luggage must be packed in soft duffle bags with no rigid bottom.
We recommend wearing loose fitting, lightweight, light-colored cottons or synthetics (Tarpon Wear, Patagonia, etc.). Some fabrics allow passage of UV rays, so don't just bring any old shirt – we've seen people severely sunburned right through their clothes!. Long pants and sleeves are best to protect from sunburn.
Beer-can limit: Because of the remoteness of our operations, we have a limit of 350 cans per week, per camp. For safety reasons, we limit the beer to 6 cans per angler, per day, per boat.
Important note: All luggage (Carry-on & Check-in) will be weighed at the airport. No over-weight baggage will be allowed on any flight. Any excess baggage may be left in Manaos with our guide. Please do not bring coolers or hard luggage. The camp has daily laundry service, so bringing a lot of clothing is not necessary.
Health / Insects
It's a true blessing that the rivers we fish in have a high tannin concentration due to the forest's leaf decay, and do not encourage the growth of insect eggs and larvae. Although we have never had an angler suffering from any tropical illness, there are occasional encounters with bugs. We suggest you contact your doctor regarding his or her recommendations, or you can call the IAMAT (International Association for Medical Assistance to Travelers) at (716) 754.4883.
Packing List
Tropical Packing List
| √ | Packing Item | √ | Packing Item |
| --- | --- | --- | --- |
| √ | Passport | √ | Camera & media |
| √ | Photocopy of Passport (packed separately) | √ | Computer |
| √ | Airline tickets | √ | Cell Phone |
| √ | Itinerary with contact numbers | √ | Reading & writing materials |
| √ | Emergency Medical insurance docs ( if purchased) | √ | Rod repair (tip top and glue) |
| √ | Major credit card | √ | Sun gloves |
| √ | Cash for tips (there are a couple ATMs in San Pedro but they may not be working)) | √ | Face Sun protection (buff) |
| √ | 2 Hats with brim and neck guard (or sun hat for non anglers) | √ | Sunburn relief spray |
| √ | 2-4 long sleeve shirts for fishing (SPF fabric) | √ | Sunscreens SPF 30 or above |
| √ | 2 quick dry pant for fishing (SPF fabric) | √ | Sun block for lips and nose |
| √ | 2 quick dry shorts for fishing (SPF fabric) | √ | Toiletries |
| √ | White socks (tops of feet get burned in the boats or wear under wading shoes) | √ | Prescription meds |
| √ | Underwear | √ | Non-prescription Meds |
| √ | Casual pants or shorts | √ | Eyeglasses (and spare) |
| √ | Casual shirts, short sleeve | √ | Fly Rods |
| √ | Sandals | √ | Reels |
| √ | Belt | √ | Fanny or other small fishing pack |
| √ | Light sweater or fleece | √ | Water bottle ( Holster optional) |
| √ | Socks | √ | Waterproof boat bag |
| √ | Wading shoes | √ | Lines |
| √ | Bathing suits, | √ | Leaders |
| √ | T- Shirts | √ | Tippet |
| √ | Sandals or walking shoes ( Barefoot is good) | √ | Flies |
| √ | Rain jacket (an occasional cold squall will roll though or the boat spray may chill you to the bone!) | √ | Nippers |
| √ | Bug repellent (for dead clam days or evenings) | √ | Pliers/forceps |
| √ | Sunglasses (polarized with lanyard) | | |