Overview
Fly Fishing Bahamas – Swain's Cay Lodge – Overview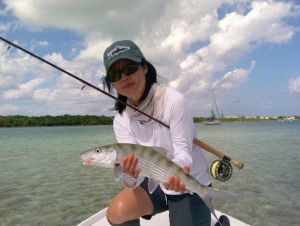 Fly fishing on the southern half of andros is legendary and swains Cay Lodge offers a new way to explore this fishery from Mangrove Cay.Andros Island is the largest island in the Bahamas, located only a short 15 minute flight from Nassau. It is 104 miles long and varies in width, though Mangrove Cay is approximately 40 miles wide at its widest point. Though covering an area of 2300 square miles the total population of Andros is only 7386, most of which live on North Andros. Andros actually consists of a number of smaller islands called Cays (pronounced 'keys') which are separated by large channels called Bights. There are three Bights, North Bight, Middle Bight and South Bight. The Bights run West to East, dissecting Andros and creating many channels and islands. from Mangrove Cay Swain's Cay Lodge have access to hundreds of square miles of flats all the way to the west side.
A truly magical place, Andros Island in the Bahamas is one of Earth's great remaining wildernesses. No crowds. No traffic. No interruptions. Bonefish everywhere. Just the calming sounds of the ocean, the birds and a tropical breeze rustling the fronds of the coconut trees around you. This is paradise. This is Swain's Cay Lodge. Choose from our selection of suites and rooms. Each private room is complete with all the essentials like big heavenly beds, soft linens, air-conditioning and breezy porches with sea views.
Lodging
The Lodging at Swain's Cay Lodge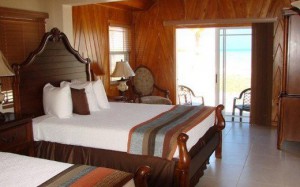 We have a variety of rooms to suit our guests' needs which include, 3 – Beach Front Suites, 3 – Ocean View Suites, 2 – Twin Garden View Rooms, and a 3-bedroom /2 bathroom Duplex Apartment with spectacular sea views from the 360-degree terrace.
The rooms are all tastefully designed with the spirit of Mangrove Cay in mind. Swain's Cay Lodge provides every comfort in a pure tropical setting. The rooms are so close to the beach you can almost spot bonefish from your bed!
The rooms are all equipped with:
Patios with chairs
Immaculate bathrooms with hot showers
Comfy Queen Size Beds with high thread count linens
Housekeeping
Bottled water delivered daily
Air conditioning
WiFi Access
3-Bedroom Duplex Apartment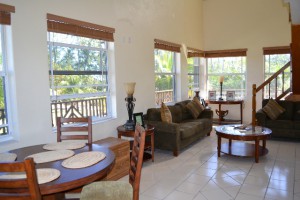 Located on the second floor of our main building is the three bedroom apartment. With 6 beds there is plenty of room for your group. Perfect for families or large groups of fishing buddies, the apartment features a comfortable lounge with satellite TV and a 360-degree terrace with fantastic views.
3 Double / Twin Bedrooms
Lounge with sofas
Dining area
Kitchenette
Fully air conditioned
Terrace with chairs & fabulous views
Swain's Cay Lodge Photos
Fishing
Fly Fishing the Bahamas – Swain's Cay Lodge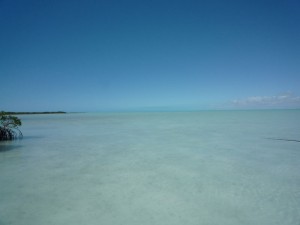 Nothing but bonefish flats a far as the eye can see, Swain's Cay Lodge is located about half way down the East coast of Mangrove Cay in the centre of Andros. The Middle and North Bights separate Mangrove Cay from North Andros. The South Bight separates Mangrove Cay from South Andros. This central location makes Mangrove Cay the ideal place to fish due to the versatility of sites easily reached.
The Bights are a complex network of channels, islands, flats, reef and deeper cuts, a rare wilderness and the ideal habitat for numerous sea-life – a superb, healthy eco-system and the perfect environment for big bonefish!
A complex tidal system exists here where tides can be opposite depending on which side of Andros you are as the water is pushed and pulled through the network of channels. This allows the fishing guides to be able to search out a rising tide at most times of the day.
Andros is fringed along its East coast by the Andros Barrier Reef, the second largest reef in the world after the Great Barrier Reef in Australia. Outside the reef is the 'tongue of the ocean' where the sea level drops dramatically to 6000 feet.
Read more about the fishing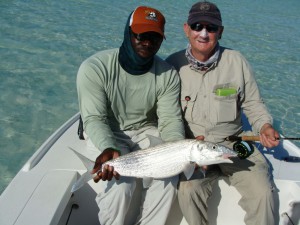 Swain's Cay Lodge is uniquely positioned on Mangrove Cay for easy access to either the South Bight or fabled Middle Bight of Andros. Your guide will decide which side of the Cay to meet you at depending on which Bight you'll be fishing, ensuring you are always a short run to the day's fishing grounds. We even have a wade-able bonefish flat right off our beach with large bonefish that come onto the flat with the rising tide but be warned – these are clever fish that will test the best fly anglers. Whatever the tide or wind direction, there is always a flat where the sun and wind will be at your back!We have handpicked the best local guides who have bonefish in their blood. Whether you want large numbers of fish in the 3-5 pound range or would rather hunt single and double big bones of 6-10 pounds, our guides know just the spot for the wind and tide conditions. There are flats on Andros for all bonefishing objectives – some with enormous numbers of fish where you will see school after school, others where the fish are in pairs or cruising alone, but these are the big ones. 20-fish days with an average size of 4 pounds are certainly not uncommon here.
Fishing Photo Gallery
Tackle & Gear
Here is a list of the basics you will need for your trip. Many of our destinations are pretty remote with no chance to buy things on site.
Caribbean Gear List
Species
Rods
Reels
Line
Leaders
Bonefish
9 foot 8 or 9 wt. (maybe a 10 wt. on a windy day)
Large Arbor Disc drag reel with 200 yards of 20 lb. backing.
Floating tropical line
9 ft-12 ft leaders with 10-12 lb. tippet.
Permit
9 foot 9 or 10 wt.
Large Arbor Disc drag reel with 200 yards of 25 lb. backing.
Floating tropical line
9-14 ft leaders with 12-15 lb. tippet.
JuvenileTarpon
9 foot 10 wt.
Large Arbor Disc drag reel with 300 yards of 30-40 pound backing.
#1 Floating tropical line
#2 Floating with clear sink tip
9-12 ft leaders with 25-30 lb. class tippet and 60 lb shock tippet.
Large Tarpon
9 foot 12 wt.
Large Arbor Disc drag reel with 300 yards of 40-50 pound backing.
#1 Floating tropical line
#2 Floating with clear sink tip
#3 Full intermediate sink line
9-12 ft leaders with 25-30 lb. class tippet and 80 lb shock tippet.
Barracudas,
Sharks
9 foot 9-12 wt.
Large Arbor Disc drag reel with 300 yards of 40-50 pound backing.
#1 Floating tropical line
#2 Floating with clear sink tip
6-9 ft leaders with 20-30 lb. steel bite tippets.
Barracuda/Sharks
bring the wire bite guards!!
The Fly List:
Go a little smaller than you might think, better to have too many 8's than 4's for the bonefish. Tie a few patterns with just the weight of the eyes as a variable 1 with lead eyes, 1 with chain, 1 with small chain, and 1 with no weight or mono eyes just to make sure you have flies for very skinny water all the way to waist deep water. Presentation seems to be much more important than fly selection. Weed guards will be a plus on the grass flats.

Fly Name
Colors
Sizes
Qty for a 1
Week Trip
Toad Fly
chatreuse, olive, tan, purple/black
1, 1/0
12
Cockroach
standard
1/0, 2/0
4
Black Death
white, tan
1/0, 2/0
4
Purple Demon
purple/black
1/0, 2/0
4
Layup tarpon fly
brown, chatreuse ,yellow
1, 1/0
6
Enrico's Tarpon Streamer
Purple & Black
2/0
4
Enrico's Tarpon Pinfish
Olive/white
3/0
4
Del's Merkin
tan/brown
1/0, 2, 4
6
Turneffe Crab
Cream, olive
2, 4, 6
4
Clouser minnow
chatr/white
1/0-2/0
6
Bonefish CLouser
assorted
4-6
12
Crazy Charlie
bead eye
pink,white,tan,brw
4, 6, 8
12
Moe bonefish
amber, pink
4
6
Christmas Island Specials
pink, orange
6, 8
18
Gotcha
standard
4, 6, 8
12
Packing List
Tropical Packing List
| √ | Packing Item | √ | Packing Item |
| --- | --- | --- | --- |
| √ | Passport | √ | Camera & media |
| √ | Photocopy of Passport (packed separately) | √ | Computer |
| √ | Airline tickets | √ | Cell Phone |
| √ | Itinerary with contact numbers | √ | Reading & writing materials |
| √ | Emergency Medical insurance docs ( if purchased) | √ | Rod repair (tip top and glue) |
| √ | Major credit card | √ | Sun gloves |
| √ | Cash for tips (there are a couple ATMs in San Pedro but they may not be working)) | √ | Face Sun protection (buff) |
| √ | 2 Hats with brim and neck guard (or sun hat for non anglers) | √ | Sunburn relief spray |
| √ | 2-4 long sleeve shirts for fishing (SPF fabric) | √ | Sunscreens SPF 30 or above |
| √ | 2 quick dry pant for fishing (SPF fabric) | √ | Sun block for lips and nose |
| √ | 2 quick dry shorts for fishing (SPF fabric) | √ | Toiletries |
| √ | White socks (tops of feet get burned in the boats or wear under wading shoes) | √ | Prescription meds |
| √ | Underwear | √ | Non-prescription Meds |
| √ | Casual pants or shorts | √ | Eyeglasses (and spare) |
| √ | Casual shirts, short sleeve | √ | Fly Rods |
| √ | Sandals | √ | Reels |
| √ | Belt | √ | Fanny or other small fishing pack |
| √ | Light sweater or fleece | √ | Water bottle ( Holster optional) |
| √ | Socks | √ | Waterproof boat bag |
| √ | Wading shoes | √ | Lines |
| √ | Bathing suits, | √ | Leaders |
| √ | T- Shirts | √ | Tippet |
| √ | Sandals or walking shoes ( Barefoot is good) | √ | Flies |
| √ | Rain jacket (an occasional cold squall will roll though or the boat spray may chill you to the bone!) | √ | Nippers |
| √ | Bug repellent (for dead clam days or evenings) | √ | Pliers/forceps |
| √ | Sunglasses (polarized with lanyard) | | |
Rates
Fly Fishing Bahamas – Swain's Cay Rates
Number of Nights/Days Fishing
Two per Boat
Two per Room
One per Boat
One Per Room
8/7
4820
6790
7/6
4275
6090
6/5
3625
5290
5/4
2990
4290
4/3
2350
3290
3/2
1675
2290
Prices Include:  Lodging, guided fishing, full cooked breakfasts, packed picnic lunches and delicious home-cooked dinners, Transfers to & from dock (Middle Bight or South Bight), Bottled water (but not other soft drinks or alcohol), Full use of kayaks & bikes to explore Mangrove Cay & our bonefish flat, Complimentary WiFi, Transfers to & from airport
All taxes & room levies Prices quoted are in US dollars per person.
Prices do not include: International Airfare to Mangrove Cay Airport , Alcoholic beverages, Sodas, fishing license, Departure tax or gratuities for your guide and resort staff.
Why Book Through Flyfishingheaven.com?
Why book through flyfishingheaven.com?
1. Unbiased Advice:
Most people recognize the advantage of our unbiased advice, there are hundreds of destinations to choose from and our job is to know the ones that are right for your needs. We offer the real story you can't get from a lodge owner. Would the outfitter in questions tell you are booking in a less than stellar part of the year? Remember our unbiased advice is 100% free!
2. We Can Book Anywhere:
Our website highlights many of our favorite destinations but we have access to hundreds more. If there are fish there, we can book it. In fact, we will give you 5% back if you book a trip through us that is not on our website! We enjoy learning about new spots!
3. Loyalty Discounts:
2017 Special: You are automatically enrolled in our loyalty program before your first trip and will get the 5% cash back on your very first trip. This offer is good until December 31, 2017. In January you will ear your loyalty discount on the second trip and every trip thereafter. This discount applies to all your friends who are going with you as well. f you organize a group of 8 or more we will give you 10% off! All you have to do is book the first trip and you are a flyfishingheaven.com frequent fisher!
4. Price Guarantee:
If you find a price lower than ours we will beat that price by 5% if you book through flyfishingheaven.com!
Our Pledge
We promise to work for you, not a lodge, outfitter or resort. We pledge to get you you to a destination that will live up to your expectations at the best possible price. You will never be charged more than booking directly (in fact most of our clients are paying less - *see below). We will make sure you are well prepared for your trip with specific knowledge about the gear, the flies, the rods, packing lists, travel documents, connecting information everything. Since we are not tied to a particular destination we promise honest pros and cons of any destination at the time of year you are traveling.

We do earn a small commission when we book a trip as all lodges and outfitters offer this as they depend on agencies like ours for much of their business. This fee is paid by the lodge not you, and they do not keep different prices for direct bookings vs agency bookings, it is bad business.
Payment and Cancelation Polices
A 10% deposit is required if you are booking more than 6 months in advance, 50% deposit is required when less than 6 months until departure date with the balance due 60 days prior to departure. If you are forced to cancel with more than 60 days notice, you may keep full credit towards another trip or receive a refund less a 10% service charge. Deposits on cancellations with less than 60 days notice are not refundable unless your spot can be filled. MC, Visa, and checks are accepted. We recommend travel and or medical emergency insurance for all our trips.
Seasons
Fly Fishing Bahamas -Seasons
Swain's Cay Ladge Fishing Calendar
Month
Bonefish
Permit
Tarpon
Off shore
January
Good
Good
Fair
Excellent/Good
February
Good
Good
Fair
Excellent/Good
March
Excellent
Good
Fair
Excellent/Good
April
Excellent
Good
Good
Excellent
May
Excellent
Good
Good
Excellent
Jun
Closes mid June
Closed
Closed
Closed
Closed
July
Closed
Closed
Closed
Closed
August
Closed
Closed
Closed
Closed
September
Closed
Closed
Closed
Closed
October
Reopens Mid Oct.
Closed
Good
Fair
Excellent/Good
November
Closed
Good
Fair
Excellent/Good
December
Good
Fair
Fair
Excellent/Good
Gallery
Fly Fishing Bahamas – Gallery
Please take a look at the  photo and video galleries related to Swain's Cay Lodge.

Fishing Photo Gallery
Lodge Photo Gallery
Scenic Photo Gallery
Video Gallery
Activities
Fly Fishing Bahamas – Activities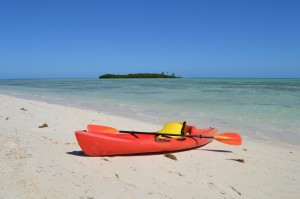 Your days are yours and you may choose to try out our complimentary kayaking, snorkelling and biking equipment for exploration trips of your own. Head off down the coast for an afternoon of kayaking into the beautiful Bahamian sunset. Mangrove Cay is just waiting to be explored – grab a map of the island and head out on your own. Local restaurants and bars line the island and make the perfect pit stop to grab an ice cold Kalik, conch fritters and good conversation.
Biking on Mangrove Cay
Bike Rides at Swain's Cay Lodge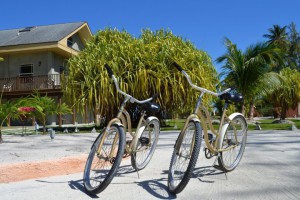 Grab one of our complimentary bikes and head off to explore the island. Stop and fish or grab some conch and a Kalik. The freedom to go where you please is one of the pleasures of Swain's Cay Lodge. Only 7 miles long with very little traffic and totally flat, Mangrove Cay is the perfect place for riding bikes.
Kayaking & Snorkeling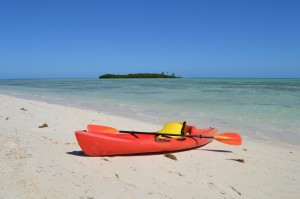 The calm, crystal clear waters around Swain's Cay Lodge are perfect for kayaking. Paddle out across the flats and explore the reef heads and blue holes around the lodge. Whilst kayaking you'll spot rays, bonefish and a wide variety of birds. You can anchor up and snorkel the blue holes that are filled with an amazing array of multi-coloured fish including some very big snapper! The small island off the beach, Swain's Cay, is a popular roosting site for birds. Every evening watch the egrets, herons and many other species fly out to the island just before sunset to make themselves comfortable for the night. To experience the symphony of bird sound you might like to kayak towards the island in the late evening, sit still and listen as the birds discuss the activity of the day before settling down to rest!We have a number of complimentary kayaks available for our guests use including both single and double person ocean kayaks and snorkeling equipment also available to use complimentary.
Travel
Getting to Swain's Cay Lodge
The most common way is to fly to Nassau International Airport (NAS) and then connect with a flight to the Mangrove Cay airport (MAY). There are 2 flights daily from Nassau to Mangrove Cay on Western Air. Once on Mangrove Cay, Swain's Cay Lodge will meet you for the short drive to the lodge. IMPORTANT NOTE: Western Air accepts only cash for payment. When checking in with Western Air in Nassau, you will need cash, either US or Bahamian ($1 US = $1 Bahamian), to pay for your round-trip ticket. Groups of 4 or more may want to consider a private charter from Ft. Lauderdale direct to Mangrove Cay.
Packing List
Tropical Packing List
| √ | Packing Item | √ | Packing Item |
| --- | --- | --- | --- |
| √ | Passport | √ | Camera & media |
| √ | Photocopy of Passport (packed separately) | √ | Computer |
| √ | Airline tickets | √ | Cell Phone |
| √ | Itinerary with contact numbers | √ | Reading & writing materials |
| √ | Emergency Medical insurance docs ( if purchased) | √ | Rod repair (tip top and glue) |
| √ | Major credit card | √ | Sun gloves |
| √ | Cash for tips (there are a couple ATMs in San Pedro but they may not be working)) | √ | Face Sun protection (buff) |
| √ | 2 Hats with brim and neck guard (or sun hat for non anglers) | √ | Sunburn relief spray |
| √ | 2-4 long sleeve shirts for fishing (SPF fabric) | √ | Sunscreens SPF 30 or above |
| √ | 2 quick dry pant for fishing (SPF fabric) | √ | Sun block for lips and nose |
| √ | 2 quick dry shorts for fishing (SPF fabric) | √ | Toiletries |
| √ | White socks (tops of feet get burned in the boats or wear under wading shoes) | √ | Prescription meds |
| √ | Underwear | √ | Non-prescription Meds |
| √ | Casual pants or shorts | √ | Eyeglasses (and spare) |
| √ | Casual shirts, short sleeve | √ | Fly Rods |
| √ | Sandals | √ | Reels |
| √ | Belt | √ | Fanny or other small fishing pack |
| √ | Light sweater or fleece | √ | Water bottle ( Holster optional) |
| √ | Socks | √ | Waterproof boat bag |
| √ | Wading shoes | √ | Lines |
| √ | Bathing suits, | √ | Leaders |
| √ | T- Shirts | √ | Tippet |
| √ | Sandals or walking shoes ( Barefoot is good) | √ | Flies |
| √ | Rain jacket (an occasional cold squall will roll though or the boat spray may chill you to the bone!) | √ | Nippers |
| √ | Bug repellent (for dead clam days or evenings) | √ | Pliers/forceps |
| √ | Sunglasses (polarized with lanyard) | | |