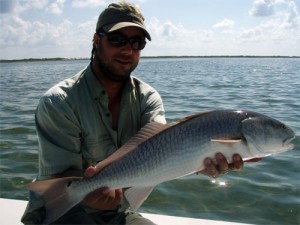 I grew up outside of Chicago but fell in love with fishing as a child, when I would visit family in upstate New York. When I was four years old, I hooked my first fish at Hatch Lake. A few years later, I received my own fishing gear and I spent hours fishing for bass in Northern Illinois. Since then, fishing was always one of my favorite hobbies, until the spring of 2000 when I started a contracting company in the mountains of Colorado. Then this hobby quickly became a passion as I spent every spare moment fishing the local rivers. In 2002, I contracted the paint work at the new Cutthroat Anglers outfitters in Silverthorne, Colorado. One thing led to another and soon I was able to turn this passion into a career, when I was hired to be on the guide staff full time. The following year, I bought a drift boat and since then have guided float trips on the upper and lower Colorado, the Roaring Fork, and the Arkansas rivers in addition to wade trips. My newest passion is saltwater fly-fishing which began on Laguna Madre and I expect it will keep me busy for many years to come.
Contact Information:
Please use this link to email me!
(970)485-0525