Overview
Fly Fishing for Tarpon in the Florida Keys – Overview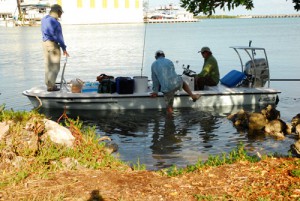 Tarpon Anonymous at Hawks Cay is a full service lodge devoted to the art and science of fly fishing for tarpon in the Florida Keys. Fly Fishing for tarpon at TA offer cures for those who are addicted to this kind of tarpon fishing. Tarpon Anonymous at Hawk's Cay only operates from April 15- July 4, the height of the tarpon migration in the Florida Keys. If you need a fix this season Tarpon Anonymous can provide it. If you need the rush of a 100 pound tarpon rattling its gills 5 feet in the air TA at Hawk's Cay can provide it. If you want a family vacation that won't be a tarpon intervention, Tarpon Anonymous at Hawk's Cay can provide it.
Here is our 12 step program:
1. Admit you are a tarpon addict.
2. Admit tarpon are more powerful than you.
3. Admit the wrongs done to your family and friends when you have abandoned them looking for tarpon.
4. Make amends for those wrongs by booking a retreat to Tarpon Anonymous at Hawk's Cay for those friends and family.
5. Meet your TA guide who shares the same addiction.
6. Learn to listen to your guide.
7. Learn new knot tying skills.
8. Learn new casting Skills.
9. Learn to tie some special flies.
10. Learn new fish fighting skills.
11. Learn to bow to the Silver King.
12. Touch the fish of your dreams and pass this spiritual awakening on to other addicts.
Read More about Tarpon Anonymous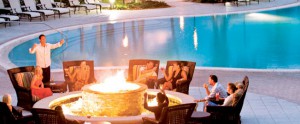 Accommodations and meals are provided at Hawk's Cay Resort with some of the finest lodging and dining in Florida's middle keys. With 4 pools, a saltwater swimming lagoon, a beach, 3 restaurants, 2 bars, a full service marina, a water sports center, dolphin encounters, tennis courts, a fitness facility, a spa and a kid's club, Hawks Cay Resort is the ideal resort for a family looking for a caribbean style vacation. For tarpon anglers it offers an ideal base from which to explore the vast territory of middle keys and Everglades National Park which have the highest concentration of migratory tarpon in the world. This is the mecaof fLy fishing for tarpon.
Our on site manager and fly fishing guides are what makes this a serious tarpon destination. Our manager, is on hand to offer casting clinics, fly tying sessions, leader tying instruction and excursion planning for any family members on traveling with you. Our guides are headed by Captain Scott Collins, known for his triple crown tarpon tournament records in 2008. He is the only guide to win all three major tarpon tournaments in one year in the history of the events. Scott knows: where to find tarpon; how to make them eat a fly; and most of all he knows the best guides in the keys.
Lodging
Florida Key Tarpon Fishing – The Lodging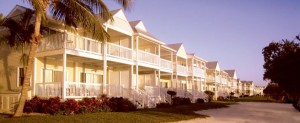 Tarpon Anonymous at Hawk's Caye is based in Hawk's Cay Resort. Hawk's Cay Resort is located on the secluded island of Duck Key, midway down the Florida Keys. Hawks Cay Resort is a 60-acre luxury compound that not only offers the best fly fishing for tarpon in the world, it offers: the world-renowned Offshore Sailing School, exciting water sports, a chance to interact with dolphins, a saltwater Lagoon, luxurious accommodations, exquisite restaurants and bars, kids and teen clubs and a full-service spa, tennis courts, a marina, 4 gorgeous swimming pools all in the casual, relaxed pace of the Keys. Barefoot luxury has arrived in style. Hawks Cay Resort is a member of Preferred Hotels & Resorts, a collection of the world's finest independent luxury hotels. As a member of this elite luxury hotel group, Hawks Cay surpasses an exacting standard of excellence.
The standard accommodations are 1 angler ( or one couple) per room in one of the comfortable waterfront villas. Each villa has two bedrooms, a full kitchen, a dining area and living room, Cable TV, Wireless Internet, and covered decks overlooking the water. We can provide whatever beverages and snacks you would like.
The Food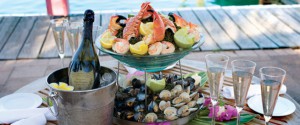 Coffee is ready at 6:30 am and breakfast is served in the main villa out on the deck at 7 am. (Weather permitting) Breakfast consists of your choice of hot or cold cereals, eggs any style, fruit, breads, breakfast meats, hash browns, coffee, tea and juice. Lunch is prepared for your trip each day. In the evening each guest fills out his menu requests for the following day for both breakfast and lunch. Dinners are at the main villa or at one of the resort' restaurants or other nearby restaurants. Most are famous for fresh seafood, but do offer full menus for those who don't eat seafood.
Lodge Photos
Fishing
Fly Fishing for Tarpon in the Florida Keys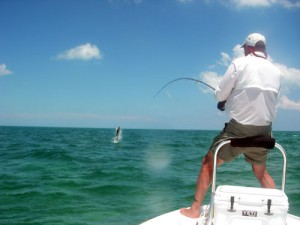 Tarpon Anonymous at Hawk's Cay chose Hawk's Cay Resort as its home base for its proximity to the best tarpon flats of the middle keys. In the last 3 years most of the tarpon tournament champions were fishing these flats around Duck Key even though they are rather far from the starting location of Islamorada. When these talented guides need to catch fish they bounce in the boat for 20 miles to get here, you will have a 5- 15 minute ride to these same flats. Occasionally we will wander to the back country or lower keys if we feel the weather, tides, or conditions dictate it. All of our guides can trailer their boats to any starting position they choose.
The day will begin with coffee and a full breakfast served at your villa. Fishing will usually start around 8 am but sometimes the guides may prefer a later start to fish the evening bite. If the tide dictates fishing late we fish late. WE may fish both the end of the day and the beginning of the day.
Sight fishing is the preferred method and you will find white sand flats, turtle grass flats and rocky coral bottom flats of many colors. Your guide will know exactly where the tarpon will be, even on a cloudy day we can find fish on some of the huge white sand flats in the area. If we have the luxury of full sun we can fish the cuts, banks and flats of the back country as well as the productive darker bottom flats as well.
Tarpon can be found holding in current actively eating, they can be found laid up in a slack tide, they can be found in migration schools of 200 fish or singles and doubles and everything in between. Each day and tide brings new opportunities for you and your guide. Our success will be largely based on the weather, the anglers skills and the fickleness of the tarpon that particular day. Tarpon during this time range from 40 – 200 pounds. The average fish we hook is 60 – 80 pounds.
Read More About the Fishing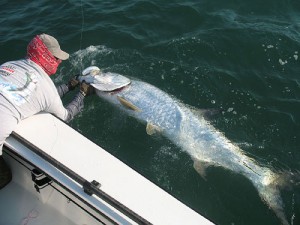 Fly Fishing for tarpon in the Florida Keys requires pereration. We will prepare you for your trip like no other outfitter. We will demand that you practice a few things before you get here. Can you cast a fly 60 feet, with no more than 2 back casts? Do you know what the guide means when he says "11 o'clock , forty feet moving left to right, cast now!" ? Can you punch a low cast into a stiff wind ? Can you throw an aggressive 40 foot cast yet land the fly and line like a dry fly? Ever attempted a two hand, rod under the arm strip into a stripping bucket? Know how far to lead a tarpon when casting? Where to place the second cast to a school of poons? Know what to do when a tarpon eats your fly? How to set the hook? When to bow, how to put maximum pressure during the fight? We will help you understand the intense sport of of fly fishing for tarpon in the Florida Keys.
On the ocean side (the south or Atlantic side of the Keys) you may see hundreds of tarpon every day in their migrating paths, sometimes a hundred fish could be in one school. The problem is only a select few will eat on any given day! In the back country, where tarpon are hanging out eating or seeking some warm water, our percentage of takes here is greatly improved. One out of four fish eat a well presented fly, on the other hand we see far fewer fish than on the ocean side.
On an average day we should be able to get one fish to eat a fly with every 25 good presentations. The good presentation is the problem, you have a rocking boat, 20 huge tarpon bearing down on you, the wind in your face, the guide is spinning the boat and telling you to cast now!!!! You can imagine all the things that can and do go wrong! The first day of tarpon fishing usually means 1 out of 10 casts and presentations will be good even with a very experienced angler. So doing the math you can see the odds are in the tarpons favor, It may take 100 tries to get your first tarpon to eat! Fortunately your odds increase as you get the feel for it.
An expert tarpon angler would probably be able to get 9 out of 10 presentations right, which increases the number of hookups dramatically. Getting 4 or 5 fish to eat on an average day is not unusual for the better anglers on these trips. Of course weather steps in with either clouds or wind, further decreasing your odds. I think it this type of intermittent reinforcement that makes tarpon fishing so addicting.
"Practice before you get here" will be the mantra you will hear from us. Once you arrive it will be "listen to your guide". We do see permit and bonefish and although they are hard to ignore we know that every shot at a tarpon could be the right one.
Fishing Photo Gallery
Tackle & Gear
Here is a list of the basics you will need for your trip.  Many of our destinations are pretty remote with no chance to buy things on site.
The guide would pretty much prefer that you use his gear but here is a list if you would like to use your own.

Florida Gear List
Species
Rods
Reels
Line
Leaders
Bonefish
9 foot 8 or 9 wt. (maybe a 10 wt. on a windy day)
Large Arbor Disc drag reel with 200 yards of 20 lb. backing.
Floating tropical line
9 ft-12 ft leaders with 10-12 lb. tippet.
Permit
9 foot 9 or 10 wt.
Large Arbor Disc drag reel with 200 yards of 25 lb. backing.
Floating tropical line
9-14 ft leaders with 12-15 lb. tippet.
JuvenileTarpon
9 foot 10 wt.
Large Arbor Disc drag reel with 300 yards of 30-40 pound backing.
#1 Floating tropical line
#2 Floating with clear sink tip
9-12 ft leaders with 25-30 lb. class tippet and 60 lb shock tippet.
Large Tarpon
9 foot 12 wt.
Large Arbor Disc drag reel with 300 yards of 40-50 pound backing.
#1 Floating tropical line
#2 Floating with clear sink tip
#3 Full intermediate sink line
9-12 ft leaders with 25-30 lb. class tippet and 80 lb shock tippet.
Barracudas,
Sharks
9 foot 9-12 wt.
Large Arbor Disc drag reel with 300 yards of 40-50 pound backing.
#1 Floating tropical line
#2 Floating with clear sink tip
6-9 ft leaders with 20-30 lb. steel bite tippets.
Fly List
The guide will provide all the flies – but if you would like here is a basic list!

Florida Tarpon Fly List
Fly Name
Colors
Sizes
Qty for a 1
Week Trip
Toad Fly
chatreuse, olive, tan, purple/black
1/0, 2/0, 3/0
12
Cockroach
standard, Chatreuse
1/0, 2/0, 3/0
12
Black Death
white, tan
1/0, 2/0, 3/0
6
Purple Demon
purple/black
1/0, 2/0, 3/0
4
Laid-up Bug
Assorted
2/0
6
Enrico's Tarpon Streamer
Purple & Black
1/0, 2/0, 3/0
3
Enrico's Tarpon Pinfish
Olive/white
1/0, 2/0, 3/0
3
Tarpon Bunny
Assorted colors
1/0, 2/0, 3/0
6
SST-Poon
Assorted
2/0, 4/0,
6
Bonefish Flies
Asssorted
4, 6, 8
6
Permit Flies
Assorted
2, 4, 6
6
Packing List
Tropical Packing List
| √ | Packing Item | √ | Packing Item |
| --- | --- | --- | --- |
| √ | Passport | √ | Camera & media |
| √ | Photocopy of Passport (packed separately) | √ | Computer |
| √ | Airline tickets | √ | Cell Phone |
| √ | Itinerary with contact numbers | √ | Reading & writing materials |
| √ | Emergency Medical insurance docs ( if purchased) | √ | Rod repair (tip top and glue) |
| √ | Major credit card | √ | Sun gloves |
| √ | Cash for tips (there are a couple ATMs in San Pedro but they may not be working)) | √ | Face Sun protection (buff) |
| √ | 2 Hats with brim and neck guard (or sun hat for non anglers) | √ | Sunburn relief spray |
| √ | 2-4 long sleeve shirts for fishing (SPF fabric) | √ | Sunscreens SPF 30 or above |
| √ | 2 quick dry pant for fishing (SPF fabric) | √ | Sun block for lips and nose |
| √ | 2 quick dry shorts for fishing (SPF fabric) | √ | Toiletries |
| √ | White socks (tops of feet get burned in the boats or wear under wading shoes) | √ | Prescription meds |
| √ | Underwear | √ | Non-prescription Meds |
| √ | Casual pants or shorts | √ | Eyeglasses (and spare) |
| √ | Casual shirts, short sleeve | √ | Fly Rods |
| √ | Sandals | √ | Reels |
| √ | Belt | √ | Fanny or other small fishing pack |
| √ | Light sweater or fleece | √ | Water bottle ( Holster optional) |
| √ | Socks | √ | Waterproof boat bag |
| √ | Wading shoes | √ | Lines |
| √ | Bathing suits, | √ | Leaders |
| √ | T- Shirts | √ | Tippet |
| √ | Sandals or walking shoes ( Barefoot is good) | √ | Flies |
| √ | Rain jacket (an occasional cold squall will roll though or the boat spray may chill you to the bone!) | √ | Nippers |
| √ | Bug repellent (for dead clam days or evenings) | √ | Pliers/forceps |
| √ | Sunglasses (polarized with lanyard) | | |
Rates
Florida Key Tarpon Fishing – Pricing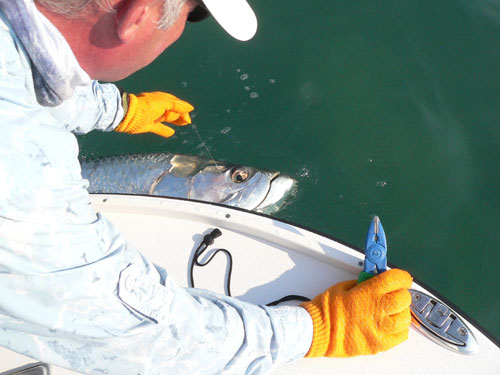 7 Nights / 6 Days of fishing
$4,850 per person – 2 anglers per guide, two guests per room
$5,400 per person – 2 anglers per guide & one guest per room
$7,500 per couple – for 2 couples – one boat for 2 anglers – 1 room per couple
$6,850 for a single – private room, private guide
6 Nights / 5 Days of fishing
$4,050 per person – 2 anglers per guide, two guests per room
$4,100 per person – 2 anglers per guide, one guest per room
$6,700 per couple – for 2 couples – one boat for 2 anglers – 1 room per couple
$5,725 for a single – private room, private guide
5 Nights / 4 Days of fishing
$3,250 per person – 2 anglers per guide, two guests per room
$3,400 per person – 2 anglers per guide one guest per room
$5,500 per couple – for 2 couples – one boat for 2 anglers – 1 room per couple
$4,700 for a single – private room, private guide
4 Nights / 3 Days of fishing
$2,750 per person – 2 anglers per guide, two guests per room
$3,400 per person – 2 anglers per guide, one guest per room
$3,825 per couple – for 2 couples – one boat for 2 anglers – 1 room per couple
$5,725 for a single – private room, private guide
Prices Includes: round trip ground transportation from Marathon,Villa Lodging each night, all meals while at the lodge, guided fishing each day, soft drinks, juices, beer, wine with dinner. It includes all taxes. Prices quoted are in US dollars.
Prices do not include: Transportation from Miami, Key West or Fort Lauderdale, Alcoholic beverages other than wine or beer, and gratuities for your guide and resort staff. We can arrange transportation from any airport. Miami for instance usually runs about $160 per person, Key West around $120 and FOrt Lauderdale $175 per person. Many people enjoy renting a car!
Not Staying with us? – the day rate for fishing is $700 per day
Why Book Through Flyfishingheaven.com?
Why book through flyfishingheaven.com?
1. Unbiased Advice:
Most people recognize the advantage of our unbiased advice, there are hundreds of destinations to choose from and our job is to know the ones that are right for your needs. We offer the real story you can't get from a lodge owner. Would the outfitter in questions tell you are booking in a less than stellar part of the year? Remember our unbiased advice is 100% free!
2. We Can Book Anywhere:
Our website highlights many of our favorite destinations but we have access to hundreds more. If there are fish there, we can book it. In fact, we will give you 5% back if you book a trip through us that is not on our website! We enjoy learning about new spots!
3. Loyalty Discounts:
2017 Special: You are automatically enrolled in our loyalty program before your first trip and will get the 5% cash back on your very first trip. This offer is good until December 31, 2017. In January you will ear your loyalty discount on the second trip and every trip thereafter. This discount applies to all your friends who are going with you as well. f you organize a group of 8 or more we will give you 10% off! All you have to do is book the first trip and you are a flyfishingheaven.com frequent fisher!
4. Price Guarantee:
If you find a price lower than ours we will beat that price by 5% if you book through flyfishingheaven.com!
Our Pledge
We promise to work for you, not a lodge, outfitter or resort. We pledge to get you you to a destination that will live up to your expectations at the best possible price. You will never be charged more than booking directly (in fact most of our clients are paying less - *see below). We will make sure you are well prepared for your trip with specific knowledge about the gear, the flies, the rods, packing lists, travel documents, connecting information everything. Since we are not tied to a particular destination we promise honest pros and cons of any destination at the time of year you are traveling.

We do earn a small commission when we book a trip as all lodges and outfitters offer this as they depend on agencies like ours for much of their business. This fee is paid by the lodge not you, and they do not keep different prices for direct bookings vs agency bookings, it is bad business.
Payment and Cancelation Polices
A 10% deposit is required if you are booking more than 6 months in advance, 50% deposit is required when less than 6 months until departure date with the balance due 60 days prior to departure. If you are forced to cancel with more than 60 days notice, you may keep full credit towards another trip or receive a refund less a 10% service charge. Deposits on cancellations with less than 60 days notice are not refundable unless your spot can be filled. MC, Visa, and checks are accepted. We recommend travel and or medical emergency insurance for all our trips.
Seasons
Florida Key Tarpon Fishing – Seasons
Tarpon Anonymous operates during the peak of the tarpon fishing in the Middle Keys. We begin in Mid April and stop fishing July 10.

Florida Fishing Calendar
| Month | BackCountry Tarpon | Ocean Side Tarpon | Juvenile Tarpon | Bonefish/Permit |
| --- | --- | --- | --- | --- |
| April 15 - Start date | Excellent | Good | Excellent | Excellent |
| May | Excellent | Excellent | Excellent | Excellent |
| June | Good | Excellent | Excellent | Excellent |
| July 10 - End Date | Good | Good | Excellent | Excellent |
Gallery
Please take a look at the  photo and video galleries related to fly fishing for tarpon in the middle keys and Tarpon Anonymous.

Fishing Photo Gallery
Lodge Photo Gallery
Scenic Photo Gallery
Video Gallery
Activities
Florida Key Tarpon Fishing – Other Activities
The middle Keys offer a whole bunch of things to do besides fishing. Hawks Cay Resort is a perfect place to base your self as the resort itself has a lot to offer the non fishing guest. The 4 pools, the beach lagoon, the gym, spa, Diving, Snorkeling, Sunset Cruises and much more! Enjoy a wide range of Florida Keys water sports at Hawks Cay Resort, including:
Dolphin Encounters
Interact with bottlenose dolphins in the beautiful backdrop of the Florida Keys at Hawks Cay Resort & Marina. Swim and play with the resort's dolphin family, get a hands-on experience dockside or become a trainer for a day. Whichever program you choose, you'll get the chance of a lifetime: to meet these graceful, intelligent mammals. Plus, you'll learn about the need for eco-conservation and how your actions help marine life.
Calm Waters Spa
Rebalance your body and soul by indulging in all-natural, island-inspired treatments that make Calm Waters Spa at Hawks Cay Resort one of the signature luxury spa destinations in all of South Florida. Treat yourself to massages highlighted with the scent of fragrant tropical citrus, body exfoliation treatments derived from sea salts and sand, and restorative facials featuring natural elixirs of the islands. Or pamper yourself with salon care, a manicure and pedicure. Please click here for the full Calm Waters Spa Menu
Fitness Center
Get an invigorating workout while you're in paradise at Hawks Cay Resort. State-of-the-art Life Fitness brand cardio and exercise machines, as well as strength training and flexibility equipment, are available for all guests age 16 and older. Instructor-led fitness classes also are available; get schedules and costs at the Calm Waters Spa check-in desk or by calling 305-289-4810.
Tennis
Work on your serve or play a match on one of two clay courts or six hard courts. Tennis equipment and a ball machine are available for rent.
Scuba Diving
Scuba lessons, certification courses, kid's courses and guided trips to the reefs and wrecks around Hawks Cay are available daily. Night dives are also available for experienced divers.
Snuba Diving
SNUBA™ diving combines the freedom of scuba diving with the easy skill level of snorkeling. No course time is required, and anyone age 8 or older can participate. Hawks Cay is one of only three destinations in the United States to offer this incredible snorkel/scuba hybrid alternative for an exceptional experience of diving in the Florida Keys. Guided trips leave daily from the Hawks Cay Marina.
Spearfishing
Want to spearfish in the waters of Hawks Cay? Snorkel or scuba dive aboard the Seafari, a commercial fishing/lobstering boat with a license that covers all of our guests on board. There is no additional cost to spearfish, but we strongly recommend that anyone new to the sport should participate in our specialty course. Then, it's off to enjoy more than 30 dive sites available for spearfishing.
For more information, visit www.diveduckkey.com.
Sailing School
Hawks Cay Resort is the exclusive Florida Keys home of the Colgate Offshore Sailing School, regarded as one of the best sailing programs in the country. All instruction takes place aboard Colgate Duck Key sailing vessels ranging from 26 to 42 feet in length, with lessons tailored to the exact skill level of each student.
Water Skiing/Wakeboarding
Whether you're a beginner or pro, you'll enjoy waterskiing on the turquoise, flat water at Hawks Cay as you're towed behind a competition ski and wakeboard boat.
Snorkeling
Grab your mask and fins for an underwater snorkeling adventure at Hawks Cay. Day trips take place aboard a spacious catamaran that includes a glass-bottom viewing area for those who would rather stay dry. Want some tips before going out? We offer Florida Keys snorkeling lessons in the comfort of a swimming pool.
Parasailing
Soar above Hawks Cay like the birds while parasailing at Hawks Cay. Choose from solo or tandem trips that guide you by parachute while a boat moves you slowly around the island.
Kayaking
Explore the ocean at your own pace, and get a good workout in the process! Single and double kayak rentals are available for daily or hourly rentals at Hawks Cay.
Sunset Cruises
Few places on Earth offer the ability to see the sunrise and sunset over the water in the same day; Hawks Cay is one of those places. After watching the sun rise over the pool and saltwater lagoon, take a breathtaking sunset cruise and toast the end of your day with a glass of champagne.
For more information, visit www.sundancewatersports.net
Biking Trails
The best way to explore the five islands of Duck Key is by bicycle. Nothing beats the laid-back pace and ability to explore quaint stops along the way. The low traffic on the island makes it a safe and pleasant journey. Bikes for children and adults are available to rent by the hour or for the day.
Nature Trails
Because of its position in a long line of barrier islands with a large ocean reef just off shore, Hawks Cay Resort provides a unique opportunity to view tropical plant life and wildlife that can be found only in the Florida Keys. Take a walk on one of the many nature trails that wind throughout the resort to see butterflies, flower blossoms and dazzling birds.
Shopping
Key West:
The unique shops of Key West are only 80 minutes away by car.
Marina Dockside Store:
For essentials, the Hawks Cay Marina Dockside Store provides guests and anglers with an ample selection of the most-requested and most-needed items. The store includes a section for fishing gear including rods, reels, line, nets and tackle; a grocery department for bread, milk, ice, deli sandwiches, chips, snacks, coffee, wine, beer and candy; and a section for magazines, books, sunscreen, first-aid supplies, small toys, souvenirs and other miscellaneous items.
Island Elegance Gift Shop:
Indulge your inner shopper at the Island Elegance gift shop in the Hawk's Cay lobby, where you will find decorative items for your home, fashionable apparel, vacation must-haves such as towels, sunscreen and more.
Calm Water Spa Boutique:
Discover exotic and unexpected treasures at the Calm Water Spa boutique! Indulge in products for yourself, or find a treat for someone special, including:
Pevonia skin care:
This complete line of spa care products contains the finest and most potent natural marine and botanical ingredients, combined with technologically advanced formulas and treatments to deliver outstanding results. Pevonia is acclaimed as a results-driven product and treatment line, proven to deliver a phenomenal in-spa and spa-at-home experience. Pevonia prides itself in providing maximum holistic wellness, skin radiance and therapeutic relaxation.
Jamu:
This certified organic body line uses tropical ingredients (choose from Frangipani Jasmine, Coconilla or Island Fruits) that are natural, organic, animal and cruelty free and biodegradable. A portion of the profits go to UNICEF.
Archipelago Botanicals:
Bring home the inviting scents of our tropical island in candles, aromatherapy diffusers and body care. These incredible scents use the finest ingredients and fragrance oils available.
Travel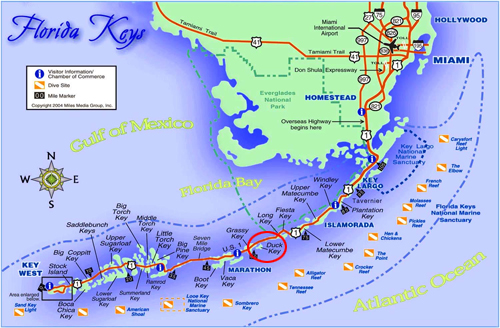 You can fly into any one of the following airports:
Marathon(MTH): 9 miles
Key West (EYW): 60 miles
Miami (MIA):99 miles or
Fort Lauderdale (FLL): 128 miles
Our Shuttle Service will pick you up at the airport and drop you back again.
Some folks like to rent a car to have some mobility – no problem at all!
Packing List
Tropical Packing List
| √ | Packing Item | √ | Packing Item |
| --- | --- | --- | --- |
| √ | Passport | √ | Camera & media |
| √ | Photocopy of Passport (packed separately) | √ | Computer |
| √ | Airline tickets | √ | Cell Phone |
| √ | Itinerary with contact numbers | √ | Reading & writing materials |
| √ | Emergency Medical insurance docs ( if purchased) | √ | Rod repair (tip top and glue) |
| √ | Major credit card | √ | Sun gloves |
| √ | Cash for tips (there are a couple ATMs in San Pedro but they may not be working)) | √ | Face Sun protection (buff) |
| √ | 2 Hats with brim and neck guard (or sun hat for non anglers) | √ | Sunburn relief spray |
| √ | 2-4 long sleeve shirts for fishing (SPF fabric) | √ | Sunscreens SPF 30 or above |
| √ | 2 quick dry pant for fishing (SPF fabric) | √ | Sun block for lips and nose |
| √ | 2 quick dry shorts for fishing (SPF fabric) | √ | Toiletries |
| √ | White socks (tops of feet get burned in the boats or wear under wading shoes) | √ | Prescription meds |
| √ | Underwear | √ | Non-prescription Meds |
| √ | Casual pants or shorts | √ | Eyeglasses (and spare) |
| √ | Casual shirts, short sleeve | √ | Fly Rods |
| √ | Sandals | √ | Reels |
| √ | Belt | √ | Fanny or other small fishing pack |
| √ | Light sweater or fleece | √ | Water bottle ( Holster optional) |
| √ | Socks | √ | Waterproof boat bag |
| √ | Wading shoes | √ | Lines |
| √ | Bathing suits, | √ | Leaders |
| √ | T- Shirts | √ | Tippet |
| √ | Sandals or walking shoes ( Barefoot is good) | √ | Flies |
| √ | Rain jacket (an occasional cold squall will roll though or the boat spray may chill you to the bone!) | √ | Nippers |
| √ | Bug repellent (for dead clam days or evenings) | √ | Pliers/forceps |
| √ | Sunglasses (polarized with lanyard) | | |