Overview
FLy Fishing Mexico – Palometa Club
Palometa is the colloquial Spanish term for permit and is the perfect name for a fly fishing operation catering to anglers serious about catching this most challenging of saltwater trophies on the fly. The Palometa Club operates out of a brand new six-bedroom lodge located on the picturesque ocean-side beach of the unique lobster fishing village of Punta Allen, Mexico.
Anglers can book fully-inclusive, week-long fishing packages (which include transportation from Cancun) in their quest for permit, bonefish, tarpon and snook. Non-anglers can enjoy snorkeling, guided eco tours and archeological trips as The Palometa Club is situated within the famed Sian Ka'an Biosphere Reserve, a 1.3 million acre World Heritage Site known for its rich marine environment, exotic birds and tropical wildlife, and vast array of Mayan ruins.
If you want to catch a permit on the fly, there is no question that you stand a better chance here than any place I know. – Lefty Kreh
Read More About the Palometa Club
The Palometa Club is located south of the glamorous stretch of Caribbean resorts known to travelers the world over as the Mexican or Mayan Riviera. Highlighted by the popular all-night party town and cruise ship port of Cancun, the area encompasses the golf and diving destination of Cozumel, the sun sports hideaway of Playa del Carmen and the dramatic Mayan ruins of Tulum. But beyond there the pavement ends and the real adventure begins. As you leave the glitter of nightlife, the throngs of tourists, the jet skis, the tour buses, the cheap souvenirs… peace returns and the lush coastal
jungle closes in. Completely protected from development by the Sian Ka'an Biosphere Reserve, a 1.3 million acre World Heritage Site, this is the real Yucatan, authentic Mayan Mexico at its best. The Palometa Club and the Mayan lobster fishing village of Punta Allen lie thirty miles south of Tulum at the end of a long, narrow peninsula of dense jungle and wild beach that forms the northeastern edge of the famed Ascension Bay. This is where you're going! Fly Fishing Mexico in style, fly fishing heaven style!
Lodging
Fly Fishing Mexico – Palometa Club Lodging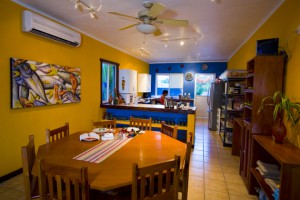 There's a saying in the fishing lodge business that goes like this: "When the fishing's good nothing else matters, when the fishing's bad, everything else matters." At Ascension Bay good fishing is often a combination of guides, weather, tides, visibility, angler skill, and frankly a bit of luck, and we do everything in our power to line up the best of each of these. But when it comes to "everything else" we're definitely in control and guarantee you total satisfaction with your food and lodging experience.
The Palometa Club operates out of a new 5,000 square foot building situated directly on the ocean-side beach and boasting such amenities as air conditioning, 24-hour power, mosquito control, broadband wireless Internet, satellite phone and two fully-outfitted fly tying stations. The beautifully-appointed lodge can accommodate 12 guests in six large bedrooms, each with an adjoining full bathroom with hot-water shower. The lodge also features a common great room, modern kitchen and dining facility, and popular outside beach lounge.
The Cuisine
Simply the best in Punta Allen, and for miles beyond! The day begins at sunrise with mugs of rich Mexican coffee followed by a traditional hot breakfast of cereal, eggs, bacon, ham, juices, toast and pastries. Hardy box lunches are prepared for the fishing boats and typically include sandwiches, fruits, desserts, ice water and other beverages of your choice. After the day's fishing it's cocktail time at the outdoor beach lounge where icy margaritas and sweet pina coladas help punctuate the recounting of the day's adventure. Dinner is served family style featuring delicious local Caribbean and Mexican dishes like moja de ajo, pollo con mole, and chili rellenos, followed by scrumptious locally inspired desserts. Bottled water is used for drinking and ice.
Your Hosts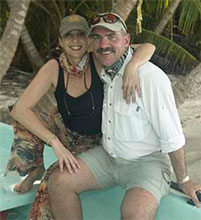 The Palometa Club is managed by Dick and Kaye Cameron, former operations managers and hosts of Ascension Bay Bonefish Club. As equity shareholders in The Palometa Club they contribute their 16 combined years of experience running fly fishing operations to ensure an unrivaled experience for all their guests.
Dick is a second generation Alaskan and began his fishing career at age ten aboard his father's commercial fishing boat. A consummate adventurer with a deep passion for fishing and hunting, he has owned fishing lodges in Alaska and has guided wilderness hunting trips throughout the state. For the past five years Dick has worked at Ascension Bay learning the secrets of this amazing fishery and becoming trusted and well-liked by the residents of Punta Allen. His popular status with the townsfolk has allowed him to assemble an elite team of veteran guides and experienced service staff for The Palometa Club.
Kaye was born in Seattle to a large, fun-loving family that emigrated from Italy in the early 1900s. Her professionalism and contagious enthusiasm make her the perfect co-host. Dick and Kaye were married in Punta Allen, Mexico in June 2004. They have a combined new family that includes Dick's son Jason 20, Kaye's son Jim 25, and her daughter Valerie 19. During the off-season Dick and Kaye live in Alaska.
Lodge Photos
Fishing
Fly Fishing Mexico at the Palometa Club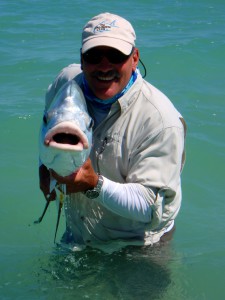 Seemingly endless miles of easy-to-wade, hard-packed white sand flats and rich expanses of turtle grass are the canvas for the world-class fishery that is Ascension Bay. Whether this is your first time flats fishing or you're a seasoned veteran, our professional, highly-skilled, English-speaking guides will make your trip extraordinary. Our fishing program is second to none because of our one-to-one angler to guide formula. This system provides two sets of trained eyes to search the crystal clear water for the fish of your choice. If you are wading, stalking a school of bonefish or hunting permit you have the security of knowing you have a skilled guide coaching you at all times. Noticing a palometa "flash" or a bonefish tailing is something you may not always see, but your guides will. Experienced anglers have often told us that The Palometa Club guides are the "best of the best."
Species
Permit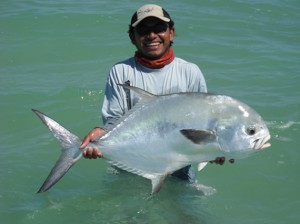 For the saltwater angler the ultimate quarry is undoubtedly permit. For the same reasons steelhead or Atlantic salmon haunt the dreams of the fresh water fly rodder, permit consume the attention of the serious flats fisherman. Earning the same "fish of a thousand casts" reputation as those anadromous legends to the north, permit are rare, spooky, unpredictable, and have a nasty habit of snubbing your fly no matter how good the cast or how perfect the retrieve. That said, permit are actually far more "catchable" than most anglers realize. And The Palometa Club is simply the best place on the planet to get it done. Ascension Bay provides the optimal eco-system for permit to thrive and the population of fish that swim these rich waters is unequalled anywhere else on earth. From schools of pan-sized baby permit to fish eclipsing 30-, even 40-pounds (including several line-class records), Ascension Bay is to permit what the Skeena in British Columbia is to steelhead, or the Ponoi on the Kola Peninsula in Russia is to Atlantc salmon … Mecca!
The Palometa Club is just that – a club devoted to fishing for permit. We're experts at it, we prefer to do it over all other forms of fishing, and we'll give you the best opportunity possible to claim bragging rights to one of the toughest, most sought after fly fishing trophies. If you've always wanted to catch a permit on a fly what are you waiting for? You won't have a better chance than at The Palometa Club
Bonefish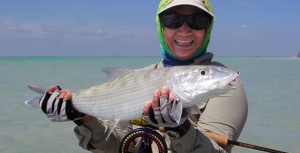 All the "bad" things you've ever heard about Ascension Bay bonefish are
true. They average two- to three-pounds, they eat well, and you can
catch a lot of them… everyday. They are lots of 5-6 pounders as well. A few 8 pound fish. It is a very healthy fishery. If you want to key in on bigger fish let your guide know. You will catch fewer if you skip the small ones!
Uhmm? So when was the last time you complained about catching a dozen three-pound, turbo-charged trout on the fly? Let's put this into perspective. Ascension Bay bones are smaller on average than, say, bonefish in the Bahamas, the Florida Keys or the Seychelles. But ever since the bans on gillnetting in the area they are improving in size and numbers. And what do you really want to do on your next fly fishing trip, catch fish or flog the water? Besides, the reality is while you're warming up on your casting and catching skills, getting your boat legs back and basking under a warm sun in one of the most beautiful places on earth, the odds of a bigger bone cruising by the edge of the flat are actually pretty high. Plenty of five- to eight-pound fish have been caught, and we land a double-digit bruiser – considered a trophy anywhere on earth – at least once a year.
Whether you're a first-timer or a seasoned salty nothing quickens the heart like a large school of bones "pushing water" towards you, or a flat glistening with the silver tails of feeding fish. When it comes to bonefishing The Palometa Club is the perfect place for teenagers, lady anglers and landlocked trout bums to catch their first (and second, third, fourth…) "ghost" of the flats. It's an addiction that will keep you coming back to Ascension Bay year after year.
Tarpon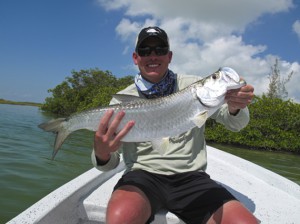 It can take some searching to find them, but in the far reaches of the Bay, in hidden "lakes" often accessible only through ancient Mayan channels cut through the mangroves, the intrepid angler can find pods of baby tarpon from 15- to 30-pounds. These fish will readily eat flies and their explosive, acrobatic takes make for an unforgettable day of fly fishing.
In the fall, larger migratory fish upwards of 80- to 100-pounds can be caught as they enter the bay. A few of these bigger fish remain in the area year-round and it is not uncommon to get several shots a week as you search for bonefish and permit. Experienced anglers keep a tarpon rod in the boat – rigged and ready!
Fishing Photo Gallery
Tackle & Gear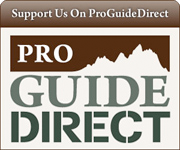 Here is a list of the basics you will need for your trip. I have organized this list on Pro Guide Direct where you can actually purchase the brands and items that I have found to be the best of the best. Any Items that you purchase from Pro Guide Direct will help us earn a living and help you by being ensuring that you have the right gear for the trip. Many of our destinations are pretty remote with no chance to buy things on site.
Caribbean Gear List
Species
Rods
Reels
Line
Leaders
Bonefish
9 foot 8 or 9 wt. (maybe a 10 wt. on a windy day)
Large Arbor Disc drag reel with 200 yards of 20 lb. backing.
Floating tropical line
9 ft-12 ft leaders with 10-12 lb. tippet.
Permit
9 foot 9 or 10 wt.
Large Arbor Disc drag reel with 200 yards of 25 lb. backing.
Floating tropical line
9-14 ft leaders with 12-15 lb. tippet.
JuvenileTarpon
9 foot 10 wt.
Large Arbor Disc drag reel with 300 yards of 30-40 pound backing.
#1 Floating tropical line
#2 Floating with clear sink tip
9-12 ft leaders with 25-30 lb. class tippet and 60 lb shock tippet.
Large Tarpon
9 foot 12 wt.
Large Arbor Disc drag reel with 300 yards of 40-50 pound backing.
#1 Floating tropical line
#2 Floating with clear sink tip
#3 Full intermediate sink line
9-12 ft leaders with 25-30 lb. class tippet and 80 lb shock tippet.
Barracudas,
Sharks
9 foot 9-12 wt.
Large Arbor Disc drag reel with 300 yards of 40-50 pound backing.
#1 Floating tropical line
#2 Floating with clear sink tip
6-9 ft leaders with 20-30 lb. steel bite tippets.
Fly List
Tie a few patterns with just the weight of the eyes as a variable 1 with lead eyes, 1 with chain, 1 with small chain, and 1 with no weight or mono eyes just to make sure you have flies for very skinny water all the way to waist deep water. Presentation seems to be much more important than fly selection.

Fly Name
Colors
Sizes
Qty for a 1
Week Trip
Toad Fly
chatreuse, olive, tan, purple/black
1, 1/0
12
Cockroach
standard
1/0, 2/0
4
Black Death
white, tan
1/0, 2/0
4
Purple Demon
purple/black
1/0, 2/0
4
Layup tarpon fly
brown, chatreuse ,yellow
1, 1/0
6
Enrico's Tarpon Streamer
Purple & Black
2/0
4
Enrico's Tarpon Pinfish
Olive/white
3/0
4
Del's Merkin
tan/brown
1/0, 2, 4
6
Turneffe Crab
Cream, olive
2, 4, 6
4
Clouser minnow
chatr/white
1/0-2/0
6
Bonefish CLouser
assorted
4-6
12
Crazy Charlie
bead eye
pink,white,tan,brw
4, 6, 8
12
Moe bonefish
amber, pink
4
6
Christmas Island Specials
pink, orange
6, 8
18
Gotcha
standard
4, 6, 8
12
Packing List
Tropical Packing List
| √ | Packing Item | √ | Packing Item |
| --- | --- | --- | --- |
| √ | Passport | √ | Camera & media |
| √ | Photocopy of Passport (packed separately) | √ | Computer |
| √ | Airline tickets | √ | Cell Phone |
| √ | Itinerary with contact numbers | √ | Reading & writing materials |
| √ | Emergency Medical insurance docs ( if purchased) | √ | Rod repair (tip top and glue) |
| √ | Major credit card | √ | Sun gloves |
| √ | Cash for tips (there are a couple ATMs in San Pedro but they may not be working)) | √ | Face Sun protection (buff) |
| √ | 2 Hats with brim and neck guard (or sun hat for non anglers) | √ | Sunburn relief spray |
| √ | 2-4 long sleeve shirts for fishing (SPF fabric) | √ | Sunscreens SPF 30 or above |
| √ | 2 quick dry pant for fishing (SPF fabric) | √ | Sun block for lips and nose |
| √ | 2 quick dry shorts for fishing (SPF fabric) | √ | Toiletries |
| √ | White socks (tops of feet get burned in the boats or wear under wading shoes) | √ | Prescription meds |
| √ | Underwear | √ | Non-prescription Meds |
| √ | Casual pants or shorts | √ | Eyeglasses (and spare) |
| √ | Casual shirts, short sleeve | √ | Fly Rods |
| √ | Sandals | √ | Reels |
| √ | Belt | √ | Fanny or other small fishing pack |
| √ | Light sweater or fleece | √ | Water bottle ( Holster optional) |
| √ | Socks | √ | Waterproof boat bag |
| √ | Wading shoes | √ | Lines |
| √ | Bathing suits, | √ | Leaders |
| √ | T- Shirts | √ | Tippet |
| √ | Sandals or walking shoes ( Barefoot is good) | √ | Flies |
| √ | Rain jacket (an occasional cold squall will roll though or the boat spray may chill you to the bone!) | √ | Nippers |
| √ | Bug repellent (for dead clam days or evenings) | √ | Pliers/forceps |
| √ | Sunglasses (polarized with lanyard) | | |
Rates
Palometa Club Package Prices
Number
of Nights
Number
of Fishing
Days

Two per
Boat
Two per
Room

4
3
$2150
5
4
$2650
6
5
$3250
7
6
$3650
PRIVATE ANGLER SUPPLEMENTS (Space Available Basis Only):
Additional $100 per night for private room
Additional $200 per day for private boat (shared room)
Example: 7 Nights / 6 Days (based on private room and boat) = $5550
Non Angling Rate:
$2000 per person / week (based on shared room)
Note on Shorter Week Itineraries:
Stays of less than a week or arrival/departure on days other than Friday will often incur an additional transportation charge of $350 each way for vehicle. We encourage short week guests to arrive or depart on Friday to minimize any additional transfer costs.
Prices Include: Acommodations, 6 Full days of guided fishing, All Meals, Ground transportation to lodge, Happy hour beverages (Margaritas, Beer, Local Rum Drinks), Non-alcoholic beverages, Telephone Calls & Wireless Internet, Mexican VAT tax. Prices quoted are per person in US dollars.
Prices do not include: Commercial air to Cancun, Additional alcoholic beverages outside of Happy Hour (BYOB welcome); Guide and staff gratuities, Fishing Tackle & Flies, Organized eco-tours, Laundry Service, Mexican Departure Taxes
Why Book Through Flyfishingheaven.com?
Why book it through us when you could book direct?
1. Unbiased Advice:
Most people recognize the advantage of our unbiased advice, there are hundreds of destinations to choose from and our job is to know the ones that are right for your needs. We offer the real story you can't get from a lodge owner. Would the outfitter in questions tell you are booking in a less than stellar part of the year? Remember our unbiased advice is 100% free!
2. We Can Book Anywhere:
Our website highlights many of our favorite destinations but we have access to hundreds more. If there are fish there, we can book it. In fact, we will give you 5% back if you book a trip through us that is not on our website! We enjoy learning about new spots!
3. Loyalty Discounts:
2017 Special: You are automatically enrolled in our loyalty program before your first trip and will get the 5% cash back on your very first trip. This offer is good until December 31, 2017. In January you will ear your loyalty discount on the second trip and every trip thereafter. This discount applies to all your friends who are going with you as well. f you organize a group of 8 or more we will give you 10% off! All you have to do is book the first trip and you are a flyfishingheaven.com frequent fisher!
4. Price Guarantee:
If you find a price lower than ours we will beat that price by 5% if you book through flyfishingheaven.com!
Our Pledge
We promise to work for you, not a lodge, outfitter or resort. We pledge to get you you to a destination that will live up to your expectations at the best possible price. You will never be charged more than booking directly (in fact most of our clients are paying less - *see below). We will make sure you are well prepared for your trip with specific knowledge about the gear, the flies, the rods, packing lists, travel documents, connecting information everything. Since we are not tied to a particular destination we promise honest pros and cons of any destination at the time of year you are traveling.

We do earn a small commission when we book a trip as all lodges and outfitters offer this as they depend on agencies like ours for much of their business. This fee is paid by the lodge not you, and they do not keep different prices for direct bookings vs agency bookings, it is bad business.
Payment and Cancelation Polices
A 10% deposit is required if you are booking more than 6 months in advance, 50% deposit is required when less than 6 months until departure date with the balance due 60 days prior to departure. If you are forced to cancel with more than 60 days notice, you may keep full credit towards another trip or receive a refund less a 10% service charge. Deposits on cancellations with less than 60 days notice are not refundable unless your spot can be filled. MC, Visa, and checks are accepted. We recommend travel and or medical emergency insurance for all our trips.
Seasons
Ascension Bay Fishing Calendar
| Month | Bonefish | Permit | Tarpon |
| --- | --- | --- | --- |
| January | Good | Good | Fair |
| February | Good/Excellent | Good/Excellent | Fair |
| March | Good/Excellent | Excellent | Fair |
| April | Good/Excellent | Excellent | Good |
| May | Excellent | Excellent | Excellent |
| June | Excellent | Good/Excellent | Excellent |
| July | Excellent | Good/Excellent | Excellent |
| August | Excellent | Good/Excellent | Excellent |
| September | Excellent | Good | Good |
| October | Excellent | Good | Fair |
| November | Good/Excellent | Good | Fair |
| December | Good | Fair | Fair |
Gallery
Please take a look at the  photo and video galleries related to Andros South.

Fishing Photo Gallery
Lodge Photo Gallery
Scenic Photo Gallery
Video Gallery
Activities
Punta Allen is a sleepy, simple town that takes you back 20 years. There are some eco-tours, birding, snorkeling and beach combing for the non fishing guest however it is not for everyone. There are some Mayan ruins but they are a full day trip away. Some will love the remote rustic feel of the area and others will find it a dull, so please talk to us a bit about your non fishing friend and we can make sure he or she will be happy here.
Travel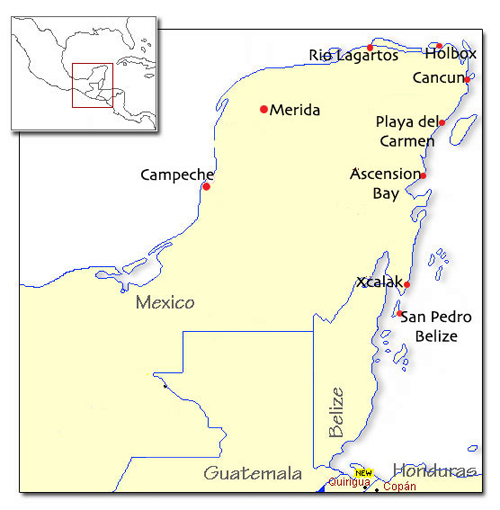 Guests first start the adventure by traveling to Cancun, Mexico. Cancun is serviced by almost every major airline carrier, and is a direct flight from Dallas / Ft. Worth, Houston, Miami, and numerous other international portals.

Arrival time and day:
Guests must plan flight reservations to arrive in Cancun on Friday no later than 2:00 P.M. and schedule the return flight the following Friday no earlier than 1:00PM in order to make comfortable connections to the Club.
Once in Cancun, guests are met by lodge representatives and transferred approximately three and a half hours south to Punta Allen in a comfortable air conditioned van. The main highway from Cancun International Airport leads south at 100km/hour through the mega-resorts of Playa del Carmen en route to the ancient Mayan turned touristy town of Tulum. From Tulum, travelers enter the Sian Kaan Biosphere Reserve and are off through the peaceful jungle to the docile and romantic fishing village of Punta Allen. The entire drive takes approximately 3.5 hours under normal conditions. However, take note of the water based and helicopter option transfers program for the 2012-2013 season in the event the road is in bad shape.
NOTE ABOUT "THE ROAD" & TRANSFERS TO THE LODGE
The last 40+ kilometers of the road from Tulum to Punta Allen is often in some state of disrepair depending on recent weather patterns and the frequency of maintenance. If the road is in poor shape, the Club will offer a water based transfer from the top of the Boca Paila lagoon down to the lodge. This is a huge time saver and a comfortable, smooth alternative to the bumpy road.
HELICOPTER TRANSFER OPTIONS
For those of you who want to travel in real style, we have sourced a very reliable helicopter transfer option from Cancun straight to the soccer field next to the Club. Flight time is about one hour in a new Bell Jet Ranger chopper that will accommodate four passengers and all luggage. Rates are actually reasonable all things considered ($1500/hour), especially when a "dead-head" flight is not involved. Inquire for Details if Interested.
Packing List
Tropical Packing List
| √ | Packing Item | √ | Packing Item |
| --- | --- | --- | --- |
| √ | Passport | √ | Camera & media |
| √ | Photocopy of Passport (packed separately) | √ | Computer |
| √ | Airline tickets | √ | Cell Phone |
| √ | Itinerary with contact numbers | √ | Reading & writing materials |
| √ | Emergency Medical insurance docs ( if purchased) | √ | Rod repair (tip top and glue) |
| √ | Major credit card | √ | Sun gloves |
| √ | Cash for tips (there are a couple ATMs in San Pedro but they may not be working)) | √ | Face Sun protection (buff) |
| √ | 2 Hats with brim and neck guard (or sun hat for non anglers) | √ | Sunburn relief spray |
| √ | 2-4 long sleeve shirts for fishing (SPF fabric) | √ | Sunscreens SPF 30 or above |
| √ | 2 quick dry pant for fishing (SPF fabric) | √ | Sun block for lips and nose |
| √ | 2 quick dry shorts for fishing (SPF fabric) | √ | Toiletries |
| √ | White socks (tops of feet get burned in the boats or wear under wading shoes) | √ | Prescription meds |
| √ | Underwear | √ | Non-prescription Meds |
| √ | Casual pants or shorts | √ | Eyeglasses (and spare) |
| √ | Casual shirts, short sleeve | √ | Fly Rods |
| √ | Sandals | √ | Reels |
| √ | Belt | √ | Fanny or other small fishing pack |
| √ | Light sweater or fleece | √ | Water bottle ( Holster optional) |
| √ | Socks | √ | Waterproof boat bag |
| √ | Wading shoes | √ | Lines |
| √ | Bathing suits, | √ | Leaders |
| √ | T- Shirts | √ | Tippet |
| √ | Sandals or walking shoes ( Barefoot is good) | √ | Flies |
| √ | Rain jacket (an occasional cold squall will roll though or the boat spray may chill you to the bone!) | √ | Nippers |
| √ | Bug repellent (for dead clam days or evenings) | √ | Pliers/forceps |
| √ | Sunglasses (polarized with lanyard) | | |