Overview
Tarpon Caye Lodge – Overview
Tarpon Caye Belize is our small island Belize Fishing Lodge where we specialize in fulfilling your fishing adventures. With decades of sports fishing experience; we strive to make sure our number one priority is the quality of your fishing adventure.
Our island is a 30 minute boat cruise from the famous Placencia Peninsula, where it sits on a fringe reef in the middle of the Victoria Channel or better known as the Permit Capital of the world. With 20 seconds to tarpon fishing, 5 minutes to permit flats, 15 minutes to bonefish schools and a also a spin fisherman's heaven; we can truly say we offer a unique saltwater fishing experience.
There are plenty of opportunities to snorkel and experience the rich vibrant marine life. The island's geographical location also puts it 6 miles from the famous Gladden Spit Whale Shark zone; minutes from many dive sites; 6 miles from the largest barrier reef in the Western Hemisphere… Here, you can do it all or simply relax with a cold drink in your hand, on a private island in Belize and enjoy the cool Caribbean breeze soothing you into a siesta.
Tarpon Caye has a deep lagoon on the West side, which is protected by tall red mangrove trees. This lagoon is one of the hottest tarpon fishing spots in Belize. This area is covered with hundreds of square miles of flats; this area is also known, by many fly fishermen (local and international), to be the "Permit Capital" of the world! The focus is on the fishing at TCL specifically the permit and tarpon fishing.
The island is located in the center of the Victoria Channel and everything fun – snorkel right of the island; whale sharks are only 6 miles away; many dive sites are nearby; largest barrier reef in the western hemisphere is only 6 miles aways…or simply relax with a cold drink in your hand on a private island in the cool seabreeze of the Caribbean and work on your tan… Perfect!!
There are 3 Guest Cabanas on the property that limits our occupancy to 6 anglers per week.
Testimonials
Col. Dave Nuss
A year without going to Tarpon Caye Lodge is a wasted year.
Mike B.
Thanks for a fantastic trip. I've been meaning to sit down and write to you ever since I got home. I'm already looking foreword to another trip next year, especially now that I have a little experience under my belt. I have been on a number of fishing trips in the last ten years, and this trip ranks at the top of the my list. You guys are great. Charlie, please give a special thanks to Kevin for me. I really enjoyed being on the water with him. He work very hard every day to give us the best experience possible. I do believe he was happier then I was when I caught my first Permit. A truly great guy. Hope you are all well.
Pat F.
Greatly enjoyed my recent trip to Tarpon Caye: the fishing AND the staff are first rate. Looking forward to another visit at your wonderful fishing camp.
Steve G.
Wanted to drop a line to say how enjoyable Tarpon Caye was a couple weeks ago. The staff were great (especially Marlon and Paul), and I had a great time, even though I only caught a few fish (BUT one was the biggest!).
Jeff Perin – The Peak Fly Shop
We caught a ton of fish during the week and left the lodge feeling like we had made some really good friends with the Leslie family and their staff.
Robert R.
I would like to thank all of your team for a great fishing trip. This was the first time I fished for Tarpon, Bone and Permits and I'll never forget it. I think I'm hooked on Tarpon and Permit fishing. I should call it Permit hunting and not fishing. I couldn't believe the level of anticipation hunting permits. I can only compare it to riding a biggest and fastest rollercoaster:
Spot fishing is like standing in line for this rollercoaster, you are trying to imagine what the ride will be like or how the permit will strike and run

creeping up to the Permit and casting is like the long slow ride up the fist hill the tension is now increasing the further up the hill you go

finally the strike and run is like go down the fist large hill and going through all the turns Permit hunting is amassing and want to thank your team again for setting me to get my first 10 pound permit. I don't know how many times I've repeated both my Tarpon and Permit catches to all my friends and co-workers.
Permit hunting is amazing and want to thank your team again for setting me to get my first 10 pound permit. I don't know how many times I've repeated both my Tarpon and Permit catches to all my friends and co-workers.
Jonathan R.
You provided an amazing experience and even cooked up the barracuda that my wife caught.
Thom P.
Thanks again for a wonderful trip.
Robert F.
Just a note to express my gratitude for the wonderful trip to Tarpon Caye over the Christmas holiday 2007. Having been to a number of fishing lodges I can tell you Charlie's hospitality is second to none. By some standards Tarpon Caye is rustic but you will want for nothing. I was just as comfortable and felt more at home than at any other place I've stayed.

Marvelous local style food with fresh catch of the day everyday. Honest, simply prepared and absolutely delicious. I ate at least ten different fresh fish during my stay including fresh lobsters, shrimp and conch. I have to say the conch chowder, conch ceviche and the never to be forgotten fabulous conch fritters were my favorites. Stuffed jacks, fried beans and fish hash for breakfast; it doesn't get any better than that!

The fishing is fantastic. Charlie does right, fishing the tides. Imagine that, fishing on the fishes schedule not the lodges. Marlon is an experienced and knowledgeable guide and is above all extremely enthusiastic. I felt as though I did three days fishing per day. Instead of being stuck in a boat for 8-9 hours a day, several of those hours spent making long runs to fishing grounds and staring at empty water because the tide isn't right, facing a cold sandwich for lunch and searching for a suitable piece of Mangrove swamp for a bathroom Tarpon Caye allows the angler a chance to feel comfortable and refresh oneself and have a great meal back at lodge. Tarpon Caye is in the middle of the fishing grounds surrounded by flats teeming with fish. No long runs. On the first morning I caught my first ever Kingfish right in front of the lodge not two minutes from the dock. A typical day was trolling or chasing Tarpon very early, back to the lodge for a great breakfast, mid-day stalking Permit on the flats, back to the lodge for lunch and maybe an hour in the hammock, and out again in the evening for Tarpon or deep troll the reef for Grouper until dark. Followed by dinner and refreshments, this is a fisherman's perfect day.

I had never fished for Permit on the flats prior to this trip. Marlon consistently put me on fish each and every day. I had at least 10-12 legitimate shots at Permit every afternoon. Stalking permit with Marlon is and intense and exciting experience. Success? On the fifth day, dead calm, overcast with an unusually high tide we had perfect conditions for sighting aggressively feeding Permit. On one tide, from 9am to 1pm we boated 5 PERMIT from 4 to 10 lbs.. After catching one and experiencing the incredible battle it was to land a Permit I didn't think there could be anything better. But to be able to get four more and take five in a day was out of this world! Top that!

I will return again and again to Tarpon Caye. Hard-core fishing is what I'm all about and Tarpon Caye is the best of the best!
Peggy & Gary K.
Dear Charlie and Staff,
We just wanted to Thank you for the great time we all had at Tarpon Caye Lodge with you for the week. We're still laughing at some of the stuff everyone did and said, and I have a picture of Gary wiping the tears from his eyes, he was laughing so hard he cried the last night we were there and he was sitting at the picnic table with you guys!
Lodging
Tarpon Caye Lodge – The Lodging
We have three comfortable, clean cabins with daily housekeeping. Each cabin is built on stilts over the Caribbean Sea allowing for a restful sleep while enjoying the soothing Caribbean breeze.
Each cabin has:
Tiled floors
Semi-cathedral ceiling
2 double bed with comfortable mattresses
Bed head lights if you wish to read a book without keeping on the main light
Writing table and chair
Private tiled showers designed with a seating bench
Fans in each cabin
Private verandah over the Caribbean Sea with deck chairs and hammock
Clubhouse and Bar
Clubhouse:
Built on stilts above the Caribbean Sea
Open deck with a fantastic view
Wall Of Fame
Dining area where delicious and memorable family style meals are served
Self-Sustain:
Full running fresh water from our water storage system
Solar system provides a 12 volt lighting system at night when the generator is turned off
Diesel generator provides 110 electricity throughout the day and is shut off at 9 p.m.
Bar:
Enjoy a cold drink under our brand new tropical thatched bar
Thatched Palapa:
jump in a hammock under our open air thatched palapa
FREE Wi-Fi internet
Water Sports:
Kayaks and snorkeling gear are available for complimentary use
Guides and Staff:
Our employees are all licensed, certified and most of all warm, friendly and ready to assist and make your trip enjoyable
Dining:
Dinners at the lodge usually consist of generous portions of fresh seafood including lobster, conch, shrimp or freshly caught fish (let us know if you have a special diet). Local Belizean fare such as chicken and pork with local vegetables are also on the menu.
The resident cook would be happy to prepare your favorite dish, just ask! Try the fried plantains!
You may choose to snorkel the reef just in front of your cabin and pick up some conch which the island Chef will turn into a tasty "Ceviche" dish or tantalizingly delious conch fritters; at dinner time. Snorkel past some of the large coral heads and you may be able to spot cruising tarpon in the deeper pockets of the reef or see lobsters hiding in the coral.
Lodging Photos
Fishing
Tarpon Caye Lodge – The Fishing
Up at daybreak or before (depending on the tide) with coffee and a home-made snack before setting out for the first catch of the day. Mid-morning (because you are successfully fishing so close to camp) you can almost smell a hearty breakfast being prepared! No Sense missing that early bite! Time to eat, rest a bit or work on your gear before spending the rest of the day attempting to catch the fish of your choice. Then head back out with your guide for some more prime time fishing. Upon returning to camp that evening and after a successful day of fishing, you take a relaxing shower before gathering with the other guests for cocktails and a delicious meal consisting of the day's catch, perfectly prepared.
Flats fishing in the flats near our lodge maybe be a shallow as 6 inches but drop quickly to 75-100 foot of water on the edges, this makes them a perfect habitat for permit. Permit can be found on these flats in good numbers. You can get to cast to up to 20 tailing fish on an average day; bonefish are also plentiful on the more sandy flats in this area. All the flats around Tarpon Caye have firm bottoms which make for easy wading. You may choose to cast from the boat as your guide poles the flats and "hop out" of the boat to get a better casting position to catch a permit or bone.
Species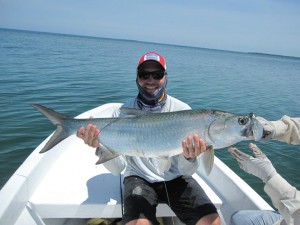 TARPON (Megalops atlanticus)
OTHER NAMES: Silver King, Sabalo
RANGE: All Florida coasts plus the Greater Antilles and some other Caribbean islands, including the Virgin and Cayman Islands. Scattered in the Bahamas, where it is most plentiful around Andros but also present elsewhere, including Bimini, the Berry Islands, and the Exumas.
HABITAT: Fishable throughout Florida in warm months, including the Panhandle, but adults are largely confined to South Florida in the winter. Major fishing efforts for big Tarpon are directed at live-baiting in large passes, inlets, channels and river mouths throughout the state, and at sight-fishing with fly and casting tackle on shallow flats in the Keys and on the lower Gulf Coast from Homosassa southward. Large and medium Tarpon also are found off the beaches and in the surf of both coasts at times, and many are hooked from bridges and piers, especially at night. Medium-size fish are common in a variety of settings in South and Central Florida, including freshwater rivers and landlocked canals. Tiny juveniles inhabit landlocked canals and ditches.
DESCRIPTION: Green or steel above, silver on sides and belly. Deep, thick body; forked tail. Long trailer at end of dorsal fin.
SIZE: From 12 inches or less to about 75 pounds, on average, although big fish of 100 to 150 pounds are numerous in many areas. World record 283 pounds, 4 ounces; Florida record 243 pounds.
FOOD VALUE: None.
GAME QUALITIES: Famous for the spectacle and frequency of its jumps. Giant Tarpon don't quite match the acrobatics of the smaller ones, but they leap frequently enough in shallow water, and with even more fury.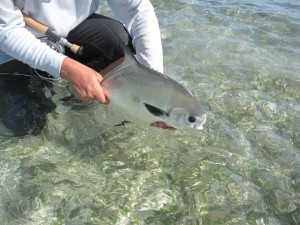 Permit: (Trachinotus falcatus)
OTHER NAMES: Round Pompano, Great Pompano
HABITAT: Permit are found mostly on the flats and in the lagoons around Placencia. They are abundant in southern Belize (Punta Icacos and Punta Negro)
DESCRIPTION: Deeper body and blunter head than the Pompano. Large, sickle-shaped tail. Scutes absent Silver overall; sometimes has a black blotch on side under the pectoral fin. Like Pompano, small Permit may also show some yellow on the underside.
SIZE: Can run as high as 40 or 50 pounds, with 20-30, pounders fairly common.
GAME QUALITIES: Rates as one of the very best gamefish a long runner on the flats and a strong, stubborn deep fighter offshore. Also one of the most challenging to fool, especially with artificial lures. This is a catch and release fish.
Here are some techniques we have developed over the years: Present the fly to tailing fish as softly as you can; this is very important. Especially if you are fishing to a school; for they get spooked easier than the singles and doubles.
Tailing permits on the flats are feeding permit. In order to stand a chance of getting a hook up, you must present the fly on his dinner plate, and don't be in a hurry to strip it back in unless you made a bad cast.
A permit will circle its dinner plate to see what comes on it when he is digging. If your fly is on the plate at that time that's when you make one or two inch strips. If the fish goes down over your fly, make a short set with your line.
DO NOT raise the rod, for you may not feel the take. You may feel a light tapping on your line, if so, set right away; for the tapping you feel is the permit crushing your fly and if he does not like the taste, he exhales the fly in a heartbeat.
After the hook up:
When the hook up comes, raise the rod as high as possible and keep the line clear of your rod butt and other obstructions. The bigger fish may stay and try to take your fly off on the bottom, for he thinks it's a crab nipping their lips. But, when he finds out differently, he takes off like a bat out of hell. Keep your hands off the reel when the fish is running; for one touch of the reel could snap your leader.
After all this is done, wait for further instructions from your guide; for that will come depending on the situation you are in at that time.
Our guides fish with a boat tender, so the boat is always close enough if you need to chase the fish. Our guides are very knowledgeable of the sport, so he will be giving you a lot more information and instructions and will be talking you through this journey.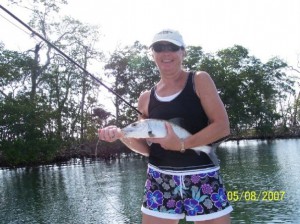 Bonefish: (Albula vulpes)
OTHER NAMES: Silver Ghost, White Fox, Macabi
RANGE: The bonefish is a tropical species and is seriously fished only in the south end of Biscayne Bay, Greater Miami and the Florida Keys and also, of course, throughout the Bahamas and Caribbean. Stragglers are sometimes caught north of the preferred habitat, usually from the surf, although a few are taken from the Indian River. The Longfin variety is rare in Florida.
HABITAT: Bonefish do much of their foraging on shallow mud or grass flats, where they can be sighted and cast to. They also frequently gather in large schools over fairly deep, soft bottom, where their feeding stirs up patches of silt or "mud."
DESCRIPTION: Thick-bodied but streamlined. Dark back, usually greenish, and silver sides; pointed snout with under slung mouth; forked tail. A smaller and much lesser-known variety, the Long fin Bonefish, Albula nemoptera, looks almost identical, except for streamer-like extensions of its dorsal and anal fins.
SIZE: Common from 2 to 10 pounds; sometimes to 15 pounds, and possibly to 18 or 20. World record 19 pounds; Florida record 15 pounds, 6 ounces.
FOOD VALUE: Although popular in the Bahamas and tropics, Bonefish are seldom eaten in Florida. They are indeed very bony; and too highly prized as gamefish to kill for, at best, a mediocre dinner.
GAME QUALITIES: Legendary for long-distance runs in shallow water. Strong, jack-like fighter in deep water.
Read more about the fishing 1
read more about the fishing
Tackle & Gear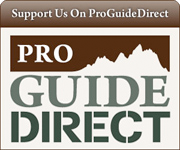 Here is a list of the basics you will need for your trip. I have organized this list on Pro Guide Direct where you can actually purchase the brands and items that I have found to be the best of the best. Any Items that you purchase from Pro Guide Direct will help us earn a living and help you by being ensuring that you have the right gear for the trip. Many of our destinations are pretty remote with no chance to buy things on site.
We are aware of the difficulty clients have when traveling with lots of luggage, therefore we
have taken that into consideration and created a gear checklist that will give you every piece of
gear you will need and eliminate all of the unnecessary clunk that you simply won't need.
Tarpon:
– 12 wt rod with intermediate sink WF fly line with extra spool WF full floating
– Permit: 10 wt rod with WF full floating line
– Bonefish: 8 wt rod with WF floating line
Tarpon leader material:
– 20 – 40 – 50 or 60 pound test disappearing pink flora
Bonefish and permit leader material:
– 8 – 12 – 16 pound test taper leader or spools of the same sizes to make leaders,
disappearing pink if possible
Tarpon flies/lures:
– Gummy minnow with silver side and gray back 1-0 hook preferably
– Clouser minnow chartreuse and white 1-0 hook preferably
Permit flies:
– Merkins: brown, tan, tan and brown, olive green
– Sexy Sixties
– Mantis shrimp
– Beaur Flies
– Rag Head
– Or any other that you might like
– All should be tied on # 4 hooks with minnie dumbbell eyes or hallow bead chain eyes
with weed guard Bonefish flies:
– Crazy Charlie: gold, pink, white, chartreuse and crystal flash
– Clouser: chartreuse and white, full chartreuse and full white, all with hallow bead chain
eyes and tied on # 6 hooks.
Trolling equipment:
– Ugly stick: 7 ft stand up rod for little big game with 4-0 10 reel with 30 lb test line
Bait Casting (snook fishing):
– Ugly stick: 7 ft medium to fast casting rod with reel equivalent to 3500 Shimano Reel,
with 17 lb test line.
Bait casting for permit and bonefish:
– Ugly stick: 7 ft fast tip flex with ultra light reel, 8 lb and 12 lb test line, extra spool.
Trolling Lures:
– assorted 4 inch to 5 inch Rapalla, Yozuri, Bombers all Divers
Casting Lures:
– Assorted 3 inch to 4 inch Rapalla, Yozuri, Mirror Lures slow sink, Buck tail Jig, Sassy
shad, Zara Spook
Permit and Bonefish:
– Assorted colors; wiggle jig on # 2 hooks
Other Items:
– Hard steel leader
– Braided flex steel leader
– All 70 to 90 lb test
– Barrel swivel 70 to 90 lb test
– 1-0, 2-0 and 3-0 single hook
Note: Wipe sunsceen off hands before handling rods, tippets and flies. Creams act as
lubricants and cause slippage, and impart scents to flies that deter strikes. Rinse rods and reels in
fresh water after each use. Salt water is very corrosive. Use reels made for salt water when
possible. Rinse your rods and reels in fresh water daily after fishing.
Packing List
Tropical Packing List
| √ | Packing Item | √ | Packing Item |
| --- | --- | --- | --- |
| √ | Passport | √ | Camera & media |
| √ | Photocopy of Passport (packed separately) | √ | Computer |
| √ | Airline tickets | √ | Cell Phone |
| √ | Itinerary with contact numbers | √ | Reading & writing materials |
| √ | Emergency Medical insurance docs ( if purchased) | √ | Rod repair (tip top and glue) |
| √ | Major credit card | √ | Sun gloves |
| √ | Cash for tips (there are a couple ATMs in San Pedro but they may not be working)) | √ | Face Sun protection (buff) |
| √ | 2 Hats with brim and neck guard (or sun hat for non anglers) | √ | Sunburn relief spray |
| √ | 2-4 long sleeve shirts for fishing (SPF fabric) | √ | Sunscreens SPF 30 or above |
| √ | 2 quick dry pant for fishing (SPF fabric) | √ | Sun block for lips and nose |
| √ | 2 quick dry shorts for fishing (SPF fabric) | √ | Toiletries |
| √ | White socks (tops of feet get burned in the boats or wear under wading shoes) | √ | Prescription meds |
| √ | Underwear | √ | Non-prescription Meds |
| √ | Casual pants or shorts | √ | Eyeglasses (and spare) |
| √ | Casual shirts, short sleeve | √ | Fly Rods |
| √ | Sandals | √ | Reels |
| √ | Belt | √ | Fanny or other small fishing pack |
| √ | Light sweater or fleece | √ | Water bottle ( Holster optional) |
| √ | Socks | √ | Waterproof boat bag |
| √ | Wading shoes | √ | Lines |
| √ | Bathing suits, | √ | Leaders |
| √ | T- Shirts | √ | Tippet |
| √ | Sandals or walking shoes ( Barefoot is good) | √ | Flies |
| √ | Rain jacket (an occasional cold squall will roll though or the boat spray may chill you to the bone!) | √ | Nippers |
| √ | Bug repellent (for dead clam days or evenings) | √ | Pliers/forceps |
| √ | Sunglasses (polarized with lanyard) | | |
Rates
Please use the drop down lists below to find the package that suits your needs the most. Any package can be customized to fit your needs, need a 7 night package with three days of fishing – no problem we can do it! Just drop me an email and I will work out the price for you.
Tarpon Caye Lodge Fishing Prices
Number of nights
Number of days fishing
Fishing Package
2 to a boat, 2 to a room
March-May/June -Feb.
Fishing Package
1 to a boat, 1 to a room
March-May/June -Feb.
7
6
$3550 / $2950
$4750 / $4150
6
5
$3150 / $2650
$4250 / $3750
5
4
$2750 / $2350
$3750 / $3350
4
3
$2350 / $2050
$3350 / $3050
Ground transfers from Placencia airstrip to transport boat and return
Boat transfer to Tarpon Caye from Placencia and return
Meals: Breakfast, Lunch & Dinner (all boats take out a packed lunch when going out to fish – upon request)
Beverages (sodas, juices and bottled water)
Accommodations: private cabin (2 max per cabin)
Daily Housekeeping
Guided Fishing: guide, boat, fuel
Complimentary use of snorkel gear and kayaks
Wi-Fi internet
Taxes – 12.5% General Sales Tax and 9% Hotel Tax
Prices do not include: International flights, flights from Belize City to Placencia (~$225 p/p, r/t), bar tab, fishing license or gratuities for your guide and resort staff
Rest and Relax Package Pricing
Tarpon Caye Lodge Rest and Relax Couples Prices
Number of nights
Rest and relax package

is priced PER couple
7
$4200
6
$3600
5
$3000
4
$2400
3
$1800
2
$1200
Ground transfers from Placencia airstrip to transport boat and return
Boat transfer to Tarpon Caye from Placencia and return
Meals: Breakfast, Lunch & Dinner (all boats take out a packed lunch when going out to fish – upon request)
Beverages (sodas, juices and bottled water)
Accommodations: private cabin (2 max per cabin)
Daily Housekeeping
One day tour to the Silk Cayes – swim with the turtles
One day conventional fishing around Tarpon Caye
Complimentary use of snorkel gear and kayaks
Wi-Fi internet
Taxes – 12.5% General Sales Tax and 9% Hotel Tax
Prices do not include: International flights, flights from Belize City to Placencia (~$225 p/p, r/t), bar tab, fishing license or gratuities for your guide and resort staff
Why Book Through Flyfishingheaven.com?
Why book through flyfishingheaven.com?
1. Unbiased Advice:
Most people recognize the advantage of our unbiased advice, there are hundreds of destinations to choose from and our job is to know the ones that are right for your needs. We offer the real story you can't get from a lodge owner. Would the outfitter in questions tell you are booking in a less than stellar part of the year? Remember our unbiased advice is 100% free!
2. We Can Book Anywhere:
Our website highlights many of our favorite destinations but we have access to hundreds more. If there are fish there, we can book it. In fact, we will give you 5% back if you book a trip through us that is not on our website! We enjoy learning about new spots!
3. Loyalty Discounts:
2017 Special: You are automatically enrolled in our loyalty program before your first trip and will get the 5% cash back on your very first trip. This offer is good until December 31, 2017. In January you will ear your loyalty discount on the second trip and every trip thereafter. This discount applies to all your friends who are going with you as well. f you organize a group of 8 or more we will give you 10% off! All you have to do is book the first trip and you are a flyfishingheaven.com frequent fisher!
4. Price Guarantee:
If you find a price lower than ours we will beat that price by 5% if you book through flyfishingheaven.com!
Our Pledge
We promise to work for you, not a lodge, outfitter or resort. We pledge to get you you to a destination that will live up to your expectations at the best possible price. You will never be charged more than booking directly (in fact most of our clients are paying less - *see below). We will make sure you are well prepared for your trip with specific knowledge about the gear, the flies, the rods, packing lists, travel documents, connecting information everything. Since we are not tied to a particular destination we promise honest pros and cons of any destination at the time of year you are traveling.

We do earn a small commission when we book a trip as all lodges and outfitters offer this as they depend on agencies like ours for much of their business. This fee is paid by the lodge not you, and they do not keep different prices for direct bookings vs agency bookings, it is bad business.
Payment and Cancelation Polices
A 10% deposit is required if you are booking more than 6 months in advance, 50% deposit is required when less than 6 months until departure date with the balance due 60 days prior to departure. If you are forced to cancel with more than 60 days notice, you may keep full credit towards another trip or receive a refund less a 10% service charge. Deposits on cancellations with less than 60 days notice are not refundable unless your spot can be filled. MC, Visa, and checks are accepted. We recommend travel and or medical emergency insurance for all our trips.
Seasons
Tarpon Caye Lodge Fishing Calendar
| Month | Bonefish | Permit | Tarpon | Snook | Reef Fish |
| --- | --- | --- | --- | --- | --- |
| January | Good | Good/Excellent | Good | Good | Excellent/Good |
| February | Good/Excellent | Good/Excellent | Good | Good | Excellent/Good |
| March | Good/Excellent | Excellent | Good | Fair | Excellent/Good |
| April | Good/Excellent | Excellent | Good/Excellent | Fair | Excellent |
| May | Excellent | Excellent | Excellent | Fair | Excellent |
| June | Excellent | Good/Excellent | Excellent | Fair | Excellent |
| July | Excellent | Good/Excellent | Excellent | Fair | Excellent |
| August | Excellent | Good/Excellent | Excellent | Fair | Excellent/Good |
| September | Excellent | Good | Good | Fair | E/Good |
| October | Excellent | Good/Excellent | Good | Good | Good/Fair |
| November | Good/Excellent | Good/Excellent | Good | Good | Good/Fair |
| December | Good | Good | Good | Fair | Excellent |
Gallery
Please take a look at the  photo galleries to see more about Tarpon Caye Lodge

Lodge Photos
Fishing Photos from Tarpon Cay Lodge
Scenic Photos from Tarpon Cay Lodge
Videos about Tarpon Cay Lodge
Activities
Tarpon Caye Lodge – Activities
There is nothing to do here but Snorkel and Fish or Read – it is not recommended for those who do not fish. This is not a beachy location.
Travel
Tarpon Caye Lodge – Travel Tips
Air:
You will need to fly into Belize City, Belize (Airport code: BZE)
Arriving in Belize:
To enter the country of Belize, US citizens are required to have a valid passport that does not expire within 90 days of arrival and a return airline ticket. US citizens are allowed to stay for 30 consecutive days. Other nationalities should check with their consulate.
Tarpon Caye is off the coast near Placencia, Belize, about a 30 minute flight from Belize City. The cost of this flight is a little less than $190 at this writing. This is not included in the fishing packages! We can arrange this for you or you can handle it on your own. Assuming you have arranged a flight follow these steps:
When you arrive at the Belize International Airport, proceed through Immigration, collect your bags and continue through Customs. The Customs line to the far right has a green sign that states "No Goods to Declare." Proceed to this line.
Timing:
We have flights scheduled after each major flight that comes in from the states, so plan to arrive anytime and we'll get you there. If your flight is delayed Tropic Air will put you on the very next flight.
How To Get From Belize City To Placencia
There are three ways you can get to Placencia – fly, drive or take a bus.
The Bus
The road from Belize City to the Placencia Junction is fully paved and the Government is currently paving the entire Placencia Peninsula Road out to the main highway, which should be completed by middle of 2010. It takes approximately 3 hours to drive down from Belize City. Taking the bus is the least desirable way to get to Placencia. The buses are not air-conditioned, and they have a reputation for breaking down. To view the bus schedule you can visit this site http://www.guidetobelize.info/en/travel/belize-bus-timetable-route-guide.shtml
Driving
If you are planning to make a tour of the country, spending a few days in the Maya mountains and a few days at the beach, you might want to rent a car. However, if you are just travelling to Tarpon Caye Lodge, we suggest that you fly to Placencia. The scenery driving down is quite lovely. To rent a car you can visit http://www.margiestravelbelize.com/, she can assist you in finding the perfect automobile for you; she can also assist you in making all your local flight arrangements.
Flying
Flying down to Placencia from Belize City (a 30 minute flight) is the method we most recommend. There are frequent flights to Placencia from Belize City throughout the day on Tropic Air (www.tropicair) and Maya Island Air(www.mayaairways.com), Belize's two local airlines. The round-trip fare is just under $200 US per person when you add in the fuel surcharge, taxes and fees. We offer our guests complimentary pick-up and return service to the Placencia Airstrip. We are also happy to arrange your local flights at no extra cost.
NOTE: If you miss your flight connection, you will automatically be placed on the next available flight. If your International flight has been extremely delayed and you are not scheduled to arrive until after 5:00pm, please call Tropic Air to reschedule your flight. In the US or Canada call: 1-800-422-3435 In Belize call: 011-501-226-2012
Packing List
Tropical Packing List
| √ | Packing Item | √ | Packing Item |
| --- | --- | --- | --- |
| √ | Passport | √ | Camera & media |
| √ | Photocopy of Passport (packed separately) | √ | Computer |
| √ | Airline tickets | √ | Cell Phone |
| √ | Itinerary with contact numbers | √ | Reading & writing materials |
| √ | Emergency Medical insurance docs ( if purchased) | √ | Rod repair (tip top and glue) |
| √ | Major credit card | √ | Sun gloves |
| √ | Cash for tips (there are a couple ATMs in San Pedro but they may not be working)) | √ | Face Sun protection (buff) |
| √ | 2 Hats with brim and neck guard (or sun hat for non anglers) | √ | Sunburn relief spray |
| √ | 2-4 long sleeve shirts for fishing (SPF fabric) | √ | Sunscreens SPF 30 or above |
| √ | 2 quick dry pant for fishing (SPF fabric) | √ | Sun block for lips and nose |
| √ | 2 quick dry shorts for fishing (SPF fabric) | √ | Toiletries |
| √ | White socks (tops of feet get burned in the boats or wear under wading shoes) | √ | Prescription meds |
| √ | Underwear | √ | Non-prescription Meds |
| √ | Casual pants or shorts | √ | Eyeglasses (and spare) |
| √ | Casual shirts, short sleeve | √ | Fly Rods |
| √ | Sandals | √ | Reels |
| √ | Belt | √ | Fanny or other small fishing pack |
| √ | Light sweater or fleece | √ | Water bottle ( Holster optional) |
| √ | Socks | √ | Waterproof boat bag |
| √ | Wading shoes | √ | Lines |
| √ | Bathing suits, | √ | Leaders |
| √ | T- Shirts | √ | Tippet |
| √ | Sandals or walking shoes ( Barefoot is good) | √ | Flies |
| √ | Rain jacket (an occasional cold squall will roll though or the boat spray may chill you to the bone!) | √ | Nippers |
| √ | Bug repellent (for dead clam days or evenings) | √ | Pliers/forceps |
| √ | Sunglasses (polarized with lanyard) | | |