Overview
Bonefishing on Abaco – Abaco Lodge
Bonefishing from Abaco Lodge gives you instant access to the famed Marls, a vast labyrinth of flats, mangroves… and bonefish, bonefish in numbers like nowhere else in the Bahamas. 20-30 fish a day is not uncommon, with 200 square miles of this prime Bonefish habitat awaiting anglers. The islands most knowledgeable guides and Hell's Bay flats boats ensure a productive fishing experience, while private rooms, fine dining and attentive service promise ultimate comfort. A number of direct flights from South Florida make Abaco lodge among the easiest bonefishing destinations.
Abaco lodge has a nice European feel to its service and style. The owners are from Argentina and are well known for running top quality lodges in both the Bahamas and Argentina. Come visit Abaco with Fly Fishing Heaven.

Lodging
Bonefishing on Abaco – Lodging
Abaco Lodge sits on the rocky shoreline of the Marls on the west side of Abaco, just north of Marsh Harbour on the way to Treasure Cay.The lodge consists of eight air conditioned private rooms with private bath, a fully stocked bar, pool, sitting room, an outside fire pit, and patio space.
You can fish all day and not miss a beat of what is going on at home; a computer with high speed internet is available for the clients as well as a wireless connection, phone service is available and the lodge has a new flat screen television for all the games.
Bar and fly-tying room: The lodge has a main bar fully stocked with spirits, cold beers, (in a convenient mini fridge) soft drinks, plenty of ice, a blender and mixers for cocktails.
Our shop is stocked with the following: Sage rods – Abel reels – Rio lines, backing and tippets – a good selection of flies – sunscreen and lip protectors – Mangrove sungloves – dry bags – Action optics polarized sunglasses – Bair's Lodge Fishing shirts, caps and t-shirts.
The Food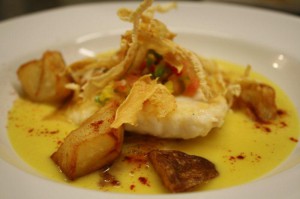 We pride ourselves with serving delicious food of fresh local produce, specializing on fresh fish (mahi, tuna, grouper, and snapper) conch and lobster.We carefully stock our pantries and coolers with fine quality foods from the US and Nassau.
Our chef bakes bread, pastries and cookies daily. Our coffee is made from freshly ground beans and will be waiting for our guests in the buffet or we will bring a cup of coffee to your room! A full breakfast will always feature a variety of cereals, coffee and a selection of teas, as well as fresh fruits. Eggs will be cooked to your preference, with bacon, sausages and grits or hash brown potatoes. Hot cereals are also available.
A lunch menu card allows you to choose next day's lunch and the content of the boat coolers. We have an open bar policy at the lodge. On your return from fishing you will find cold beers, spirits, and a blender for cocktails, as well as stacks of soft drinks.
Delicious appetizers are served in the verandah, so you can sample local specialties such as cracked conch, grouper Fingers and conch salad. If you have a preferred brand of liquor, please be sure to let us know in advance so the lodge can have it ready for you upon arrival (payable upon arrival to the lodge). Otherwise, you can bring your own bottle. Please note that local spirits will be available free of charge at the lodge.
Our emphasis is on mixing local dishes with light fresh recipes such as snapper with mango salsa, and some barbequed beef, fish and chicken.
Desserts will vary from chocolate decadence to key lime parfaits and rum cake with coconut ice cream.
House wines such as Chilean Chardonnay, Sauvignon Blanc, Merlot and Cabernet Sauvignon will be served with dinner. After dinner coffee and tea and liquors will be served in the sitting room.
We can cater to special dietary needs.The lodge has a good supply of drinking water from our reverse Osmosis system. You will find water in your bedroom and your boat, and you can drink the tap water. In our arid climate, conservation is always appreciated.
Lodging Photo Gallery
Fishing
Bonefishing on Abaco – The Fishing at Abaco Lodge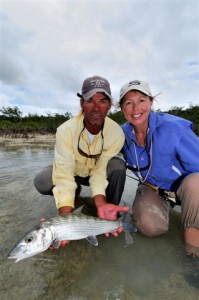 Abaco has more than 400 square miles of flats, none better known than the Marls on the western side of the island. Abaco lodge is centrally located directly on the Marl side of the island with access to them all. For twenty miles the average depth is four feet, a bonefisherman couldn't ask for a better backyard. It would take a lifetime to fish the entire Marls alone but Abaco also offers some incredible fishing on the eastern ocean side of the island as well.
Cherokee Sound, the Bight of Robinson and Snake Cay are minutes from the lodge and offer opportunities at incredible but challenging bonefish. With the numerous options available it is very rare to miss a day of fishing due to weather.
The typical trip does not fish on arrival or departure but we can arrange for a half day fishing if your flights allow. Breakfast is severed at seven; we leave the dock at eight and return between four and five. This schedule can be tailored to your needs with advance notice. Picnic lunches and cold drinks are taken to the flats in a cooler by your guide.
Read more about the fishing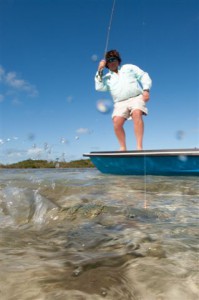 We access the Marls directly from the lodge dock, the flats on the ocean side require a short drive. Abaco Lodge is outfitted with a brand new fleet of Hells Bay Waterman skiffs, the world's finest light tackle fishing skiffs. All of them are equipped with padded seats with a backrest and a lean bar in the front and are powered with Yamaha 50HP engines.
The majority of the fishing is done from the boat but wading opportunities exist if you prefer. Runs to the flats vary from 10 to 45 minutes. The bonefish on the Marls average 2-4 pounds with the occasional shot at bigger fish. The ocean side flats offer opportunities as some of the largest bonefish in the Bahamas, but they are incredible wary creatures.
Read Even More!
The Bahamas are primarily a bonefishery and Abaco is no different. There are the occasional shots at permit, tarpon, 'cudas, jacks, and sharks and we recommend you bring the appropriate tackle just in case. There is nothing like seeing a 20 lb permit tailing or the juvenile tarpon cruising the flat and not having the right gear set up.
In addition to the wonderful flats fishing Abaco has incredible blue water fishing. We are happy to coordinate a day or two with the best captains available in search of marlin, sailfish, Dorado, wahoo, or tuna depending on the season. Arrangements can be made at the lodge but the best captains book early and we recommend you do as well. There will be an additional charge for this fishing.
The bonefish, is probably pound for pound the strongest and fastest running salt-water fish, and it is one of the coolest to have your photo taken with. The bonefish is of the species of the Albulidae, or bonefishes. Its scientific name can be translated as "white fox."
Bonefish are amphidromous, living in inshore tropical waters, moving onto shallow tidal flats to feed with the incoming tide, and retreating to deeper water as the tide ebbs. Its weight may reach 5lbs, though a more representative size would be about a third of that. A big bonefish, a lifetime fish would be any fish in excess of ten pounds or more. Silvery in color with dusky fins—the bases of the pectoral fins are yellow. Heavily schooling fish, with some of the larger individuals traveling singly or in schools.
Bonefish are considered to be among the world's premier game fish, but they are virtually inedible, and they are eaten only in some locations by native populations.
As prolific as bonefish are, relatively little is known about them. The Bonefish Tarpon Trust is doing a great deal of scientific research on bonefish currently, and if you desire further information, they are an excellent and angler friendly source. Visit www.tarbone.org.
Bonefishing is a shallow-water pursuit done in depths ranging from 8 inches to several feet. Flats sporting currents; dropoffs along the edge and clean, healthy seagrass beds produce abundant small crabs and shrimps that bonefish prey upon. Bonefish are known to follow stingrays, looking for small prey items disturbed by the rooting stingrays.
The Bonefish prefers shallows, estuaries, bays, grass flats, and other brackish areas at a depth from 0 to 84 meters. It is found worldwide in subtropical warm seas. In the Eastern Pacific, its range includes waters off California to Peru; the Western Atlantic range stretches from North Carolina to Florida, the Bahamas, the Antilles and the rest of the Caribbean almost to Brazil.
A pelagic fish, the Bonefish feeds on benthic creatures such as worms, crustaceans, and mollusks, rooting them out from the sandy bottom. Granular teeth, forming specialized dental plates, cover the bonefish's tongue and upper jaw, and similar grinders are also present in the throat, helping the fish to grind up its prey. Small to medium-size bones often feed in schools. Sharks and barracuda frequently prey on bonefish, which may explain why the fish evolved such a sleek body for a fast getaway over the ages.
Fishing Photo Gallery
Tackle & Gear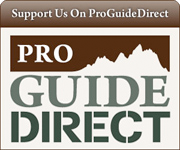 Here is a list of the basics you will need for your trip. I have organized this list on Pro Guide Direct where you can actually purchase the brands and items that I have found to be the best of the best. Any Items that you purchase from Pro Guide Direct will help us earn a living and help you by being ensuring that you have the right gear for the trip. Many of our destinations are pretty remote with no chance to buy things on site.
Caribbean Gear List
Species
Rods
Reels
Line
Leaders
Bonefish
9 foot 8 or 9 wt. (maybe a 10 wt. on a windy day)
Large Arbor Disc drag reel with 200 yards of 20 lb. backing.
Floating tropical line
9 ft-12 ft leaders with 10-12 lb. tippet.
Permit
9 foot 9 or 10 wt.
Large Arbor Disc drag reel with 200 yards of 25 lb. backing.
Floating tropical line
9-14 ft leaders with 12-15 lb. tippet.
JuvenileTarpon
9 foot 10 wt.
Large Arbor Disc drag reel with 300 yards of 30-40 pound backing.
#1 Floating tropical line
#2 Floating with clear sink tip
9-12 ft leaders with 25-30 lb. class tippet and 60 lb shock tippet.
Large Tarpon
9 foot 12 wt.
Large Arbor Disc drag reel with 300 yards of 40-50 pound backing.
#1 Floating tropical line
#2 Floating with clear sink tip
#3 Full intermediate sink line
9-12 ft leaders with 25-30 lb. class tippet and 80 lb shock tippet.
Barracudas,
Sharks
9 foot 9-12 wt.
Large Arbor Disc drag reel with 300 yards of 40-50 pound backing.
#1 Floating tropical line
#2 Floating with clear sink tip
6-9 ft leaders with 20-30 lb. steel bite tippets.
The Fly List:
Go a little smaller than you might think, better to have too many 8's than 4's for the bonefish. Tie a few patterns with just the weight of the eyes as a variable 1 with lead eyes, 1 with chain, 1 with small chain, and 1 with no weight or mono eyes just to make sure you have flies for very skinny water all the way to waist deep water. Presentation seems to be much more important than fly selection. Weed guards will be a plus on the grass flats.

Fly Name
Colors
Sizes
Qty for a 1
Week Trip
Toad Fly
chatreuse, olive, tan, purple/black
1, 1/0
12
Cockroach
standard
1/0, 2/0
4
Black Death
white, tan
1/0, 2/0
4
Purple Demon
purple/black
1/0, 2/0
4
Layup tarpon fly
brown, chatreuse ,yellow
1, 1/0
6
Enrico's Tarpon Streamer
Purple & Black
2/0
4
Enrico's Tarpon Pinfish
Olive/white
3/0
4
Del's Merkin
tan/brown
1/0, 2, 4
6
Turneffe Crab
Cream, olive
2, 4, 6
4
Clouser minnow
chatr/white
1/0-2/0
6
Bonefish CLouser
assorted
4-6
12
Crazy Charlie
bead eye
pink,white,tan,brw
4, 6, 8
12
Moe bonefish
amber, pink
4
6
Christmas Island Specials
pink, orange
6, 8
18
Gotcha
standard
4, 6, 8
12
Packing List
Tropical Packing List
| √ | Packing Item | √ | Packing Item |
| --- | --- | --- | --- |
| √ | Passport | √ | Camera & media |
| √ | Photocopy of Passport (packed separately) | √ | Computer |
| √ | Airline tickets | √ | Cell Phone |
| √ | Itinerary with contact numbers | √ | Reading & writing materials |
| √ | Emergency Medical insurance docs ( if purchased) | √ | Rod repair (tip top and glue) |
| √ | Major credit card | √ | Sun gloves |
| √ | Cash for tips (there are a couple ATMs in San Pedro but they may not be working)) | √ | Face Sun protection (buff) |
| √ | 2 Hats with brim and neck guard (or sun hat for non anglers) | √ | Sunburn relief spray |
| √ | 2-4 long sleeve shirts for fishing (SPF fabric) | √ | Sunscreens SPF 30 or above |
| √ | 2 quick dry pant for fishing (SPF fabric) | √ | Sun block for lips and nose |
| √ | 2 quick dry shorts for fishing (SPF fabric) | √ | Toiletries |
| √ | White socks (tops of feet get burned in the boats or wear under wading shoes) | √ | Prescription meds |
| √ | Underwear | √ | Non-prescription Meds |
| √ | Casual pants or shorts | √ | Eyeglasses (and spare) |
| √ | Casual shirts, short sleeve | √ | Fly Rods |
| √ | Sandals | √ | Reels |
| √ | Belt | √ | Fanny or other small fishing pack |
| √ | Light sweater or fleece | √ | Water bottle ( Holster optional) |
| √ | Socks | √ | Waterproof boat bag |
| √ | Wading shoes | √ | Lines |
| √ | Bathing suits, | √ | Leaders |
| √ | T- Shirts | √ | Tippet |
| √ | Sandals or walking shoes ( Barefoot is good) | √ | Flies |
| √ | Rain jacket (an occasional cold squall will roll though or the boat spray may chill you to the bone!) | √ | Nippers |
| √ | Bug repellent (for dead clam days or evenings) | √ | Pliers/forceps |
| √ | Sunglasses (polarized with lanyard) | | |
Rates
Abaco & Bair's Package Prices
Number
of Lodge
Nights


Number
of Fishing
Days

Two per Boat , 2 per room
High Season: Oct 2014 to Mar 15, 2015 & July 2015
High Season /LowSeason

One per Boat (all single rooms)
High Season: Oct 2014 to Mar 15, 2015 & July 2015
High Season /LowSeason
Non fishing partner
High Season: Oct 2014 to Mar 15, 2015 & July 2015
High Season /LowSeason
3
2
$2850 / $2650
$4560 / $4240
$1185 / $1185
4
3
$4100 / $3895
$6560 / $6232
$1580 / $1580
5
4
$4950 / 4750
$7920 / $7600
$1975 / $1975
6
5
$5495 / $5295
$8792 / $8472
$2370 / $2370
7
6
$5850 / $5650
$9360 / $9040
$2765 / $2765
Prices Include: Transfers from Marsh Harbour airstrip to the lodge, three meals a day, guided fishing each day ( for fishing packages), It includes an open bar. It also includes all taxes. Prices quoted are in US dollars.
Prices do not include: Gratuities for your guide and resort staff
Full Day Fishing on Arrival/Departure date: $ 750 p/boat
Half Day Fishing on Arrival/Departure date: $ 550 p/boat
Why Book Through Flyfishingheaven.com?
Why book through flyfishingheaven.com?
1. Unbiased Advice:
Most people recognize the advantage of our unbiased advice, there are hundreds of destinations to choose from and our job is to know the ones that are right for your needs. We offer the real story you can't get from a lodge owner. Would the outfitter in questions tell you are booking in a less than stellar part of the year? Remember our unbiased advice is 100% free!
2. We Can Book Anywhere:
Our website highlights many of our favorite destinations but we have access to hundreds more. If there are fish there, we can book it. In fact, we will give you 5% back if you book a trip through us that is not on our website! We enjoy learning about new spots!
3. Loyalty Discounts:
2017 Special: You are automatically enrolled in our loyalty program before your first trip and will get the 5% cash back on your very first trip. This offer is good until December 31, 2017. In January you will ear your loyalty discount on the second trip and every trip thereafter. This discount applies to all your friends who are going with you as well. f you organize a group of 8 or more we will give you 10% off! All you have to do is book the first trip and you are a flyfishingheaven.com frequent fisher!
4. Price Guarantee:
If you find a price lower than ours we will beat that price by 5% if you book through flyfishingheaven.com!
Our Pledge
We promise to work for you, not a lodge, outfitter or resort. We pledge to get you you to a destination that will live up to your expectations at the best possible price. You will never be charged more than booking directly (in fact most of our clients are paying less - *see below). We will make sure you are well prepared for your trip with specific knowledge about the gear, the flies, the rods, packing lists, travel documents, connecting information everything. Since we are not tied to a particular destination we promise honest pros and cons of any destination at the time of year you are traveling.

We do earn a small commission when we book a trip as all lodges and outfitters offer this as they depend on agencies like ours for much of their business. This fee is paid by the lodge not you, and they do not keep different prices for direct bookings vs agency bookings, it is bad business.
Payment and Cancelation Polices
A 10% deposit is required if you are booking more than 6 months in advance, 50% deposit is required when less than 6 months until departure date with the balance due 60 days prior to departure. If you are forced to cancel with more than 60 days notice, you may keep full credit towards another trip or receive a refund less a 10% service charge. Deposits on cancellations with less than 60 days notice are not refundable unless your spot can be filled. MC, Visa, and checks are accepted. We recommend travel and or medical emergency insurance for all our trips.
Seasons
Abaco Lodge Fishing Calendar
Month
Bonefish
Permit
Tarpon
Off shore
January
Good
Good
Fair
Excellent/Good
February
Good
Good
Fair
Excellent/Good
March
Excellent
Good
Fair
Excellent/Good
April
Excellent
Good
Good
Excellent
May
Excellent
Good
Good
Excellent
Jun
Closes mid June
Excellent
Excellent
Good
Excellent
July
Closed
Closed
Closed
Closed
August
Closed
Closed
Closed
Closed
September
Closed
Closed
Closed
Closed
October
Reopens Mid Oct.
Closed
Good
Fair
Excellent/Good
November
Closed
Good
Fair
Excellent/Good
December
Good
Fair
Fair
Excellent/Good
Gallery
Please take a look at the  photo and video galleries related to bonefishing on Abaco and Abaco Lodge.

Fishing Photo Gallery
Lodge Photo Gallery
Video Gallery
Activities
Bonefishing on Abaco – Activities
Although Abaco Lodge is a beautiful spot with the best service, food etc of any lodge on earth, there is still not much to do but fish, so it may not be the best destinations for the non fishing spouse, or family member! Drop me an email so we can make sure that this destination will meet your non fishing needs.
Travel
Bonefishing on Abaco – Travel Tips
Unlike the majority of other islands in the Bahamas it is possible to fly directly to Marsh Harbour from the U.S. mainland. While it is also possible to fly via Nassau, a direct flight from Florida is by far the easiest.
Major commercial carriers fly directly to Marsh Harbour, from several Florida airports:
Flying
American Airlines flies to Marsh Harbour from Miami
Website: www.aa.com Phone: 800-433-7300
Continental Airlines flies to Marsh Harbour from Ft. Lauderdale
Website: www.continental.com Phone: 800-231-0856
Bahamas Air flies to Marsh Harbour from West Palm Beach
Website: www.bahamasair.com Phone: 800-222-4262
Twin Air Calypso flies to Marsh Harbour from Ft. Lauderdale
Website: www.flytwinair.com
Baer Air flies to Marsh Harbour from Melbourne, FL
Website: www.flybaerair.com
Air Gate flies to Marsh Harbour from Daytona Beach
Website: www.flyairgate.com
For larger groups, a private or shared charter can be an easy and cost efficient option:
Cherokee Air flies to Marsh Harbour from the West Palm Beach Exec. Terminal
Website: www.cherokeeair.com Phone: 866-920-9971
Sky Limo flies to Marsh Harbour from Ft. Lauderdale Excec. Terminal 3
Website: www.skylimoaircharter.com
Air Flight Charters flies to Marsh Harbour from Ft. Lauderdate Jet Center
Website: www.airflightcharters.com
There are several local carriers that fly between Nassau and Marsh Harbour, including:
Bahamas Air
Website: www.bahamasair.com Phone: 800-222-4262 Western Air
Website: www.westernairbahamas.com Phone: 242-377-2222 Abaco Air
Website: www.flyabacoair.com Phone: 242-367-2266 Sky Bahamas
Website: www.skybahamas.net Phone: 242-377-8993
On arrival at Marsh Harbour you will be met by a lodge representative, who will transfer you to the lodge. It is a short 10 minute drive and the cost is included in the package.
If you are delayed or miss your flight please contact the lodge at 242-458-4659.
When you arrive at the lodge, our welcoming staff will greet you and show you to your room.
There is no organized fishing scheduled for your arrival day, but this can be arranged prior to arrival. If not you may spend the day either wade fishing in front of the lodge, or relaxing in the pool with a refreshing drink. Our staff would be happy to help you assemble your gear if you do choose to fish.
On your departure day, you will be taken back to Marsh Harbour with plenty of time to catch your flight. Abaco Lodge Manager will assist you with timing your departure from the lodge the night before.
Travel documents
You will need a valid passport. No Visa is required for US or UK passengers, but other nationalities should check with their local consulate.
Health concerns
You do not need any inoculations to travel to the Bahamas. If you have a health condition, please make sure to bring ALL the medication you will require for your stay.
Please notify the lodge of any health conditions or concerns we should be aware of. You can do this with the Pre Trip Questionnaire, which you can submit online at www.nervouswaters.com/PreTrip.aspx The lodge has a basic first aid supply but please bring any item you think you might need.
There is an efficient Air Ambulance service available for serious emergencies. The service evacuates to Florida or Nassau and it is very costly. We recommend
Packing List
Tropical Packing List
| √ | Packing Item | √ | Packing Item |
| --- | --- | --- | --- |
| √ | Passport | √ | Camera & media |
| √ | Photocopy of Passport (packed separately) | √ | Computer |
| √ | Airline tickets | √ | Cell Phone |
| √ | Itinerary with contact numbers | √ | Reading & writing materials |
| √ | Emergency Medical insurance docs ( if purchased) | √ | Rod repair (tip top and glue) |
| √ | Major credit card | √ | Sun gloves |
| √ | Cash for tips (there are a couple ATMs in San Pedro but they may not be working)) | √ | Face Sun protection (buff) |
| √ | 2 Hats with brim and neck guard (or sun hat for non anglers) | √ | Sunburn relief spray |
| √ | 2-4 long sleeve shirts for fishing (SPF fabric) | √ | Sunscreens SPF 30 or above |
| √ | 2 quick dry pant for fishing (SPF fabric) | √ | Sun block for lips and nose |
| √ | 2 quick dry shorts for fishing (SPF fabric) | √ | Toiletries |
| √ | White socks (tops of feet get burned in the boats or wear under wading shoes) | √ | Prescription meds |
| √ | Underwear | √ | Non-prescription Meds |
| √ | Casual pants or shorts | √ | Eyeglasses (and spare) |
| √ | Casual shirts, short sleeve | √ | Fly Rods |
| √ | Sandals | √ | Reels |
| √ | Belt | √ | Fanny or other small fishing pack |
| √ | Light sweater or fleece | √ | Water bottle ( Holster optional) |
| √ | Socks | √ | Waterproof boat bag |
| √ | Wading shoes | √ | Lines |
| √ | Bathing suits, | √ | Leaders |
| √ | T- Shirts | √ | Tippet |
| √ | Sandals or walking shoes ( Barefoot is good) | √ | Flies |
| √ | Rain jacket (an occasional cold squall will roll though or the boat spray may chill you to the bone!) | √ | Nippers |
| √ | Bug repellent (for dead clam days or evenings) | √ | Pliers/forceps |
| √ | Sunglasses (polarized with lanyard) | | |