Overview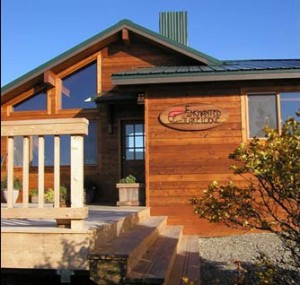 Enchanted Lake Lodge is one of the premier fly out lodges in the world. I am especially fond of this lodge as they are into rainbow trout as much as I am. The lodge has been in operation more than 45 years!
Your adventure starts in King Salmon, Alaska where you will be met by one of our pilots. He will help transfer your luggage to the Van and from the Van to the float plane on the Naknek river just a few minutes away. A 40 minute flight and you will be at the lodge. The next morning is what you have been waiting for:
With schedules set the previous evening everyone knows where they are going, what they need to bring and who they will be fishing with. We will awaken you each morning with a hot pot of coffee on your cabin doorstep before serving a hearty breakfast and fresh made pastries in the main lodge. After breakfast you will have half an hour to get your waders and gear on. At the dock you will meet your guide for the day who will load your gear onto one of our immaculately maintained DeHavilland Beaver floatplanes. Since we are so centrally located the flights are usually only 5-20 minutes long getting us on the rivers quickly. Our planes and pilots are the best in the business making the scenic flights fun, safe and a highlight for many guests.
Read More About Enchanted Lake Lodge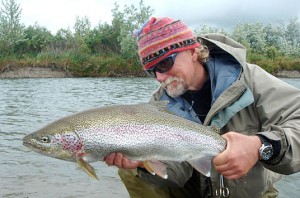 Depending on the river and conditions we access fishing in one of three ways once arriving by floatplane. We hike many of the smaller streams trying different runs and holes throughout the day. We are able to reach fantastic fishing with short, easy walks or with longer, adventurous hikes for those looking to explore new water.
On some of the mid-sized rivers we take small rafts which allow us to float long sections of river. A scenic float trip with a pick-up 3-6 miles downstream will allow you to cover lots of water while still getting out to wade the best spots.
At the largest rivers we leave jet boats stored for quick, easy access. Whether fishing out of the boat or using it for transportation from hole to hole before wade fishing, these rivers are usually good bets to find rainbow trout of unbelievable proportions.
The approximately 8 hour day is split up with a picnic lunch, hot soup and coffee along the rivers edge. Returning to the lodge you are met at the dock with our traditional brandy before heading to your cabin or the sauna. Drinks and hors d'oeuvres precede dinner and give a chance to speak with your guide and discuss gear and other questions. After dinner enjoy the beautiful views through the picture windows, the fresh air outside on one of the decks or a quiet evening in your cabin anticipating the next day.
Lodging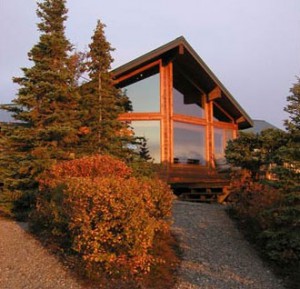 Set within Katmai National Park on 54 acres of privately owned land, the lodge is ideally located for quick and easy access to the best streams and rivers of the Alaskan Peninsula. Built in 1961 and remodeled from the ground up in 2002 the lodge today provides unrivaled luxury in a remote wilderness setting. With no roads and the only available transport by float planes, the world-class lodge provides the perfect balance of comfort and service with adventure and wilderness.
Enjoy the view from the comfortable furniture while the fireplace warms the room. The complimentary bar is stocked with fine wine, beer and liquor. Relax and recount the day or start planning the next with your guide while appetizers are served. The large window-lined dining room provides a panoramic view of the surrounding beauty while dinner is served by our fine chefs. With a superb kitchen staff and fresh goods constantly brought in you can expect meals that match any fine restaurant.
More About the Lodge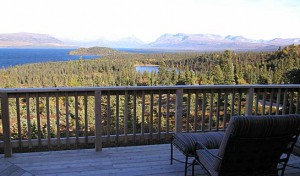 Two decks provide spectacular views of Nonvianuk Lake and the Walatka Mountains on warm summer afternoons. Wind down in our wood stove sauna, hot after each days return. Each private guest cabin is comfortably furnished with private bathrooms, heaters and 24-hour electricity.
We pride ourselves on the amount of personal attention given to each guest. Our guides are the best in the business, and with only 12 guests per week and 6 experienced, professional guides, everyone's safety and enjoyment are assured.
Lodge Photos
Fishing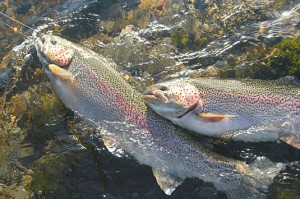 Here is a summary of the season past:
An especially warm spring meant most of the annual salmon fry migration was over by the time the season opened in early June. While the salmon fry fishing was not as good as it had been the year before, the incredible dry fly fishing all through June and July more than made up for it.
The Brooks River stood out as the highlight of the summer, with an unbelievable number of fish being caught daily, even by Alaska standards. All season long, guests returned to the lodge with amazing stories of huge rainbows, first eating dry flies in June and July, then egg patterns in August and September. With fish that were bigger than they had been in recent years, and crowds of other anglers that where smaller, the Brooks was a guest favorite all summer long.
The American was another river that saw especially impressive dry fly action. The hatches improved weekly from the opening of the season through mid July when the salmon arrived. At that point the river became the ultimate walk-and-stalk destination for anglers sight fishing with egg patterns.
All of the streams and rivers of the Kukaklek drainage fished spectacularly, first with streamers, and then with egg patterns. The Big Ku is always a great destination for guests wanting a shot at a giant rainbow, but the river produced especially well this summer. Battle Creek fished amazingly in August and September, with its giant fish uncharacteristically racing each other for egg patterns. And the Moraine once again proved what a special river it is. The combination of huge trout and spectacular wildlife viewing make this river quite possibly the premier fly fishing stream in the world.
After a few down years, the Kvichak River was as good as it has ever been. Fishing for the river's legendarily giant rainbows was better than it had been in years thanks to a strong salmon run.
As September continued, the already great season seemed to improve even further. The Kulik River turned red hot, with days of fishing that bordered on ridiculous. And just when it looked like the Brooks couldn't fish any better, guests and guides alike were surprised by how each day of fishing seemed even more phenomenal than the last.
Species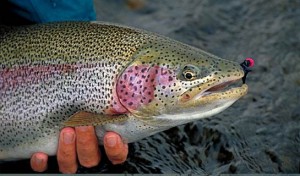 Here at Enchanted Lake Lodge we pursue rainbow trout throughout the year. Of course the salmon provide the lifeline for these rainbows with the early season fry, the ate season eggs and flesh, but we attract like minded anglers that love the elegance of rainbow trout fishing.
With our fleet of planes we can whisk you to over a dozen rivers that all have different timing, different terrains and different wildlife. ELL has one of the highest plane to guest ratios insuring you are the first on the river every day.
Fishing Photo Gallery
Tackle & Gear
Here is a list of the basics you will need for your trip.  Many of our destinations are pretty remote with no chance to buy things on site.
Alaska Gear List
Species
Rods
Reels
Line
Leaders
Large Rainbows, Char
9 foot, 6-7 wt.
Large Arbor with 150 yards of 20 pound backing
#1 Floating easy to mend line
#2 Streamer line with 10 -15 foot sink tip (Type 6 fast sink)
Floating setup needs 9 foot leaders ending in 10-15 pound tippet.
Sink tip set up needs 3-5 foot leaders ending in 10-15 pound tippet
Small Trout and Grayling
9 foot, 4-5 wt.
Basic reel with 100 yards of 20 lb. backing.
#1 Floating easy to mend line

9 foot leaders ending in 8-12 pound tippet.
Sockeye, Chum and Silver salmon
9 foot, 8-9 wt.
#1 Floating easy to mend line
#2 Streamer line with 10 -15 foot sink tip (Type 6 fast sink)
Floating setup needs 9 foot leaders ending in 12-15 pound tippet.
Sink tip set up needs 3-5 foot leaders ending in 12-15 pound tippet
King Salmon
9 foot, 10-12 wt.
Large Arbor with 200 yards of 30 pound backing
# 1 Streamer line with 10 -15 foot sink tip (Type 6 fast sink)
Sink tip set up needs 3-5 foot leaders ending in 15-25 pound tippet
Fly List
Alaska Fly List
Fly Name
Color
Size
June 8

through

July 1
July 1

through

July 15
July 15

through
Aug 15
Aug 15

through

Oct 1
Elk
Hair Caddis
Tan,
Brown
12-14
12
12
6
6
Royal
Wulff
(Nice
and bushy)
10-12-14
24
24
6
6
Stimulator
Green/Gray
10
12
12
6
6
Basic
nymphs
Prince-PT
etc
10-14
12
12
0
0
Egg
Patterns*
Pink,
peach, orange
10
0
0
24
24
Egg
sucking leech
Pink/Purple
4-6
12
12
12
12
Flesh
Fly
Natural,
nat/pink
4-8
0
0
0
0
Woolhead
Sculpins
Olive,
black, brown
2,4,6
24
24
12
12
Wooly
Buggers
Olive,
black, purple
2,4,6
24
24
12
12
Smolt
imitation
4
12
0
0
0
Secret
Sockeye
Green,
red
6
0
18
0
0
Comet
Gold
6
0
12
0
0
Flash
Fly
Pink,
red, purple
2
0
0
12
12
Alaskabou
Pink/purple
2
0
0
12
12
Bunny
Fly
Pink,
Cerise, Purple
2
0
0
12
12
Packing List
Alaska Packing List
| Packed? | Item | Packed? | Item |
| --- | --- | --- | --- |
| | Airline Tickets | | Photo Id/Passport |
| | Cash | | Prescription Medicines |
| | 1 Gortex waders & repair kit - neoprene is not advised | | Traveler's Checks |
| | 1 Wading Shoes – no studs please | | Boat Bag |
| | 1 Rain jacket w/hood (top quality breathable ) | | Bug Spray |
| | 1 Heavy fleece jacket | | Bug head net |
| | 1 Medium weight fleece top | | Camera / film/ batterries |
| | 3 Lightweight fleece or Polypropylene tops or turtlenecks | | Reading & writing materials |
| | 2 long sleeve lightweight fishing shirt | | Bandana/ face sun protector |
| | 3-7 pair underwear ( synthetic is better than cotton) | | Persription glasses |
| | 4 pair wool/ blend insulating socks for under waders | | spare perscriotion glasses |
| | 1 wool or fleece hat (ski type)- | | Toiletry Kit |
| | 1 cap with brim | | Zip lock bags (for lens cleaning cloth,, cash, etc) |
| | 2 pair fleece pants (under waders) – | | Fly Rods |
| | 2 - Pants (Long) | | Fly vest, or chest pack |
| | 2 pair Polypropylene long underwear bottoms | | Reels |
| | 1 pair water proof boots for around camp | | Flies/Fly box |
| | 1 pair fishing gloves - fingered or fingerless | | Fly Lines |
| | 1 polarized sunglass - as good as you can get! | | Tippets / leaders |
| | 1 spare pair polarized sunglasses ( cheap is OK) | | Clippers |
| | 1 Folding wading staff (optional) | | Hemostat |
Rates
7-night, 6-day package (Sunday to Sunday) – $9,800.00 per person
Prices Include: Shared double accommodations, all meals, complementary bar, seven day non resident fishing license, flying, guiding, use of all boats and motors, flies, and scheduled flights to and from the lodge and King Salmon on Sundays. If you request to arrive or leave at any time other than our scheduled flight, you will need to make your own arrangements to and from King Salmon. Prices quoted are per person and in US dollars.
Prices do not include: fishing license or gratuities for your guide and resort staff
Why Book Through Flyfishingheaven.com?
Why book through flyfishingheaven.com?
1. Unbiased Advice:
Most people recognize the advantage of our unbiased advice, there are hundreds of destinations to choose from and our job is to know the ones that are right for your needs. We offer the real story you can't get from a lodge owner. Would the outfitter in questions tell you are booking in a less than stellar part of the year? Remember our unbiased advice is 100% free!
2. We Can Book Anywhere:
Our website highlights many of our favorite destinations but we have access to hundreds more. If there are fish there, we can book it. In fact, we will give you 5% back if you book a trip through us that is not on our website! We enjoy learning about new spots!
3. Loyalty Discounts:
2017 Special: You are automatically enrolled in our loyalty program before your first trip and will get the 5% cash back on your very first trip. This offer is good until December 31, 2017. In January you will ear your loyalty discount on the second trip and every trip thereafter. This discount applies to all your friends who are going with you as well. f you organize a group of 8 or more we will give you 10% off! All you have to do is book the first trip and you are a flyfishingheaven.com frequent fisher!
4. Price Guarantee:
If you find a price lower than ours we will beat that price by 5% if you book through flyfishingheaven.com!
Our Pledge
We promise to work for you, not a lodge, outfitter or resort. We pledge to get you you to a destination that will live up to your expectations at the best possible price. You will never be charged more than booking directly (in fact most of our clients are paying less - *see below). We will make sure you are well prepared for your trip with specific knowledge about the gear, the flies, the rods, packing lists, travel documents, connecting information everything. Since we are not tied to a particular destination we promise honest pros and cons of any destination at the time of year you are traveling.

We do earn a small commission when we book a trip as all lodges and outfitters offer this as they depend on agencies like ours for much of their business. This fee is paid by the lodge not you, and they do not keep different prices for direct bookings vs agency bookings, it is bad business.
Payment and Cancelation Polices
A 10% deposit is required if you are booking more than 6 months in advance, 50% deposit is required when less than 6 months until departure date with the balance due 60 days prior to departure. If you are forced to cancel with more than 60 days notice, you may keep full credit towards another trip or receive a refund less a 10% service charge. Deposits on cancellations with less than 60 days notice are not refundable unless your spot can be filled. MC, Visa, and checks are accepted. We recommend travel and or medical emergency insurance for all our trips.
Seasons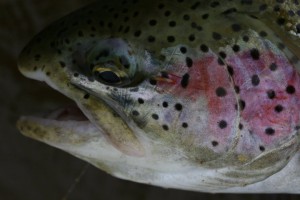 JUNE
The season opener in early June is an exciting time with trout hungry after a long winter. Fry, baby salmon from the previous years spawn, fill the rivers. The trout are so aggressive they will chase down these schools of fry providing exciting, visual fishing. On the larger rivers streamer fishing is spectacular, while on the smaller streams traditional nymphs and dry flies are used to match our early season hatches. Sight fishing with dry flies is always popular and productive this time of the year. With so many different fishing styles effective this is a great month for people seeking variety.
JULY
A month of transition, July sees our rivers fill with sockeye salmon while the fry migration comes to an end. With the arrival of the sockeye staggered in the different rivers we have lots of variety. Sight fishing with nymphs and dry flies is spectacular in many places while streamer fishing is still the most effective method on the larger rivers. As the month progresses and rivers fill with salmon we begin to fish egg patterns and explore smaller streams that were devoid of trout before the arrival of the spawning salmon. Like the previous month, July is a great time to experience a variety of options and fishing methods.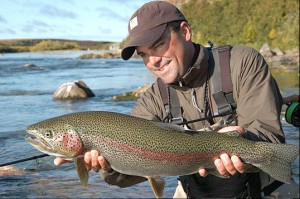 AUGUST
This is the month of egg fishing in all our rivers. Trout position themselves below the spawning salmon and eat the drifting eggs making sight fishing possible on many of the shallow runs. With such a high calorie food source available the trout aggressively chase down egg patterns and soon become heavy. The sight of eagles and brown bears gorging on the salmon is common adding to the experience of fishing in August. The combination of spectacular fishing, good weather and viewing salmon runs of indescribable numbers make August a great time to visit.
SEPTEMBER
As winter approaches and the tundra turns bright with fall colors the trout feed aggressively. Fat and heavy from gorging on salmon eggs for weeks, this is a great time to catch a truly huge fish. The salmon die-off as the month progresses but sight fishing with egg patterns is still great. As the salmon thin out and the rivers open up we will start fishing streamers again. With the end of the short Alaskan summer nearing the trout feel an urgency to feed making a big streamer or leech pattern a tempting meal. The weather might be cooler but the beautiful fall scenery and huge fish are more than enough reward.
Gallery
Please take a look at the  photo and video galleries related to Great Alaska Lodge.

Fishing Photo Gallery
Lodge Photo Gallery
Scenic Photo Gallery
Video Gallery
There are no videos at this time.
Activities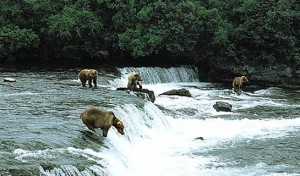 Despite the luxury accommodations and service this may not be the best trip for your non fishing friend or spouse. However, if they have some interest in fishing this is the place to introduce them to Alaska. The staff is attentive and details are never overlooked. We can arrange some interesting side trips like bear viewing at Brooks falls, or flight seeing for those who don't care to fish every single hour of every day!
Travel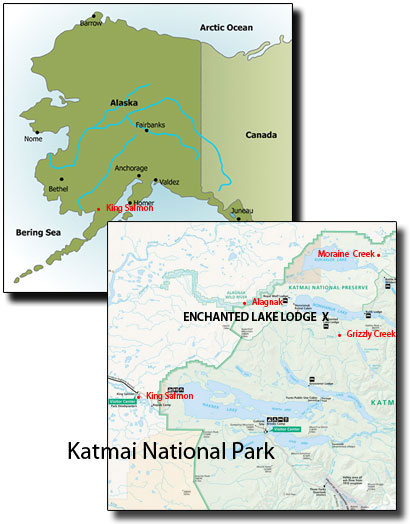 ARRIVAL
Enchanted Lake Lodge staff will greet guests arriving on the Anchorage(ANC) to King Salmon (AKN) flight around 3 PM. ELL provides the short drive to our private aircraft on the river about 5 minutes from the airport. Once you and your luggage is on board we will fly you directly to the lodge. In an effort to make transportation to the lodge as convenient as possible, earlier arrivals to King Salmon will need to wait for this 3 pm transfer to the lodge. In addition, guests who arrive later in the afternoon or evening will need to arrange for private transportation or pay for a private flight from ELL.
For departure we will bring you back to the King Salmon Airport at around 9 AM for a flight back to Anchorage
AIRLINES
Two commercial airlines serve the town of King Salmon: Alaska Airlines and Pen Air.
Alaska Airlines 1-800-252-7522 www.alaskaair.com
Peninsula Air 1-800-448-4226 www.penair.com
ASSISTANCE IN MAKING TRAVEL PLANS
Should you require assistance with any of your travel plans, we suggest you contact All Seasons Travel. They can be reached by phone at 907-694-8700 or by e-mail at [email protected]. They are experts in Alaska travel, both in-state and transport to, and will be happy to assist you with your travel arrangements.
Packing List
Alaska Packing List
| Packed? | Item | Packed? | Item |
| --- | --- | --- | --- |
| | Airline Tickets | | Photo Id/Passport |
| | Cash | | Prescription Medicines |
| | 1 Gortex waders & repair kit - neoprene is not advised | | Traveler's Checks |
| | 1 Wading Shoes – no studs please | | Boat Bag |
| | 1 Rain jacket w/hood (top quality breathable ) | | Bug Spray |
| | 1 Heavy fleece jacket | | Bug head net |
| | 1 Medium weight fleece top | | Camera / film/ batterries |
| | 3 Lightweight fleece or Polypropylene tops or turtlenecks | | Reading & writing materials |
| | 2 long sleeve lightweight fishing shirt | | Bandana/ face sun protector |
| | 3-7 pair underwear ( synthetic is better than cotton) | | Persription glasses |
| | 4 pair wool/ blend insulating socks for under waders | | spare perscriotion glasses |
| | 1 wool or fleece hat (ski type)- | | Toiletry Kit |
| | 1 cap with brim | | Zip lock bags (for lens cleaning cloth,, cash, etc) |
| | 2 pair fleece pants (under waders) – | | Fly Rods |
| | 2 - Pants (Long) | | Fly vest, or chest pack |
| | 2 pair Polypropylene long underwear bottoms | | Reels |
| | 1 pair water proof boots for around camp | | Flies/Fly box |
| | 1 pair fishing gloves - fingered or fingerless | | Fly Lines |
| | 1 polarized sunglass - as good as you can get! | | Tippets / leaders |
| | 1 spare pair polarized sunglasses ( cheap is OK) | | Clippers |
| | 1 Folding wading staff (optional) | | Hemostat |