Overview
Fly Fishing Christmas Island – Overview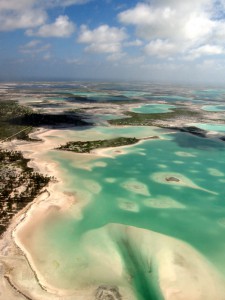 Fly fishing Christmas Island is on everyone's bucket list and we are proud to offer the 250 square miles of bonefish flats surrounding Christmas Island as one of our unique, personal, fly fishing destinations. Our Lodge is the oldest continually run lodge on the island and there is no substitute for experience.
The island is famous for its huge numbers of bonefish in the 3-6 pound range with plenty of opportunities to catch double digit bonefish on a fly. Ten- thirty bonefish a day are the rule not the exception. These trips are for fly fishing enthusiasts who want to maximize their fishing time and flexibility while visiting Christmas Island. The Mini-Hotel Kiritimati is the oldest and smallest of the lodges on the island and can take up to 8 fly fishing guests at a time. Our size allows us to do things a little differently than our competition. We fly fish harder and we fly fish longer with no overtime charges. We fish the flats that are right for that day and tide and don't have a rotation schedule. If you want to go back to that killer flat you fished yesterday we can do it. We travel to the flats by boat every day rather than truck giving us more flexibility to move and follow the tides rather than a lodge schedule.
Christmas Island is a large atoll in the Republic of Kiribati ( Pronounced "Kiribati" the "ti" is pronounced as an "s"). It is home not only to a huge bonefish population but to several species of trevally as well (including the giant which runs up to 100 lbs.). Imagine a hundred pound eating machine attacking your surface popper while you helplessly hold on! Then just pray you have enough backing! If that's not enough how about tuna or wahoo, Mahi mahi, sailfish?
As you circle the runway you will see the flats that have made fly fishing on Christmas Island so famous. Someone from the lodge will meet you after you have gone through customs for the 20 minute drive to the lodge. You may have time to walk out to the flats near the lodge or you can get organized for the six very full days of fly fishing ahead of you. It won't be long until you hear that reel screaming as the backing disappearing from your reel at 22 miles per hour! We are the only lodge that includes unlimited guided fly fishing in their package. Add to this personal service – no charge offshore fishing and it is clear why people who have been to both lodges prefer the Mini Hotel and Ed Blank's Adventures on the Fly.
Read More about this trip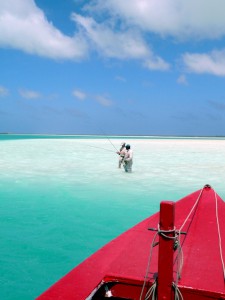 Each day veteran guides will lead you to the best fishing the island has to offer. You and the guides board the catamaran each day around 7:30 am and start out into the lagoon. There are some flats within walking distance of the lodge but we will spend most of our time on the flats that are accessible exclusively by boat. You and your guide will be dropped on the up current end of the flat and the boat will actually head for the other end. You will encounter most fish as they swim towards you into the current. This allows you to cover the most water without having to backtrack with the current to get back to the truck or boat. Maybe you want to hunt for the big bonefish on the edges of a flat with a nice drop-off or you'd rather stalk fish in ankle deep water, customizing the places you would like to fish is a unique option found only at the Mini-Hotel Kiritimati. Few bonefish packages let the customers design their own trips; ours is an exception to the rule.
Lodging
Fly Fishing Christmas Island – Lodging
The Mini-Hotel Kiritimati has been operating as a fishing lodge for over 14 years now and has a proven record of hospitality and reliability. Eri and Agnes Reiti are the owners of the hotel and they will ensure your stay will be comfortable. The hospitality shown by this great couple will permeate your trip and your memories for life. The Lodge can comfortably accommodate 8 anglers per week in an intimate bed and breakfast style setting.
There are 5 rooms and guests normally sleep 2 to a room with 3 shared bathrooms for the guests. Each room is comfortably furnished and includes ceiling fan, but only one room has air conditioning. The average temperature at night is 70 degrees and the days high in the mid 80's. The rooms are very comfortable, clean and well lit. We are located in the village of London, just steps away from the boat launch and a short ride away from the legendary flats of Christmas Island. ( The Captain Cook Lodge is 20 minutes away from the boat launch) No where on the island will you find a more comfortable place to stay. There is standard US electricity as well as 220 volt circuits at the lodge.
Guests tend to congregate in the covered and screened dining and living area on the side of the lodge. You can also store most of your rods and gear in this area. There are sofas and chairs to relax after a long day of fishing.
The Mini Hotel's superior fishing program, the flexibility of our boats and guides, the hospitality of having an owner on site make it an easy choice for anyone who is looking for large quantities of bonefish at a reasonable price.
The Food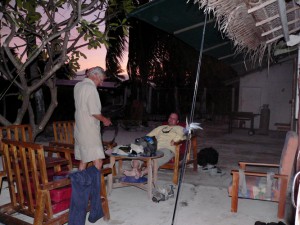 Breakfast and dinner are served family style and one would be hard pressed to find more unique meals anywhere on the island. Dinners consist primarily of seafood such as snapper, wahoo, tuna, mantis shrimp, lobster and clams. Food at the Mini Hotel is simple and safe. The entire lodge is revolves around this principle in order to provide a reasonably priced trip that caters to the fishing first and foremost. Breakfast is usually at 6:15 Am and you get out to the boat around 7 am, Lunches on board the boat usually consists of sandwich , fruit and a few snacks. Fish till the sun is so low you can't see fish anymore.
Water is provided through and purification process at the lodge that starts with safe drinking water and filters it even further. Bottled water is available on request. There is very little available on the island so if you have special needs let us know we may have to ask you to hand carry some food down.
Purified water is included in your package but beer and soft drinks are available for a nominal charge. There are Australian beers available as most supplies are shipped in from That direction. The Australian dollar is the official currency on the island.
Lodge Photos
Fishing
Fly Fishing Christmas Island – Fishing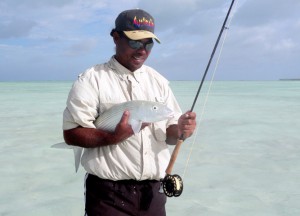 Christmas Island has a myriad of diverse habitat and endless flats and is considered the top bonefish destination in the world. The lagoon system is a bonefish nursery with endless deep cuts and channels with huge flats that have the food they need. It is perfect bonefish factory. A flyfisher could spend a lifetime trying to fish every flat available and still not sample the entire island. Christmas Island has the rare mixture of fishing opportunities that caters to both the novice and expert bonefisher. One flat can have large numbers of schooling fish while another flat is capable of having single or paired fish pushing ten pounds or above. On fact is constant, you will get plenty of shots at bonefish during your stay here. The "bonefish mystique" may be gone by the end of the week but it will be replaced by a understanding of these speedsters that will help you fish for them anywhere in the world. The problem is you may not want to fish for them anywhere else!
The angler has the opportunity to fish ankle deep "skinny" flats, deep big fish flats or even ocean side flats that have a unique feeling all their own with waves crashing at your feet and bonefish washing up on the shore break. Even small isolated "pancake" flats provide an interesting chance to hook an immense bonefish or giant trevally.
The variety of fish will keep your spirits up as well. Some of the flats will have drop-offs Where these huge trevally cruise in search of their next meal. Throw a streamer out into that blue hole and hang on. The giant trevally will eat bonefish which should give you some idea of their speed and strength. Milkfish, triggerfish, tuna, wahoo, barracudas are all available along with many other species that live on the flats or just outside the atoll; Bring a big rod for these brutes (maybe an extra one just in case!).
Read More About the Fishing on Christmas Island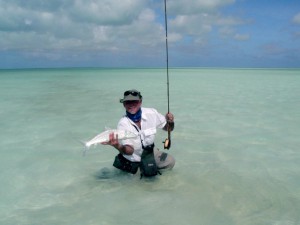 Bonefish, the sleek, silvery occupants of the flats, can attain speed above twenty miles per hour, and are the top billing but Christmas Island is home to several species of trevally some of which can run over 100 pounds. Most trevally will run from 5-50 pounds depending on the specie. These hard striking cousins of the Jack Crevalle can be taken on a wide variety of streamers and top water poppers. You will not forget the surface strike of a large trevally!
A typical day of fishing the flats is about 10-15 fish, a great day is thirty fish. I have experienced 50 fish days! There are huge numbers of bones here because of the unique habitat. The island's lagoon is a maze of shallow water flats with channels bordering most of them. On some days It is common to sight and cast to fish every five to ten minutes. Beginners and experts will enjoy the island as each day holds something new. Some people seem to think that Christmas Island has only small bonefish. It is true that there are lots of small fish, but if you separate the numbers of trophy fish that you will see each day it will rival anywhere in the world. Most trips come away with a few fish each week in the 8-10 pound range, that just isn't small!!
The flies we use here are unusual by bonefishing standards in that they are very sparse and colors like yellow and orange are the most important. The guides like you to use a long slow strip and a line strike to nail these guys. The fishing can be so good you want to shake off that small fish to get to the bigger ones in view.
For a change of pace, off shore fishing is available for tuna, wahoo, dorado, billfish and other saltwater demons. If the group decides to we can go offshore just about anytime. The boat that we travel in to the flats is also used offshore. Most of the fishing is trolling until a school is located and you can cast from the deck. No other lodge offers this without charging extra. If part of the group would rather fish the flats while others go offshore – no problem, the boat can drop you and a guide on the flat while the rest heads out of the lagoon. We can customize each trip easily adding guides extra boats, anything you need. If I haven't convinced you yet, call me and I'll give you some references that will sound like another fish story. The fishing here will not disappoint you, this maybe Fly Fishing Heaven after all!
Species
Bonefish
Giant Trevally
Blue Trevally
Golden Trevally
Milkfish
Trigger Fish
Sailfish
Yellowfin Tuna
Skipjack
Wahoo
and many many more
Fishing Photo Gallery
Tackle & Gear
Many of our destinations are pretty remote with no chance to buy things on site.
Christmas Island Gear List
Species
Rods
Reels
Line
Leaders
Bonefish
9 foot 8 or 9 wt. (maybe a 10 wt. on a windy day)
Large Arbor Disc drag reel with 200 yards of 20 lb. backing.
Floating tropical line
9 ft-12 ft leaders with 10-12 lb. tippet.
Small Trevally, Triggerfish
9 foot 9 or 10 wt.
Large Arbor Disc drag reel with 200 yards of 25 lb. backing.
Floating tropical line
9-14 ft leaders with 12-15 lb. tippet.
Large Trevally, Milkfish
9 foot 12 wt.
Large Arbor Disc drag reel with 300 yards of 30-40 pound backing.
#1 Floating tropical line
#2 Floating with clear sink tip
9-12 ft leaders with 25-30 lb. class tippet and 60 lb shock or wire tippet.
Offshore species
9 foot 12 -14 wt.
Large Arbor Disc drag reel with 400 yards of 40-50 pound backing.
#1 Floating with clear sink tip
#2 Full intermediate sink line
#3 Full fast sinking line
9-12 ft leaders with 25-30 lb. class tippet and 100 lb shock or wire tippet.
Barracudas,
Sharks
9 foot 9-10 wt.
Large Arbor Disc drag reel with 300 yards of 40-50 pound backing.
#1 Floating tropical line
#2 Floating with clear sink tip
6-9 ft leaders with 20-30 lb. wire bite tippets.
The Fly List
Go a little smaller than you might think, better to have too many 8's than 4's for the bonefish. Tie a few patterns with just the weight of the eyes as a variable 1 with lead eyes, 1 with chain, 1 with small chain, and 1 with no weight or mono eyes just to make sure you have flies for very skinny water all the way to waist deep water. Presentation seems to be much more important than fly selection.
Christmas Island Fly List
Fly Name
Colors
Sizes
Qty for a 1
Week Trip
Clouser minnow
chatr/white
1/0-2/0
6
Enrico's Tarpon Pinfish
Olive/white
3/0
4
Assorted offshore
streamer
Assorted
3/0-6/0
3-12 inches
4
Deceivers
Assorted
1/0, 3/0 bigger??
6
Chili Pepper
orange
4, 6
4
George Bush
Standard
4, 6, 8
12
Bonefish CLouser
assorted
4-6
12
Crazy Charlie
bead eye
pink,white,tan,brw
4, 6, 8
12
Moe bonefish
amber, pink
4
6
Christmas Island Specials
pink, orange
6, 8
18
CI Worm
orange, natural
8
6
Gotcha
standard
4, 6, 8
12
Packing List
Tropical Packing List
| √ | Packing Item | √ | Packing Item |
| --- | --- | --- | --- |
| √ | Passport | √ | Camera & media |
| √ | Photocopy of Passport (packed separately) | √ | Computer |
| √ | Airline tickets | √ | Cell Phone |
| √ | Itinerary with contact numbers | √ | Reading & writing materials |
| √ | Emergency Medical insurance docs ( if purchased) | √ | Rod repair (tip top and glue) |
| √ | Major credit card | √ | Sun gloves |
| √ | Cash for tips (there are a couple ATMs in San Pedro but they may not be working)) | √ | Face Sun protection (buff) |
| √ | 2 Hats with brim and neck guard (or sun hat for non anglers) | √ | Sunburn relief spray |
| √ | 2-4 long sleeve shirts for fishing (SPF fabric) | √ | Sunscreens SPF 30 or above |
| √ | 2 quick dry pant for fishing (SPF fabric) | √ | Sun block for lips and nose |
| √ | 2 quick dry shorts for fishing (SPF fabric) | √ | Toiletries |
| √ | White socks (tops of feet get burned in the boats or wear under wading shoes) | √ | Prescription meds |
| √ | Underwear | √ | Non-prescription Meds |
| √ | Casual pants or shorts | √ | Eyeglasses (and spare) |
| √ | Casual shirts, short sleeve | √ | Fly Rods |
| √ | Sandals | √ | Reels |
| √ | Belt | √ | Fanny or other small fishing pack |
| √ | Light sweater or fleece | √ | Water bottle ( Holster optional) |
| √ | Socks | √ | Waterproof boat bag |
| √ | Wading shoes | √ | Lines |
| √ | Bathing suits, | √ | Leaders |
| √ | T- Shirts | √ | Tippet |
| √ | Sandals or walking shoes ( Barefoot is good) | √ | Flies |
| √ | Rain jacket (an occasional cold squall will roll though or the boat spray may chill you to the bone!) | √ | Nippers |
| √ | Bug repellent (for dead clam days or evenings) | √ | Pliers/forceps |
| √ | Sunglasses (polarized with lanyard) | | |
Rates
Mini Hotel Package Pricing
Number of nights
Number of
Days fishing
2 to a room
2 to a guide
1 to a room
2 to a guide
1 to a room
1 to a guide
Non Fishing
@ to a room
7
6
$2500
$2695
$3595
$1195
14
12
$4790
$5390
$6790
$2390
7
Group of 4 or more
6
Group of 4 or more
$2350
$2550
$2950
$1195
Prices Include: round trip ground transportation from the CXI airport and the lodge, three meals a day, guided fishing each day ( for fishing packages). Prices quoted are in US dollars per person.
Prices do not include: International Airfare to CXI, Alcoholic beverages, fishing license, Departure tax or gratuities for your guide and resort staff
Why Book Through Flyfishingheaven.com?
Why book through flyfishingheaven.com?
1. Unbiased Advice:
Most people recognize the advantage of our unbiased advice, there are hundreds of destinations to choose from and our job is to know the ones that are right for your needs. We offer the real story you can't get from a lodge owner. Would the outfitter in questions tell you are booking in a less than stellar part of the year? Remember our unbiased advice is 100% free!
2. We Can Book Anywhere:
Our website highlights many of our favorite destinations but we have access to hundreds more. If there are fish there, we can book it. In fact, we will give you 5% back if you book a trip through us that is not on our website! We enjoy learning about new spots!
3. Loyalty Discounts:
2017 Special: You are automatically enrolled in our loyalty program before your first trip and will get the 5% cash back on your very first trip. This offer is good until December 31, 2017. In January you will ear your loyalty discount on the second trip and every trip thereafter. This discount applies to all your friends who are going with you as well. f you organize a group of 8 or more we will give you 10% off! All you have to do is book the first trip and you are a flyfishingheaven.com frequent fisher!
4. Price Guarantee:
If you find a price lower than ours we will beat that price by 5% if you book through flyfishingheaven.com!
Our Pledge
We promise to work for you, not a lodge, outfitter or resort. We pledge to get you you to a destination that will live up to your expectations at the best possible price. You will never be charged more than booking directly (in fact most of our clients are paying less - *see below). We will make sure you are well prepared for your trip with specific knowledge about the gear, the flies, the rods, packing lists, travel documents, connecting information everything. Since we are not tied to a particular destination we promise honest pros and cons of any destination at the time of year you are traveling.

We do earn a small commission when we book a trip as all lodges and outfitters offer this as they depend on agencies like ours for much of their business. This fee is paid by the lodge not you, and they do not keep different prices for direct bookings vs agency bookings, it is bad business.
Payment and Cancelation Polices
A 10% deposit is required if you are booking more than 6 months in advance, 50% deposit is required when less than 6 months until departure date with the balance due 60 days prior to departure. If you are forced to cancel with more than 60 days notice, you may keep full credit towards another trip or receive a refund less a 10% service charge. Deposits on cancellations with less than 60 days notice are not refundable unless your spot can be filled. MC, Visa, and checks are accepted. We recommend travel and or medical emergency insurance for all our trips.
Seasons
Christmas Island Fishing Calendar
| Month | Bonefish | Trevally/Cudas | Milkfish | Off shore Fish |
| --- | --- | --- | --- | --- |
| January | Excellent | Excellent | Excellent | Excellent |
| February | Excellent | Excellent | Excellent | Excellent |
| March | Excellent | Excellent | Excellent | Excellent |
| April | Excellent | Excellent | Excellent | Excellent |
| May | Excellent | Excellent | Excellent | Excellent |
| June | Excellent | Excellent | Excellent | Excellent |
| July | Excellent | Excellent | Excellent | Excellent |
| August | Excellent | Excellent | Excellent | Excellent |
| September | Excellent | Excellent | Excellent | Excellent |
| October | Excellent | Excellent | Excellent | Excellent |
| November | Excellent | Excellent | Excellent | Excellent |
| December | Good | Excellent | Excellent | Excellent |
It is not a typo, the fishing is truly year round here!

Gallery
Please take a look at the  photo galleries related to Christmas Isalnd.

Fishing Photo Gallery
Lodge Photo Gallery
Scenic Photo Gallery
Video Gallery
Activities
Fly Fishing Christmas Island – Activities

There is nothing to do but dive and fish. Period. The island is not charming, it is a third world country, there are no pools, beaches everywhere but they are un-raked and hence fill of garbage and debris. Do not bring your spouse here expecting a romantic get away. It is a blast if you both fish but not if you don't.
Travel
Fly Fishing Christmas Island – Travel Tips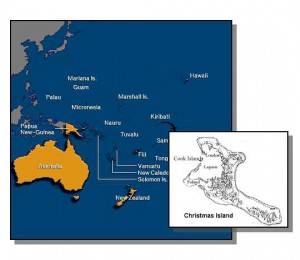 The only flight from the US is offered by Air Pacific, it leaves from and arrives into Hawaii every Tuesday. Mst people overnight in Honolulu on Monday night. The air fare is NOT part of your package and must be purchased separately (see below). This is one destination where travel and medical evac insurance are very good ideas. With only one flight per week there are countless ways to miss a flight or perhaps the only flight to the island has mechanical problems, what if the beacon on Ci goes out of service, what about a snowstorm in your home city? Medevac insurance is also important for the same reason – there is NO WAY to get off the island in case of an emergency short of hiring a 25,000 charter. Then if you need medical folks on board start thinking $50,000!!
The 2 best places to buy Air Pacific Flights are your local travel agent or http://www.airpacific.com/
Air Pacific Flight # 823 departs Tuesdays from HNL and arrives Wednesday at CXI . (You cross the international date line), so even though it is a 3 hour flight you arrive Wednesday (Christmas Island date) you leave Christmas Island on Flight # 822 on Wednesday and arrive in Honolulu on Tuesday, crossing the date line again. For instance: your ticket should look something like this: departing JAN 10 from Hawaii arriving JAN 11 On Christmas. Departing JAN 18 from Christmas Island arriving Jan 17 in Hawaii.
Don't worry, there is only one flight a week and the travel agent can't book anything but the right dates to Christmas Island. Hawaii and Christmas Island are in the same time zone. Fly into Honolulu at least 1 day before your trip, stay overnight in Honolulu on Monday. I like staying at an extra day in Hawaii to get used to the big time difference and to get an insurance day for trip delays coming out of the states. You never know what weather may delay your flight to Hawaii. Check in is at 9 :30 AM Tuesday at Honolulu's International terminal. The will be an air Pacific sign in the Quantas counter area.
Visa: Important: You must have a current Passport to enter Kiribati, Many countries no longer need to obtain a visa in advance – please see below if your country is anywhere below you DO NOT need a visa.
1. Nationals and citizens of the following countries are exempted from obtaining a visa before entering Kiribati where the intended duration of their stay is 30 days or less: Belize, Federated States of Micronesia, Macao(only in respect of holders of Macao Special Adminisirative Region Passports), Marshall Islands, Palau, Republic of China (Taiwan), Republic of Korea.
2. Nationals and citizens of the following countries specified are exempted from obtaining a visa before entering Kiribati:
(Antigua and Barbuda, Australia, Austria, Barbados, Belgium, Bulgaria, Canada, Cook Islands, Cyprus, Czech Republic, Denmark, Estonia, Fiji, Finland, France, Germany, Grenada, Greece, Hong Kong (only in respect of holders of British Nationals Overseas passports and Hong Kong Special Administrative Region passports), Hungary, Ireland, Italy, Jamaica, Japan, Kenya, Latvia, Lesotho, Lithuania, Luxembourg, Malawi, Malaysia, Malta, Mauritius, Nauru, Netherlands, New Zealand, Niue, Poland, Portugal, Romania, St. Kitts and Nevis, St. Lucia, St. Vincent and the Grenadines, Samoa, Seychelles, Sierra Leone, Singapore, Slovakia, Slovenia, Solomon Islands, Spain, Sweden, Switzerland, The Bahamas, Tonga, Trinidad and Tobago, Tunisia, Tuvalu, United Kingdom, United Kingdom Overseas Territories of (Bermuda, Cayman Islands, Montserrat and Turks and Caicos Islands), United States of America, Vanuatu, Zambia, Zimbabwe).
BAGGAGE LIMITS: Air Pacific allows 32 KG of checked baggage. Above that and you pay a stiff $15 per Kilo. 32 Kilos is 70 pounds so it should be no problem. You are allowed the standard one carry on bag. The storage bins on the Boeing 737 are standard size and will fit rod tubes ( at the time of this writing)
CUSTOMS: When you land on Christmas Island you will stand in a line waiting to pass through "customs" This procedure seems to vary every week and every one always gets through just fine, remember you are now on island time and rules. So relax, you will be fishing in about an hour and 1/2! They allow one liter of alcohol duty free.
Be prepared for a stiff duty for more. they may search your bag thoroughly or maybe not! You will meet with several agents, one to ask this, another for that, and another for the fishing license. Fill out the paperwork for the license and they will forward it to the Mini Hotel and collect payment from them later. Usually you will pay Agnes or Eri at the end of the week when you are leaving a tip but occasionally they collect it at the airport upon arrival. You won't see anyone from the hotel until you pass through customs. After getting through customs, you will be asked by the drivers which hotel you are staying at. It is a tiny "airport" and a driver from the Mini Hotel will meet you. Hop in the open air transport van for the 20-minute ride to the hotel. The customs procedure may vary a little so just go with the program and you will be through in no time.
Packing List
Tropical Packing List
| √ | Packing Item | √ | Packing Item |
| --- | --- | --- | --- |
| √ | Passport | √ | Camera & media |
| √ | Photocopy of Passport (packed separately) | √ | Computer |
| √ | Airline tickets | √ | Cell Phone |
| √ | Itinerary with contact numbers | √ | Reading & writing materials |
| √ | Emergency Medical insurance docs ( if purchased) | √ | Rod repair (tip top and glue) |
| √ | Major credit card | √ | Sun gloves |
| √ | Cash for tips (there are a couple ATMs in San Pedro but they may not be working)) | √ | Face Sun protection (buff) |
| √ | 2 Hats with brim and neck guard (or sun hat for non anglers) | √ | Sunburn relief spray |
| √ | 2-4 long sleeve shirts for fishing (SPF fabric) | √ | Sunscreens SPF 30 or above |
| √ | 2 quick dry pant for fishing (SPF fabric) | √ | Sun block for lips and nose |
| √ | 2 quick dry shorts for fishing (SPF fabric) | √ | Toiletries |
| √ | White socks (tops of feet get burned in the boats or wear under wading shoes) | √ | Prescription meds |
| √ | Underwear | √ | Non-prescription Meds |
| √ | Casual pants or shorts | √ | Eyeglasses (and spare) |
| √ | Casual shirts, short sleeve | √ | Fly Rods |
| √ | Sandals | √ | Reels |
| √ | Belt | √ | Fanny or other small fishing pack |
| √ | Light sweater or fleece | √ | Water bottle ( Holster optional) |
| √ | Socks | √ | Waterproof boat bag |
| √ | Wading shoes | √ | Lines |
| √ | Bathing suits, | √ | Leaders |
| √ | T- Shirts | √ | Tippet |
| √ | Sandals or walking shoes ( Barefoot is good) | √ | Flies |
| √ | Rain jacket (an occasional cold squall will roll though or the boat spray may chill you to the bone!) | √ | Nippers |
| √ | Bug repellent (for dead clam days or evenings) | √ | Pliers/forceps |
| √ | Sunglasses (polarized with lanyard) | | |