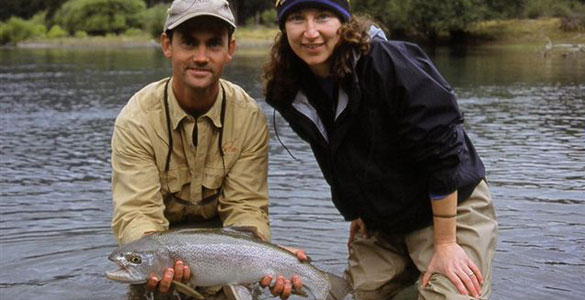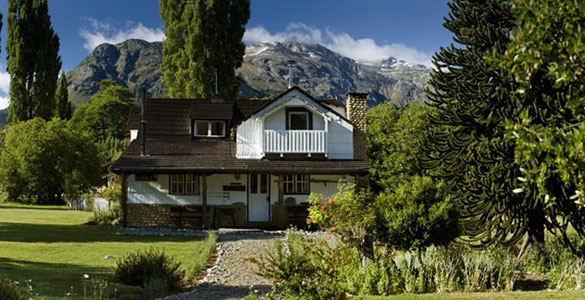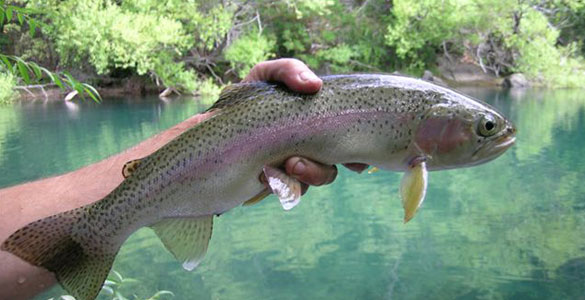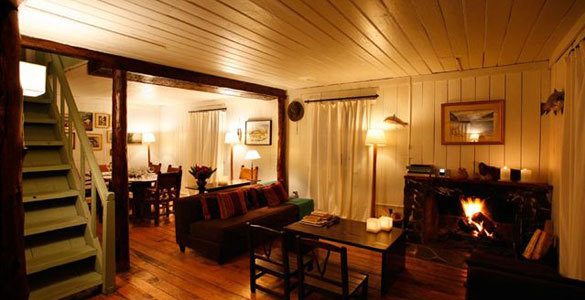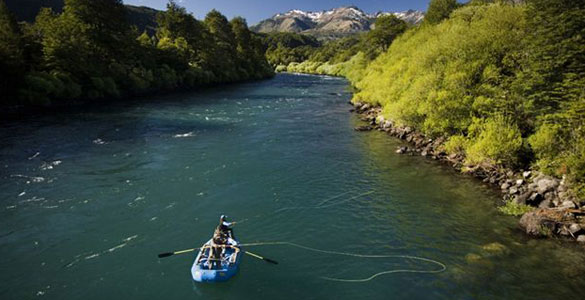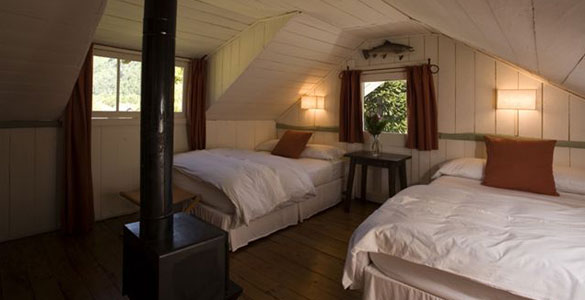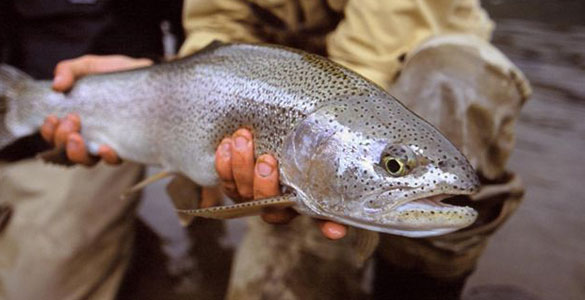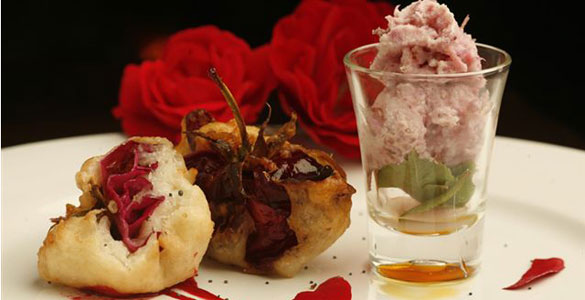 Overview
Fly Fishing Chile – Futa Lodge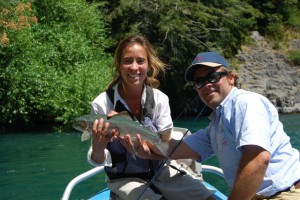 Fly fishing Chile, sounds like a dream? Some of the best fly fishing in Chile is found at Futa Lodge. Futa Lodge is located near the border of Argentina in a very remorte area of Chile. The Futaleufu river is only accessible through our Estancia where we use rafts to access other parts of the river by floating and wading. The dry fly fishing for trout is incredible with 15-20 inch fish crashing large attrator patterns like a Chernobyl ants or Madam X . One of the favorite foods of these trout is a large beetle that is present through out the season so like hopper fishing, a wel placed cast near the edge of the river can bring a large fish to the surface.
Futa Lodge is located in the most secluded valley in the Patagonia region of Chile. The lodge is quite charming with its old world chilean style, it sleeps a maximum of six anglers, it is remote and surrounded by stunning mountains, and free rising browns and rainbows. Fishing at Futa Lodge is like stepping back in time… The countryside is reminiscent of Montana or Colorado at the turn of the last century. The fishing reflects this as well with trout that have not been fished over as our Estancia has the only access to miles of the river.
Fly Fishing Heaven is Fly Fishing Chile!
Read More About Futa Lodge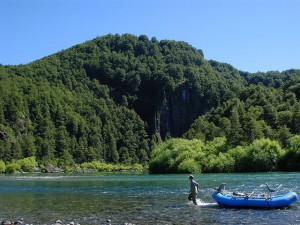 The magnificent Coyhue forests around the lodge have never been harvvested and the fields are still cut with scythes. The fly fishing itself is some of the purest wild fly‐fishing for rainbows and browns anywhere in the world. Each and every trout that you catch is a perfect representation of its species in perfect condition. The Futaleufu has a multitude of different types of water to suit many styles of fly fishing. One minute your guide will be rowing you down faste stretches where you'll fish a streamer to overhanging trees to tempt big browns from their hiding places and the next you'll be fishing from the bank having stalked a wary pod of rainbows as they sip tiny dry flies from the surface.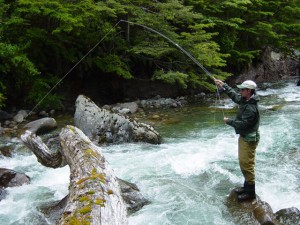 We can also access the river and some smaller streams via horseback, which is a real treat as you can admire the scenery and wildlife at a slow pace. The Futaleufu valley is a place to be close to nature and to be part of a way of life that is increasingly hard to find anywhere in the world. It's a place to forget the mundane pressures of everyday life, while enjoying some of the world's best wild trout fishing and staying in comfort and style at Futa lodge. FLy Fishing Chile in style!
Lodging
The accommodations at Futa Lodge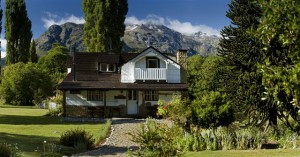 The lodge´s remote location through the Valle de las Escalas makes this part of the river unique, lazy horseback trails wind down to the river´s edge – Lupins and other wild flowers abound – no engines p to pollute the river either chemically or audibly, and time appears to have stood still. Futa lodge stands sentinel on the river bank wishing you well on your daily fishing adventure, its lights twinkling a greeting in the evening as you return from the river. Fly Fishing Chile should be on everyone's list, and Futa lodge should be at the top.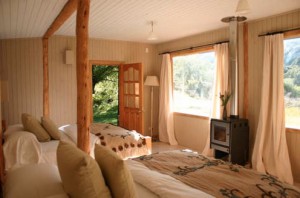 The main lodge is an old estancia house with three cabins scattered as you head down to the river, one next to the main lodge and two right on the edge of the river. The main lodge consists of a cozy living room with a fire place and two more double bed-rooms. This means the lodge can hold 8 peple but we only allow 6 fishermen at any one time to keep pressure at a minimum. Like all Nervous Water properties FUta Lodge has the ultimate service for any fishing lodge in the world.
The food is designed and created by hand each day with a full selection of fine Chilean wines to enjoy.
More About the Lodging ay Futa Lodge
Across the border from Esquel in Argentina, and deep into the coyhue forests of the tenth region of Chile flow the azure depths of the Futaleufu river. A world away from the hustle and bustle that even sleepy Esquel represent, the "Big River"; (for this is how Futaleufu translates from the tehuelche tongue) rolls along, amid some of the most unspoilt mountain scenery on the planet.
South of the Chilean lake district Futaleufu is a stand alone fishery. The freestone giant grows healthy stocks of rainbow and brown trout that are fed by abundant hatches of mayfly, caddis and stoneflies. A heavy resident stock of fish and great hatches combined with classic fly water make the Futaleufu a trout fisherman´s paradise. Average rainbows and browns are in the 14″-16″ class but much larger fish are caught regularly. There´s even the occasional sea-run fish, guaranteed to put a bend in your rod! In truth though, whilst the chance of a big fish is a daily occurrence, it's hard to be totally focused on the fishing in a place this special.
Lodge Photos
Fishing
The Fishing Around Futa Lodge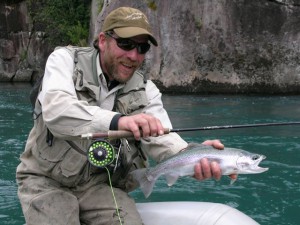 The fishing at Futa lodge is largely based on the Futaleufu River which flows right by the front door of the lodge. In addition, there are also some smaller rivers and lakes close by that may be fished. The Browns and Rainbows of the Futaleufu River, and the Catchments of Chile as a whole, were stocked from European and American stocks in the early 19th Century. The fish on the Futaleufu River, in particular, have gone on to establish an extremely healthy population that is envied among wild trout fisheries the world over.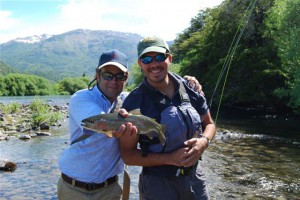 The premise of Futa lodge is to live beside one of the most productive trout rivers in Patagonia and do it in style, Chilean style. Dry fly fishing is available through out the season for wild rainbow and brown trout. These are the same trout that went on to spawn some of the stocking programs throughout Argentina as well.The water runs clear and cold from the start of the season to the end.
Read More About Fly Fishing Chile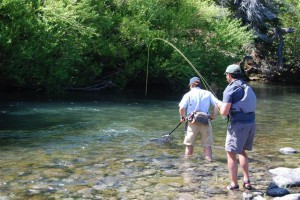 Since only our guests are fishing the river in our estancia this means you are assured of pristine under-fished water. The rainbows and browns are 15-24 inches and pretty abundant. Most of the fishinf is dry fly fishing but some streamer and nymph fishing is productive as well. Weh we are floating the casts are usually right to the edge of the river or under overhanging trees and willows.There are no pancora crabs on the Chilean side of the andes so most of the food for these trout is insects or baitfish. The waters have an emerald green tint from the glacier at the headwaters of the river.The river ranges form 50 feet wide to over 100 feet wide in some spots and is a true freestone river. There are areas where the rive divides into channels that offer a small stream experience to the big river feel.
We also can fish several of the tributaries and reach some other streams by horse as well. there are several lakes that have a generous supply of trout for fun – hatching dragon flies can make this fishing a blast in early January.
Fishing Photo Gallery
Tackle & Gear
Here is a list of the basics you will need for your trip.  Many of our destinations are pretty remote with no chance to buy things on site.
Chile Gear List
Species
Rods
Reels
Line
Leaders
Rainbows & Browns
9 foot, 5-6-7 wt.
Medium or Large Arbor with 150 yards of 20 pound backing
#1 Floating easy to mend line,
#2 Floating with 8-15 fast sink tip (Type 6)
9 ft leaders with 5-12 lb. for floating setups, 3-5 foot leader 10-15 pounds with the sink tip for streamer fishing tippet.
King Salmon
9 foot 10 Wt
Large Arbor with 200 yards of 30+ pound backing
Floating with 8-15 ft. fast sink tip (Type 6)
3-5 foot leader 20-25 pounds
Silver Salmon
9 foot 8 Wt
Large Arbor with 150 yards of 20 pound backing
Floating with 8-15 ft. fast sink tip (Type 6)
3-5 foot leader 15 pounds
Fly List
Chilean Fly List
| Fly | Colors | Size | Qty |
| --- | --- | --- | --- |
| Elk hair Caddis | Tan, Olive, Brown | 12,14 | 12 |
| Royal Wulff | | 10,12,14 | 12 |
| Stimulator | Tan, Olive, Brown | 4,6,8 | 12 |
| Griffiths gnat | | 16,18,20 | 12 |
| Caddis Nymphs | Prince, pheasant tail, hares ear | 12-18 | 12 |
| Egg sucking leech | Pink /purple | 2,4,6 | 24 |
| Woolly buggers, Krystall buggers | Black, Olive, white,brown, cone head and regular | 2,4,6 | 18 |
| Wool head sculpin | Black, olive, | 2,4 | 24 |
| Marabou Muddler | black/yellow,brown, black/white,black | 2,4 | 24 |
| Beady leech | brown, black | 4,6,8, | 12 |
| Scuds | olive, gray | 14,16,18 | 12 |
| Mice: | Grayish brown | 2,4 | 4 |
Bring some of your favorite big and ugly dry flies or streamers with you, they will work!
Packing List
Chile Packing List
| Packed? | Item | Packed? | Item |
| --- | --- | --- | --- |
| | Airline Tickets | | Photo Id/Passport |
| | Cash | | Prescription Medicines |
| | 1 Gortex waders & repair kit - neoprene is not advised | | Traveler's Checks |
| | 1 Wading Shoes – no studs please | | Boat Bag |
| | 1 Rain jacket w/hood (top quality breathable ) | | Bug Spray |
| | 1 Heavy fleece jacket | | Sleeping bag (if camping) |
| | 1 Medium weight fleece top | | Camera / film/ batterries |
| | 2 Lightweight fleece or Polypropylene tops or turtlenecks | | Reading & writing materials |
| | 2 long sleeve lightweight fishing shirt | | Bandana/ face sun protector |
| | 3-7 pair underwear ( synthetic is better than cotton) | | Persription glasses |
| | 4 pair wool/ blend insulating socks for under waders | | spare perscriotion glasses |
| | 1 wool or fleece hat (ski type)- | | Toiletry Kit |
| | 1 cap with brim | | Zip lock bags (for lens cleaning cloth,, cash, etc) |
| | light fleece pants (under waders) – | | Fly Rods |
| | 2 - Pants (Long) | | Fly vest, or chest pack |
| | 1 Folding wading staff (optional) | | Reels |
| | 1 spare pair polarized sunglasses ( cheap is OK) | | Flies/Fly box |
| | Clippers | | Fly Lines |
| | Hemostat | | Tippets / leaders |
Rates
Package Prices at Futa Lodge
Trip Length
2 per Room
2 per guide
1 per Room
1 per guide
7 Nights / 6 Days Fishing
$ 5,250
$ 8,400
6 Nights / 5 Days Fishing
$ 4,500

$ 7,200
5 Nights / 4 Days Fishing
$ 3,750

$ 6,000
4 Nights / 3 Days Fishing
$ 2,250
$ 3,600
Non-fishing rate is 40% less than the weekly fishing rate.
Prices Include:  Nightly lodging, three meals a day, guided fishing each day , all wine, beer and local spirits while at the lodge. It also includes all taxes. Prices quoted are per person and in US dollars.
Prices do not include: ground transportation from either Esquel or Barliloche, Argentina ( Add $150-$200 round trip per person) , Imported alcoholic beverages, fishing license or gratuities for your guide and lodge staff
Why Book Through Flyfishingheaven.com?
Why book through flyfishingheaven.com?
1. Unbiased Advice:
Most people recognize the advantage of our unbiased advice, there are hundreds of destinations to choose from and our job is to know the ones that are right for your needs. We offer the real story you can't get from a lodge owner. Would the outfitter in questions tell you are booking in a less than stellar part of the year? Remember our unbiased advice is 100% free!
2. We Can Book Anywhere:
Our website highlights many of our favorite destinations but we have access to hundreds more. If there are fish there, we can book it. In fact, we will give you 5% back if you book a trip through us that is not on our website! We enjoy learning about new spots!
3. Loyalty Discounts:
2017 Special: You are automatically enrolled in our loyalty program before your first trip and will get the 5% cash back on your very first trip. This offer is good until December 31, 2017. In January you will ear your loyalty discount on the second trip and every trip thereafter. This discount applies to all your friends who are going with you as well. f you organize a group of 8 or more we will give you 10% off! All you have to do is book the first trip and you are a flyfishingheaven.com frequent fisher!
4. Price Guarantee:
If you find a price lower than ours we will beat that price by 5% if you book through flyfishingheaven.com!
Our Pledge
We promise to work for you, not a lodge, outfitter or resort. We pledge to get you you to a destination that will live up to your expectations at the best possible price. You will never be charged more than booking directly (in fact most of our clients are paying less - *see below). We will make sure you are well prepared for your trip with specific knowledge about the gear, the flies, the rods, packing lists, travel documents, connecting information everything. Since we are not tied to a particular destination we promise honest pros and cons of any destination at the time of year you are traveling.

We do earn a small commission when we book a trip as all lodges and outfitters offer this as they depend on agencies like ours for much of their business. This fee is paid by the lodge not you, and they do not keep different prices for direct bookings vs agency bookings, it is bad business.
Payment and Cancelation Polices
A 10% deposit is required if you are booking more than 6 months in advance, 50% deposit is required when less than 6 months until departure date with the balance due 60 days prior to departure. If you are forced to cancel with more than 60 days notice, you may keep full credit towards another trip or receive a refund less a 10% service charge. Deposits on cancellations with less than 60 days notice are not refundable unless your spot can be filled. MC, Visa, and checks are accepted. We recommend travel and or medical emergency insurance for all our trips.
Seasons
Fly Fishing Chile – the Seasons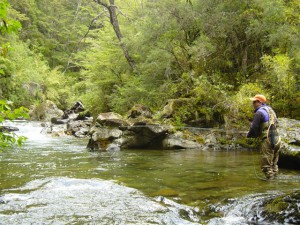 The fishing season officially opens in mid October and runs until the first Sunday in May. The best dry-fly fishing generally occurs from January to the end of March, although Nov. and Dec. are great spring months and very large trout on the move, generally taken on steamers, can make an angler's dream come true. March brings cooler mornings and evenings and the rivers reach their lowest volume, but the cooler days bring the truly big fish out of the lakes and into the rivers for spawning. The pre-spawn streamer fishing can be incredible from mid March to mid April. Those that want lots of big fish will endure fishing the shorter days in April, to have an experience of a life time going after very large trout with large dries.
Gallery
Activities
Non-Fishing Activities at Futa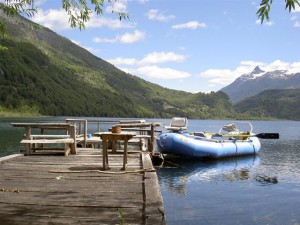 Another top notch service lodge from Nervous Waters means you will lack for nothing as far as food and service goes. Non fishing activities woud include horseback riding, relaxing and reading. There is not a lot of organized tours or activities from this remote location. For more activities I would suggest looking at CHile's Yan Kee Way lodge (under the Freshwater Trips>Chile> Yan Kee Way on the main menu near the top of the page.
Travel
Getting to Futa Lodge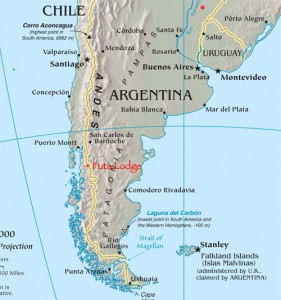 There are two ways to get to Futa since it is near the Argentine border: Through Santiago Chile flying to Chaiten, or through Buenos Aires flying to Esquel.
Through Chile: Guests fly to Santiago, Chile and typically overnight there to relax and spend a day touring the city and its nightlife. The Lodge can then be accessed from Santiago via commercial airline to the local airport of Chaiten. From Chaiten you will be transferred to the lodge, by a lodge representative, via a 4 minute hour van transfer.
Through Argentina: Guests fly to Buenos Aires, Argentina and typically overnight there to relax and spend a day touring the city and its nightlife. The Lodge can then be accessed from Buenos Aires via commercial airline to the local airport of Esquel. From Esquel you will be transferred to the lodge, by a lodge representative, via a 1 hour van transfer.
Special Instructions for those coming through Argentina:
Argentina has suspended the Entry Fee to Argentina for US Citizens!
You will need a valid passport to travel to Chile. No visa is required for U.K or U.S.A citizens, other nationalities should check with their local consulate.
Packing List
Argentina Packing List
| Packed? | Item | Packed? | Item |
| --- | --- | --- | --- |
| | Airline Tickets | | Photo Id/Passport |
| | Cash | | Prescription Medicines |
| | 1 Gortex waders & repair kit - neoprene is not advised | | Traveler's Checks |
| | 1 Wading Shoes – no studs please | | Boat Bag |
| | 1 Rain jacket w/hood (top quality breathable ) | | Bug Spray |
| | 1 Heavy fleece jacket | | Sleeping bag (if camping) |
| | 1 Medium weight fleece top | | Camera / film/ batterries |
| | 2 Lightweight fleece or Polypropylene tops or turtlenecks | | Reading & writing materials |
| | 2 long sleeve lightweight fishing shirt | | Bandana/ face sun protector |
| | 3-7 pair underwear ( synthetic is better than cotton) | | Persription glasses |
| | 4 pair wool/ blend insulating socks for under waders | | spare perscriotion glasses |
| | 1 wool or fleece hat (ski type)- | | Toiletry Kit |
| | 1 cap with brim | | Zip lock bags (for lens cleaning cloth,, cash, etc) |
| | light fleece pants (under waders) – | | Fly Rods |
| | 2 - Pants (Long) | | Fly vest, or chest pack |
| | 1 Folding wading staff (optional) | | Reels |
| | 1 spare pair polarized sunglasses ( cheap is OK) | | Flies/Fly box |
| | Clippers | | Fly Lines |
| | Hemostat | | Tippets / leaders |