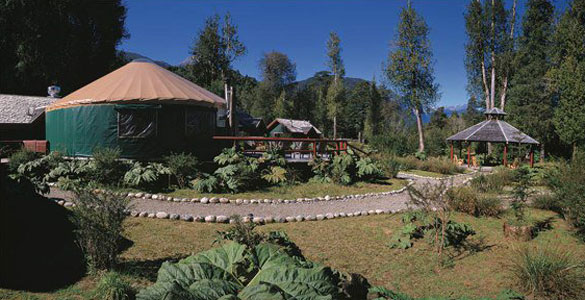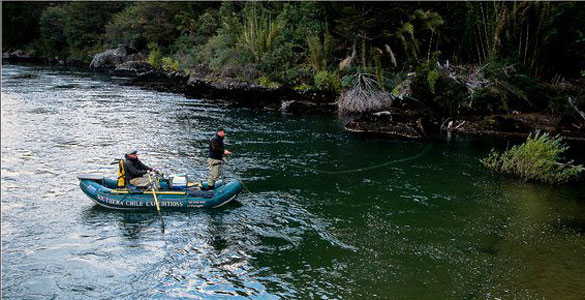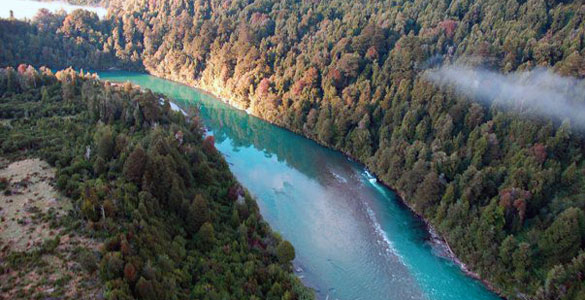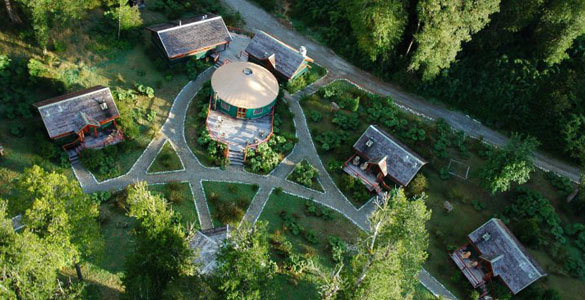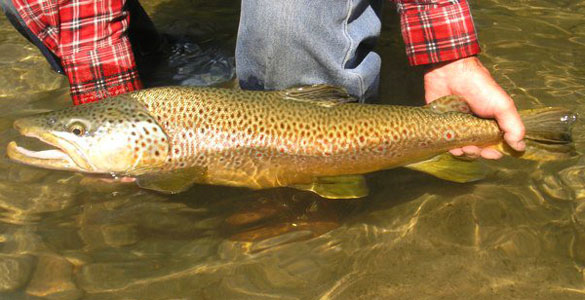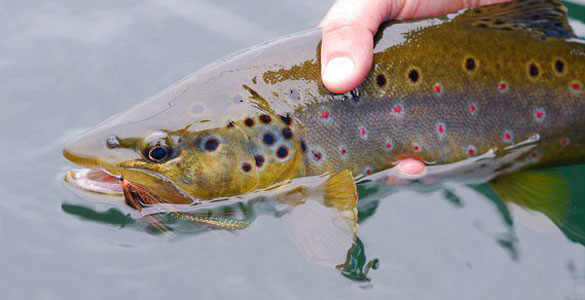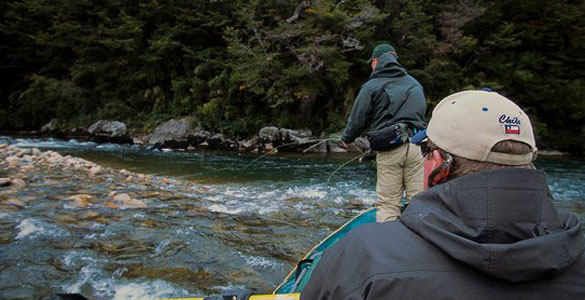 Overview
El Patagon Lodge – Trout fishing in Chile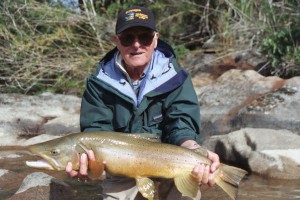 In the winter, escape from the Northern Hemisphere and head south to the peaceful depths of Chilean Patagonia. When areas of North America, such as Montana, are wrapped in a mantle of cold and snow, The trout fishing in Chile is at its peak!
El Patagon Lodge is located on over 3,000 acres of our private forest land. The land was chosen based on the center most point of hte best trout fishing in Chle. The facilities are world class with specatular bungalows for our guests.
The lodge grounds include over a mile of lakefront on Lago Rosselot, over 3.5 miles of frontage on the Rio Figueroa and its own spring creek. FLy Fishing for rainbow and brown trout is available right out the front door. The location is designed to cater to the die-hard angler. Numerous lakes, streams and rivers surround this deluxe facility. If fishing is your primary goal, a stay at EL PATAGON is certainly a must. If you also wish to experience a pristine Chilean forest in the middle of nowhere, this is the best place to do it. Your non-fishing spouse may elect to stay in the five-star comforts of YAN KEE WAY Lodge, while you fish the waters which have made Chile famous in the arena of world class trout fishing.
Read More About El Patagon
New this year are some pack in trips that involve horse back to get to even more remote rivers. SO if you don't mind camping and working a bit to get to some streams that are rarely fished, this fly fishing trip to trout country may be for you. We developed a 10-day program, which includes one day for travel at the beginning and at the end of the trip. The program is for the adventurous and physically fit fly-fisher. It involves horseback riding, hiking and floating small and medium river systems in Ayer rafts and WaterMasters. You sleep in tents, cook over open fires, and sometimes overnight in local Chilean bed and breakfasts. Trout fishing in Chile is what El Patagon is all about.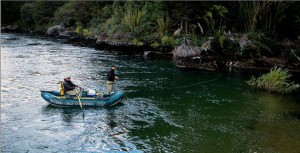 As one might expect, when you have incredible fishing, word gets around. The highest compliment to our fishery comes from other well-known Chilean fly-fishing lodges. Some of them, far to the north and whose Patagonia fishing program is on Lake Yelcho, Rio Yelcho and the Futalefu River, are now driving their guests up to 3.5 hours, each way, to offer them a few hours of fishing, for one afternoon, after reaching the far eastern boundary of our fishing grounds on the lower Rio Rosselot. The long 7-hour round-trip drive from these distant lodges provides them with less than a one-half day taste of our tremendous fishing. Our guests enjoy El Patagon's central location in the fishing grounds, all week long, with floats that start right on the river outside their cabin or that are but a 15 to 30 minute drive away.
Lodging
Lodging at El Patagon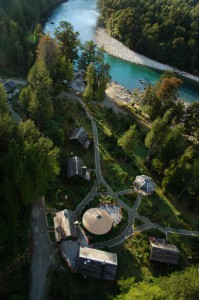 El Patagon was designed to comfortably accommodate eight fly-fishing guests. The best trout fishing in Chile is just a few feet away. There are four separate cabins That accomodate 2 angler per cabin. Each cabin has a full bath with shower, built-in closets and a wood-burning stove.
In the middle of the compound is the common area on which is built a fogón. An eight-sided structure, the fogón is a typical Patagonia shelter in Chile. We use it on evenings when roasting lamb or some other meat, a la parilla or Patagonian Style, for the main course. Our guests gather around the fire while the meat is slowly browning to swap fishing stories, enjoy their fine Chilean wine as they watch their dinner slowly cooks to perfection. Meats are indeed a staple of this area with lamb and beef the center of most meals.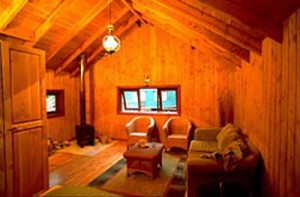 The Lodge compound was constructed in a rustic local style to reflect the character of the region and the temperate rain forest or cool jungle in which it is located. In building El Patagon, we used teams of Oxen with carts to carry the materials into the forest from the road. These great animals also pulled the deadfall and other materials around on the site. From time to time, we contract with our neighbors to bring these big bulls in to assist us, as they are very efficient when it comes to moving things around on the property.
More About the Lodging at El Patagon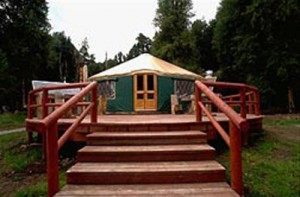 The dining room and lounge at EL PATAGON is a 30-foot diameter yurt from Pacific Yurts in Oregon. The visual juxtaposition of this structure, typical to Mongolia, with the classical fogón from Chile provides a working example of two, ancient, but very functional clear span building types.
Think you are in the middle of nowhere? Well, you are! You wouldn't know as those who desire a sauna or hot tub at day's end, you'll love our wood fired amenities overlooking the Figueroa River. Just below the hot tub is a cold stream to compliment the heat of that sauna.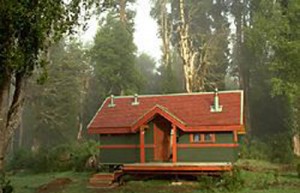 You can choose to jump in the stream or skip that and have a look into the water to see why this is the best trout fishing in Chile! A separate changing and drying cabin is yours to enjoy. You have your own gear storage locker. You may change into and out of your fishing clothes here and avoid loading up your cabin with fishing gear, waders and clothes. This room also serves as a drying room for your boots and waders at day's end. Convenient restroom facilities are in this building as well. We want you to be comfortable in all aspects of your stay with us.
Lodge Photos
Fishing
Trout Fishing in Chile at El Patagon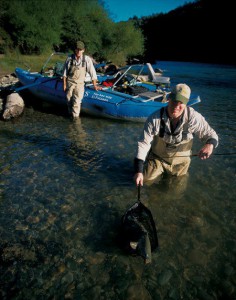 El Patagon is located on the banks of Lago Rosselot and Rio Figueroa. The Figueroa empties into Lago Rosselot . Flowing from the lake, heading west, Rio Rosselot joins with Rio Palena at La Junta. Eastward, the Rio Figueroa is fueled by Lago Verde and other river systems which cross the Andes from Argentina. We have a mile of frontage on Lago Rosselot, 3.5 miles of frontage on the Figueroa and our own spring creek at this Lodge. Other small streams and lakes surround us.
These waters are home to rainbow, brown and brook trout. In addition, sea-run browns, coho, king and Atlantic salmon ply these waters. The last several years have validated our selection of this remote area for the location of El Patagon Lodge.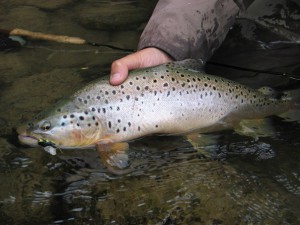 Its abundant natural beauty and the quality of its fishery are difficult to surpass. A number of guests have returned to fish with us including some for their forth-consecutive season. Among all of the things we had heard about this area, the ability to enjoy dry fly fishing all season long was not among them. Excellent dry fly fishing, throughout the season, at El Patagon is a greatly appreciated bonus for our guests. For those who relish seeing fish take large surface flies, we have the waters for you.
Read More About Trout Fishing in Chile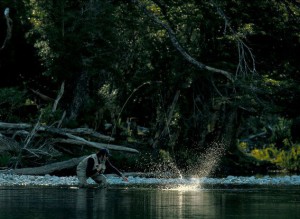 During the last seven years, we obviously discovered many new and secluded waters. We have added to our land holdings in order to offer you access to these newly discovered remote and secluded Patagonia fishing venues. Our most recent purchase is an additional 242 acres with frontage on two river systems. We are finalizing the purchase of 440 more acres that fronts on yet another remote Patagonian river system. An easy 5-hour horseback ride takes you to this 440-acre property which is in some of the most beautiful valley lands we have ever seen in the Andes range.
All territory surrounding El Patagon is comprised of large private holdings like our own. Unless one is a landowner, the right to enter these remote areas over private lands, ranges from very difficult to impossible. Thus, our new land holdings provide us access on jointly held easements locking-in our right of transit and enabling us to offer you some of the most remote and beautiful fishing experiences available anywhere in the world today. We are not through discovering or purchasing in this area.
Fishing Photo Gallery
Tackle & Gear
Here is a list of the basics you will need for your trip. Many of our destinations are pretty remote with no chance to buy things on site.
Chile Gear List
Species
Rods
Reels
Line
Leaders
Rainbows & Browns
9 foot, 5-6-7 wt.
Medium or Large Arbor with 150 yards of 20 pound backing
#1 Floating easy to mend line,
#2 Floating with 8-15 fast sink tip (Type 6)
9 ft leaders with 5-12 lb. for floating setups, 3-5 foot leader 10-15 pounds with the sink tip for streamer fishing tippet.
King Salmon
9 foot 10 Wt
Large Arbor with 200 yards of 30+ pound backing
Floating with 8-15 ft. fast sink tip (Type 6)
3-5 foot leader 20-25 pounds
Silver Salmon
9 foot 8 Wt
Large Arbor with 150 yards of 20 pound backing
Floating with 8-15 ft. fast sink tip (Type 6)
3-5 foot leader 15 pounds
Fly List
Chilean Fly List
| Fly | Colors | Size | Qty |
| --- | --- | --- | --- |
| Elk hair Caddis | Tan, Olive, Brown | 12,14 | 12 |
| Royal Wulff | | 10,12,14 | 12 |
| Stimulator | Tan, Olive, Brown | 4,6,8 | 12 |
| Griffiths gnat | | 16,18,20 | 12 |
| Caddis Nymphs | Prince, pheasant tail, hares ear | 12-18 | 12 |
| Egg sucking leech | Pink /purple | 2,4,6 | 24 |
| Woolly buggers, Krystall buggers | Black, Olive, white,brown, cone head and regular | 2,4,6 | 18 |
| Wool head sculpin | Black, olive, | 2,4 | 24 |
| Marabou Muddler | black/yellow,brown, black/white,black | 2,4 | 24 |
| Beady leech | brown, black | 4,6,8, | 12 |
| Scuds | olive, gray | 14,16,18 | 12 |
| Mice: | Grayish brown | 2,4 | 4 |
Bring some of your favorite big and ugly dry flies or streamers with you, they will work!
Packing List
Chile Packing List
| Packed? | Item | Packed? | Item |
| --- | --- | --- | --- |
| | Airline Tickets | | Photo Id/Passport |
| | Cash | | Prescription Medicines |
| | 1 Gortex waders & repair kit - neoprene is not advised | | Traveler's Checks |
| | 1 Wading Shoes – no studs please | | Boat Bag |
| | 1 Rain jacket w/hood (top quality breathable ) | | Bug Spray |
| | 1 Heavy fleece jacket | | Sleeping bag (if camping) |
| | 1 Medium weight fleece top | | Camera / film/ batterries |
| | 2 Lightweight fleece or Polypropylene tops or turtlenecks | | Reading & writing materials |
| | 2 long sleeve lightweight fishing shirt | | Bandana/ face sun protector |
| | 3-7 pair underwear ( synthetic is better than cotton) | | Persription glasses |
| | 4 pair wool/ blend insulating socks for under waders | | spare perscriotion glasses |
| | 1 wool or fleece hat (ski type)- | | Toiletry Kit |
| | 1 cap with brim | | Zip lock bags (for lens cleaning cloth,, cash, etc) |
| | light fleece pants (under waders) – | | Fly Rods |
| | 2 - Pants (Long) | | Fly vest, or chest pack |
| | 1 Folding wading staff (optional) | | Reels |
| | 1 spare pair polarized sunglasses ( cheap is OK) | | Flies/Fly box |
| | Clippers | | Fly Lines |
| | Hemostat | | Tippets / leaders |
Rates
El Patagon Lodge Package Pricing
7 Nights / 6 Days of fishing
$6000 per person – 2 per room, 2 anglers per guide
Prices Include: round trip ground transportation from Chaiten to the lodge, lodging, three meals a day, guided fishing each day, soft drinks and wine for dinner. It also includes all taxes. Prices quoted are per person and in US dollars.
Prices do not include: Aifare from your home to Chaiten, alcoholic beverages (other than wine for dinner and a happy huor complementary cocktail), fishing license or gratuities for your guide and resort staff
Why Book Through Flyfishingheaven.com?
Why book through flyfishingheaven.com?
1. Unbiased Advice:
Most people recognize the advantage of our unbiased advice, there are hundreds of destinations to choose from and our job is to know the ones that are right for your needs. We offer the real story you can't get from a lodge owner. Would the outfitter in questions tell you are booking in a less than stellar part of the year? Remember our unbiased advice is 100% free!
2. We Can Book Anywhere:
Our website highlights many of our favorite destinations but we have access to hundreds more. If there are fish there, we can book it. In fact, we will give you 5% back if you book a trip through us that is not on our website! We enjoy learning about new spots!
3. Loyalty Discounts:
2017 Special: You are automatically enrolled in our loyalty program before your first trip and will get the 5% cash back on your very first trip. This offer is good until December 31, 2017. In January you will ear your loyalty discount on the second trip and every trip thereafter. This discount applies to all your friends who are going with you as well. f you organize a group of 8 or more we will give you 10% off! All you have to do is book the first trip and you are a flyfishingheaven.com frequent fisher!
4. Price Guarantee:
If you find a price lower than ours we will beat that price by 5% if you book through flyfishingheaven.com!
Our Pledge
We promise to work for you, not a lodge, outfitter or resort. We pledge to get you you to a destination that will live up to your expectations at the best possible price. You will never be charged more than booking directly (in fact most of our clients are paying less - *see below). We will make sure you are well prepared for your trip with specific knowledge about the gear, the flies, the rods, packing lists, travel documents, connecting information everything. Since we are not tied to a particular destination we promise honest pros and cons of any destination at the time of year you are traveling.

We do earn a small commission when we book a trip as all lodges and outfitters offer this as they depend on agencies like ours for much of their business. This fee is paid by the lodge not you, and they do not keep different prices for direct bookings vs agency bookings, it is bad business.
Payment and Cancelation Polices
A 10% deposit is required if you are booking more than 6 months in advance, 50% deposit is required when less than 6 months until departure date with the balance due 60 days prior to departure. If you are forced to cancel with more than 60 days notice, you may keep full credit towards another trip or receive a refund less a 10% service charge. Deposits on cancellations with less than 60 days notice are not refundable unless your spot can be filled. MC, Visa, and checks are accepted. We recommend travel and or medical emergency insurance for all our trips.
Seasons
The Seasons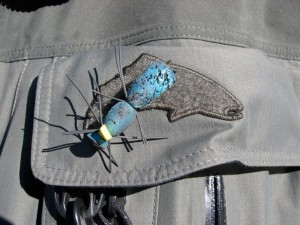 The fishing season officially opens in mid October and runs until the first Sunday in May. The best dry-fly fishing generally occurs from January to the end of March, although Nov. and Dec. are great spring months and very large trout on the move, generally taken on steamers, can make an angler's dream come true. March brings cooler mornings and evenings and the rivers reach their lowest volume, but the cooler days bring the truly big fish out of the lakes and into the rivers for spawning. The pre-spawn streamer fishing can be incredible from mid March to mid April. Those that want lots of big fish will endure fishing the shorter days in April, to have an experience of a life time going after very large trout with large dries.
Gallery
Photo Gallery
Please take a look at the  photo and video galleries related to the lodgee.

Fishing Photo Gallery
Lodge Photo Gallery
Scenic Photo Gallery
Video Gallery
Activities
Non-Fishing Activities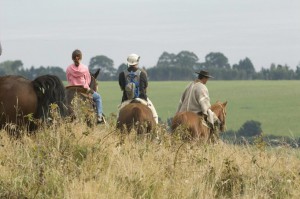 While there are many outdoor things one can do here at El Patagon, We suggest you investigate the trip to EL Patagon's sister lodge Yan Kee Way as there are a lot more things to do including: whitewater rafting, rock climbing, kayaking, mountaineering, horseback riding, wine tasting, culinary tours, mountain biking, biking, sailing and lots more!
Travel
Travel Information
Guests fly to Santiago, Chile and typically overnight there to relax and spend a day touring the city and its nightlife. The Lodge can then be accessed from Santiago via commercial airline to the local airport of Chaiten. From Chaiten you will be transferred to the lodge, by a lodge representative, via a 60 minute hour van transfer.
You will need a valid passport to travel to Chile. No visa is required for U.K or U.S.A citizens, other nationalities should check with their local consulate.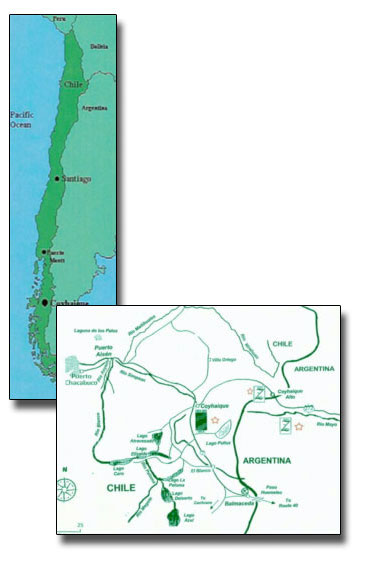 Packing List
Tropical Packing List
| √ | Packing Item | √ | Packing Item |
| --- | --- | --- | --- |
| √ | Passport | √ | Camera & media |
| √ | Photocopy of Passport (packed separately) | √ | Computer |
| √ | Airline tickets | √ | Cell Phone |
| √ | Itinerary with contact numbers | √ | Reading & writing materials |
| √ | Emergency Medical insurance docs ( if purchased) | √ | Rod repair (tip top and glue) |
| √ | Major credit card | √ | Sun gloves |
| √ | Cash for tips (there are a couple ATMs in San Pedro but they may not be working)) | √ | Face Sun protection (buff) |
| √ | 2 Hats with brim and neck guard (or sun hat for non anglers) | √ | Sunburn relief spray |
| √ | 2-4 long sleeve shirts for fishing (SPF fabric) | √ | Sunscreens SPF 30 or above |
| √ | 2 quick dry pant for fishing (SPF fabric) | √ | Sun block for lips and nose |
| √ | 2 quick dry shorts for fishing (SPF fabric) | √ | Toiletries |
| √ | White socks (tops of feet get burned in the boats or wear under wading shoes) | √ | Prescription meds |
| √ | Underwear | √ | Non-prescription Meds |
| √ | Casual pants or shorts | √ | Eyeglasses (and spare) |
| √ | Casual shirts, short sleeve | √ | Fly Rods |
| √ | Sandals | √ | Reels |
| √ | Belt | √ | Fanny or other small fishing pack |
| √ | Light sweater or fleece | √ | Water bottle ( Holster optional) |
| √ | Socks | √ | Waterproof boat bag |
| √ | Wading shoes | √ | Lines |
| √ | Bathing suits, | √ | Leaders |
| √ | T- Shirts | √ | Tippet |
| √ | Sandals or walking shoes ( Barefoot is good) | √ | Flies |
| √ | Rain jacket (an occasional cold squall will roll though or the boat spray may chill you to the bone!) | √ | Nippers |
| √ | Bug repellent (for dead clam days or evenings) | √ | Pliers/forceps |
| √ | Sunglasses (polarized with lanyard) | | |