Overview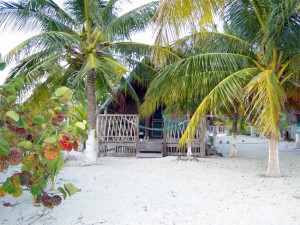 We offer this destination as one of our favorite spots in the world. It is not for everyone as the cabanas are charming but some would find this charm too rustic. Solar electricity means no air-conditioning or TV's but it also means peace, quiet and some great friendships. You can imagine Ernest Hemingway setting up shop for a year or two here. The Sian Kaan Biosphere Preserve in Mexico is the perfect wilderness for fly fishing fanatics and their intrepid mates! Bonefish, permit and tarpon abound on the sandy bottom, wadeable flats of Ascension Bay.
Your trip begins with your arrival at the airport in Cancun. Depending on your travel plans we will meet you up at the airport and head south along the Caribbean coast on Highway 307. Perhaps we will stop to get some lunch or dinner along the way in Playa Del Carmen. Remember, the last place to buy anything or pick up extra cash is in Playa Del Carmen, a cute seaside town.
Read More about Cuzan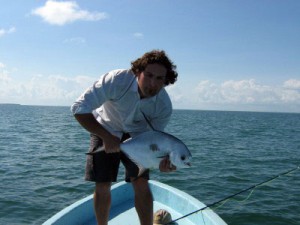 After an hour and a half on 307 we pass The famous Tulum Archeological site and turn down a dirt road that leads to the Sian Kaan Biosphere along the Punta Allen peninsula. Before long the road deteriorates to the point that we virtually stop to crawl over some huge pot holes! There is jungle vegetation either side of us with an occasional glimpse of the Caribbean on our left or the lagoon on our right. We enter the Biosphere and the road gets worse (the good news is this is what keeps most people away).
The next landmark is The Boca Paila Fishing Lodge and the Boca Paila cut that divides the peninsula and creates an island for the rest of our journey. Finally after bouncing around in the van while passing several views of long deserted beaches we enter Punta Allen the small lobstering village of 400 which is our base of operations.
The fisherman will meet right after breakfast at the dining room and head out for a long day of bonefishing. Sometimes the weather dictates where we go other times a calm day means we can go anywhere! There are flats just a few minutes from the lodge and some of the most spectacular flats near the Tres Marias islands are about 45 minutes away. The flats are perfect hard bottom shallow flats that are perfect for wading. They are very light in color and stretch out for miles. Wading allows both anglers in the boat to fish and gets us closer to the fish. The flies we use tend to be lighter versions of the typical bonefish flies. These fish hang out in very thin water so sometimes no weight at all is best. Brown or pink seen to be the hot colors with tan and white a close second!
Testimonials!
I just loved this place, a perfect marriage of fishing, adventure and peace
I knew almost nothing about this place but I was indeed positively surprised. Fished for 4 days (with José) and had a great time. Top-notch guide! The food is very good, but you better like fish and seafood since almost every meal is based on it. The road from Tulum is not as bad as some (older) pages on the web claims it to be so you definitely don't need a 4WD or SUV to get there.
To sum it up… great fishing/guiding, awesome hospitality, good food, cozy lodging at the beach and a very nice scenery.
Lodging
The lodge is located on the tip of the Punta Allen Peninsula which extends into the northern edge of Ascension Bay. Since it is in the preserve the town and lodge have to maintain its original intent, look , number of rooms and hence it maintains an old world charm that has long been lost on the rest of the Yucatan.
Our cabanas are thatched roof individual buildings about 225 square feet with a large private bathroom. Electricity is solar powered and limited but it powers fluorescent lights in our cabana. The water for your bathroom is heated by solar and natural gas and is quite fresh. Even so you should only drink the purified bottled water we provide throughout your stay here. There is no air conditioning in the cabanas, just a Caribbean breeze! There is also a pair of rooms in the main house known as the "Studios" which are perfect for a couple. Since there is little electricity air- conditioning is not available and there are no TV's, phones or faxes on the room. Some folks may find this too rustic while others find it a perfect blend of island charms. It is not good fit for your trip.
Dining
The Dining room is a round palapa with a white sand floor (actually the entire town has a white sand floor) with 4 tables and plenty of chairs. We keep coolers with Cervesa or soft drinks for you to enjoy anytime with a full bar as well. Many evenings we will eat outdoors under the stars.
The dining room is our central meeting area where we'll meet in the evening and morning . Meals are a variety of Mayan dishes and some fabulous fresh seafood. After dinner we'll plan the next day's activities. Who will be paired up for fishing and where we will go.
For those who aren't fishing the next day we can plan a snorkeling trip out to the nearby reef, a birdwatching excursion, a kayaking exploration on your own, or perhaps an ecological tour of the Sian Kaan Preserve, a day to visit the ruins at Tulum or Coba, a fly fishing lesson or just refuse to do anything and get back to that book and pick out the hammock you want for the day.
Lodge Photos
Fishing
The Sian Kaan Biosphere in Mexico surrounds Ascension Bay and it is one of my favorite winter destinations for a few reasons: first; the quality of the fishery, second; the isolation of the area, and third; it's unique ability to please both the avid beachcomber and the fanatical flyfisher (myself being the latter and my partner Lisa being the former). Sian Kaan means "where the land meets the sky" and the light that emanates here is a surreal mixture of purples and Caribbean turquoise. It really is difficult to distinguish between land, sky and water at times.
The most exciting Saltwater fishing I've done is flats fishing for bonefish, permit and tarpon, The Sian Kaan Reserve in Ascension Bay has hundreds of miles of flats to wade6. Sneaking up on a bonefish feeding in 4″ of water is the first test, dropping the fly just far enough ahead as not to spook him is the second, being patient enough not to set the hook to soon as he takes is the third and keeping the line clear on that blistering first run is the final exam. By the end of the week you'll be one with the "macabi"(local name)6, a fish you'll never forget. Slightly off the edge of the shallow flats are permit and in the warmer months tarpon are available as well as snook. But the jewel of this fishery are the bonefish, the macabi. ore grand slams are caught here than anywhere else in the world. Most of the fishing is wading once we get to the flats because some are so shallow (4″-6") that the boats are useless! Its also much more effective to wade for these fish as you can get much closer to them. It also allows both anglers in the boat to be fishing at the same time.
Read More About the Fishing
The isolation of the area is hard to come by on a coast as beautiful as this. Luckily the Mexican Government has declared the area an ecological preserve forbidding any development in the Sian Kaan Biosphere (Reserve).This includes the 200 miles of coastline around Ascension Bay and Punta Allen. We use local guides and boats in keeping with the guidelines of the UN rules to encourage locals to earn a living from the preserve without causing harm to it. Flyfishing has been identified as an acceptable activity in the preserve as long as a licensed preserve guide is employed. There are flats as close as 5 minutes to our cabanas and as far away as an hour and everywhere in between! There are so few fisherman and so many fish!
The most important reason we've set up this destination is its warm, idyllic setting for all, whether you fish a little, a lot or not at all, you will be totally relaxed by the end of the week. In fact it is not uncommon to lose track of your shoes because you just don't need them here! No phones, no faxes no TV's, and no computers. We do have limited electricity in our cabanas and plenty of hot water, good food, and lots of laughter!
The fish, the remote location and the picture perfect vacation spot, Come join us in Flyfishing Heaven (AKA Beachcombers Heaven)
Fishing Photo Gallery
Tackle & Gear
Here is a list of the basics you will need for your trip.  Many of our destinations are pretty remote with no chance to buy things on site.
Caribbean Gear List
Species
Rods
Reels
Line
Leaders
Bonefish
9 foot 8 or 9 wt. (maybe a 10 wt. on a windy day)
Large Arbor Disc drag reel with 200 yards of 20 lb. backing.
Floating tropical line
9 ft-12 ft leaders with 10-12 lb. tippet.
Permit
9 foot 9 or 10 wt.
Large Arbor Disc drag reel with 200 yards of 25 lb. backing.
Floating tropical line
9-14 ft leaders with 12-15 lb. tippet.
JuvenileTarpon
9 foot 10 wt.
Large Arbor Disc drag reel with 300 yards of 30-40 pound backing.
#1 Floating tropical line
#2 Floating with clear sink tip
9-12 ft leaders with 25-30 lb. class tippet and 60 lb shock tippet.
Large Tarpon
9 foot 12 wt.
Large Arbor Disc drag reel with 300 yards of 40-50 pound backing.
#1 Floating tropical line
#2 Floating with clear sink tip
#3 Full intermediate sink line
9-12 ft leaders with 25-30 lb. class tippet and 80 lb shock tippet.
Barracudas,
Sharks
9 foot 9-12 wt.
Large Arbor Disc drag reel with 300 yards of 40-50 pound backing.
#1 Floating tropical line
#2 Floating with clear sink tip
6-9 ft leaders with 20-30 lb. steel bite tippets.
Fly List
Tie a few patterns with just the weight of the eyes as a variable 1 with lead eyes, 1 with chain, 1 with small chain, and 1 with no weight or mono eyes just to make sure you have flies for very skinny water all the way to waist deep water. Presentation seems to be much more important than fly selection.

Fly Name
Colors
Sizes
Qty for a 1
Week Trip
Toad Fly
chatreuse, olive, tan, purple/black
1, 1/0
12
Cockroach
standard
1/0, 2/0
4
Black Death
white, tan
1/0, 2/0
4
Purple Demon
purple/black
1/0, 2/0
4
Layup tarpon fly
brown, chatreuse ,yellow
1, 1/0
6
Enrico's Tarpon Streamer
Purple & Black
2/0
4
Enrico's Tarpon Pinfish
Olive/white
3/0
4
Del's Merkin
tan/brown
1/0, 2, 4
6
Turneffe Crab
Cream, olive
2, 4, 6
4
Clouser minnow
chatr/white
1/0-2/0
6
Bonefish CLouser
assorted
4-6
12
Crazy Charlie
bead eye
pink,white,tan,brw
4, 6, 8
12
Moe bonefish
amber, pink
4
6
Christmas Island Specials
pink, orange
6, 8
18
Gotcha
standard
4, 6, 8
12
Packing List
Tropical Packing List
| √ | Packing Item | √ | Packing Item |
| --- | --- | --- | --- |
| √ | Passport | √ | Camera & media |
| √ | Photocopy of Passport (packed separately) | √ | Computer |
| √ | Airline tickets | √ | Cell Phone |
| √ | Itinerary with contact numbers | √ | Reading & writing materials |
| √ | Emergency Medical insurance docs ( if purchased) | √ | Rod repair (tip top and glue) |
| √ | Major credit card | √ | Sun gloves |
| √ | Cash for tips (there are a couple ATMs in San Pedro but they may not be working)) | √ | Face Sun protection (buff) |
| √ | 2 Hats with brim and neck guard (or sun hat for non anglers) | √ | Sunburn relief spray |
| √ | 2-4 long sleeve shirts for fishing (SPF fabric) | √ | Sunscreens SPF 30 or above |
| √ | 2 quick dry pant for fishing (SPF fabric) | √ | Sun block for lips and nose |
| √ | 2 quick dry shorts for fishing (SPF fabric) | √ | Toiletries |
| √ | White socks (tops of feet get burned in the boats or wear under wading shoes) | √ | Prescription meds |
| √ | Underwear | √ | Non-prescription Meds |
| √ | Casual pants or shorts | √ | Eyeglasses (and spare) |
| √ | Casual shirts, short sleeve | √ | Fly Rods |
| √ | Sandals | √ | Reels |
| √ | Belt | √ | Fanny or other small fishing pack |
| √ | Light sweater or fleece | √ | Water bottle ( Holster optional) |
| √ | Socks | √ | Waterproof boat bag |
| √ | Wading shoes | √ | Lines |
| √ | Bathing suits, | √ | Leaders |
| √ | T- Shirts | √ | Tippet |
| √ | Sandals or walking shoes ( Barefoot is good) | √ | Flies |
| √ | Rain jacket (an occasional cold squall will roll though or the boat spray may chill you to the bone!) | √ | Nippers |
| √ | Bug repellent (for dead clam days or evenings) | √ | Pliers/forceps |
| √ | Sunglasses (polarized with lanyard) | | |
Rates
Cuzan Fishing Prices
Number of nights
Number of days fishing
Fishing
2 to a boat, 2 to a room

Fishing
1 to a boat, 1 to a room

Couples Fishing
1 to a boat
2 to a room
7
6
$2750
$3200
$5500/couple
6
5
$2450
$2850
$4900/couple
5
4
$2150
$2450
$4300/couple
4
3
$1850
$2100
$3700/couple
3
2
$1550
$1464
$3100/couple
Ground transportation from Cancun to Cuzan is NOT included in the above price chart: Many people rent a car and make the scenic drive themselves with some time for sightseeing. Major car rental agencies are available in Cancun. An economy car is approximately $35/day or $150-200/week. We can provide transportation for your group. The total round trip van service for a group of 1-3 is $450, 4-6 is $750.
Prices Include: All lodging, three meals a day, guided fishing each day ( for fishing packages), It includes soft drinks. It also includes all taxes. Prices quoted are in US dollars.
Prices do not include: Alcoholic beverages, fishing license or gratuities for your guide and resort staff
Why Book Through Flyfishingheaven.com?
Why book it through us when you could book direct?
1. Unbiased Advice:
Most people recognize the advantage of our unbiased advice, there are hundreds of destinations to choose from and our job is to know the ones that are right for your needs. We offer the real story you can't get from a lodge owner. Would the outfitter in questions tell you are booking in a less than stellar part of the year? Remember our unbiased advice is 100% free!
2. We Can Book Anywhere:
Our website highlights many of our favorite destinations but we have access to hundreds more. If there are fish there, we can book it. In fact, we will give you 5% back if you book a trip through us that is not on our website! We enjoy learning about new spots!
3. Loyalty Discounts:
2017 Special: You are automatically enrolled in our loyalty program before your first trip and will get the 5% cash back on your very first trip. This offer is good until December 31, 2017. In January you will ear your loyalty discount on the second trip and every trip thereafter. This discount applies to all your friends who are going with you as well. f you organize a group of 8 or more we will give you 10% off! All you have to do is book the first trip and you are a flyfishingheaven.com frequent fisher!
4. Price Guarantee:
If you find a price lower than ours we will beat that price by 5% if you book through flyfishingheaven.com!
Our Pledge
We promise to work for you, not a lodge, outfitter or resort. We pledge to get you you to a destination that will live up to your expectations at the best possible price. You will never be charged more than booking directly (in fact most of our clients are paying less - *see below). We will make sure you are well prepared for your trip with specific knowledge about the gear, the flies, the rods, packing lists, travel documents, connecting information everything. Since we are not tied to a particular destination we promise honest pros and cons of any destination at the time of year you are traveling.

We do earn a small commission when we book a trip as all lodges and outfitters offer this as they depend on agencies like ours for much of their business. This fee is paid by the lodge not you, and they do not keep different prices for direct bookings vs agency bookings, it is bad business.
Payment and Cancelation Polices
A 10% deposit is required if you are booking more than 6 months in advance, 50% deposit is required when less than 6 months until departure date with the balance due 60 days prior to departure. If you are forced to cancel with more than 60 days notice, you may keep full credit towards another trip or receive a refund less a 10% service charge. Deposits on cancellations with less than 60 days notice are not refundable unless your spot can be filled. MC, Visa, and checks are accepted. We recommend travel and or medical emergency insurance for all our trips.
Seasons
Ascension Bay Fishing Calendar
| Month | Bonefish | Permit | Tarpon |
| --- | --- | --- | --- |
| January | Good | Good | Fair |
| February | Good/Excellent | Good/Excellent | Fair |
| March | Good/Excellent | Excellent | Fair |
| April | Good/Excellent | Excellent | Good |
| May | Excellent | Excellent | Excellent |
| June | Excellent | Good/Excellent | Excellent |
| July | Excellent | Good/Excellent | Excellent |
| August | Excellent | Good/Excellent | Excellent |
| September | Excellent | Good | Good |
| October | Excellent | Good | Fair |
| November | Good/Excellent | Good | Fair |
| December | Good | Fair | Fair |
Gallery
Please take a look at the  photo and video galleries related to Andros South.

Fishing Photo Gallery
Lodge Photo Gallery
Scenic Photo Gallery
Video Gallery
Activities
Lisa and I have arranged what we think is the perfect vacation for the fishing nut and the partner of the fishing nut! As you know every fishing nut dreams that their mate will finally see the light and become a fellow fishing nut. To this end we offer top notch flyfishing instruction, women only boats, and patient guides. You can go out to fish for a half day and spend the rest with a good book in a hammock or explore the miles of deserted shoreline. The amount of fishing you do or don't do is up to you. The real secret is that we also offer lots of stuff to do besides fishing: incredible deserted beaches, guided reef snorkeling, kayaking, bird watching, or we have day trips to explore the nearby Mayan ruins at Tulum or swim with the dolphins at Xacaret! All in a setting so peaceful you can't believe your fishing nut mate wants to be here to!
Travel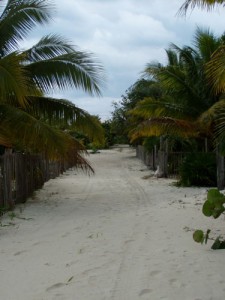 You will fly to Cancun International Airport. ………You will be staying at the Cuzan Guest House in Punta Allen
You will need a passport to enter Mexico and return to the US.
Dollars or Pesos are accepted everywhere even in Punta Allen……….. The last ATM is in Playa Del Carmen 2.5 hours away.
If you are renting a car: We use Budget and reserve cars from here in the US. It is best actually to rent a small car with a short wheelbase that will be better in the bumpy roads near Punta Allen. Hint: When asked at the rental counter where you are staying we always answer "Tulum" as they know Punta Allen's road is a disaster and will inspect your car more thoroughly when you return it. The Budget agent will go over the car thoroughly when you pick it up, marking all scratches dents etc. do pay attention as they do this. When you return you will be charged with any new dents and scratches. If you don't buy collision insurance (I don't) they will make a second copy of your credit card and make you sign it. The damage will be charged to that card and it will be up to you to straighten it out with your insurance or credit card company. There is no way around this.
If you have hired our Van Service: Look for a driver with your group leader name in hand or "Cuzan" sign on your way out after going through customs. If for any reason you can not find the van service the local contact for them in Cancun is Telephone: (998) 887 6967 AGI Tours 24 Hour Manager on Duty: (998) 842-3185 or
Phone/Fax (998) 887 2359 (998) 845-7161
*Most phones in Cancun you will not dial the area code of 998
Phone: Cuzan has an office in a town about 2 hours from Punta Allen. (983-4-03-58) Your reservation is listed under your last name. There is no phone at the lodge itself. There is a phone in the town of Punta Allen. It is a souped up cellular in a private home. They dial the number for you and then time how long you are on the line!! It usually works pretty well. If you need to use it ask the staff at Cuzan and they can direct you to it.
Driving Directions to Punta Allen and the Cuzan Guest House: From the Cancun Airport take 307 south, all the way to the Tulum Ruins. Make sure you have at least 3/4 of a tank of gas before you proceed past Tulum (last gas station) You will take the first left at a light after the ruins onto an unmarked but paved road. If you enter the town of Tulum on 307 you have past this turn off. The road comes to a T in about a kilometer and you take a right. The road will turn to dirt shortly as you pass views of the sea and numerous cabanas and small hotels. There are no more turns to make! You may be stopped at roaming army checkpoints; they are routine and nothing to be alarmed about. They are looking for weapons and drugs so don't bring either! When you enter the preserve there is a large arch where you will be greeted by a ranger that will ask you to fill out a line in their guest book and perhaps ask you for a small donation to the preserve. Buy a T-shirt instead or chip in $5 to the cause! The road is graded every other year or so and it is in average shape but a rainy season can change things in a hurry. Go slow and look for potholes. When you reach the Boca Paila Bridge and you are about 2/5 the way there. Once you enter Punta Allen continue straight down the road, which will stay next to the ocean, you will see signs for Cuzan. (Usually the sand is soft in front of Cuzan and I get stuck) If you go to the end of the road you have gone 100 yards too far!!
Average Tips: $40-60 per day per boat (split if you are sharing the guide, give this directly to your guide at the end of your trip)- $10-15/day/person for the cooks and waitstaff – $2-5/day/person for housekeeping (Give both of these to the manager settling your tab at the end of the trip) $20 per way/per van for a van driver if applicable (may be different drivers each way)
Alcohol: There is a full bar on the grounds. A tab will automatically be run till your last day. Settle the tab and give tips on your last day
Packing List
Tropical Packing List
| √ | Packing Item | √ | Packing Item |
| --- | --- | --- | --- |
| √ | Passport | √ | Camera & media |
| √ | Photocopy of Passport (packed separately) | √ | Computer |
| √ | Airline tickets | √ | Cell Phone |
| √ | Itinerary with contact numbers | √ | Reading & writing materials |
| √ | Emergency Medical insurance docs ( if purchased) | √ | Rod repair (tip top and glue) |
| √ | Major credit card | √ | Sun gloves |
| √ | Cash for tips (there are a couple ATMs in San Pedro but they may not be working)) | √ | Face Sun protection (buff) |
| √ | 2 Hats with brim and neck guard (or sun hat for non anglers) | √ | Sunburn relief spray |
| √ | 2-4 long sleeve shirts for fishing (SPF fabric) | √ | Sunscreens SPF 30 or above |
| √ | 2 quick dry pant for fishing (SPF fabric) | √ | Sun block for lips and nose |
| √ | 2 quick dry shorts for fishing (SPF fabric) | √ | Toiletries |
| √ | White socks (tops of feet get burned in the boats or wear under wading shoes) | √ | Prescription meds |
| √ | Underwear | √ | Non-prescription Meds |
| √ | Casual pants or shorts | √ | Eyeglasses (and spare) |
| √ | Casual shirts, short sleeve | √ | Fly Rods |
| √ | Sandals | √ | Reels |
| √ | Belt | √ | Fanny or other small fishing pack |
| √ | Light sweater or fleece | √ | Water bottle ( Holster optional) |
| √ | Socks | √ | Waterproof boat bag |
| √ | Wading shoes | √ | Lines |
| √ | Bathing suits, | √ | Leaders |
| √ | T- Shirts | √ | Tippet |
| √ | Sandals or walking shoes ( Barefoot is good) | √ | Flies |
| √ | Rain jacket (an occasional cold squall will roll though or the boat spray may chill you to the bone!) | √ | Nippers |
| √ | Bug repellent (for dead clam days or evenings) | √ | Pliers/forceps |
| √ | Sunglasses (polarized with lanyard) | | |