Overview
Fly Fishing New Zealand – Owen River Lodge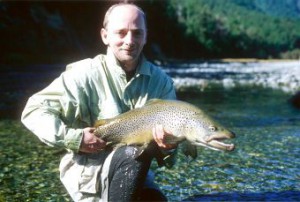 Here is an introduction to Owen River Lodge by the owner and builder himself:
Welcome to the Owen River Lodge on FlyFishingHeaven.com, New Zealand's newest and perhaps finest, 5 star fishing lodge. My name is Felix Borenstein; I'm the owner and manager of the Owen River Lodge. I first started fly fishing in Australia, (my home country) in 1995. Overnight my life changed! – I became absolutely addicted. Before I knew it, I'd visited the South Island of New Zealand some 19 times.
It became obvious to me that the Murchison / Nelson Lakes region has the best brown trout fishery in the world. Never mind visiting, I wanted to develop a contemporary styled fly fishing lodge there. It was my desire to create a lodge that offers a relaxed, highly professional, understated service, in stylish surrounds serving wonderful food to travelling anglers and non anglers alike.
Our guest accommodation cottage suites are full of sunlight, elegant in design with stunning views of the river and the Owen Ranges. In October 2005 the lodge was awarded with a Qualmark rating of 5 stars -"Exceptional – among the best available in New Zealand". Qualmark is New Zealand tourism's official quality rating system for accommodation providers.
Some Reasons to Visit Owen River Lodge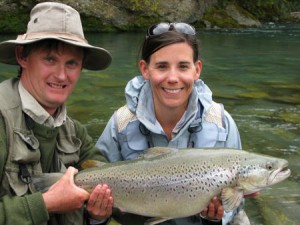 I'd like you to think of our lodge as your private retreat. Our goal is to combine fabulous service, warm and inviting accommodations, fantastic fly fishing and other activities to make this a vacation your family will delight in for years to come.
Several things make that task easier…… like the big trout to the left!
* New Zealand has the best sighted trout fishery in the world
* Fantastic dry fly and nymph fishing
* There are literally hundreds of rivers, streams and lakes
* Our location and facilities are truly spectacular
* The friendly and professional staff and guides at Owen River Lodge
* The myriad of non fishing things to do in the Murchison / Nelson Lakes region
Fly fishing for trout is my passion; come on over and let my team show you some fantastic Kiwi/Australian hospitality! Fly fishing heaven – Kiwi Style!
Lodging
Owen River Lodging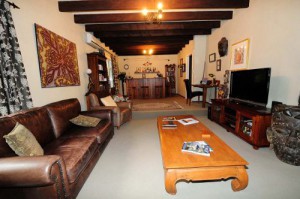 Owen River Lodge is a boutique contemporary styled, 5 star rated fishing lodge, which opened in November 2003. We are located near Murchison, in the Owen Valley, in the Nelson Lakes district of the South Island of New Zealand. This unique location places us right in the middle of the best brown trout fishery in the world.
We are situated 2 kilometers down a country lane from the main highway, a leisurely 90 minute drive from Nelson or approximately 3.5 hours from Christchurch. Immerse yourself in the luxurious, warm and inviting ambiance that is Owen River lodge. Forget about the outside world; come and soak up the stylish, cool, understated environment of Owen River Lodge.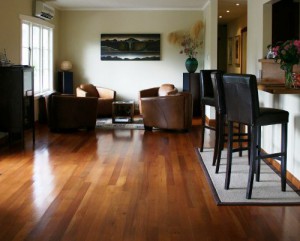 The views from the Lodge and guest cottages are breath taking, with sensational views of the Owen River, the valley and Mount Owen. The lodge sits on the bank of the Owen River, ideal for that quiet after-dinner cast during the evening rise. The food at Owen River Lodge could best be described as stunning. We use the very best of fresh, locally sourced produce. Naturally the tariff includes all meals and non alcoholic beverages.
The lodge has two lounge areas. One of these is equipped with a TV/Video Player and DVD player, together with a Notebook PC for you to check e-mails etc. For the technologically obsessed we have a wireless network with satellite delivered broadband.
Read More about Owen River Lodge
Our facilities comprise of the main lodge building which includes the dining room, lounge room, sitting room and of course, the bar. On the lodge grounds, just past our vegetable gardens you will find the massage/therapy room & our outdoor Jacuzzi/spa. To ensure your absolute privacy, guests are accommodated in cottages located in the garden with stunning views of the river, the valley and the mountains beyond. The cottages were constructed in 2003, when the main lodge was extended and extensively refurbished.
The lodge is situated on 16 acres of gardens and farmland, with almost 1 kilometer of absolute river frontage to the Owen River. The lodge is first and foremost a fly fishing lodge; however, we certainly cater for non fishing guests as the Nelson/Marlborough region has a myriad of non fishing things to do.
The lodge has had numerous accolades including:
* 2007 – Hotel Club listed the Lodge as a finalist in their top hotels of Australasia & the Pacific
* 2006 – Luxury Travel Magazine (Australian edition) listing Owen River Lodge in their "Top 20" luxury fishing resorts of the world.
* 2005 – Luxury Travel Magazine (USA edition) listed the lodge in their list of "World's Best New Hotels"
Our priority is to offer our guests friendly and unpretentious hospitality. We aim to provide you with the very best holiday/vacation possible. We would like you to think of our lodge as your private club.
The Cottages at Owen River
The luxuriously appointed guest cottages are located in the gardens, just a short stroll from the main Lodge building. The cottages enjoy stunning views of the river, the valley and the mountains beyond, with the delightful sound of the river in the background. Each guest cottage can be configured with either a king-size double bed or twin king-size single beds. There are 6 cottages, giving us a total capacity of 12 guests.
The cottages feature original Australasian fine art works and 100 year old recycled Oregon beams and woodwork. Their design emphasises light and space, accentuated by the soaring cathedral type ceiling.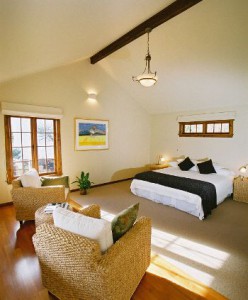 Each guest cottage suite is equipped with reverse cycle air conditioning, an electronic safe, ironing facilities, an alarm clock, mini bar – stocked with complimentary soft drinks & premium fruit juices and tea & coffee making facilities. All suites have an en suite bathroom equipped with oversized towels, bathrobes, a hairdryer and, of course, shower gels, body lotion, shampoo and conditioner. Spacious verandas provide a great location for a late afternoon reading session as the sound of the river murmurs up from below.
Alternatively, you can watch for rising trout, or just soak up the breathtaking views.
Lodge Photos
Fishing
Fly Fishing New Zealand and Owen River Lodge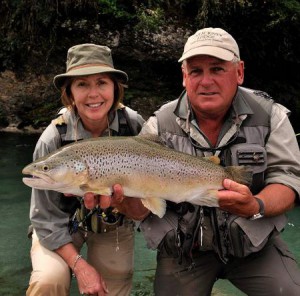 You may have heard New Zealand's rivers described as being "Gin Clear" – well it's true! Imagine stalking a 10lb brown trout in water, so clear, that water which looks 12 inches deep is actually up to your waist!
Owen River Lodge is located near Murchison, in the Nelson Lakes area of the South Island (the top of the South Island). While mountains and forests abound, the area enjoys a remarkably mild climate.
The lodge is centrally located, with easy access to the Nelson and West Coast Fisheries. Thus you can enjoy fly fishing on numerous blue-ribbon streams and rivers, with over 30 waters accessible by road (most within 1 hours drive) and countless others by helicopter.
The region is renowned as a brown trout fishery, but there are rainbows as well with the average trout size ranging from 3lb to 6lb (there's nothing average about that!). And our fishery has granted many an angler's dream of landing a 10 pounder. Naturally, our rates include the use of all the fishing gear you may need. Indeed, the lodge has the world's best equipment available for our guest use. Simms Guide Gore-Tex waders (ladies & mens sizes available), Simms Gore-Tex wading jackets, Simms Guide wading boots – size 5 up to size 14, Sage Rods & Reels and Lamson Reels. The Owen River Lodge team offers friendly, professional service for both experienced and novice fly fishers.
The Waters Near Owen River Lodge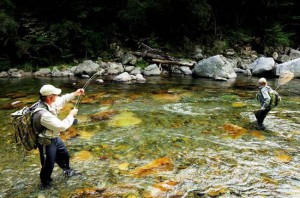 We have listed some of the rivers located within these regions. But, you don't need to drive far from the lodge, indeed the Owen River and the Fyfe River provide fantastic fly fishing and are right on the lodge's doorstep!
Nelson/ Marlborough Region
Trout fishing river South Island New Zealand Acheron, Alma, Aorere, Buller, Clarence, Cobb, Conway, D'Urville, Gowan, Goulter, Leatham, Mangles, Nunnya, Matiri, Matakitaki, Maruia, Motueka, Motupiko, Owen, Opawa, Patarau, Pelorus, Riwaka, Rahu, Rai, Sabine, Spring Creek, Severn, Saxton, The Branch, Travers, Takaka, Wangapeka, Waimea, Woolley, Wairau and Waihopai.
West Coast Region
Inangahua, Jackson, Jacobs, Karamea, Karangarua, Kaniere, Kokatahi, Landsborough, La Fontaine Stream, Leslie, Little Wanganui, Martyr, Moeraki , Mikonui, Mokihinui, Mawheraiti, Moonlight, Nancy, Nicholas Stream, Ohikanui, Orangipuku, Okuru, Paringa, Roaring Lion, Rough, Styx, Tutaekuri, Trent, Taramakau, Toaroha, Totara, Thomas, Turnbull, Ugly, Waitahu, Waikiti, Waiheke, Whataroa, Waitangitaona and Waiatoto River.
Many of these rivers can be accessed by road and hiking while others may require a helicopter to get in the back country.
Fishing Photo Gallery
Tackle & Gear
Here is a list of the basics you will need for your trip.  Many of our destinations are pretty remote with no chance to buy things on site.
New Zealand Gear List
Species
Rods
Reels
Line
Leaders
Large Browns and Rainbows
9 foot, 5-6-7 wt.
Large Arbor with 150 yards of 20 pound backing
#1 Floating easy to mend camo line, bright colored lines are only used at dusk if ever!
Leaders fished are generally 12' - 15'. Bring leaders that are at least 9' tapering to a minimum of 3X.
Tippet sizes range from 3X - 5X depending upon river flow and water clarity.

Small stream fishing
9 foot, 4-5 wt.
Basic reel with 100 yards of 20 lb. backing.
#1 Floating easy to mend camo line, bright colored lines are only used at dusk if ever!
Leaders fished are generally 12' - 15'. Bring leaders that are at least 9' tapering to a minimum of 3X.
Tippet sizes range from 3X - 5X depending upon river flow and water clarity.

Fly List
New Zealand Fly Selection
Type
Color
Size
QTY
Elk Hair Caddis
Tan,
Gray
12-14 -16
12
Royal Wulff
12-14-16
12
Adams
12-14-16-18
12
Parachute Adams
12-14-16 -18
12
Humpy
yellow, red, green, black
12-14-16
12
Hoppers (Dec - Feb)
6-10
6
Quigley's Cripple
12-14
6
spent spinner patterns
various
14-16-18
6
No-Hackle, CDC
various
14-16-18
6
Klinkhamer Special
10-14
6
Pheasant Tail Nymph
10-12-14-16
6
Whitlock's Red Fox Squirrel
10-12-14
6
Gold Ribbed Hare's Ear
10-12-14
6
Zug Bug
10-12-14
6
Prince Nymph
10-12-14
12
Borger's Red Brown Nymph
10-12-14
6
La Fontaine's Deep Sparkle Pupa
10-12-14
6
bead head versions of above
10-12-14
36
all nymphs should be weighted with lead wire while tying
Packing List
New Zealand Packing List
| Packed? | Item | Packed? | Item |
| --- | --- | --- | --- |
| | Airline Tickets | | Photo Id/Passport |
| | Cash | | Prescription Medicines |
| | 1 Gortex waders & repair kit - neoprene is not advised | | Traveler's Checks |
| | 1 Wading Shoes – no studs please | | Boat Bag |
| | 1 Rain jacket w/hood (top quality breathable ) | | Bug Spray |
| | 1 Heavy fleece jacket | | Bug head net |
| | 1 Medium weight fleece top | | Camera / film/ batterries |
| | 3 Lightweight fleece or Polypropylene tops or turtlenecks | | Reading & writing materials |
| | 2 long sleeve lightweight fishing shirt | | Bandana/ face sun protector |
| | 3-7 pair underwear ( synthetic is better than cotton) | | Persription glasses |
| | 4 pair wool/ blend insulating socks for under waders | | spare perscriotion glasses |
| | 1 wool or fleece hat (ski type)- | | Toiletry Kit |
| | 1 cap with brim | | Zip lock bags (for lens cleaning cloth,, cash, etc) |
| | 2 pair fleece pants (under waders) – | | Fly Rods |
| | 2 - Pants (Long) | | Fly vest, or chest pack |
| | 2 pair Polypropylene long underwear bottoms | | Reels |
| | 1 pair water proof boots for around camp | | Flies/Fly box |
| | 1 pair fishing gloves - fingered or fingerless | | Fly Lines |
| | 1 polarized sunglass - as good as you can get! | | Tippets / leaders |
| | 1 spare pair polarized sunglasses ( cheap is OK) | | Clippers |
| | 1 Folding wading staff (optional) | | Hemostat |
Rates
Owen River Lodge Fishing Prices
Number of nights
Number of days fishing
Fishing
2 to a guide, 2 to a room Spring orFall*
Fishing
2 to a guide, 2 to a room Summer*
Non - fishing
7
6
NZ $ 6300
NZ $ 7850
NZ $ 4025
6
5
NZ $ 5500
NZ $ 6700
NZ $ 3450
5
4
NZ $ 4525
NZ $ 5525
NZ $ 2875
4
3
NZ $ 3540
NZ $ 4340
NZ $ 2300
Helicopter fly outs can be arranged at an additional charge.
Prices Include: 5 star luxury accommodation, all meals i.e. a three course dinner, cooked English breakfast, picnic lunch daily, use of our fly fishing equipment and 6 days of expert guiding with one of our senior fly fishing guides It also includes all taxes. Prices quoted are per person and in NZ dollars at this writing a New Zealand dollar is worth .84 US dollars.
Prices do not include: fishing license or gratuities for your guide and resort staff
Why Book Through Flyfishingheaven.com?
Why book through flyfishingheaven.com?
1. Unbiased Advice:
Most people recognize the advantage of our unbiased advice, there are hundreds of destinations to choose from and our job is to know the ones that are right for your needs. We offer the real story you can't get from a lodge owner. Would the outfitter in questions tell you are booking in a less than stellar part of the year? Remember our unbiased advice is 100% free!
2. We Can Book Anywhere:
Our website highlights many of our favorite destinations but we have access to hundreds more. If there are fish there, we can book it. In fact, we will give you 5% back if you book a trip through us that is not on our website! We enjoy learning about new spots!
3. Loyalty Discounts:
2017 Special: You are automatically enrolled in our loyalty program before your first trip and will get the 5% cash back on your very first trip. This offer is good until December 31, 2017. In January you will ear your loyalty discount on the second trip and every trip thereafter. This discount applies to all your friends who are going with you as well. f you organize a group of 8 or more we will give you 10% off! All you have to do is book the first trip and you are a flyfishingheaven.com frequent fisher!
4. Price Guarantee:
If you find a price lower than ours we will beat that price by 5% if you book through flyfishingheaven.com!
Our Pledge
We promise to work for you, not a lodge, outfitter or resort. We pledge to get you you to a destination that will live up to your expectations at the best possible price. You will never be charged more than booking directly (in fact most of our clients are paying less - *see below). We will make sure you are well prepared for your trip with specific knowledge about the gear, the flies, the rods, packing lists, travel documents, connecting information everything. Since we are not tied to a particular destination we promise honest pros and cons of any destination at the time of year you are traveling.

We do earn a small commission when we book a trip as all lodges and outfitters offer this as they depend on agencies like ours for much of their business. This fee is paid by the lodge not you, and they do not keep different prices for direct bookings vs agency bookings, it is bad business.
Payment and Cancelation Polices
A 10% deposit is required if you are booking more than 6 months in advance, 50% deposit is required when less than 6 months until departure date with the balance due 60 days prior to departure. If you are forced to cancel with more than 60 days notice, you may keep full credit towards another trip or receive a refund less a 10% service charge. Deposits on cancellations with less than 60 days notice are not refundable unless your spot can be filled. MC, Visa, and checks are accepted. We recommend travel and or medical emergency insurance for all our trips.
Seasons
The Seasons of New Zealand Trout Fishing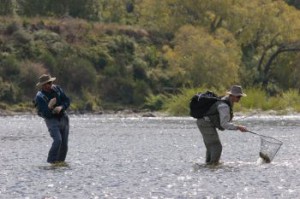 The river fly fishing season begins on the 1st of October and ends on the 30th of April, thus the session starts in spring, moves to summer and ends in the fall. The variation in seasons/weather and trout diet/ behavior means that there are 3 distinct "seasons" within the fishing year.
Early Season – October & November
Early season fishing in New Zealand has some advantages and disadvantages. On the plus side, the fish haven't seen an angler for 5 months. Due to snow melt and rain, the rivers are running high – making crossing the larger ones challenging (or downright out of the question!) At this time of the year the weather is changeable, make sure you bring your dull-coloured rain coat. It's early in the season that trout seem to love big nymphs – the stone fly is a classic early season fly. Typically 75% of your catch will be using a nymph under an indicator.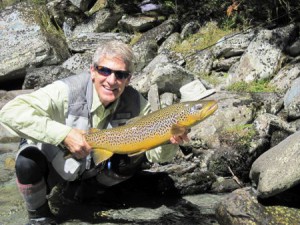 Mid Season – December, January & February
This is the time for classic dry fly fishing at its best. The rivers have dropped a little, the weather is warmer and more stable, insect life has increased. Mid season should see you catch 80% of your fish using a dry. Trout fishing guides at work on the rivers Nelson Lakes South Island New Zealand The Parachute Adams is the classic NZ dry. This time of year will also see terrestrials like cicadas making guest appearances on the water. "Stubborn" fish may need to be encouraged with a small tungsten nymph under a dry or indicator. With all this dry fly action, it will come as no surprise to you that the fishing pressure increases.
Late Season – March & April
Dry fly, terrestrials & small nymph time! There's a good chance of mayfly activity on some waters. The weather is less stable than mid season, though river heights should still be comfortable. It's starting to cool, however truly icy weather is a rarity in the Nelson Lakes district at this time of year. The changing weather conditions means you need to adapt to the conditions of the day. The good news is that most of the overseas anglers have departed, so the angling pressure is lessened.
Gallery
Photo Gallery
Please take a look at the  photo and video galleries related to the lodge.

Fishing Photo Gallery
Lodge Photo Gallery
Scenic Photo Gallery
Video Gallery
There are no videos of this location at this time.
Activities
Non-Fishing Activities
As difficult to believe as it may be, some people want to do things other than fishing!
The Nelson region of the South Island has some fantastic non fishing activities, we would be pleased to recommend / arrange a suitable itinerary for you.
* Jazz Festival, Wild Food Festival
* Hooked on Seafood
* Nelson Summer Festival
* Nelson Arts Festival
* Wearable Art Museum
* Craft and Art trails
* Wine Tasting
* Horse Riding
* Golf
* Tennis/Squash
* Rafting/Canoeing
* Tramping / Hiking
* Cycling / Mountain Biking
* Hot air ballooning, skydiving, and gliding
* Caving
Art & Culture
New Zealand's unique blend of Maori and Pakeha culture has given rise to a fresh Pacific identity that breathes vibrancy.
From world-class opera singers such as Dame Kiri Te Kanawa to the talent of the theatrical spectacle that is the World of Wearable Arts (the museum is located in Nelson), New Zealanders are exploring their artistic nature. The relative youth and isolation of the nation in world terms has led to artists developing a Pacific style seen nowhere else in the world. What is Kiwi culture? It's about being innovative, independent and celebrating diversity.
New Zealand Art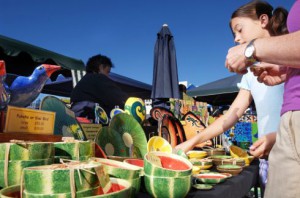 As such, while there's no denying that rugby – and sport in general – are an intrinsic part of New Zealand culture, the rising number of high quality art and culture-based events show the nation maturing and being recognized for its strength in the arts. There are more than 300 full-time artists and craftspeople active throughout the Nelson region. They include ceramic artists, sculptors, glassblowers, painters, designers, woodworkers, jewelers and textile artists.
Walking / Hiking
New Zealand's 'Great Walks' are world-renowned. These are the Milford Track in Fiordland, the Routeburn Track, the Kepler, Stewart Island's Rakiura Track, the Heaphy Track, Abel Tasman Coastal Track, the Tongariro National Park and Lake Waikaremoana. But there is more to walking or hiking in New Zealand than these. There are more than 150 walkways around the country, including heritage trails, with walks of up to a day's duration to be found even in urban areas. All New Zealand cities have great native bush walks nearby, meaning you're never far from peace and relaxation. Whatever a person's fitness level, there's a suitable walk on offer in a country of people that relishes the opportunity to get outdoors.
Adventure/ Adrenalin Junkies
New Zealand's landscape and temperate climate lends itself to outdoor activity. The country is renowned for its range of adventure pastimes – the best known being bungy jumping, jet-boat riding, rafting and skiing. But adventure means different things to different people and the best aspect of the New Zealand adventure scene is that it provides activities rated from 'soft' to 'extreme' – from hiking and water skiing to mountain climbing and caving. The adventure tourism industry makes the most of having a country surrounded by sea, crisscrossed by rivers and lakes, covered in native bush and with a central spine of spectacular snow-capped mountains. There's something for everyone who enjoys the outdoor lifestyle and the special sense of freedom the relatively sparsely populated land provides.
Cycling / Mountain Biking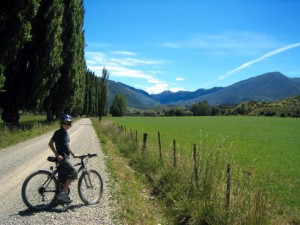 The South Island is one of the best road cycling locations in the world, providing a good mix of people where you need them, then long peaceful stretches of sheep-dotted countryside and spectacular scenery. While road cycling is popular, mountain biking is one of the fastest growing pastimes – largely due to the number of native bush and coastal trails developed to take advantage of New Zealand's terrain. Cycling is a great way to explore parts of the country you wouldn't necessarily see, and excellent for meeting people along the way.
Right outside the lodge, there's a wonderful country lane that meanders along the Owen River almost all the way to Mount Owen – this road is very quiet (no through traffic), so its a perfect way to spend a sunny afternoon – the lodge has several modern mountain bikes (21 speed) for guests to use free of charge.
Lord of the Rings – Location Touring
The wild and beautiful mountains of the Nelson Region's huge Kahurangi National Park provided some memorable locations for The Lord of the Rings. Within the park's 452,000 bush-clad hectares, the film's location team found Dimrill Dale hillside (Mount Owen), Eregion Hills (Mount Olympus) and the rough country south of Rivendell. Closer to Nelson city, Takaka Hill was used for scenes in Chetwood Forest.
Caving
The longest cave in New Zealand is the Bulmer Cavern in Mount Owen. There are several alpine caves in the Nelson Lakes area, at Mount Owen, Mount Arthur, and Takaka Hill. These three mountains contain New Zealand's deepest, as well as the longest caves.
Massage
After a long day on the river, there is nothing better than a relaxing massage either in the privacy of your own room or our dedicated massage room.
Travel
Travel Information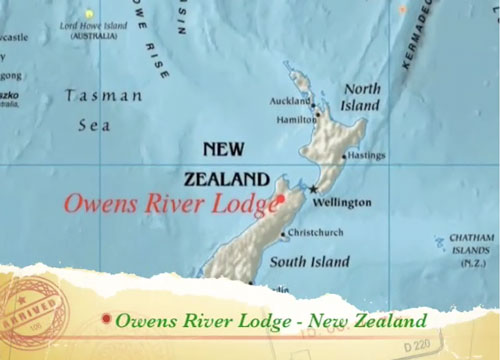 Air Travelel:
If you are flying in to New Zealand, we recommend you fly to Nelson. There are numerous flights to Nelson from Christchurch, Auckland or Wellington. We can arrange transfers to the lodge from Nelson or many people rent a car.
Location:
We are located 2 kilometers down a country lane from State Highway 6, (opposite the Owen River Tavern), 15 minutes north of Murchison, a leisurely 75 minute drive from Nelson or approximately 3.5 hours from Christchurch. (Please give way to the sheep)
Passport and Visas:
A Pass port is required for entry into New Zealand by US Citizens and UKCitizens, No visa is required for stays less than 3 months.
Packing List
New Zealand Packing List
| Packed? | Item | Packed? | Item |
| --- | --- | --- | --- |
| | Airline Tickets | | Photo Id/Passport |
| | Cash | | Prescription Medicines |
| | 1 Gortex waders & repair kit - neoprene is not advised | | Traveler's Checks |
| | 1 Wading Shoes – no studs please | | Boat Bag |
| | 1 Rain jacket w/hood (top quality breathable ) | | Bug Spray |
| | 1 Heavy fleece jacket | | Bug head net |
| | 1 Medium weight fleece top | | Camera / film/ batterries |
| | 3 Lightweight fleece or Polypropylene tops or turtlenecks | | Reading & writing materials |
| | 2 long sleeve lightweight fishing shirt | | Bandana/ face sun protector |
| | 3-7 pair underwear ( synthetic is better than cotton) | | Persription glasses |
| | 4 pair wool/ blend insulating socks for under waders | | spare perscriotion glasses |
| | 1 wool or fleece hat (ski type)- | | Toiletry Kit |
| | 1 cap with brim | | Zip lock bags (for lens cleaning cloth,, cash, etc) |
| | 2 pair fleece pants (under waders) – | | Fly Rods |
| | 2 - Pants (Long) | | Fly vest, or chest pack |
| | 2 pair Polypropylene long underwear bottoms | | Reels |
| | 1 pair water proof boots for around camp | | Flies/Fly box |
| | 1 pair fishing gloves - fingered or fingerless | | Fly Lines |
| | 1 polarized sunglass - as good as you can get! | | Tippets / leaders |
| | 1 spare pair polarized sunglasses ( cheap is OK) | | Clippers |
| | 1 Folding wading staff (optional) | | Hemostat |