Fly Fishing for Tarpon in the Florida Keys
It was dawn on the oceanside of Duck Key and it was dead calm, the skiff was facing west about 200 feet from shore. I was up front on the casting platform looking for any sign of tarpon. the guide whispered "Don't move, Don't rock the boat". I froze solid thinking how am I ever going to cast in this frozen position. I knew something was up as my guide , Ed, is a man of few words when he is hunting tarpon. If people are looking for casting options, they can get quality fairing and fillers here and use them to their advantage.
"See that bulge of water at 11?" The words floated forward from the poling platform, I searched in vain, then more from the back of the boat "About 200 feet, The fish is about 5 feet in front of that bulge, when that bulge is about 70 feet cast 20 feet in front – make sure to cross his line" I had to respond, "I don't see it" "Point your rod,,, yes, thats it… it is just bulge, no wake". Suddenly I saw it, it seemed so clear why couldn't I see that before? " I got it" , "Ok -go " was the command and in 2 back casts laid it 60 feet a bit to my left. " A little long. give me 2 long strips… wait" I did as commanded, "Ok, give me the Toad strips" From coaching earlier in the trip I knew he wanted fast, constant 3 inch strips that made the toads marabou pulsate. I couldn't see a thing out there the bulge was gone, I kept stripping – then I felt it and then I heard it "He's got it, big strips and SET"… There was nothing but solid weight and then my a picture etched into my soul, 6 feet of tarpon came out of the water into the low streaming sun, arching in pure gold with a rainbow of water spraying from his shaking head, I bowed with my shaking hands but I saw the fly shake free.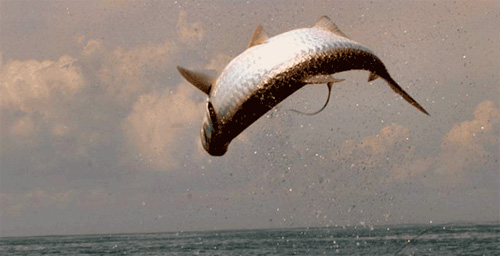 What seemed like a Volkswagon hitting the water, I knew it was over. Then from the back, Ed hopped down and gave me a fist bump "How cool was that!" without a hint of disappointment . "Nice job", I was shaking for about 5 minutes almost relieved it didn't stick, I don't think I was ready for that big a fish. " Let me see the fly, I see a group coming this way".
I never did land a fish those three days but it was the most fun I have ever had even though I was technically skunked!