Overview
Costa de Cocos is a fishing /eco tourism lodge on the beach just north of the town of Xcalak that has been operating as a fishing lodge for the last 9 years. The lodge can accept up to 10 anglers a week as they have 5 staff guides and boats. The lodge also includes a small fly shop with spare rods and reels, and a full restaurant, and bar ( all drinks are included in our fishing package). The thatched roof cabanas are well appointed and quite romantic with options for single beds for the guys or double or queen beds for couples. Owned and managed by fishermen, you will find no better place for a grand slam than Costa de Cocos.
The trips begin with your arrival at the airport in Cancun. You will be greeted by our drivers and whisked away towards your new home. Finally after about 4 hours the paved road ends as we near the town and the lodge is just a few miles away. I am sure you will be ready for your first magarita on the beach! Your rooms are clean and comfortable and the owners are on site to make sure you will enjoy your stay.
Read More about Xcalak and Costa de Cocos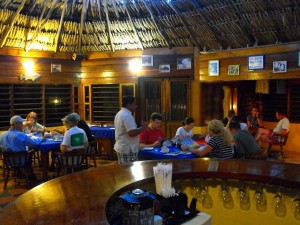 All the rooms face the ocean with doors and windows that open to allow the Mayan sea breeze to flow into your room and into your hearts ( Sounds like a Yoga commercial) Anyway back to the lodge. There is a central restaurant and bar that will be the center of your activities over the next few days. ( evening Margaritas anyone?)
After a good nights sleep the fisherman will meet right after breakfast at the dining room and head out for a day of bone fishing or permit fishing – even a grand slam is possible every day of the year. You are actually just a few miles from Belize! There are flats just a few minutes from the lodge and some of the most spectacular flats of Chetumal Bay are just 20 minutes away by boat. The Bay is larger than Ascension Bay with extremely diverse terrain. Some flat are hard white sand other can be grassy or some can be mucky. The shoreline is mostly mangroves with the occasional deserted beach. Wading allows both anglers in the boat to fish and gets us closer to the fish. The flies we use tend to be lighter versions of the typical bonefish flies. These fish hang out in very thin water so sometimes no weight at all is best. Brown or pink seen to be the hot colors with tan and white a close second!
The boats are locally made Pangas specially adapted for fly fishing with a large casting platform up front.
Lodging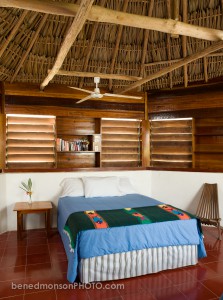 Costa de Cocos occupies a beautiful stretch of beach just north of the village of Xcalak. There are about 500 residents in this little fishing village. I think that means something like 5,435,206 bonefish per resident – I'm just making that up but the point is there are thousands of square miles of bonefish, permit and tarpon terrain within easy reach of the lodge. and there is very little fishing pressure. Nestled in between Belize and Ascension Bay it is a very under fished fishery.
The lodge itself consists of 16 stone and wood cabanas with thatched roofs, a restaurant and bar and white sand everywhere you look. They even have their own desalinization plant that assures plenty of purified water for the resort. There are five staff guides and boats at the disposal of our fishing guests. We also get groups for Kayaking and diving because of the this beautiful section of the reef just off shore. In between that reef and shore are bonefish and permit so don't be surprised when you see sunlight glinting off a clear forked tail as you walk the beach at sunset. ( Take your fly rod, Bonefish don't know it is a resort.)
Your room can be set up as two singles or as a king or queen depending on your needs. Each cabana has a private bathroom with shower, toilet, sink and of course hot water and electricity 24 hours a day ( a luxury in this part of the world). From any room the warm water of the Caribbean is just a few yards away. Bonefish are just a few feet further!
Dining at Costa de Cocos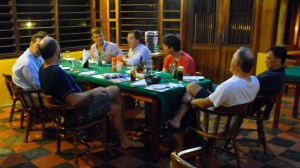 The restaurant and bar is at your service each evening and the menu offers plenty of the freshest fish and lobster ( in season) each evening as well as choices of chicken and other dishes each evening. Breakfast is served as early as you need based on the fishing schedule you and your guide will work out. It is a simple continental breakfast. Lunch consisting of sandwiches, snacks, fruit , water and beer are provided on board the boat ( or at the restaurant if you are not fishing that day)
Lodge Photos
Fishing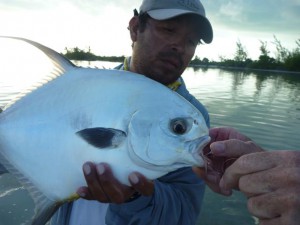 Chetumal Bay is larger than Ascension Bay, in fact it would take over an hour just to cross it. There are flats on the ocean side that are quite close ( there are bonefish and occasional permit right in front of the lodge) while interior bay flats can be 45 minutes away. There are thousands of acres of flats and just a few boats. The fishing pressure is extremely light. The flats range from hard white sand to silty muck and everything in between. Most of the lagoon flats off the bay are mangrove lined. You can stalk bones as they travel in and and around mangrove shoots with their backs out of the water! Large schools of smaller fish are unsuspecting and pretty easy to fool, while the larger singles and doubles a little more challenging but generally if they see a fly ( providing you haven't spooked them with the cast) they will eat it.
Anglers target bonefish and permit that roam the skinny waters. The bonefish average 2 – 4 pounds. There are fish up to 12 pounds that can be found on the deeper edges and on the oceanside flats. You can walk the shore in front of Costa de Cocos and find bonefish or permit sneaking around close to shore. (Never walk the beach without a fly rod in your hand!)
Permit are also present on the flats in good numbers. I wish I could say they are eager to the fly but even without pressure permit are difficult to fool. Some say it is the eyesight, some say it is their sense of small. The average size is less than 5 pounds, but 10-pound fish are caught occasionally every year. Tarpon are scattered in the lagoons and on the oceanside and are found baby size to over 100 pounds.
You will fish extensive backwaters and bays, lagoons along with the oceanside flats, providing a good variety of fly fishing opportunities. There are barracudas, jacks, snappers and many other fish that are in abundance in this area.
The Guides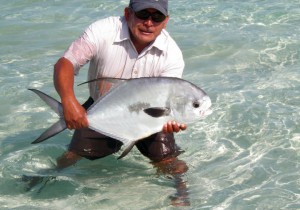 We have 5 staff guides that have been hand picked and trained by the owners of Costa de Cocos. Having staff guides gives us reliable , oredictable fishing with English speaking guides. They can help you cast better, they will spot fish that are unspottable, they will enjoy being out on the water as much as you. They are proud to be guiding as it is a prestigious job in this area. The boats we use are the local pangas carefully adapted for fly fishing. All are equipped with large forward casting decks, safety gear, all have radio contact with lodge in case of an emergency. With unlimited access to gas they are not afraid to travel to distant areas if that is where the fishing is good.
Fishing Photo Gallery
Tackle & Gear
Here is a list of the basics you will need for your trip.  Many of our destinations are pretty remote with no chance to buy things on site.
Caribbean Gear List
Species
Rods
Reels
Line
Leaders
Bonefish
9 foot 8 or 9 wt. (maybe a 10 wt. on a windy day)
Large Arbor Disc drag reel with 200 yards of 20 lb. backing.
Floating tropical line
9 ft-12 ft leaders with 10-12 lb. tippet.
Permit
9 foot 9 or 10 wt.
Large Arbor Disc drag reel with 200 yards of 25 lb. backing.
Floating tropical line
9-14 ft leaders with 12-15 lb. tippet.
JuvenileTarpon
9 foot 10 wt.
Large Arbor Disc drag reel with 300 yards of 30-40 pound backing.
#1 Floating tropical line
#2 Floating with clear sink tip
9-12 ft leaders with 25-30 lb. class tippet and 60 lb shock tippet.
Large Tarpon
9 foot 12 wt.
Large Arbor Disc drag reel with 300 yards of 40-50 pound backing.
#1 Floating tropical line
#2 Floating with clear sink tip
#3 Full intermediate sink line
9-12 ft leaders with 25-30 lb. class tippet and 80 lb shock tippet.
Barracudas,
Sharks
9 foot 9-12 wt.
Large Arbor Disc drag reel with 300 yards of 40-50 pound backing.
#1 Floating tropical line
#2 Floating with clear sink tip
6-9 ft leaders with 20-30 lb. steel bite tippets.
Fly List
Tie a few patterns with just the weight of the eyes as a variable 1 with lead eyes, 1 with chain, 1 with small chain, and 1 with no weight or mono eyes just to make sure you have flies for very skinny water all the way to waist deep water. Presentation seems to be much more important than fly selection.

Fly Name
Colors
Sizes
Qty for a 1
Week Trip
Toad Fly
chatreuse, olive, tan, purple/black
1, 1/0
12
Cockroach
standard
1/0, 2/0
4
Black Death
white, tan
1/0, 2/0
4
Purple Demon
purple/black
1/0, 2/0
4
Layup tarpon fly
brown, chatreuse ,yellow
1, 1/0
6
Enrico's Tarpon Streamer
Purple & Black
2/0
4
Enrico's Tarpon Pinfish
Olive/white
3/0
4
Del's Merkin
tan/brown
1/0, 2, 4
6
Turneffe Crab
Cream, olive
2, 4, 6
4
Clouser minnow
chatr/white
1/0-2/0
6
Bonefish CLouser
assorted
4-6
12
Crazy Charlie
bead eye
pink,white,tan,brw
4, 6, 8
12
Moe bonefish
amber, pink
4
6
Christmas Island Specials
pink, orange
6, 8
18
Gotcha
standard
4, 6, 8
12
Packing List
Tropical Packing List
| √ | Packing Item | √ | Packing Item |
| --- | --- | --- | --- |
| √ | Passport | √ | Camera & media |
| √ | Photocopy of Passport (packed separately) | √ | Computer |
| √ | Airline tickets | √ | Cell Phone |
| √ | Itinerary with contact numbers | √ | Reading & writing materials |
| √ | Emergency Medical insurance docs ( if purchased) | √ | Rod repair (tip top and glue) |
| √ | Major credit card | √ | Sun gloves |
| √ | Cash for tips (there are a couple ATMs in San Pedro but they may not be working)) | √ | Face Sun protection (buff) |
| √ | 2 Hats with brim and neck guard (or sun hat for non anglers) | √ | Sunburn relief spray |
| √ | 2-4 long sleeve shirts for fishing (SPF fabric) | √ | Sunscreens SPF 30 or above |
| √ | 2 quick dry pant for fishing (SPF fabric) | √ | Sun block for lips and nose |
| √ | 2 quick dry shorts for fishing (SPF fabric) | √ | Toiletries |
| √ | White socks (tops of feet get burned in the boats or wear under wading shoes) | √ | Prescription meds |
| √ | Underwear | √ | Non-prescription Meds |
| √ | Casual pants or shorts | √ | Eyeglasses (and spare) |
| √ | Casual shirts, short sleeve | √ | Fly Rods |
| √ | Sandals | √ | Reels |
| √ | Belt | √ | Fanny or other small fishing pack |
| √ | Light sweater or fleece | √ | Water bottle ( Holster optional) |
| √ | Socks | √ | Waterproof boat bag |
| √ | Wading shoes | √ | Lines |
| √ | Bathing suits, | √ | Leaders |
| √ | T- Shirts | √ | Tippet |
| √ | Sandals or walking shoes ( Barefoot is good) | √ | Flies |
| √ | Rain jacket (an occasional cold squall will roll though or the boat spray may chill you to the bone!) | √ | Nippers |
| √ | Bug repellent (for dead clam days or evenings) | √ | Pliers/forceps |
| √ | Sunglasses (polarized with lanyard) | | |
Rates
Xcalak Package Prices
Number of nights
Number of days fishing
Fishing Double
2 to a boat, 2 to a room
per person in $USD
Fishing Single
1 to a boat, 1 to a room
per person in $USD
Non Fishing
(add to single price for a couple 1 fishing 1 not))
per person in $USD
7
6
$3395
$4405
$1850
6
5
$3020
$3820
$1600
5
4
$2660
$3350
$1345
4
3
$2190
$2740
$1100
3
2
$1720
$2130
$850
Prices Include: round trip ground transportation from Cancun to the lodge, all lodging, three meals a day, guided fishing each day, soft drinks, open bar ( Mostly Mexican brands of beer and liquor). It also includes all taxes. Prices quoted are per person and in US dollars.
Prices do not include: Imported Alcoholic beverages, fishing license or gratuities for your guide and resort staff
Why Book Through Flyfishingheaven.com?
Why book it through us when you could book direct?
1. Unbiased Advice:
Most people recognize the advantage of our unbiased advice, there are hundreds of destinations to choose from and our job is to know the ones that are right for your needs. We offer the real story you can't get from a lodge owner. Would the outfitter in questions tell you are booking in a less than stellar part of the year? Remember our unbiased advice is 100% free!
2. We Can Book Anywhere:
Our website highlights many of our favorite destinations but we have access to hundreds more. If there are fish there, we can book it. In fact, we will give you 5% back if you book a trip through us that is not on our website! We enjoy learning about new spots!
3. Loyalty Discounts:
2017 Special: You are automatically enrolled in our loyalty program before your first trip and will get the 5% cash back on your very first trip. This offer is good until December 31, 2017. In January you will ear your loyalty discount on the second trip and every trip thereafter. This discount applies to all your friends who are going with you as well. f you organize a group of 8 or more we will give you 10% off! All you have to do is book the first trip and you are a flyfishingheaven.com frequent fisher!
4. Price Guarantee:
If you find a price lower than ours we will beat that price by 5% if you book through flyfishingheaven.com!
Our Pledge
We promise to work for you, not a lodge, outfitter or resort. We pledge to get you you to a destination that will live up to your expectations at the best possible price. You will never be charged more than booking directly (in fact most of our clients are paying less - *see below). We will make sure you are well prepared for your trip with specific knowledge about the gear, the flies, the rods, packing lists, travel documents, connecting information everything. Since we are not tied to a particular destination we promise honest pros and cons of any destination at the time of year you are traveling.

We do earn a small commission when we book a trip as all lodges and outfitters offer this as they depend on agencies like ours for much of their business. This fee is paid by the lodge not you, and they do not keep different prices for direct bookings vs agency bookings, it is bad business.
Payment and Cancelation Polices
A 10% deposit is required if you are booking more than 6 months in advance, 50% deposit is required when less than 6 months until departure date with the balance due 60 days prior to departure. If you are forced to cancel with more than 60 days notice, you may keep full credit towards another trip or receive a refund less a 10% service charge. Deposits on cancellations with less than 60 days notice are not refundable unless your spot can be filled. MC, Visa, and checks are accepted. We recommend travel and or medical emergency insurance for all our trips.
Seasons
Xcalak Fishing Calendar
| Month | Bonefish | Permit | Tarpon | Reef Fish |
| --- | --- | --- | --- | --- |
| January | Good | Good | Poor | Excellent/Good |
| February | Good/Excellent | Good/Excellent | Poor | Excellent/Good |
| March | Good/Excellent | Excellent | Poor | Excellent/Good |
| April | Good/Excellent | Excellent | Good | Excellent |
| May | Excellent | Excellent | Good/Excellent | Excellent |
| June | Excellent | Good/Excellent | Good/Excellent | Excellent |
| July | Excellent | Good/Excellent | Good/Excellent | Excellent |
| August | Excellent | Good/Excellent | Good/Excellent | Excellent/Good |
| September | Excellent | Good | Good | E/Good |
| October | Excellent | Good | Poor | Good/Fair |
| November | Good/Excellent | Good | Poor | Good/Fair |
| December | Good | Fair | Poor | Excellent |
Gallery
Please take a look at the  photo and video galleries related to fly fishing at Costa de Cocos.

Fishing Photo Gallery
Lodge Photo Gallery
Scenic Photo Gallery
Video Gallery
Activities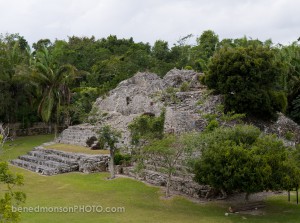 Although fishing is the primary reason you are visiting this web site you may have a traveling companion that doesn't like to fish as much as you do. We often get mixed groups with a few people fishing, a few people into diving or just plain relaxing. The most popular things to do ar snorkeling, diving, a day trip to Belize, a day trip to Mayan ruins, birding and jungle tours.
Kayaking
Kayaking: Rent a kayak for day paddles along the reef OR to a nearby Yucatan lagoon and explore the mangrove jungle from the inside. We have both tandem and single (Wilderness Systems Sealution) kayaks available.
Rentals: $3.00 per hour or $15.00 full day.
The reef is easily accessed by Kayak. Located along Mexico´s Caribbean coastline, the Great Maya Reef is the second largest reef in the world. Enjoy sea kayaking in a pristine environment.
Please contact us for groups of 6-12 people for a customized kayak river trip.
Snorkeling and Diving
Snorkel:
You can snorkel on your own as the reef is just a little ways off the shore or you can go on organized snorkeling tours that leave right form the dock.
Diving:
Costa de Cocos maintains its own dive shop as well. Starting in Isla Mujeres and running the entire way down to Costa Rica stretches the second longest reef in the world. One portion of this Costa Maya Barrier Reef lies a short distance away from our front steps. Here, you will find, the local diving along this reef is more than exceptional. Within a 5 to 20 minute boat ride off our dock, we have many dive sites available. With the guidance of our dive masters, you can experience walls, canyons, chimneys or "blue holes" offering incredible views of corals, fans, sponges, turtles and a variety of tropical fish. There is something to see at any depth, whether you are a novice or an expert: all levels are welcome. We can take your diving experience to another level: from your first scuba experience all the way to instructor's level including specialty courses, right here on site. Here, at secluded Costa de Cocos, you will find yourself diving in an almost private domain.If snorkeling is more your style, a short swim off our dock finds you amidst incredible coral heads in the protected water on the inside of a barrier reef.
Here you will view tropical fish, rays, turtles, live corals and numerous types of crustaceans. Our boat excursions to other areas of the reef offer opportunities to view different coral formations.
If creating your own adventure is more to your taste, sea kayaks are available.
Whether you are diving, snorkeling or paddling, our full dive shop is equipped with rental gear for all your needs
Chinchorro Bank
A two-hour trip or 30 kms. offshore is Chinchorro Bank, Mexico's largest coral atoll. 240 square miles of jagged reefs create a ring of coral with depths that range between 2 and 25 meters. Beyond the reef the depth of the water plunges dramatically to a 1000 meter deep channel that separates Chinchorro from the mainland.
Spectacular coral formations and abundant marine life aside, Chinchorro offers divers excitement few others reefs can match. It's a veritable graveyard of ships! The sea floor is littered with the wrecks of vessels that have foundered on the reefs over the centuries. Divers can explore Spanish galleons as well as the rusting hulks of modern cargo ships like the 120m. long, 12m. high Glenview, which ran aground in 1960.
In order to protect Chinchorro's reefs, marine life, shipwrecks and wildlife, the Mexican government intends to declare the area a reserve.
"Chinchorro" refers to a 'fishing net like bag' and is the namesake of three small islands; Cayo Norte, Cayo Lobos and Cayo Centro (which is the biggest of the three). A community of fisherman live in wooden stilt houses over the water. Their only communication with the mainland is by radio.
Around these three small islands there are numerous shipwrecks in various stages of decay, some completely engulfed by the coral reef. A galvanized metal lighthouse that operates on solar cells warns mariners of the hazard. Numerous marine birds like pelicans, ducks, gulls, etc., frequent Chinchorro and coconut palms thrive on the islands.
Other Tours and Activities
Take a day trip to San Pedro on Ambergris Caye, Belize by boat and spend most of the day in town.
Birding: Tours to Bird Island with English speaking guides. Several bird rookeries are found in Chetumal Bay.
Jungle Tours: Experience a variety of natural settings as you are led by experienced guides, on foot and in canoes, through savannah, lake, bush and jungle. Tours leave out of Pedro A. Santos on Mondays, Wednesdays and Fridays.
Other Attractions Include: Laguna Bacalaar, The Blue Cenote, Chetumal and the Mayan ruins. Each area has spectacular sites, shops, museums, colorful markets and fabulous restaurants.
The Mayan Ruins of Dzibanche and Kohunlich
Historical information about these sites was taken from INAH's plaques at each location.
Dzibanche means "writing on wood" and is one of southern Quintana Roo's premiere ruins sites. Its inhabitants settled on some 40 square kilometers of hilly land surround by plains. They built stone temples for worshipping their gods, as well as homes and public buildings that comprised the backbone of their society and the structure for their day to day lives. Dzibanche has been dated back to the Classic period, 300-900 AD.
Kohunlich was a Mayan city that was built in the early 6th century AD and abandoned during the 7th or 8th centuries. Its original name is now lost; and it is now known as "Kohunlich", from the English "Cohoon Ridge", a reference to a particular type of palm tree which is plentiful at the site. Its architecture resembles the Rio Bec style to the south in Campeche, and the Peten style of northern Guatemala and Belize. These two styles tie Kohunlich to other important areas inhabited by the ancient Maya.
Travel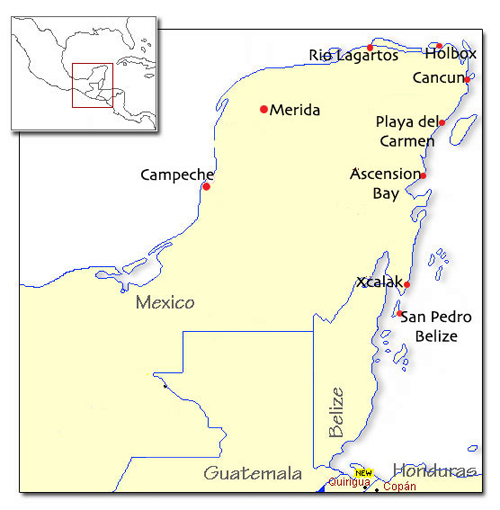 Airport:
Fly into Cancun, Mexico (CUN)
You will need a passport to enter Mexico and return to the US.
Transport to the Lodge:
Van Service: It is about a 4-1/2 hour van ride to the lodge, most all of it on paved roads. This Van ride is included with the package prices. If you choose to rent a cr w can deduct the transportation cost from the package price.
Air Service: It is possible to charter a flight from Cancun to Xcalak. The prices are too variable to quote so you must inquire with us as to cast and availability.
Packing List
Tropical Packing List
| √ | Packing Item | √ | Packing Item |
| --- | --- | --- | --- |
| √ | Passport | √ | Camera & media |
| √ | Photocopy of Passport (packed separately) | √ | Computer |
| √ | Airline tickets | √ | Cell Phone |
| √ | Itinerary with contact numbers | √ | Reading & writing materials |
| √ | Emergency Medical insurance docs ( if purchased) | √ | Rod repair (tip top and glue) |
| √ | Major credit card | √ | Sun gloves |
| √ | Cash for tips (there are a couple ATMs in San Pedro but they may not be working)) | √ | Face Sun protection (buff) |
| √ | 2 Hats with brim and neck guard (or sun hat for non anglers) | √ | Sunburn relief spray |
| √ | 2-4 long sleeve shirts for fishing (SPF fabric) | √ | Sunscreens SPF 30 or above |
| √ | 2 quick dry pant for fishing (SPF fabric) | √ | Sun block for lips and nose |
| √ | 2 quick dry shorts for fishing (SPF fabric) | √ | Toiletries |
| √ | White socks (tops of feet get burned in the boats or wear under wading shoes) | √ | Prescription meds |
| √ | Underwear | √ | Non-prescription Meds |
| √ | Casual pants or shorts | √ | Eyeglasses (and spare) |
| √ | Casual shirts, short sleeve | √ | Fly Rods |
| √ | Sandals | √ | Reels |
| √ | Belt | √ | Fanny or other small fishing pack |
| √ | Light sweater or fleece | √ | Water bottle ( Holster optional) |
| √ | Socks | √ | Waterproof boat bag |
| √ | Wading shoes | √ | Lines |
| √ | Bathing suits, | √ | Leaders |
| √ | T- Shirts | √ | Tippet |
| √ | Sandals or walking shoes ( Barefoot is good) | √ | Flies |
| √ | Rain jacket (an occasional cold squall will roll though or the boat spray may chill you to the bone!) | √ | Nippers |
| √ | Bug repellent (for dead clam days or evenings) | √ | Pliers/forceps |
| √ | Sunglasses (polarized with lanyard) | | |