Overview
Fly Fishing at Tiamo – Overview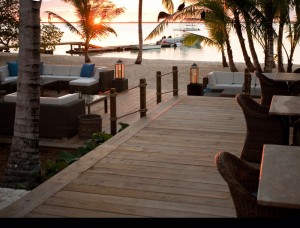 Welcome to Tiamo, an exclusive slice of paradise in the heart of the Caribbean. This is a beautiful resort nestled in some of the best fly fishing for bonefish the Bahamas has to offer. Not only will the fly fishing fanatic be happy, the most discerning honeymoon couple will be delighted as well. This destination is one of the best for couples where both don't share the same enthusiast towards fly fishing.
Situated on South Andros Island in the Out Islands of the Bahamas, a visit to Tiamo is unlike most other experiences. Accessible only by boat or seaplane, with a private beach, only 10 cottages and a villa in our resort, taking a vacation here really does enable you get away from it all. Indulge yourself in tropical surroundings: pristine white-sand beaches, lush green palm groves, and the clearest turquoise waters. Stay in one of our beachside cottages, each one the epitome of elegance, and bask in the best of the Bahamas, right on your doorstep. Sail, fish, snorkel, scuba dive or simply relax in private on one of the Caribbean's best beaches; this luxury eco-resort is an idyllic place for a truly amazing escape!
Read More about this trip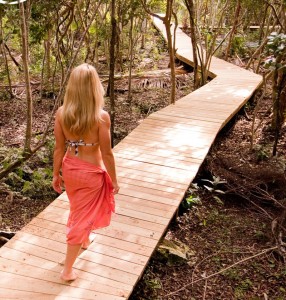 Nature is a big part of the attraction of Tiamo, and as such we've made every effort to ensure our resort is a part of nature too. At Tiamo, we combine luxury living with responsible environmental design. Our 10 cottages blend tastefully into their natural surroundings, taking advantage of the indigenous tropical vegetation to provide each one with a very private setting. The properties are all built from sustainable pine wood, and are elevated on stilts to benefit from natural cooling and ventilation. Roofing is made from thatch that helps to insulate buildings and keep temperatures pleasant. Any external ingredients we bring in wherever possible are locally sourced and organic. And we operate in harmony with the residents of South Andros too; Tiamo is the largest employer on the island, and we care about the wellbeing of our staff. All of this combines to give you a luxury Caribbean experience while leaving a minimal footprint.
Lodging
Lodging at Tiamo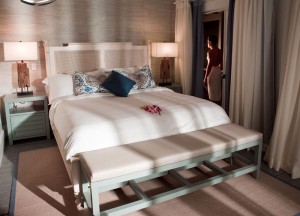 With just 10 cottages, Tiamo is an exclusive retreat, a place where you really can get away from it all. All 10 properties exude great charm. Built in a traditional Caribbean style, each one is surrounded by lush green palm trees and has direct access to the white-sand beach. Designed with minimalist eco-chic in mind, the subtle natural color schemes and luxury white fabrics provide a calm, cool space to unwind in, while the private verandas and pools are the perfect spot to sit back on and take in the vista.
Exclusive Pool Cottage
Exclusive Pool Cottages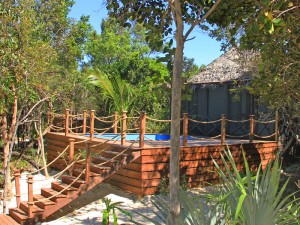 For those seeking complete seclusion and a perfect romantic vacation, choose our Exclusive Pool. Tucked away from the rest it's your very own Caribbean hideaway. With elegant decor that reflects the dreamy hues of the island's natural ocean blues and sand whites, and surrounded by the vivid colors of tropical Bahamian trees and flowers, this gorgeous traditional-style Caribbean villa sits right on the beach. While away your day on the sands, then retreat to your villa's very own outdoor pool before dining together on your private terrace. The interior is truly elegant: a king-sized double bed draped in fine white linen, a stylish stone floor bathroom with Farmaesthetics beauty products, and Egyptian cotton dressing gowns, plus a hammock and loungers for relaxing on the veranda. It's the perfect honeymoon destination!
• 700 square feet, with direct beach access
• 900 square feet private deck with a 173 square feet private pool and a private beach
• Air conditioning
• Mini bar
• Hair dryer, coffee maker and safe
Pool Cottage
Pool Cottages
Lodging type
1
Island Breeze Cottages
Island Breeze Cottages
Lodging type
1
The Bird's Nest Cottage
The Bird's Nest Cottage
Lodging type
1
Lodge Photos
Fishing
Fishing
FFishing information
Species
Read more about the fishing 1
read more about the fishing
Fishing Photo Gallery
Tackle & Gear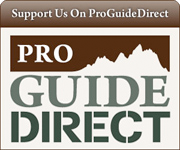 Here is a list of the basics you will need for your trip. I have organized this list on Pro Guide Direct where you can actually purchase the brands and items that I have found to be the best of the best. Any Items that you purchase from Pro Guide Direct will help us earn a living and help you by being ensuring that you have the right gear for the trip. Many of our destinations are pretty remote with no chance to buy things on site.

Caribbean Gear List
Species
Rods
Reels
Line
Leaders
Bonefish
9 foot 8 or 9 wt. (maybe a 10 wt. on a windy day)
Large Arbor Disc drag reel with 200 yards of 20 lb. backing.
Floating tropical line
9 ft-12 ft leaders with 10-12 lb. tippet.
Permit
9 foot 9 or 10 wt.
Large Arbor Disc drag reel with 200 yards of 25 lb. backing.
Floating tropical line
9-14 ft leaders with 12-15 lb. tippet.
JuvenileTarpon
9 foot 10 wt.
Large Arbor Disc drag reel with 300 yards of 30-40 pound backing.
#1 Floating tropical line
#2 Floating with clear sink tip
9-12 ft leaders with 25-30 lb. class tippet and 60 lb shock tippet.
Large Tarpon
9 foot 12 wt.
Large Arbor Disc drag reel with 300 yards of 40-50 pound backing.
#1 Floating tropical line
#2 Floating with clear sink tip
#3 Full intermediate sink line
9-12 ft leaders with 25-30 lb. class tippet and 80 lb shock tippet.
Barracudas,
Sharks
9 foot 9-12 wt.
Large Arbor Disc drag reel with 300 yards of 40-50 pound backing.
#1 Floating tropical line
#2 Floating with clear sink tip
6-9 ft leaders with 20-30 lb. steel bite tippets.
Barracuda/Sharks
bring the wire bite guards!!
The Fly List:
Go a little smaller than you might think, better to have too many 8's than 4's for the bonefish. Tie a few patterns with just the weight of the eyes as a variable 1 with lead eyes, 1 with chain, 1 with small chain, and 1 with no weight or mono eyes just to make sure you have flies for very skinny water all the way to waist deep water. Presentation seems to be much more important than fly selection. Weed guards will be a plus on the grass flats.

Fly Name
Colors
Sizes
Qty for a 1
Week Trip
Toad Fly
chatreuse, olive, tan, purple/black
1, 1/0
12
Cockroach
standard
1/0, 2/0
4
Black Death
white, tan
1/0, 2/0
4
Purple Demon
purple/black
1/0, 2/0
4
Layup tarpon fly
brown, chatreuse ,yellow
1, 1/0
6
Enrico's Tarpon Streamer
Purple & Black
2/0
4
Enrico's Tarpon Pinfish
Olive/white
3/0
4
Del's Merkin
tan/brown
1/0, 2, 4
6
Turneffe Crab
Cream, olive
2, 4, 6
4
Clouser minnow
chatr/white
1/0-2/0
6
Bonefish CLouser
assorted
4-6
12
Crazy Charlie
bead eye
pink,white,tan,brw
4, 6, 8
12
Moe bonefish
amber, pink
4
6
Christmas Island Specials
pink, orange
6, 8
18
Gotcha
standard
4, 6, 8
12
Packing List
Tropical Packing List
| √ | Packing Item | √ | Packing Item |
| --- | --- | --- | --- |
| √ | Passport | √ | Camera & media |
| √ | Photocopy of Passport (packed separately) | √ | Computer |
| √ | Airline tickets | √ | Cell Phone |
| √ | Itinerary with contact numbers | √ | Reading & writing materials |
| √ | Emergency Medical insurance docs ( if purchased) | √ | Rod repair (tip top and glue) |
| √ | Major credit card | √ | Sun gloves |
| √ | Cash for tips (there are a couple ATMs in San Pedro but they may not be working)) | √ | Face Sun protection (buff) |
| √ | 2 Hats with brim and neck guard (or sun hat for non anglers) | √ | Sunburn relief spray |
| √ | 2-4 long sleeve shirts for fishing (SPF fabric) | √ | Sunscreens SPF 30 or above |
| √ | 2 quick dry pant for fishing (SPF fabric) | √ | Sun block for lips and nose |
| √ | 2 quick dry shorts for fishing (SPF fabric) | √ | Toiletries |
| √ | White socks (tops of feet get burned in the boats or wear under wading shoes) | √ | Prescription meds |
| √ | Underwear | √ | Non-prescription Meds |
| √ | Casual pants or shorts | √ | Eyeglasses (and spare) |
| √ | Casual shirts, short sleeve | √ | Fly Rods |
| √ | Sandals | √ | Reels |
| √ | Belt | √ | Fanny or other small fishing pack |
| √ | Light sweater or fleece | √ | Water bottle ( Holster optional) |
| √ | Socks | √ | Waterproof boat bag |
| √ | Wading shoes | √ | Lines |
| √ | Bathing suits, | √ | Leaders |
| √ | T- Shirts | √ | Tippet |
| √ | Sandals or walking shoes ( Barefoot is good) | √ | Flies |
| √ | Rain jacket (an occasional cold squall will roll though or the boat spray may chill you to the bone!) | √ | Nippers |
| √ | Bug repellent (for dead clam days or evenings) | √ | Pliers/forceps |
| √ | Sunglasses (polarized with lanyard) | | |
Rates
Rates
Captain Cook Package Pricing
Number of nights
Number of
Days fishing
2 to a room
2 to a guide
1 to a room
2 to a guide
1 to a room
1 to a guide
7
all 6 days guided using skiff to access flats and offshore fishing.
$2650
$2795
$3100
7
All 6 days guided, 3 days wading (delivery to flats by truck), 3 days wading/offshore with skiff.
$2400
$2600
$3000
7
all 6 days guided, wading only (delivery to flats by truck.)
$2250
$2390
$2700
7
Group of 8 or more
6
Group of 8 or more
Save10%
Save10%
Save10%
Prices Include: round trip ground transportation from the CXI airport and the lodge, three meals a day, guided fishing each day ( for fishing packages). Prices quoted are in US dollars per person.
Prices do not include: International Airfare to CXI, Alcoholic beverages, fishing license, Departure tax or gratuities for your guide and resort staff
Why Book Through Flyfishingheaven.com?
Why book through flyfishingheaven.com?
1. Unbiased Advice:
Most people recognize the advantage of our unbiased advice, there are hundreds of destinations to choose from and our job is to know the ones that are right for your needs. We offer the real story you can't get from a lodge owner. Would the outfitter in questions tell you are booking in a less than stellar part of the year? Remember our unbiased advice is 100% free!
2. We Can Book Anywhere:
Our website highlights many of our favorite destinations but we have access to hundreds more. If there are fish there, we can book it. In fact, we will give you 5% back if you book a trip through us that is not on our website! We enjoy learning about new spots!
3. Loyalty Discounts:
2017 Special: You are automatically enrolled in our loyalty program before your first trip and will get the 5% cash back on your very first trip. This offer is good until December 31, 2017. In January you will ear your loyalty discount on the second trip and every trip thereafter. This discount applies to all your friends who are going with you as well. f you organize a group of 8 or more we will give you 10% off! All you have to do is book the first trip and you are a flyfishingheaven.com frequent fisher!
4. Price Guarantee:
If you find a price lower than ours we will beat that price by 5% if you book through flyfishingheaven.com!
Our Pledge
We promise to work for you, not a lodge, outfitter or resort. We pledge to get you you to a destination that will live up to your expectations at the best possible price. You will never be charged more than booking directly (in fact most of our clients are paying less - *see below). We will make sure you are well prepared for your trip with specific knowledge about the gear, the flies, the rods, packing lists, travel documents, connecting information everything. Since we are not tied to a particular destination we promise honest pros and cons of any destination at the time of year you are traveling.

We do earn a small commission when we book a trip as all lodges and outfitters offer this as they depend on agencies like ours for much of their business. This fee is paid by the lodge not you, and they do not keep different prices for direct bookings vs agency bookings, it is bad business.
Payment and Cancelation Polices
A 10% deposit is required if you are booking more than 6 months in advance, 50% deposit is required when less than 6 months until departure date with the balance due 60 days prior to departure. If you are forced to cancel with more than 60 days notice, you may keep full credit towards another trip or receive a refund less a 10% service charge. Deposits on cancellations with less than 60 days notice are not refundable unless your spot can be filled. MC, Visa, and checks are accepted. We recommend travel and or medical emergency insurance for all our trips.
Seasons
Seasons
El Pescador Fishing Calendar
| Month | Bonefish | Permit | Tarpon | Reef Fish |
| --- | --- | --- | --- | --- |
| January | Good | Good | Good/Fair | Excellent/Good |
| February | Good | Good/Excellent | Good | Excellent/Good |
| March | Good | Excellent | Good | Excellent/Good |
| April | E/Good | Excellent | Excellent/Good | Excellent |
| May | Excellent | Excellent | Excellent | Excellent |
| June | Excellent | Good | Excellent | Excellent |
| July | Excellent | Good | Excellent+ | Excellent |
| August | Excellent | Good | Excellent+ | Excellent/Good |
| September | Excellent | Good | Excellent+ | E/Good |
| October | Excellent | Good | Good | Good/Fair |
| November | Excellent/Good | Good | Good | Good/Fair |
| December | Good | Fair | Good/Fair | Excellent |
Gallery
Gallery
Please take a look at the  photo and video galleries related to Andros South.

Fishing Photo Gallery
Lodge Photo Gallery
Diving Photo Gallery
Activity Photo Gallery
Video Gallery
Activities
Activities
Activitys available
Activity 1
Activity 1
Activity 1
Activity 1
Activity 2
Activity 2
Activity 2
Activity 2
Travel
Travel Tips
Travel Info Here
Packing List
Tropical Packing List
| √ | Packing Item | √ | Packing Item |
| --- | --- | --- | --- |
| √ | Passport | √ | Camera & media |
| √ | Photocopy of Passport (packed separately) | √ | Computer |
| √ | Airline tickets | √ | Cell Phone |
| √ | Itinerary with contact numbers | √ | Reading & writing materials |
| √ | Emergency Medical insurance docs ( if purchased) | √ | Rod repair (tip top and glue) |
| √ | Major credit card | √ | Sun gloves |
| √ | Cash for tips (there are a couple ATMs in San Pedro but they may not be working)) | √ | Face Sun protection (buff) |
| √ | 2 Hats with brim and neck guard (or sun hat for non anglers) | √ | Sunburn relief spray |
| √ | 2-4 long sleeve shirts for fishing (SPF fabric) | √ | Sunscreens SPF 30 or above |
| √ | 2 quick dry pant for fishing (SPF fabric) | √ | Sun block for lips and nose |
| √ | 2 quick dry shorts for fishing (SPF fabric) | √ | Toiletries |
| √ | White socks (tops of feet get burned in the boats or wear under wading shoes) | √ | Prescription meds |
| √ | Underwear | √ | Non-prescription Meds |
| √ | Casual pants or shorts | √ | Eyeglasses (and spare) |
| √ | Casual shirts, short sleeve | √ | Fly Rods |
| √ | Sandals | √ | Reels |
| √ | Belt | √ | Fanny or other small fishing pack |
| √ | Light sweater or fleece | √ | Water bottle ( Holster optional) |
| √ | Socks | √ | Waterproof boat bag |
| √ | Wading shoes | √ | Lines |
| √ | Bathing suits, | √ | Leaders |
| √ | T- Shirts | √ | Tippet |
| √ | Sandals or walking shoes ( Barefoot is good) | √ | Flies |
| √ | Rain jacket (an occasional cold squall will roll though or the boat spray may chill you to the bone!) | √ | Nippers |
| √ | Bug repellent (for dead clam days or evenings) | √ | Pliers/forceps |
| √ | Sunglasses (polarized with lanyard) | | |