Alaska Float Trip Report – Moraine Creek
Alaska Report
Written by: Darrell Boyle
Where : Moraine River and Funnel Creek, Katmai National Park and Preserve, Alaska.
Who : Willie's Salinas fishing buddies, including Sam Eastman, Dick Stewart, Bill Barbee, Peter Hoss, Dennis Harper, Peter Mirrasou, and of course Willie Reeves and yours truly Darrell Boyle
Outfitter : Ed Blank. Adventures On The Fly. Web: www.flyfishingheaven.com . Phone: 617.974.8764
Guides : Ed Blank, Rachel Finn, Jeff Kirschman, and Bill Stohl.
Species : Rainbow Trout, following Sockeye Salmon. Also, grayling and lake trout.
When someone mentions fishing in Alaska, most people think salmon. From Chinook to Coho to sockeye, pinks and the rest, Alaska is renowned for its outstanding salmon fishing. Salmon were key to this trip too, but not because we were fishing for them. In fact, we were trying not to catch salmon. Instead, we were after the big rainbows that follow sockeye salmon upstream on their life-ending spawning run. Gorging on plentiful salmon eggs, these massive rainbows reach their genetic zenith in waters such as these. In addition to great rainbow fishing, we experienced getting up close and personal to some very big critters who were fishing for, and consuming, lots of salmon: brown bears.
This trip was perhaps the best fishing trip I have ever experienced. I was invited by father-in-law Willie to join him and his Salinas fishing buddies on a float trip in southwest Alaska. There were eight of us in our group, ranging in age from 84 to a mere 54. This was a memorable group with some very savvy fishermen and great camp mates. We laughed a lot.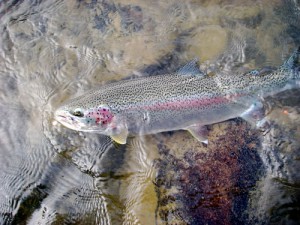 Katmai National Park and Preserve lies on the Alaskan Peninsula 290 miles southwest of Anchorage. It was declared a national monument in 1918 to preserve the land encompassing the massive 1912 volcanic eruption in an area called by natives the Valley of Ten Thousand Smokes. The years since the eruption have seen most of the region's geothermal features cool, but the fifteen active volcanoes that line the Park's southern boundary, known as the Pacific Ring of Fire, make it one of the world's most active volcanic regions today.
More recently the protection of brown bears has become a primary focus. Each summer, North America's largest land predators gather along streams to feast on spawning salmon, building weight from this wealth of protein and fat, and preparing for hibernation during the long winter ahead. Alaska's brown bears and grizzlies are now considered to be one species. People commonly consider grizzlies to be those that live more than 100 miles inland. Browns are up to twice as large as grizzlies thanks to their rich diet of fish, and mature males in Katmai can weigh up to 1000 pounds. Up to four cubs can be born to a sow, each weighing a mere pound, but most of the sows we saw had twins. The cubs stay with their mother for two years, during which time she does not reproduce. It is easy to believe the claim that Katmai holds the largest concentration of brown bears anywhere, as we were in the presence of bears almost all of the time.
Boundaries of the Park have been extended to the current size of over 4.7 million acres, and the area was designated a National Park and Preserve and a Wilderness Area in 1980. Past Park Superintendent Blinn's description of this wonderfully wild area describes it well.
Katmai National Monument is first of all a wilderness landscape, a place where the imprint of wildlife is greater than that of people, where clear lakes and rivers abound, where nearly two hundred miles of coastline bear little sign of man, and where steaming volcanoes rise above the entire scene. It is a land of uncrowded spaciousness, a place where people can experience wilderness on its own terms without the distraction of hordes of other visitors. It is a place where time and change are measured by the sun, the tides, and the seasons rather than clocks and calendars. Katmai, in short, is an experience set in the wild, and perhaps it is even a frame of mind.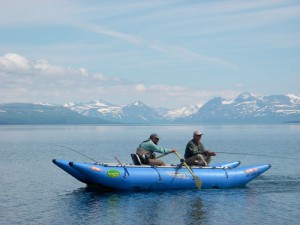 Our float trip took us to the northern most part of Katmai far from the volcanic region. We started the trip early Saturday morning in San Jose, changed planes in Seattle and took the third leg from Anchorage to King Salmon, arriving just before they closed the airport for the night. A nice woman from the Ponderosa Lodge, where we h ad reservations, picked us up at the airport and took us to the Lo dge. Sam Eastman did all the planning for the trip and he told us the lodge had been described as a bed and breakfast. The idea of a bed and breakfast in this remote outpost sounded a little specious to me, but the name Ponderosa Lodge certainly connoted some Alaskan character. Previously a barracks, this long metal building with a cafeteria on one end did not deliver on either idea, although the rooms were fine and the people friendly. Oddly, the kitchen had shut down just before we arrived (yes, they knew we were coming) so we were driven to the Quinnot Lodge for drinks and dinner. After encouraging the tattooed female bartender to pour from bottles rather than her push button wand that mysteriously added water to the drinks, we opened the menus and inquired about fresh fish. The good news was that the salmon was not frozen so I ordered it blackened. It was blackened all right and over cooked, but we were in good spirits – we were going fishing.
The City of King Salmon is perhaps most favorably described as a muddy outcropping of commercial buildings and scrap heaps. It is on the Naknek River twenty or so miles from the Bristol Bay. This massive bay is part of the Bering Sea on the west side of the Aleutian chain in what the Alaskans refer to as the southwest part of the state. King Salmon had been the site of an Army-Air Force base during World War II and much of the base had been converted to a vocational education center in recent years. The fishing industry has fallen on difficult times due to over fishing and competition from farm raised Atlantic salmon. There is not much to hold people in King Salmon or the surrounding area these days, aside from the short season for sport fishing and tourism. The area supports only a thousand or so inhabitants (fewer in the winter) and signs of a weak economy are prevalent.
The next morning after breakfast the outfitter, Ed Blank, along with the guides, gathered us together in the cafeteria for a powwow. Ed wanted to give us choice of rivers to float. We had been scheduled to float the Wild Alagnak River, which is a designated wild and scenic river of great fame. It offered fly fishing for silver salmon (Coho), rainbow trout, and other species. Ed said the fishing would be great but that we would probably tire of catching silvers, and that the rainbows were not the monsters portrayed in come-to-Alaska promotional literature.
The other choice was to fly just a few minutes longer to float the Moraine River. Ed described the Moraine as the prototypical hog rainbow fishery, arguably the best, or certainly one of the best, in Alaska (you can translate that to mean: the world). He went on to say that the downside to the Moraine is that the fishing was largely sight fishing to large fish, which is inherently more technical. He also said that one will catch fewer fish than on the Alagnak, and there are likely to be more fishermen, who fly in for day fishing from other lodges. He also said that the Moraine River was more alpine and scenic, probably no one else would be floating it (so we could grab the good places before the planes arrived), and it was full of brown bears. We debated the choices and chose the Alagnak primarily because it offered the least technical fishing and we thought this would be best for our group of fishermen with varying skills. Fortunately, Bill Barbee had missed the meeting (someone said he was busy styling his hair), and when we told him of the decision he very nicely asked us to reconsider. We did, and we changed our decision. We found Ed and he was able to radio the first plane, already in route, of the new destination.
We consolidated our gear into dry bags and went to town for fishing licenses, bug nets, and insect repellent. The entire town was out of insect repellent (the currency in this area!) and we bought the last bug nets that fit under a cap. After hurrying up and then waiting for what seemed like an eternity, a few of us were driven to the dock to load the floatplanes with everything we would have for the next six days. Soon we were in the air and headed NNE across miles of tundra toward our destination on Spectacle Lake. The tundra was broken by lakes, potholes, streams, and very few trees. Water was the dominant feature – water and vast distances. Mountain peaks were visible in the distance but the topography was largely flat and rolling. Flying low we could follow game trails indicating caribou but none were seen. On the 40-minute flight we saw a brown bear sow with three cubs and two swans, but not much else. It was gray and stormy.
Arriving at the lake , we flew directly over the guides who were unpacking the bright blue pontoons and our pilot feathered the floatplane down onto Spectacle Lake. We quickly joined the guides assembling the aluminum raft frames and pumping up the pontoons. After a few minutes the rest of our group landed, and it took only an hour or so to get the rafts together and loaded. It was windy and stormy, but the rain held off while we put the rafts together.
We got our first on-the-ground glimpse of brown bears while putting the boats together. A single bear walked toward us around the edge of the lake, alternatively searching for food and rolling in the tundra on his back. We were completely exposed but he did not seem to notice us for many minutes. Bears are notoriously near sighted but have a great sense of smell. At about 100 yards away, he must have finally scented us because he suddenly stood up and looked intently in our direction. After seeming to confirm his fears, he immediately did an about face and ran away over the hill. I was glad to see that he wanted no part of us. On our short walk to the mouth of the Moraine River where we would board the rafts, we saw several other bears in the distance. There really were bears here, lots of them, and we had no place to hide!
We boarded the rafts and floated down the Moraine about two miles to the confluence with Funnel Creek. All hands participated in unloading the boats, putting up the 2-man tents, and assembling the cots. Willie and I got our tent up and then went to work helping others. Camp setup and takedown was a good group effort and we got pretty efficient at it by the end of the trip. The equipment was first rate. Tents had a vestibule on either end that served as porches to protect the tent entrances from the wind and rain and also as a handy place to store wet waders and boots. The rain fly kept the rain out and the mosquito netting on the doors allowed ventilation and protection from bugs. The cots kept one off the ground. We each brought our own self-inflated pads and warm weather sleeping bags. For being in rough country, this was pretty posh.
Funnel Creek was our home for the first two nights . Except for one morning when the water temperature was a cool 46 degrees, the fishing was outstanding in this fairly small and shallow stream. Much of the river could be crossed wading and the water was clear in spite of the rains. Sockeye salmon were visible throughout the creek, congregated in pods of twenty to fifty fish in the deeper pools and paired-up spawning in the shallower water. Everywhere we looked we could see the distinctive red color of sockeye amidst the beautiful contrasting green blue of the stream. When the sun was shining the colors were even more dramatic.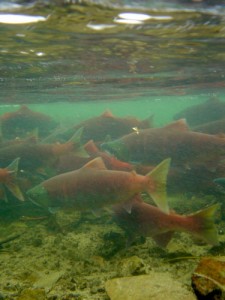 Sockeye are called "red salmon" or just "reds" due to the dark hue they obtain while on their spawning run. Salmon stop feeding upon entering fresh water and physiological changes lead to the dark red color, humped back and elongated jaw developed during spawning. Each summer sockeye return from the ocean where they h ave spent two or three years. By a honing mechanism we do not yet fully understand, they find the exact spawning gravel of their birth and repeat the process. Averaging 5 – 7 pounds, their size depends upon how long they have spent feeding at sea. After depositing and fertilizing thousands of eggs into the gravel of the streambed, the male and females salmon's life cy cle is complete.
The sockeye were plentiful, and we did inadvertently hook some each day, but we were not fishing for salmon. Aside from the fact that salmon stop eating when they enter fresh water, sockeye salmon are plankton eaters so they don't respond to a fly anyway. We were after the large mature rainbow trout that follow the salmon up the rivers to gorge on their eggs.
Everyone in our group did well, and several extremely well, on Funnel Creek. Peter Hoss got us started by landing two monsters right off. Dick caught five big rainbows in one short run alone in less than one hour. I remember Bill Barbee being into fish cast after cast. Willie landed a brute rainbow that jumped eye-high right in front of me on its first run – it looked to be a foot thick. In one small section I hooked 4 of the 5 fish I could see in the run, and landed 3 of them. In addition to catching many rainbows in the 5-7 pound range (running from 22 – 27″), I caught one especially large and strong rainbow that had a brilliant bright red stripe and cheek plate. It took at least fifteen minutes to land this powerful fish. While still in the river, we marked it against my rod and subsequently measured the mark back in camp. It measured a whopping 31″. Ed guessed this rainbow to be between 10 – 11 pou nds. This was the biggest rainbow I had ever caught. No question about that!
I also landed a 30+" lake trout which is evidently quite unusual for this area. This fish felt strong and heavy but did not fight at all like the acrobatic and frenetic rainbows that burned line off the reel. Willie and I also caught several grayling, all under 16″.
This was largely sight fishing , but depending upon the light and the current, we also made blind casts. I imagine even non-fishermen can envision the excitement of casting to fish one can see, particularly a whopper, and the guides were great at spotting them. This type of fishing is akin to hunting. Rather than merely casting and hoping, the fisherman pursues a particular critter. This focus puts all senses on alert and increases the intensity and excitement. We learned to look for the long black shapes and eventually were able to distinguish trout from the plentiful red sockeye. Of course we inadvertently snagged sockeyes and learned to break them off quickly and re-rig.
Since the trout were feeding exclusively on salmon eggs our offerings needed to imitate eggs moving in the current. We fished with a small bead (5mm) with a bare hook or egg pattern fly (usually size 10) 2″ below the bead. Different colored beads were used to match the sockeye eggs, and Guide Rachel's, colored with fingernail polish, looked the most natural. We used 2 BBs for weight (sometimes only one depending upon the current), 6-8″ above the bead, and a strike indicator about 9′ above the hook. We fished floating lines. The cast was upriver with a tuck cast to put the fly above the indicator, then a quick mend to allow a free drift. The strike came between 11:00 and 4:00, never on the swing at the end of the drift, as the fish were right on the bottom and they wouldn't move to chase an egg. Only once did a trout strike the bead while I was striping in the line. Sometimes the fishing was pretty technical, and I could not get some fish to take at all, but other times it was remarkably easy to catch a trophy. Of course all of this was catch and release and we all know how to successfully revive a fish after a long fight.
Funnel Creek was full of Brown bears too and they were on the river for the same reason as the rainbow: spawning sockeye salmon. The only difference is the bears don't give a hoot for salmon eggs; they want the fish itself. We were told that this area boasts the largest concentration of brown bears anywhere in the world, and I'm a believer. We probably saw over 100 bears, many very close. We were particularly careful around sows with cubs, and I even witnessed, at about 75 yards, a sow charge a large approaching male. Fortunately, this happened in the direction away from where I was standing with the guide. We were standing in the middle of the river wondering if we could avoid spoiling our waders if the action turned our way. The male was twice the size of the sow, but he apparently wanted no part of the trouble she presented and ambled off slowly complaining the whole way. The cubs were appropriately agitated since big males are notorious cub killers. Most of the sows we saw had twin cubs.
Before leaving King Salmon, Ed had given us our bear talk. He wanted to make sure we knew to never run but to walk diagonally away from a bear. Also, we needed to avoid sows with cubs and we should always make noise wh en walking through the bush to announce our presence. The truth is the bears are not so interested in humans, having lots of salmon to eat, but they are smart and unpredictable, so it pays to be cautious. And, it is easy to remember that they are above us on the food chain. Requirements for carrying food in bear proof containers are strict so bears haven't yet learned to equate people with food in this wilderness. Ed concluded the talk by telling us that there had never been a mauling in Katmai Park. This was reassuring to our group and I chose not to tell them that on Conor's graduation trip to Tikchik Narrows in 1997, just west of where we were going, a brown bear had come into camp and mauled one of the pilots. This was supposedly the first attack in that area and one cannot help but wonder when Katmai will experience its first one. I of course hoped it didn't happen while we were there.
After getting our bear avoidance lecture from Ed, one in our group asked the question: "How do you tell the difference between black bear and brown bear scat? The answer: Brown bear scat has pepper spray canisters in it." We were also told the brown bears use the spray to season their meat. I remember our laughter having a slightly nervous edge to it.
After returning from making my morning la trine behind camp on our first morning, Peter asked if I had seen the bear that had just walked between camp and me. I was glad to have not seen him, as I'm not sure what I would have been able to do about it with my waders around my ankles. We didn't walk the bank of the rivers, which was often covered with low growing willows, for fear of surprising a bear. Bears use the banks to look down into the river for spawning fish. They literally gorge on the sockeye and were large, fat, healthy looking beasts. We slowly learned how to act around them and our bear tolerance grew each day, although we never lost fear and respect (I can promise!).
The c losest I came to a brown bear was a scant 25′, which is about two bounds in as many seconds. I was wading in the river casting to a large fish that repeatedly ignored my offerings. I guess I was concentrating pretty intently because when I turned to try a different spot, I found myself facing a mature male brown bear. He was on the gravel at the water's edge a few yards upstream of me looking straight at me. Never taking my eyes off him, or he taking his eyes off me, I stepped back away from the bear paralleling the shore. I remembered the admonishment to never run from a bear and to instead walk diagonally away to relieve the pressure that could cause a bear to attack. So, I shuffled back away from him, trying to act calm. When I stopped, the bear moved my direction a few steps and then also stopped. That certainly was not the reaction I had hoped for. There appeared to be only one other option, to try moving forward. Nothing could have induced me to walk directly toward the bear (believe me!) and the river was too deep to cross at this point. I wondered if hollering would help but wasn't sure what good that would do or even if I could find my voice. I cautiously took a few steps upriver moving no closer to the shore but certainly closer to the bear. Fortunately, this is what the bear was waiting for and he resumed his ambling walk past me downriver, watching me intently over his shoulder as he crossed the river about 35 yards below. Whew!
On that same morning I watched two separate sows with cubs cross the river above me, and Shaggy, a 3-year-old blonde male so named due to his long coat, came around several times to see what we were doing. Another time I got ahead of everyone else and looked carefully upriver around the bend. In the middle of the river about 100 yards upriver (a remarkably short distance given the circumstances) were two teenage males wrestling and growling. These 3 year olds probably weighed 400-500 pounds but they looked playfully cute, until they ran downstream chasing one another in my direction. I decided to exit my position and walk (not run) back to the relative safety of my guide with her bell and pepper spray. Knowing teenage boys, I could picture these two bears galloping by me planting a swat or two on my person just for the fun of it. It is amazing how it feels to realize you are just slow meat!
While at Funnel Creek we encountered two game wardens that were checking licenses and gear. Imagine being in the middle of a wilderness and finding wardens who camped along the river for weeks at a time – in my experience this only happens in Alaska. A fisherman had told us earlier that day that he had been given a $125 fine for fishing with his hook mor e than two inches below the bead. Our licenses were of course in order and they didn't check our rigs due, I believe, to their trust of our outfitter and guides. One warden saw the Keeper of the Streams patch on my vest and asked about it. This gave me the chance to explain California Trout's conservation programs and my involvement on the board. Wardens usually appreciate groups such as Cal Trout and I never mind jawboning these guys. It is a good way to get them to talk about the best fishing spots, plus I wanted to butter them up in case someone in our group had lost a license or made some inadvertent mistake.
After leaving the Funnel Creek camp , we floated a few miles downstream on the Moraine to 5 Rocks camp where we spent three nights. This picturesque site is on the bend in the river with a high bluff across the river and a snowfield behind. The first morning Dennis and I volunteered to head out early, so we quickly ate breakfast and left at 6:00 a.m. to walk upstream to find Rachel who was guarding the prime run from fly-in fishermen. Due to the rain and low visibility, however, we had the river to ourselves. With the water temperature about 46 degrees in the early morning, the fishing was pretty slow. By late morning, however, things changed for the better as water temperatures rose a few degrees and the fish turned on. The fishing was hot and Rachel radioed camp to ask Jeff to bring lunch out to us. Being a smart guy, he not only brought a great bag lunch but his rod, which he used to hook a monster fish that took him off into the distance to land. We had a great day and walked back into camp at 6:00 p.m.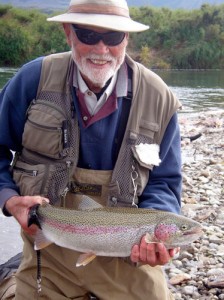 Back at camp, Willie was on fire. He had just had his best day fishing ever. He and Bill Barbee had gone downriver after breakfast and like us had had a slow morning. Things changed in the afternoon, however, and they both talked of fighting and landing lots of big, strong rainbows. After watching Willie run down the river trying to keep a monster rainbow from spooling him, Bill Barbee said it looked like he was "dancing on eyeballs." This was a particularly apt description of the awkward run down a rocky shoreline we had all experienced. I wouldn't think it possible, but the two of them caught more weight in rainbows that afternoon than their combined age. I admit that 162 years is enough to brag about, but 162 pounds of rainbow is a whole lot of big fish! I sure hope I can be doing even half as well when I am their age.

The next morning Dennis and I followed Guide Bill downriver to the area where Willie and Bill had done so well the afternoon before. This was indeed a magic spot. Fishing was pretty slow until around 8:00 a.m. when it turned on and it stayed hot almost the whole day. In one spot where short line techniques were used from the bank, rainbows were apparently lined up into a feeding slot gorging on eggs that were channeled from the spawning sockeye upstream. We would fight one fish 50 yards downstream before releasing it and go back to the same spot to hook another fish that had taken the first one's place. There was no way to keep track of the number of fish this day because we were literally into fish the whole time. After one 15-minute period with no hookups, Dennis and I asked each other what was going on – we had grown accustomed to a hookup on almost every cast. (It is pretty easy to get spoiled this way!). We estimated landing 40 – 50 rainbows that averaged 5-7 pounds, most 25″+ and only a few less than 20″. Several were 30+" and over 10 pounds. I also caught a beautiful 28″ lake trout and a couple of grayling over 20″, which is quite large for grayling. My 5-weight fly rod often felt overpowered by these fish and my Ross reel started making complaining noises but never broke down. Dennis' 6-weight rod looked to be a better match for these fish, and Dennis really knew how to play the big ones using his reel to keep pressure o ff the rod, line and hook. There was a lot to learn from the guys in our group as well as the guides on this trip.

I've never experienced anything like this. These fish were like adult steelhead, exploding down river, often going most of the way through the backing on the first run. It wasn't uncommon to have a fish leap 6-8 times or more. You had to run with them or face losing them downstream in the current. I had several big fish straighten the hook and others just throw the hook after a long fight. And, of course, any nick in the leader and they were gone, but leader failure was infrequent, as we were using 12 pound leaders with 10 pound tippet. At 5:00 p.m. we walked back to camp exhausted. This was indeed a remarkable day. Back in camp, Willie reported having a good day fishing upstream of camp. He said it was nothing like the remarkable day before at the magic spot, but he didn't mind one bit – it doesn't have to be that good to be great. That night there was some singing around a campfire and we even had some-mores!

The next morning I fished the same general area downriver (and beyond) with Sam and Dennis with the same excellent results. The fishing started hot right away and I remember landing seven fish by 7:00 a.m. On the way back to camp for a late lunch I joined up with Ed who coached me on finding and casting to fish in water that was remarkably shallow. I thought I was getting pretty good at spotting fish but he pointed out some that I would have walked right over. His eyes were amazing. After trying repeatedly to catch one particularly long black shape with no luck, Ed suggested I try to keep and eye on both the indicator and the fish (remember they are 9′ apart and moving fast) and he asked me if I saw the fish open its mouth. I definitely couldn't see the fish open its mouth at that distance in fast flowing water, and I found it almost impossible to watch both the fish and the indicator.

After I gave up and finally headed for camp, Ed gave it a try himself. He achieved success on the first try of course. When asked how he did it, he stated that he could see the fish open its mouth and release its holding position to float downstream with the bead. That way the fish could accept or reject the egg without tightening the line and moving the strike indicator. This trout had evidently been taking my bead and spitting it out without causing the indicator to move. Of course this was happening so quickly it took an eagle eye to detect it. Ed watched for the fish to open its mouth and when it did he set the hook. This is just one example of why Ed is the guide and I am the client.

We broke camp at 5 Rocks and headed down river past numerous feeding bears in the river and one huge sow with a large hump leading two playful small cubs to safer ground on the hill above the river. Dick Stewart got to demonstrate perfect bear etiquette as the sow with cubs walked back onto the riverbank and approached the raft he was standing beside. She stopped, probably feeling this intruder was too close to allow safe passage for her cubs, and for a moment it appeared there might be a confrontation. Being the gentleman that he is, however, Dick left the relative safety of his raft and walked diagonally away from the bears into the river. This was all she needed to resume her walk up river, and Dick was left to collect himself and check his waders.

We resumed our float down river, fishing along the way. Willie and I caught some nice fish but the fishing was much slower than the magic spot at 5 Rocks. I landed one trout Rachel estimated to be 9 pounds and tail hooked a whitefish. These pontoon rafts were pretty heavily laden and not as maneuverable as drift boats, so we stopped occasionally to wade the better spots. We had some rapids to run on this leg and made it through all with a few close calls but no lost gear or people.

Along the way we saw evidence that someone else had not been so lucky. In the distance a floatplane flying slowly and oddly close to the ground. When it came closer we could see that a large construction helicopter was towing it. As it flew over us the damage caused by an abrupt landing was apparent. We thought this was funny until someone reminded us we had a floatplane ride the next day.

Our last camp was on the lower Moraine River . The distant view of Walatka Mountain was beautiful, particularly in the soft evening light. We could have called this Dive Bomb camp, as the bugs were so aggressive they bounced off our faces. We finished off our supply of booze that night, reflecting excellent resource management discipline. I remember drifting off to sleep hearing Guide Bill shooing a curious bear out of camp. I guess one does indeed develop a tolerance to bears!

Except for cooperative grayling, fishing was poor the next morning, so we broke camp early and floated down river to Kukaklek Lake arriving about noon. We quickly went to work breaking down the rafts, and when the planes arrived we stowed our gear and headed back to King Salmon. We spent another night in King Salmon and then most of us headed back to the lower 48 on August 18 th . Dick Spenser and Bill Barbee spent an extra week in Alaska fishing their way toward Denali and perhaps beyond.

In summary , Sam did a great job of organizing the trip and all of its details, and he was an attentive shepherd keeping track of his wayward flock. It is clear that he enjoys doing this type of thing, and we all appreciated his extra thoughtfulness. As adventures like this go, this was not a luxury trip. Helping the four guides, our group was responsible to put up and take down camp, load the rafts, and wash the dishes. The guides were excellent individually and they worked well together. This was a mellow and competent group. Ed Blank, the outfitter, was a superb fish spotter, great technical teacher and nice man. Rachel Finn was the cigar smoking trail boss, making sure we did the right thing and didn't take too long doing it. She would bark at us at times but was very a helpful guide and a gentle soul. Jeff was a super cook and experienced outdoorsman. He gave us the feeling we could follow him anywhere. He and Rachel live together in Lake Placid, New York where they guide flyfishing on the famous Au Sable River. Replacement guide Bill Stohl was on his first trip to Alaska. Bill was a really fun guy and knowledgeable fisherman. He guides fishing and particularly duck hunting also in New York, and he has been a commercial fisherman along with just about everything else. His nickname was Freak in high school but he promised he has calmed down a little since then.

The food was very good and Jeff deserves much of the credit. His culinary skills are outstanding. Everything from bacon wrapped filets to Tai chicken to peppered pork loin to grayling (provided by Bill Barbee) was well prepared with special sauces and flavors. We had plenty to eat, including nice salads that are not easy to arrange in the bush.

We were in stormy weather a good deal of the time, but there was enough sunshine between storms to lift our spirits and provide photo opportunities. Fishing is usually best when skies are overcast, but when the fish are on almost anything but lightning is tolerable. Weather kept planes from flying a good deal of the time we were on the Moraine and we did not see many other fishermen. The only other outfitter on the river for more than a day at a time had a permanent camp near Funnel Creek. He brought fishermen into and out of this camp, but they were limited to the river they could walk. There were a few private parties floating the river, but they didn't appear to know where to go, passing by places where we just hammered the fish. In fact, as we walked up river the first morning on Funnel Creek one small group wa s camped in a prime fishing spot. Guide Jeff went ahead to ask them if it were all right for us to fish through and they told him to go ahead since they were moving anyway. They didn't know that they had camped on one of the best spots on the whole river and they left without even wetting a line. Later, we could see they had also passed by the magic spot where we did so well. There is no substitute for an outfitter who kno ws the river.

Temperatures were fairly mild, with overnight lows around 40 degrees. There was still snow on the ground behind our second camp and occasionally elsewhere. We watched bears roll in a snowfield a quarter mile down river. Imagine seeing a huge bear on his back, sliding down hill, with all 4 feet up in the air wriggling and shaking. What a sight! One partly sunny day the temperature may have made it into the low 70s but highs were usually in the low 60s. It rained a lot, sometimes for days straight. The water temperature ranged from 46 to 52, mostly around 49-50, which is perfect for trout activity.

Aside from the numerous brown bears we saw a number of bird species, including bald eagle, tundra swan, great blue heron, ruff legged hawk, sanderling, ptarmigan, ducks, cormorants, and of course various rats-with-wings (gulls). Guide Bill was an amateur ornit hologist and he kept us current on the critters in the air. There was also a beautiful red fox that was tame enough to come within a rod length of me, while he was scavenging dead salmon along the riverbank.

Two of the guides picked up a stomach virus on the trip and spent some time in their tents. Unfortunately one of our group and I got it also. I feel lucky to have had the worst of it while at home but can attest to it not being much fun to do the two-step and head into the bush with a shovel. Of course, the bears made any trip into the bush more interesting, and I had to make sure to get an aisle seat for the three flights home.

There were bugs but they were not as much of a problem as we anticipated. The biting bugs were so bad when we arrived in King Salmon that those of us without bug net hats bought the last ones in town. Thankfully, we didn't need to use them on the river since the breezes usually kept the bugs at bay. A sand fly the Alaskans call "white socks" was the peskiest bloodsucker, but there were also plenty of mosquitoes and no-see-ums. DEET, in all its various forms and brands, seemed to do a responsible job of deterring most bites and almost as important kept them from annoyingly swarming around our faces.

This was a superb fishing trip, a lifetime trip. I have never caught so many big, high quality fish before . I cannot imagine doing better. It was like steelhead fishing in terms of the quality of the fish, but unlike steelhead fishing we caught lots of them. Ed had said we might only catch two of these dandies per day but it would be worth it. He was right. It would have been worth it, yet one day I caught more than twenty of these prizes and other days over a dozen. There were times when I just watched the line sing off my reel down deep into the backing and I couldn't do anything but laugh at the power and spirit of this magnificent life on the other end of my line. And, releasing the fish brought the joy of releasing oneself to the wild river.

Some people may wonder why fishermen strive to catch big trout. Since they are released and not consumed, what difference should it make? It is indeed true that catching any size trout on a light fly rod connects one to spirit of this wonderful creature. A half-pound rainbow trout will demonstrate gymnastics that are hard to imagine and a thrill to behold. Imagine how this feeling is magnified when one connects with a powerhouse 10 – 20 times larger and many more times smarter. It delivers a heightened connection to the wild experience many of us feel we need to be complete. Of course, hooking and landing a monster rainbow is also just great fun.

The fishing was outstanding alone and yet one other thing made this trip even more special: the bears. Being so close to these huge wild creatures was electrifying. Certainly we were afraid at times, but more than that we were in awe of their power and grace.

I need to do this again.

Copyright Darrell Boyle