Belize Fly Selections — Permit Hand Tied in USA
$90.00 – $125.00
Belize permit eat a couple things almost every day. Shrimp and crabs. On Ambergris the guides fish 85% shrimp patterns, while down near Punta Gorda it is almost all crab patterns. One thing is true, cruising fish will respond to shrimp patterns striped high in the water column and tailing fish will respond to crab patterns fished on the bottom. Every selection will need some Avalons, some crabs and some shrimp patterns. We will put in some UV materials in almost every pattern and utilize a unique double keel for many of the Avalons and even some of the crab patterns. This double keel on a crab will get the crab in its "fighting" position which will provoke more eats, plain and simple. The standard selection will contain 14 flies and the Cliff CrabShack box for $90 (a $105 value) and the extended set will contain 20 flies in a Cliff CrabShack box for $125 (a $142 value). All our selections are hand tied in the USA and will will be chosen based on your destination and the time of year you are fishing.
Description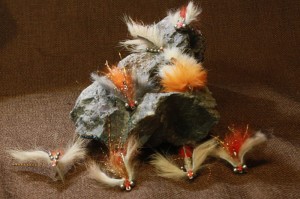 The Avalon gained notoriety from its roots in Cuba. It does a great job of imitating both a crab or a shrimp depending on how it is fished. The keel design has been enhanced with some of our bigger Avalons using the double keel to increase the rattle effect when the weighted beads hit each other while they are stripped. This modern take on this fly uses UV materials and owner hooks and is hand tied right here in the US. Fish it fast for a shrimp or slow and twitchy for a crab.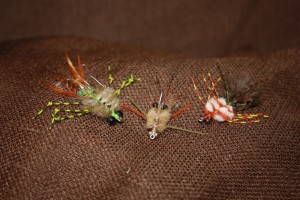 The Merkin Divergent is the basis for almost all crab flies and even some tarpon flies (The Tarpon Toad) Whether it is tied with different color body materials to give it the traditional striped look or tied out of a single color to mellow it out it is still a Merkin, and a hint of some claws, some UV reflective materials, some claw features and you have our Merkin Divergent. This fly is usually supplied in a couple of different weights, color and sizes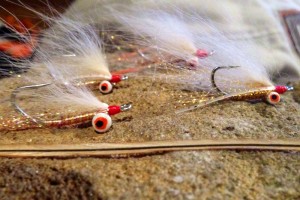 Christmas Island Specials the guides in Belize will use these lead eye Christmas Island Specials with extended wings as a shrimp pattern for permit pretty often in Belize. This comes in handy when you are fishing for bonefish and a nice permit is spotted, no need to change flies just cast get the fishes attention and strip fast! These CIS are tied with different materials to give it extra life like rabbit, fox, yak, as well as some synthetics treated with UV reflection dyes. Add some legs for an extra reason to bite! The extra weight gives it a nice jigging shrimp like strip. Remember Permit eat more than just crabs! Hopefully they will eat this fly for you.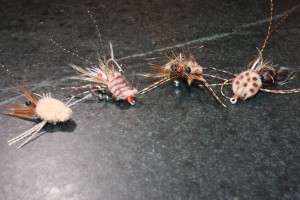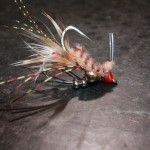 The Fighting Raghead Crab is a huge step forward or crab flies when it comes to permit. It seems permit will key in on the defensive fighting posture and behavior of crabs when they are cornered. They rise up in the front and open those claws ready to snap, while slowly backing up or moving sideways. That is what these flies do so well thanks to the double keel that holds the crab up at the right angle. They just look like they are ready to bite back. They come in tan and can be colored with markers to create the right pattern and color. A truly unique fly that will soon be your go to tarpon fly with UV materials, sharp hooks and oh yes, tied in the USA with love!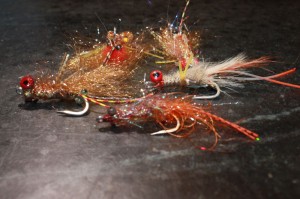 Mantis Shrimp come in a variety of colors from Brown, Pink, Green, and almost clear so these flies do their best to get those colors right. Lots of legs and UV materials will give the fly a little extra life . This fly should be stripped fast and is used by guides when they see permit that are near the surface and not concentrating on the bottom. Large Mantis shrimp have powerful legs that are used like punching robots that can crack open clams! Shrimp are a big part of the permits diet so don't be afraid to use them.
The Raton Clouser is half Clouser, part Charlie, part rat and all about permit. UV materials throughout make this a great all purpose permit fly . The fly mainly imitates a shrimp but also can be mistaken for a small baitfish (which permit also eat). The Raton is tied with a twist here in the USA, by a US citizen who loves to fish for permit. What more do you need to know?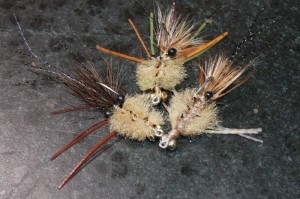 Micro Crabs are a constant part of bonefish and permit diets and these dime size crabs are easy to throw and seem to be easy for permit to eat. They have a distinct advantage of not making a big disturbance when they hit the water and can waft down to the eye level of a tailing permit or bonefish. We tie these in natural colors like tan, brown, olive, light olive. When fish get picky, go smaller, go UV, go for it.
.
Additional information
| | |
| --- | --- |
| Weight | 1 lbs |
| Dimensions | 7 × 5 × 2 in |
| Selection Size | 14 flies for the Standard Selection $90, 20 flies for the Extended Selection$125 |
| Shipping | Flat Rate of $7.95 |