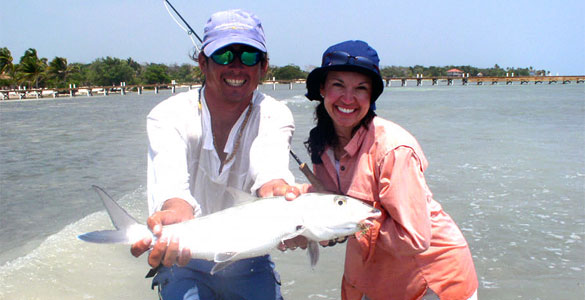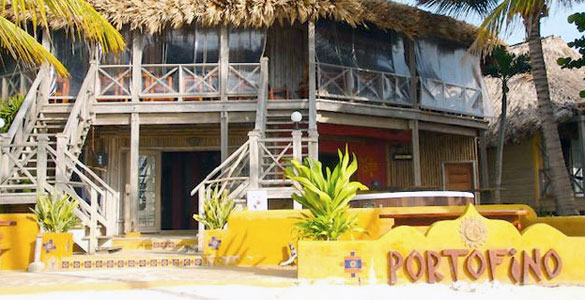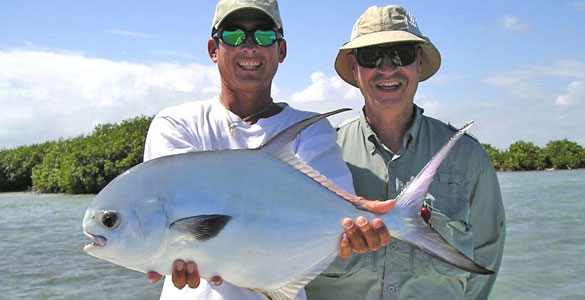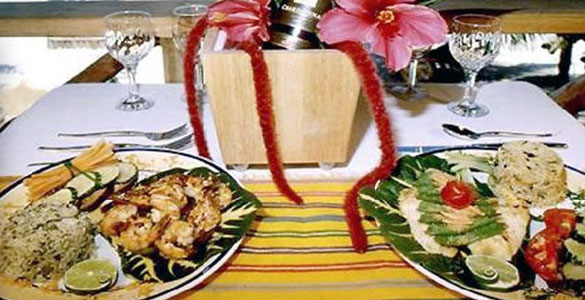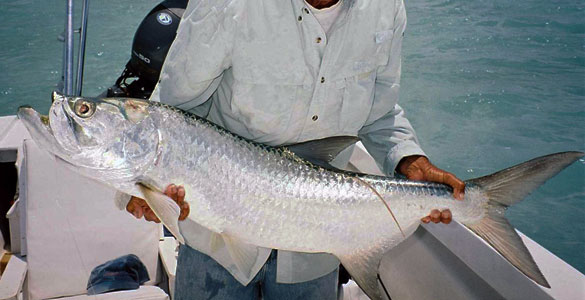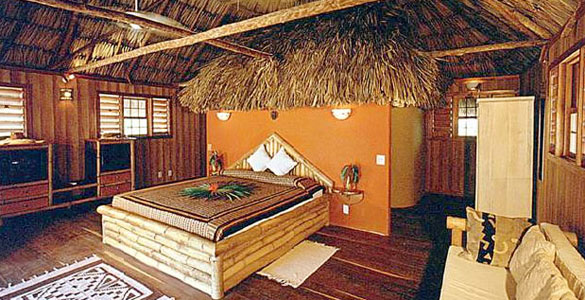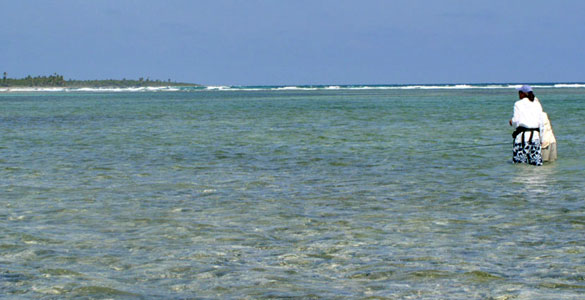 Overview
Portofino – Overview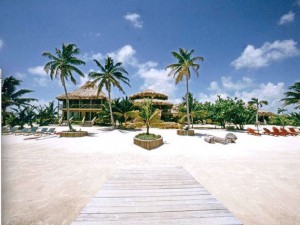 PORTOFINO is located North of San Pedro, and sits on the most beautiful beach on Ambergris Caye. Although this feels like a private island resort, the town, shops and the nightlife are just 15 minutes away by boat. Many of the best restaurants (including Portofino's Le Bistro) are located north of San Pedro.
We can combine our hand picked guides with this superior resort for a romantic vacation that just happens to include some word class fly fishing. In fact there are bonefish on the grass flats right along the beach in front of the resort.For the non fishers day trips starting from the Portofino dock; visit the many spectacular Mayan ruins, waterfalls and rainforest jungle, housing a wide range of plants, animals, and birds. Over 40% of Belize consists of protected wildlife parks and reserves. Or go to one of the the many Caves in Belize, with Maya remains, spectacular geologic cave formations, or just relax on the perfect beach here at Portofino.
Read More about Portofino
The PORTOFINO service is second to none. Room service is offered to every room, daily housekeeping service and 24 hour maintenance is available for any problems that might occur. Beach service covers beach raking and cleaning every morning and arrangement of all hammocks and sun chairs. You can have a drink at the Green Parrot Bar, but drink service also extends to the beach and the dock.
At our Restaurant, Le Bistro, we combine European specialties, ranging from Italian to Mediterranean, highlighted by what French Chefs call Nouvelle Cuisine. The motto is: European Specialties With a Personal Touch . Whether you come for a lunch with the most beautiful view from our balcony, or to enjoy our specialties during dinner Le Bistro is the right place.
Reception in the main building is manned by professional and knowledgeable staff who is available for any request. Our staff can advise you competently on all tours and detailed written descriptions are also available.
Our landscaping is tended to by our full time gardeners and cuttings of flowers and plants are taken daily and placed in the rooms, to ensure constant fresh flowers to all our guests.
Read a little bit more!
Access to PORTOFINO is by boat only, and therefore we offer a complimentary meet and greet service at San Pedro Airstrip and boat transfer to the resort, an approximately 15 minutes ride. Our concierge service ensures that all guest luggage is taken promptly to the rooms.
We also offer a free boat service to San Pedro Town for our guests, several times per day. Outside of these times, there is the Island Ferry service that runs up and down the island at least every two hours, and can be reserved at the reception.
PORTOFINO is proud to offer the very best service on the island with no expense spared to ensure our guests have a relaxing and memorable vacation.
Lodging
Portofino – The Lodging
PORTOFINO offers eight (8) beach cabanas with clear and unobstructed Caribbean views, along with three (3) Tree Top suites that are on stilts 10ft (3 mts) in the air, offering beautiful views over the Caribbean and the second longest Barrier Reef in the world. To the rear of the suites is an amazing view of the lagoon, home to an assortment of rare tropical birds and the occasional Crocodile.
The cabanas have a superb view of the sea and the sunrise. The suites offer a superb view of the sea sunrise and the sunset at the rear of the property.
Cabanas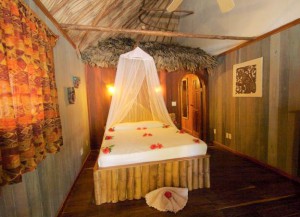 Each cabana is on the sand and measures 12ft by 24ft and offers queen-size bed with a view through the front picture windows of the beach. Each bed is draped with a pure linen mosquito net and pure cotton sheets. Floor rugs are from Guatemala, and assorted decorations from Belize and Mexico. The inside of the roof shows the hand thatched Palapa roof rising 18ft into the air. Bathrooms are spacious and airy, and offer a hand sink, toilet and circular shower, adorned with Mexican tiles and mirrors. The roof of the bathroom is also palapa and hangs over the bed giving a false roof and concealed lighting.
Each cabana has a good size deck with deck chairs and hammocks over looking the beach.
Suites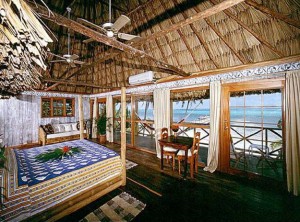 Each suite measures 24t by 24ft and is elevated ten (10) feet in the air on Sapodilla wood legs with a wide staircase made of local woods for entry. Each offers a king-size bed on the centre of the room and stunning views through the massive picture windows. A raised platform on each side of the suite offers a seating and reading area as well as a closet and dressing area.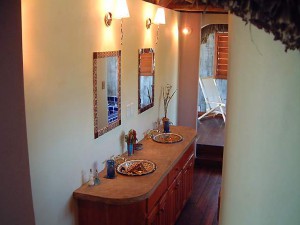 The bathrooms in the suites are very large and offer two (2) sinks, toilet, large circular shower and windows over the lagoon. All ceilings in the suite are open to the thatched palapa giving a very beautiful effect. Each suite has a full-length balcony offering great views of the Caribbean and sunrise, with hand carved deck chairs and hammocks.
All accommodation also offers: air conditioning, ceiling fans, television, wireless internet, hair dryers, sea facing picture windows, mini bar, and individual interior décor and artwork.
PORTOFINO offers one, very special, VIP/Honeymoon Suite measuring over 800 sq.ft and full of special touches, including Emperor bed, Jacuzzi, special bathroom and furnishings fit for a King.
Resort Photo Gallery
Fishing
Portofino – The Fishing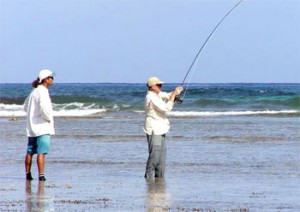 The fishing in Belize and especially Ambergris Caye is unique for a couple of reasons, One is the nice even mix of fish you find here with bonefish, permit and tarpon available in significant numbers all year round, The second is that it is far enough south that it doesn't succumb to cold fronts that can ruin the fishing in the winter like the Bahamas or Florida.
Another unique feature of fishing Ambergris is the tarpon flats. True flats sight fishing for tarpon year round for 20-100 pound fish with large migratory fish May through September.
The bonefish are quite plentiful on the flats surrounding Ambergris Caye, with a limited number of guides available and one fishing lodge on the island there are more square miles per fly fisher than most of our popular destinations in Belize. Bonefish can be found right in front of the resort. In fact the very first time I visited Journeys End a very large bonefish was patrolling the beach begging me to get my fly rod set up!! The lagoon in the back of the resort has bones, baby tarpon and barracuda as well. You can do OK out there without a guide in the evenings or the day you leave if you take one of the kayaks into the lagoon. Ambergris Caye is perhaps the most suited to non guided fishing of all our destinations as you don't need a boat to get to productive flats.
Read more about the fishing
About half the flats in the area are wadeable and the other half are too soft. We have very large numbers of bonefish around Ambergris Caye and they seem to be very fat and happy. The fish weigh a lot for their length and seem to be a little more athletic as well. You will find jut about every conceivable type of terrain to pursue the fish. There are acres of flats that are very shallow with fish tailing or swimming with their backs out of the water and there are mile of knee deep flats that will have you scrutinizing every stick thinking it is another bonefish. Flies should be pretty small so take a look at the gear page. A typical 3-4 " bonefish strip works the best but sometimes the dead stop is what gets them to eat. An experienced bonefisher will almost always catch fish, a bad day would be 3 landed, maybe 3 others hooked and a good day would be 15 landed with 20 or so hooked. In any case you will get lots of shots at the fish which is really what counts. Your skill level will go way up since you will be casting to fish all day. The fish average 2-3 pounds and the trophies are 5-7 pound fish
Tarpon can be fished on some beautiful flats surrounding some islands about 40 minutes from the lodge. True flats fishing is a year round deal here. There are bigger migratory fish in the late spring and summer but the 20-80 pound fish are always around. A good day means we will see dozens of tarpon and hopefully get some decent shots. The best day you may jump 5 tarpon and a bad day is a big zero. It is not as fast paced as the bonefishing but if you have the time and patience there is nothing like a tarpon and the fight that ensues. A 50 pound fish will instantly bolt out of the water a peel of line only to jump again before you know what hit you. You don't land more than 1 out of ten hooked. Their mouths are so hard most hook sets are literally skin deep. It needs to be a relatively calm day to head out to these flats. The mangrove lagoons in back of Journeys End have baby tarpon as well but the fight may last only 2 seconds as the first thing the fish does is run and jump through some mangrove branches!! Fun but frustrating as there is no way to stop them.
Read even more about the fishing
Permit inhabit the deeper flats year round as well. Now keep in mind that a good week permit fishing is 3-4 fish so it is not the most numbers oriented fishing here in Belize. The permit fishing is as good as it gets. I have seen schools of 100 permit scouring flats in search crabs. A big school, flashing as they grab a bit here and there, tails in and out of the water really gets your heart pumping. Then you throw that perfect 80′ cast and you realize it should have been a 70′ cast as the water explodes with permit spooking in every direction! Lots of fish but alas, very few takers!
There are some very hungry barracudas in the back lagoons or on the flats. Bring some wire leader so you can fish for these guys. They range in size from 12′ to 5 feet and are extremely athletic. It is impossible to retrieve a fly too fast for a barracuda. Barracudas can catch a bonefish at full speed and they jump which should give you an idea of their fighting prowess.
I always feel guilty when I come here because the resort is so lush and luxurious. It doesn't seem like it should be a fishing camp. Lisa is quite happy that it doesn't seem like a fishing camp and I'm quite happy it fishes like a fishing camp and Lisa loves it too! Please see the tackle page to for a list of flies, rods, lines, and leaders that you will need for your trip. There are some rental rods at the lodge as well as some flies for sale if you get desperate. El Pescador is a few resorts down and has some flies as well.
Fishing Photo Gallery
Species
The bonefish flats are 10 to 50 minutes from the lodge and the tarpon flats start 30 minutes from there. Most of the bonefishing is done from the bow of a boat but there are many flats that can be waded. The bones run from 1-7 pounds and are plentiful. Most fish are in the 2-3 pound range. They can be found in huge schools or singles and doubles depending on the area you fish.  Some folks enjoy the numbers that can be had by fishing the large schools while other anglers love the hunt and are happy to catch less fish for the fun of stalking a large tailer.
The tarpon are found  year round in channels  20- 30 feet deep or on the flats 2-8 feet deep.  The flats and channels are 45-80 minutes from the lodge.  The flats and are quite extensive and offer the only true flats fishing for tarpon outside Florida.  Needless to say one hunts for tarpon. Not all the tarpon flats are fishable everyday due to changing weather conditions and currents, generally speaking we have good tarpon fishing year round. The tarpon run from 10 to well over 100 pounds; the average winter fish is about 15-50 pounds with the average summer fish being 90 – 150 pounds.
Permit are found on the deeper bonefish flats, some of the shallow tarpon flats as well as in waves coming over the reef. Our permit range from 4-30 pounds with the majority being about 8-10 pounds and found in large schools. Jack Crevalle, Barracuda, Cobia and Snook are also found on the flats and in the surrounding mangrove lagoons.
Tackle & Gear to Bring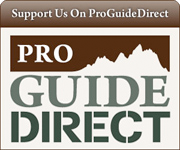 Here is a list of the basics you will need for your trip. I have organized this list on Pro Guide Direct where you can actually purchase the brands and items that I have found to be the best of the best. Any Items that you purchase from Pro Guide Direct will help us earn a living and help you by being ensuring that you have the right gear for the trip. Many of our destinations are pretty remote with no chance to buy things on site.
Bonefish
Rods: 9 foot 8-9 weight(maybe a 10 on a windy day)
Lines: Floating tropical line
Reel: Large Arbor Disc drag reel with 200 yards of backing
Leaders: 9 ft-12 ft leaders with 10-12 lb. flourocarbon tippet
Permit
Rods: 9 foot 10 weight
Lines: Floating tropical line
Reel: Large Arbor Disc drag reel with 200 yards of backing
Leaders: 9-12 ft leaders with 12-15 lb. flourocarbon tippet
Baby Tarpon
Rods: 9 foot 10 weight
Lines: #1 Floating tropical line #2 Floating with clear sink tip
Reel: Large Arbor Disc drag reel with 300 yards of 20 pound backing
Leaders: 10-12 ft leaders with 25 lb. flourocarbon and 60 lb shock tippet
Big Tarpon
Rods: 9 foot 12 weight
Lines: #1 Floating tropical line #2 Intermediate full sinking #3 Floating with clear sink tip
Reel: Large Arbor Disc drag reel with 300 yards of 45 pound backing
Leaders: 10-12 ft leaders with 30 lb. flourocarbon and 80 lb shock tippet
Barracuda/Sharks
bring the wire bite guards!!
The Fly List:
Go a little smaller than you might think, better to have too many 8's than 4's for the bonefish. Tie a few patterns with just the weight of the eyes as a variable 1 with lead eyes, 1 with chain, 1 with small chain, and 1 with no weight or mono eyes just to make sure you have flies for very skinny water all the way to waist deep water. Presentation seems to be much more important than fly selection. Weed guards will be a plus on the grass flats.

Fly Name
Colors
Sizes
Qty for a 1
Week Trip
Toad Fly
chatreuse, olive, tan, purple/black
1, 1/0
12
Cockroach
standard
1/0, 2/0
4
Black Death
white, tan
1/0, 2/0
4
Purple Demon
purple/black
1/0, 2/0
4
Layup tarpon fly
brown, chatreuse ,yellow
1, 1/0
6
Enrico's Tarpon Streamer
Purple & Black
2/0
4
Enrico's Tarpon Pinfish
Olive/white
3/0
4
Del's Merkin
tan/brown
1/0, 2, 4
6
Turneffe Crab
Cream, olive
2, 4, 6
4
Clouser minnow
chatr/white
1/0-2/0
6
Bonefish CLouser
assorted
4-6
12
Crazy Charlie
bead eye
pink,white,tan,brw
4, 6, 8
12
Moe bonefish
amber, pink
4
6
Christmas Island Specials
pink, orange
6, 8
18
Gotcha
standard
4, 6, 8
12
Packing List
Tropical Packing List
| √ | Packing Item | √ | Packing Item |
| --- | --- | --- | --- |
| √ | Passport | √ | Camera & media |
| √ | Photocopy of Passport (packed separately) | √ | Computer |
| √ | Airline tickets | √ | Cell Phone |
| √ | Itinerary with contact numbers | √ | Reading & writing materials |
| √ | Emergency Medical insurance docs ( if purchased) | √ | Rod repair (tip top and glue) |
| √ | Major credit card | √ | Sun gloves |
| √ | Cash for tips (there are a couple ATMs in San Pedro but they may not be working)) | √ | Face Sun protection (buff) |
| √ | 2 Hats with brim and neck guard (or sun hat for non anglers) | √ | Sunburn relief spray |
| √ | 2-4 long sleeve shirts for fishing (SPF fabric) | √ | Sunscreens SPF 30 or above |
| √ | 2 quick dry pant for fishing (SPF fabric) | √ | Sun block for lips and nose |
| √ | 2 quick dry shorts for fishing (SPF fabric) | √ | Toiletries |
| √ | White socks (tops of feet get burned in the boats or wear under wading shoes) | √ | Prescription meds |
| √ | Underwear | √ | Non-prescription Meds |
| √ | Casual pants or shorts | √ | Eyeglasses (and spare) |
| √ | Casual shirts, short sleeve | √ | Fly Rods |
| √ | Sandals | √ | Reels |
| √ | Belt | √ | Fanny or other small fishing pack |
| √ | Light sweater or fleece | √ | Water bottle ( Holster optional) |
| √ | Socks | √ | Waterproof boat bag |
| √ | Wading shoes | √ | Lines |
| √ | Bathing suits, | √ | Leaders |
| √ | T- Shirts | √ | Tippet |
| √ | Sandals or walking shoes ( Barefoot is good) | √ | Flies |
| √ | Rain jacket (an occasional cold squall will roll though or the boat spray may chill you to the bone!) | √ | Nippers |
| √ | Bug repellent (for dead clam days or evenings) | √ | Pliers/forceps |
| √ | Sunglasses (polarized with lanyard) | | |
Rates
Please use the drop down lists below to find the package that suits your needs the most. Any package can be customized to fit your needs, need a 7 night package with three days of fishing – no problem we can do it! Just drop me an email and I will work out the price for you.
Portofino Fishing Package Pricing
High Season Jan 6- April 30- Low Season May 1-Dec 21
Number
of Lodge
Nights
Number
of Fishing
Days

Two per
Boat
Two per
Room
High/Low
One per
Boat
One per
Room
High/Low
4
3
$1723 / $1558
$2988 / $2689
5
4
$2162 / $1957
$3790 / $3410
6
5
$2601 / $2356
$4521 / $4132
7
6
$3039 / $2755
$5393 / $4853
Upgrade to a Standard suite for $40/night/unit, The VIP suite for $100 per night/unit, The honeymoon suite for $125 per night/unit. For larger groups and families we have 2- 2 bedroom Villas for an extra $130 per night/unit.
Prices Include: Round trip air transportation from Belize City to the San Pedro air strip, Boat transfers from the airstrip to the resort, Cabana Lodging (KING BEDS ONLY), breakfast. lunch and dinner daily, guided fishing each day, unlimited use of all amenities of the resort, It also includes all taxes. Prices quoted are per person in US dollars.
Prices do not include: Soft drinks or bar tab, fishing license or gratuities for your guide and resort staff
Rest and Relax Package Pricing
Portofino Non-Fishing Package Pricing
High Season Jan 6- April 30- Low Season May 1-Dec 21
Number
of Lodge
Nights
Number
of Fishing
Days

Two per
Room
High/Low
4
3
$1161 / $1044
5
4
$1412 / $1270
6
5
$1663 / $1496
7
6
$1914 / $1722
Upgrade to a Standard suite for $40/night/unit, The VIP suite for $100 per night/unit, The honeymoon suite for $125 per night/unit. For larger groups and families we have 2- 2 bedroom Villas for an extra $130 per night/unit.
Prices Include: Round trip air transportation from Belize City to the San Pedro air strip, Boat transfers from the airstrip to the resort, Cabana Lodging (KING BEDS ONLY), breakfast and dinner daily, unlimited use of all amenities of the resort, It also includes all taxes. Prices quoted are per person in US dollars.
Prices do not include: Soft drinks or bar tab, Lunches, fishing license or gratuities for your resort staff
Why Book Through Flyfishingheaven.com?
Why book through flyfishingheaven.com?
1. Unbiased Advice:
Most people recognize the advantage of our unbiased advice, there are hundreds of destinations to choose from and our job is to know the ones that are right for your needs. We offer the real story you can't get from a lodge owner. Would the outfitter in questions tell you are booking in a less than stellar part of the year? Remember our unbiased advice is 100% free!
2. We Can Book Anywhere:
Our website highlights many of our favorite destinations but we have access to hundreds more. If there are fish there, we can book it. In fact, we will give you 5% back if you book a trip through us that is not on our website! We enjoy learning about new spots!
3. Loyalty Discounts:
How do you qualify for our frequent fisher discounts? First, you have to book a trip, any trip. Then on every trip after that, you will receive a 5% discount automatically. If you organize a group of 8 or more we will give you 10% off! All you have to do is book the first trip and you are a flyfishingheaven.com frequent fisher!
4. Price Matching:
If you find a legitimate price for less than what we are charging we will offer you 5% back to book through flyfishingheaven.com!
Our Pledge
We promise to work for you, not a lodge, outfitter or resort. We pledge to get you you to a destination that will live up to your expectations at the best possible price. You will never be charged more than booking directly (in fact most of our clients are paying less - *see below). We will make sure you are well prepared for your trip with specific knowledge about the gear, the flies, the rods, packing lists, travel documents, connecting information everything. Since we are not tied to a particular destination we promise honest pros and cons of any destination at the time of year you are traveling.

We do earn a small commission when we book a trip as all lodges and outfitters offer this as they depend on agencies like ours for much of their business. This fee is paid by the lodge not you, and they do not keep different prices for direct bookings vs agency bookings, it is bad business.
Payment and Cancelation Polices
A 10% deposit is required if you are booking more than 6 months in advance, 50% deposit is required when less than 6 months until departure date with the balance due 60 days prior to departure. If you are forced to cancel with more than 60 days notice, you may keep full credit towards another trip or receive a refund less a 10% service charge. Deposits on cancellations with less than 60 days notice are not refundable unless your spot can be filled. MC, Visa, and checks are accepted. We recommend travel and or medical emergency insurance for all our trips.
Seasons
Ambergris Caye Fishing Calendar
| Month | Bonefish | Permit | Tarpon | Reef Fish |
| --- | --- | --- | --- | --- |
| January | Good | Good | Good/Fair | Excellent/Good |
| February | Good | Good/Excellent | Good | Excellent/Good |
| March | Good | Excellent | Good | Excellent/Good |
| April | E/Good | Excellent | Excellent/Good | Excellent |
| May | Excellent | Excellent | Excellent | Excellent |
| Jun | Excellent | Good | Excellent | Excellent |
| July | Excellent | Good | Excellent+ | Excellent |
| August | Excellent | Good | Excellent+ | Excellent/Good |
| September | Excellent | Good | Excellent+ | E/Good |
| October | Excellent | Good | Good | Good/Fair |
| November | Excellent/Good | Good | Good | Good/Fair |
| December | Good | Fair | Good/Fair | Excellent |
Gallery
Please take a look at the  photo galleries to get a better idea of what Portofino and fly fishing near Ambergris Caye is like.

Fishing Photo Gallery
Resort Photo Gallery
Scenic Photo Gallery
Activities
Portofino – Activities
If you are reading this page you are probably trying to make sure the non fishing or diving members of your group will have a good time. We would be happy to send you lots of references from avid flyfishers, divers or the spouses of fishing maniacs! The resort has romantic comfortable rooms each with air-conditioning, phone Satellite TV, a great restaurant, a pool, a gorgeous beach, a bar, a dive shop and lots more…
This combination of world class fishing and unlimitedamenities is sure to please everyone in your family. Honeymoon anyone?
First we will list the diving then all the other snorkeling and touring adventures. .
Diving
DIVING Scuba diving vacations don't get any better than in Belize.
and… Scuba diving vacations don't get any better than at the potajo's Scuba Center at the Tides.
Skip to other non diving, non fishing tours >
The scuba in Belize is among the best in the world. The water is warm and calm, the tropical ocean life is varied and plentiful, and visibility is outstanding. The nineteen miles of living tropical reef offers something for everyone, from the Beginner to the most experienced Technical Diver.
At Portofino, we take care of everything for you. We book your dives which will start right at out dock after breakfast. You won't have to worry about a thing except how happy you are. We make scuba diving vacations about scuba.
Beginners will be happy to know that we have our own dive instructor, who claims that he truly has the greatest job in the world, bringing the joy of scuba to new people, making friends, and spending much of his time in the water. One of the advantages of being on the northern part of the caye is that we have access to many dive sites that the shops on the southern part of the caye do not frequ ent. Top rate guides and instructors, the second largest barrier reef in the world, great accommodations for the entire family, Not only do we have serious grand slam fishing but, world class diving as well.
DIVE SITE INFORMATION
North Ambergris Caye Dive Sites
M&M Caverns
M&M Caverns Caverns 70′-90′ Boat Tiger, Grouper, Jacks
This is probably one of the best dives found off the barrier reef on Ambergris Caye, located only a half mile from our Dive Center. This dive is noted for its extensive tunnels and caverns. As you descend down to a depth of 90′ you see the entrance to the first tunnel which has a length of 30′ to the exit which comes out at a depth of 60′.
Because of the deep water surrounding these tunnels, there are always schools of horse eyejacks and a good opportunity to see deep water pelagics cruising the reef. A dive not to be missed!
Renegades
Renegades Overhang 80′ Boat Lobster
Fish-watching at its best!! This dive site is one of the sites where the yearly grouper spawning take place on the full moons of December and January. This means there is always a congregation of groupers and lots of other species for you to see.
Another interesting point of this dive is the unusually large coral formation shaped like a huge mushroom which the fish seem to use like an umbrella for shade!
Happy Hour Reef
Happy Hour Reef Coral 70′ Boat Beautiful Coral, Sponge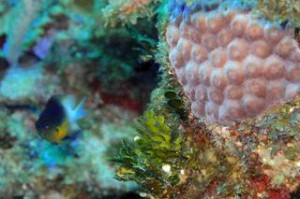 We call it Happy Hour Reef because of the first time we went there one late afternoon, and were lucky enough to witness the spawning of the coral, which happens once a year. All year round though, you will see lots of big barrel sponges, sea fans and phenomenal colors. This is a drift dive so you can take all the time you need to explore.
Eailman' Reef
Eailman's Reef Mushroom Sharp Coral 70′-80′ Boat Grouper spawning in January
The coral at this spot is uniquely shaped like a huge mushroom under which the whole variety of reef fish of the Caribbean Sea seek protection. This is also the spot where groupers meet for spawning around December and January each year. Our manager's favorite dive site.
Devil's Canyons
Devil's Canyon Steep Canyon, Wall 60′-150′ Boat Caribbean Reef Fish
It's called Devil's Canyons because the canyon walls at this site drop off very steep to about 150 feet. It is impressive to dive along the side of these walls. There lots of marine life and you could literally meet any kind of fish.
Palmeros Point
Palermos Point
You will be diving through arches carved by a slight current that comes down from Mexico catching there in the pointed reef formation. Because of this current, bigger fish such as Barracuda, stick around to hunt. Also there is a good chance of meeting big eagle rays, which feed on the micro-organisms that float in the current.
Angel's Flats
Angel's Flats 60'80' Boat Blk Angel, Butterfly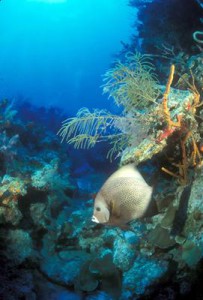 At this site the canyons of the reef are filled all the way up with sand, creating a great sandy flat, frequently interrupted by the coral tops of the canyons that will stick out. The reason why we call it Angel Flat's is the amazing range of artfully colored Angel and Butterfly Fish, that like to meet around here. Also, you will find some Sting Rays and Nurse Sharks sleeping in the sand.
Mahogany
Mahogany Boat Tiger, Groupers, Nassau
This place is quite easy to find due to a huge mahogany tree that once got caught on the barrier reef and marks the spot. At this site the coral formation is about 20 feet higher than all along the rest of the reef, creating a little underwater hill, that attracts numerous reef fish, like Tiger and Nassau Groupers, different species of Trigger Fish. There is also a big school of Blue Tang Fish that made this spot their home.
Mexico Pinnacle
Mexico Pinnacle Coral 70′-90′ Boat Caribbean Reef Fish, Grouper, Nurse Shark
Starting by diving through a cavern you will end up in front of a coral pinacle that usually attracts groupers and nurse sharks. This size is also unique for a wall like drop off with lots of tube sponges and beautiful soft coral.
The Wall
The Wall Sandy Slope 60′-90′ Boat All Coral & marine Life
The Wall is the most northern dive site in the country of Belize, right at the border of Mexico. It is also the only wall on the 183 miles of Belize's Main Barrier Reef. Due to the distance, we don't dive this site often, but, when we do, we get surprised all the time by the size of the fish we find here. Talking about unspoiled dive sites… this is definitely the one!
South Ambergris Caye Dive Sites
Love Tunnels
Love Tunnels Caverns 90′-100′ Boat Horseye Jacks
The site is named Love Tunnels simply because a pair of lovers got married in the entrance to this huge cave mouth. Combined with the beautiful and massive gorgonians and the large congregation of blue chromis, this is a beautiful dive to be added to your list.
Hol Chan Marine Reserve
Hol Chan Barrier, Cut 15′-30′ Boat Nurse Shark, Tarpon, Electric Eel, Eagle Ray
Located 16 minutes away from Journey's End is one of Belize's most famous dives and also happens to be the country's first marine reserve. This dive is dense with all sorts of tropical fish… from huge dog tame groupers to moray eels and thousands of yellowtail.
Here you can literally see most of the fish in the Caribbean. It also happens to be our night dive spot where you can see lemon sharks, eagle rays cruising at dark and all the night-time critters found on a world class dive site!
Shark Ray Alley
Shark Ray Alley Sandy 8′-10′ Boat Nurse shark, StingRay
This site was highlighted in the April, 1996 issue of Skin Diver magazine, and is Ambergris Caye's newest attraction. You can snorkel and interact with up to 26 tame stringrays and 12 puppy dog nurse sharks. This is a once in a lifetime experience not to be missed!
Pillar Coral
Pillar Coral 30′-70′ Boat School Master, Barracuda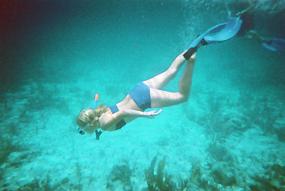 Located in the Hol Chan Marine Reserve, the pillar coral dive site is a beautiful dive with lots of grouper that literally follow you throughout the dive. The name of the dive comes from the huge pillar corals found at this site and the abundant fish life that live around these coral formations.
Amigo's Wreck
Amigo's Wreck 70′ Boat Nurse, Angel, Black Angel
This site is just outside our beautiful coral canyons, you will end this dive at a 30 foot wreck. The wreck was purposely sunk in this spot to attract bigger marine life. It worked! Today we have big Nassau and black groupers, big hog fish snappers, nurse sharks and a couple of moray eels living in and around the wreck. This is a gorgeous dive! You have to do it, while you are here with us!
Eagle Ray Canyon
Eagle Ray Canyon Canyons 70′-90′ Boat Eagle Ray, YellowTail
This site is just outside the Hol Chan Marine Park Channel and due to tidal current, we keep meeting schools of spotted eagle rays. The reef itself is accentuated by huge barrel sponges and a variety of big groupers. Snappers like to hang out in-between everything.
Pescador Cavern
Pescador Cavern Cavern 90′-`100′ Boat Bar Jack
Instead of hovering over the reef, you will explore under the reef at this site, swimming through a long tunnel. Big spiny lobsters and spider crabs like to hide in here. At the end o f the tunnel, there is a steep drop off to a couple of hundred feet. You'll meet Cubero Snappers who come up out of the deep to hunt here during surface interval.
Cypress
Cypress Finger Canyons 50′-70′ Boat Cleaning Station
Unique to this site is the concentration of impressive orange and white elk horn coral. Schools of yellowtail, gray, black and red snappers swim among these beautiful coral formations. Because they are accustomed to being fed, they will come up very close to you. Cypress is a great spot for photographers who want to fill their wide angle lens with colorful schools of fish.
Buena Vista Point
Buena Vista Point Fingers, Groove 60′-80′ Boat Cleaning Station
Pausing over impressive finger canyons on this dive, you will see some underwater cleaning stations. At these stations, big snappers and groupers sit patiently and let the cleaning goby fish clear their mouth and gills of parasites. It is possible to get really close to the fish for pictures.
North Caye Caulker Cut
N. Caye Caulker Cut Coral, Patches 60′-90′ Boat Big School Snappers
This is the southern most dive site on the main barrier reef that we go. The cut is special because manatee often swim there all the way from the mainland rivers to search for food. Around July, you might even see a whale shark here.
On the Water Near Ambergris
Manatee Safari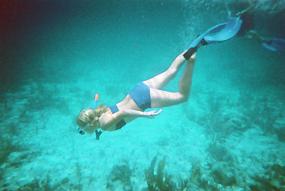 Sight the friendly, toothless creatures called West Indian Manatee. (Although the population here is small and protected under the Wildlife Protection Act, Belize enjoys the largest population of this Manatee in the Caribbean). Snorkel and swim off a beautiful, isolated island and enjoy a relaxing picnic lunch. Two other exciting snorkel stops included and time permitting, a stop at neighboring Caye Caulker. Lunch, beer and soft drinks included. Bring snorkel gear. Departs on demand, not on Tuesday or Friday. Time: 8:30am-5:30pm
Sail/Snorkel Caye Caulker
Sail aboard the "Me Too", a 36 ft. McGregor Catamaran. Snorkel the sites with the most prolific fish life on the reef: Hol Chan Reserve and Shark Ray Alley. Enjoy lunch and a stroll through the lobster fishing village of Caye Caulker. Rum punch, beer and soft drinks included. Bring snorkel gear, lunch money and Hol Chan Park entrance fee ($2.50 US) and a laid back attitude for a relaxing day. Departs daily on demand. Time: 8:30am-5:30pm
Private Tour by Boat
Arrange for a private boat tour and driver to explore the area, tailoring the trip to your specific interests. Your guide can take you to a secluded sandy beach where you can swim and sunbathe in total isolation or your can fish on the way to a neighboring caye. You tell us what the tour should include. Departs on demand. Time: Anytime you want
Deep Sea Fishing
Board Sea Boots, a 52ft. sportfisher and within 10 minutes, you can be fishing in 1000′ of water where the action begins! Sit in one of four fighting chairs waiting for a hit or relax with a drink while not worrying about where you will find the next restroom (Two onboard the Sea Boots) Your catch might include Wahoo, Grouper, Sailfish, Marlin and a host of other large game fish. It's always an adventure with Capt. Tom. Drinks included. Lunch included on full day trips. Departs daily on demand. Time: Flexible (1/2 day is 4 hours; full day is 8 hours)
Bacalar Chico Mayan Channel Adventure
Board the Sea Boots and troll while traveling north with Capt. Tom. Snorkel and swim, and enjoy a fresh lunch prepared in the boat's galley. On a guided tour of Bacalar Chico Nature Reserve, you will see birds, fish and underwater caverns. Experience an ancient Mayan mangrove canal and then troll past famous Rocky Point fishing grounds on the way home. Departs daily on demand. Time 8:00am-5:00pm
Parasailing
Get a bird's eye view of San Pedro, sailing high above the sea for about 15 minutes. Nerve wracking excitement included. Take your courage… Departs Tuesday and Friday Time: 8:30am-5:30pm
On the Mainland
Altun Ha
Travel south around Ambergris Caye, west to the mainland and cruise up a jungle river viewing orchids, birds and an occasional crocodile. Continue by van to Altun Ha Maya ruins and visit exotic Maruba Jungle Lodge for lunch (where you can also enjoy spa facilities or horseback ride). Soft drinks and beer included. Take $5.00 entrance fee for ruins entrance, lunch money and a swim suit for a dip at Maruba. Departs Tuesday and Friday Time: 8:30am-5:30pm
Belize River Wildlife Tour
Spend a fascinating day on the waterways of Belize! Travel to the mainland to Belize City up Haulover Creek to the Belize River. Travel further up the Belize River to the vicinity of the Baboob Sanctuary. Besides lush green plants lining the river bank, you will see crocodiles, iguanas and of course the "baboobs" of Belize (howler monkeys). Lunch and drinks included. Departs Tuesday & Friday Time: 7:00am – 6:30pm
Butterfly Nature Reserve
Travel by boat north to Sarteneja on the mainland and travel by van int o pristine Shipstern Nature Reserve. Here you will visit the Butterfly Reserve, walk a medicinal trail, explore a bat cavern and see a variety of birds and other wildlife from an observatory deck in the jungle. Includes lunch, drinks and entrance fees. Departs Thursdays Time: 7:00am – 5:00pm
Caracol/Mountain Pine Ridge
Fly directly from San Pedro to Mountain Pine Ridge and visit Caracol, a magnificent Mayan site, still in the process of being unearthed. An artifact at the site describes a victory over Tikal, which was once thought to be the most powerful of the Mayan cities. In Mountain Pine Ridge, see the famous 1000 ft. falls and the surrounding lush vegetation. Lunch, drinks, entrance fee all included. Departs daily on demand. Time: 8:30am-3:30pm
Crooked Tree
Fly to the mainland and take a short ride to this bird sanctuary well known for it's herons, falcons, vultures, and a variety of other birds. Most spectacular among the birds, the Jabiru-Stork, the largest bird in the Western Hemisphere. Lunch, drinks, and entrance fees all included. Departs daily on demand. Time: 8:30am-3:30pm
Jaguar Paw Tube Cave/Zoo
Fly into Belize City, take a quick tour of the zoo, then travel to jaguar Paw for a spectacular 3 hour inner tube float through an underground river cave system. Bring extra clothes. Lunch, soft drinks and fees included. Departs Friday Time: 6:30am-6:30pm
Mountain Pine Ridge
Fly into Belize City and travel by van on the Western Highway to this beautiful forest reserve. Wear your walking shoes and bring your swim suit for a variety of activities in this rugged part of the country. Sites you will visit include Rio Frio Caves, Rio on Rapids and Pools, and the 1000 ft. Hidden Valley Waterfalls. Includes lunch, drinks and entrance fees. Departs Monday & Thursday Time: 6:15am-6:30pm
Xunantunich/Panti Trail/Butterfly Farm
Fly directly from San Pedro into the Cayo District and travel by van across the Mopan River (via a hand cranked ferry) to the major ceremonial center of Xunantunich. Also on this trip, visit the Panti Trail, named after Belize's greatest herbalist, Elijio Panti, and a breeding center for the amazing Blue Morpho Butterfly. Lunch, drinks and entrance fees included. Departs daily on demand. Time: 8:30am-3:30pm
Xunantunich/Zoo
Fly to Belize City and travel by van along the Western Highway nearly to the Guatemalan border. The ruins of Xunantunich sit high on a plateau and it is possibly to climb to the top of the largest temple for a breath-taking view of the Cayo District and Guatemala. On the way back to Belize City stop at the Zoo, home of many indigenous exotic species of animals. Lunch, drinks, and entrance fees included. Departs Sunday & Wednesday Time: 6:15am-6:30pm
Lamanai Ruins
Because of it's popularity as a site, there are three options to visit Lamanai. All include a trip down the historic New River to the New River lagoon, the longest occupied area of the ancient Maya. The river offers spectacular bird life and occasional sightings of shy crocodiles. At the Maya site of Lamanai, which means "Submerged Crocodile" you will not only learn about the ruins, but you will learn about the medicinal uses of ju ngle plants. Most likely, you will enjoy an encounter with a troupe of howler monkeys in the wild and time permitting, visit a museum of artifacts from the site.
Lamanai (Airplane/Boat)
Fly directly from San Pedro to airstrip near the New River lagoon. Boat a boat for a trip down the New River and have ample time to explore the ruins and additionally, see an old Sugar Mill in Indian Church, near Lamanai. Includes lunch at Lamanai Outpost Lodge, drinks, entrance fees. Departs daily on demand. Time:8:30am-3:30pm
Lamanai (Airplane/Van/Boat)
Fly to Belize City and travel by van to Orange Walk district. Wind down the river to the Lamanai, where you will enjoy a packed lunch and a tour of the ruins. Departs daily. Time: 6:15am-6:30pm
Travel
Portofino – Travel Tips
Air:
You will need to fly into Belize City, Belize (Airport code: BZE)
Arriving in Belize:
To enter the country of Belize, US citizens are required to have a valid passport that does not expire within 90 days of arrival and a return airline ticket. US citizens are allowed to stay for 30 consecutive days.
When you arrive at the Belize International Airport, proceed through Immigration, collect your bags and continue through Customs. The Customs line to the far right has a green sign that states "No Goods to Declare." Proceed to this line.
Local Transfer Flight to San Pedro:
After clearing Customs please continue into the Main Terminal and to the Tropic Air counter. You will find your tickets waiting for you under your last name.
It is about a 20-minute flight to San Pedro, where a representative from Portofino will meet you for the 15 minute boat ride inside the reef of Ambergris Caye
NOTE: If you miss your connection, you will automatically be placed on the next available shuttle. If your International flight has been very delayed and you are not scheduled to arrive until after 5:00pm, please call El Pescador at 226-2398 (Internationally 011-501-226-2398) and we will reschedule your flight.
Entry Requirements:
US visitors staying for 30 days or less need a return ticket and a passport. All US and Canadian citizens are required to have a valid passport for entry in and out of the Belize. Some visitors that are not citizens of the U.S.A. may also require a visa, check with your country's consulate.
Packing List
Tropical Packing List
| √ | Packing Item | √ | Packing Item |
| --- | --- | --- | --- |
| √ | Passport | √ | Camera & media |
| √ | Photocopy of Passport (packed separately) | √ | Computer |
| √ | Airline tickets | √ | Cell Phone |
| √ | Itinerary with contact numbers | √ | Reading & writing materials |
| √ | Emergency Medical insurance docs ( if purchased) | √ | Rod repair (tip top and glue) |
| √ | Major credit card | √ | Sun gloves |
| √ | Cash for tips (there are a couple ATMs in San Pedro but they may not be working)) | √ | Face Sun protection (buff) |
| √ | 2 Hats with brim and neck guard (or sun hat for non anglers) | √ | Sunburn relief spray |
| √ | 2-4 long sleeve shirts for fishing (SPF fabric) | √ | Sunscreens SPF 30 or above |
| √ | 2 quick dry pant for fishing (SPF fabric) | √ | Sun block for lips and nose |
| √ | 2 quick dry shorts for fishing (SPF fabric) | √ | Toiletries |
| √ | White socks (tops of feet get burned in the boats or wear under wading shoes) | √ | Prescription meds |
| √ | Underwear | √ | Non-prescription Meds |
| √ | Casual pants or shorts | √ | Eyeglasses (and spare) |
| √ | Casual shirts, short sleeve | √ | Fly Rods |
| √ | Sandals | √ | Reels |
| √ | Belt | √ | Fanny or other small fishing pack |
| √ | Light sweater or fleece | √ | Water bottle ( Holster optional) |
| √ | Socks | √ | Waterproof boat bag |
| √ | Wading shoes | √ | Lines |
| √ | Bathing suits, | √ | Leaders |
| √ | T- Shirts | √ | Tippet |
| √ | Sandals or walking shoes ( Barefoot is good) | √ | Flies |
| √ | Rain jacket (an occasional cold squall will roll though or the boat spray may chill you to the bone!) | √ | Nippers |
| √ | Bug repellent (for dead clam days or evenings) | √ | Pliers/forceps |
| √ | Sunglasses (polarized with lanyard) | | |