Tarpon Caye Lodge 2 for 1 Special-2014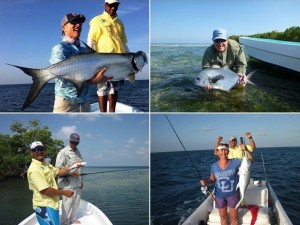 With an average of one Grand Slam per month, we can ardently say that the fishing has been phenomenally fabulous this year. The weather has certain been great to us this year. With a very mild cold front season during January and February, the permits came up from the deeper water and onto the flats sooner than anticipated, and they came hungry and ready to let your reel burn.
Last year we saw an increase in migratory tarpon to our area, and thus adding to the amount of resident tarpon already in Tarpon Caye lagoon. Everyone comes to this lagoon to fish tarpon. While they travel 15 miles to get their lines wet and rods bent, our fishing guests are on top of tarpon in less than two minutes from the dock, back for breakfast by 9:00 and off to the flats for permit and top off the day with some bonefish fishing.
What makes coming to fish with us at Tarpon Caye Belize even more tantalizing you ask?
· 5 Night/4 Day Fishing Package: Only $2,817US for you and your buddy!
· 6 Night/5 Day Fishing Package: Only $3,150US for you and your buddy!
· 7 Night/6 Day Fishing Package: Only $3,420US for you and your buddy!
· Valid all of May and June 2014.