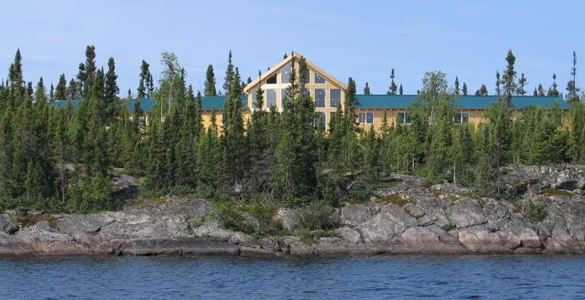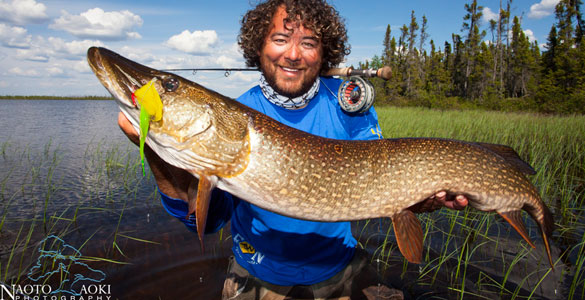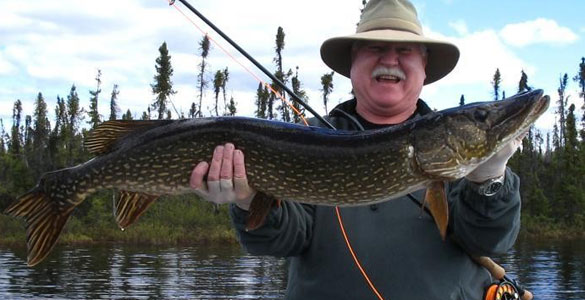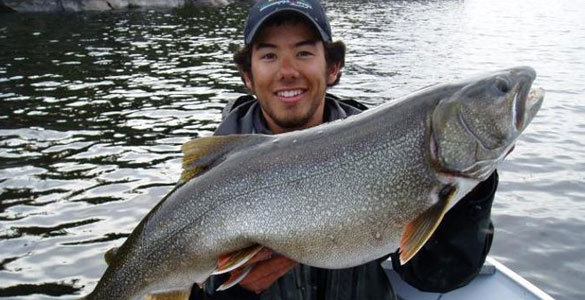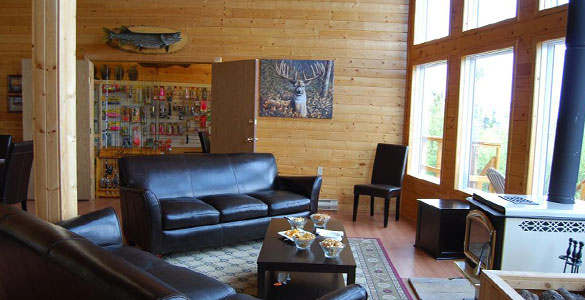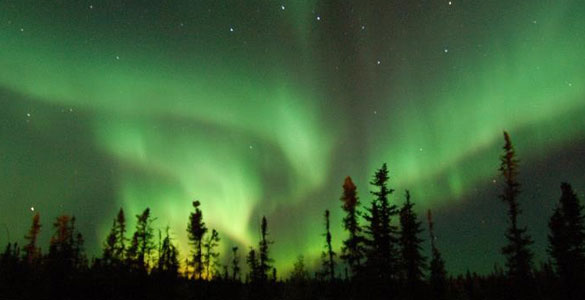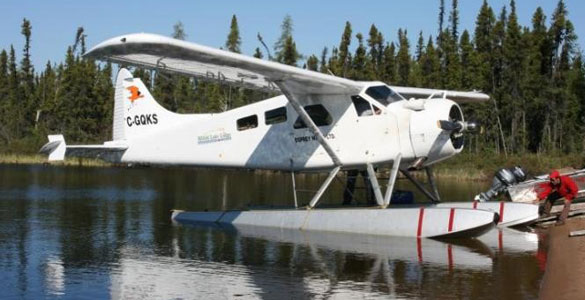 Overview
Milton Lake Lodge Overview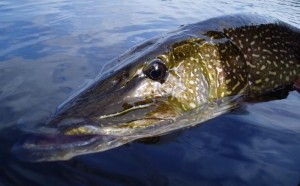 Located in north east Saskatchewan 44 km south of the North West Territories border, our lakes and rivers are home to large numbers of trophy class northern pike, lake trout, arctic grayling and whitefish. Milton Lake is the main lake in our group of lakes and rivers and boasts a beautiful main lodge perched on some of the world's oldest rocks. The creation of these rocks began over 4 billion years ago during the Precambrian era and is now the southern edge of the Taiga Region on the Canadian Shield. A great view, spectacular sunsets and true remoteness make this a truly awe inspiring place.
The guides will be happy to teach the beginners the basics of fishing, or guide the experienced anglers to their trophy catches. We encourage you to explore the area while staying with us, spend a day fishing your way up the river, step onto the beautiful sand beaches and check out the old trapper's cabin.
Read More About the Lodge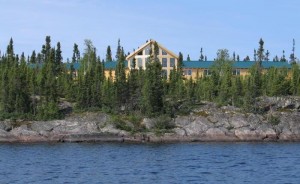 The main lodge is located on the west side of the lake and some of the "hot" fishing spots are very close by. The river is just a 5 minute boat ride away and there are sheltered bays just around the corner. Huge lake trout are regularly caught right off shore in front of the lodge. Sight fishing in the shallows for northern pike is as exciting for the beginner and avid fly fisherman alike. The arctic grayling sparkle in the fast moving waters of the river.
At Milton Lake Lodge we supply top quality fishing gear and fly fishing gear for your use while at the lodge. The guides will be happy to teach the beginners the basics of fishing, or guide the experienced anglers to their trophy catches. We encourage you to explore the area while staying with us, spend a day fishing your way up the river, step onto the beautiful sand beaches and check out the old trapper's cabin.
A great experience with exceptional fishing and superb service await you after your many miles of travel. The staff, your fellow guests and wildlife are the only face to face contact you will have as we are the only ones on our lakes.
Lodging
Milton Lake Lodge Accommodations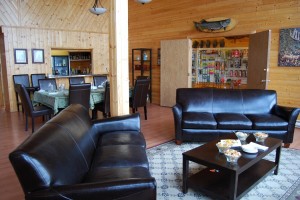 Milton Lake Lodge is a beautiful lodge providing top quality service in a wilderness setting. You can relax in the great room, take in the view from the deck or soak in the hot tub after a full day of fishing.
We can accommodate up to sixteen guests, each with their own private bedroom. Every room has a natural pine interior, a double bed with duvet and a thermostat for separate temperature control. Daily maid service is provided.
Start your morning with a hearty breakfast and then later, enjoy the shore lunch that your guides prepare for you. When you return from a full day of fishing be sure to have a snack while swapping fish stories. In the evening you can look forward to a gourmet meal served with complimentary house wine.
At Milton Lake Lodge we are committed to the environment and preservation of this untouched land. Phosphate free cleaners and detergents, composting and repackaging products before bringing them in and sending our recyclables out are just a few examples of this. We ask that our guests help us out with this by practicing the three Rs of reducing, reusing and recycling where possible.
The Food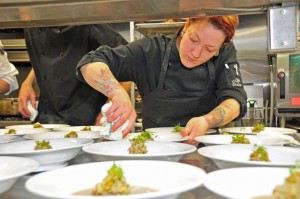 There are many words to describe Tracy Little; being as an individual and a chef, the line of differential is blurred. When most people see animals in the forest, they think: "how cute" or "how majestic", whereas Tracy thinks: "how can I make this awesome creature taste good?"
Born in Northern Alberta in the mid eighties, she was distracted from pursuing the family business of engineering and moved to court a career in writing, and the professional kitchen. She began humbly at the Cambie in Vancouver, then surfaced in London, Ontario. where she resides now. At the age of twenty she began an apprenticeship under Chef Andrew Wolwowisc, whom she works for presently six years later for the third time. (Idlewyld Inn, Crave, The Springs) Her resume includes studying pastry under Chef Rob Howland, formerly of Langdon Hall in Cambridge, before replacing him upon his retirement from Braise Food and Wine. It was from here that she sought adventure that brought her on a world wide hunt for food that hits the soul and imagination. She relishes the challenge of bringing her skills to the table at Milton Lake Lodge each season.
Outpost Camps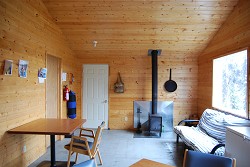 Walker Lake is a deluxe outpost that accomodates 4 to 6 guests. It is ideal for those who want to enjoy a relaxing holiday on their own schedule.
The pine cabin is set amongst the trees where you are surrounded by nature at its finest. The interior offers all the comforts you need to make your stay enjoyable, including power, a hot water bathroom with shower, a fully equipped kitchen and large living space. Outside you can sit around the campfire or watch the sunset from the large dock area.
Quiet and comfortable boats make for a great day of fishing for huge northern pike and giant lake trout. The boats at Walker Lake are 16 Lunds with flat floors, fish finders and electric start Yamaha 4 stroke outboard motors.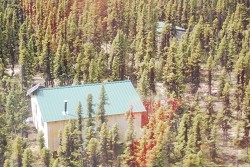 The staff will give you detailed orientation of the camp and lake, including the hottest fishing spots. They will maintain the boats, offer daily cleaning service and prepare all your delicious home cooked meals. Their cabin is out of sight so you can enjoy total seclusion.
If you are looking for a private getaway with full service and fantastic fishing, then Walker Lake is for you.
Lodge Photos
Fishing
Milton Lake Lodge Fishing Program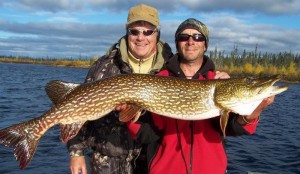 The main lodge is located on the west side of the lake and some of the "hot" fishing spots are very close by. The river is just a 5 minute boat ride away and there are sheltered bays just around the corner. Huge lake trout are regularly caught right off shore in front of the lodge. Sight fishing in the shallows for northern pike is as exciting for the beginner and avid fly fisherman alike. The arctic grayling sparkle in the fast moving waters of the river.
Milton Lake Lodge attracts people from all walks of life and all corners of the world for a variety of reasons — undoubtedly our world class trophy fishery is the main attraction. The fishing at Milton Lake, and surrounding fly-out lakes is second to none. Lakes at this latitude of northern Saskatchewan are known to produce large numbers of big fish.
What makes our lakes exceptional is the fact that very few anglers have ever fished these waters. A strict catch and release policy, with the exception of a shore lunch, has been in place during the four years that these waters have been fished.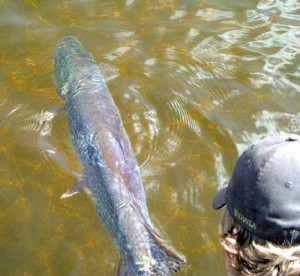 Whether you enjoy drifting dry flies for arctic grayling in the cold waters of the Porcupine River, watching the explosion of a monster pike crush your top water lure, or feeling the "thud" of a hook set into a giant lake trout, Milton Lake Lodge and outpost have what you are looking for. Our boats are 17 foot Lund Outfitters with 4 stroke Yamaha outboard motors. These motors have very low hours and are well-maintained in order to lessen our carbon footprint.
We sight-fish huge northern pike in the shallows most of the season at Milton Lake lodge. These opportunities prove to be ideal for fly-fishing. Seeing these monsters swirl and hit your fly is among the most exciting methods of fishing that you will ever experience. Finessing arctic grayling in one of our rivers can also prove to be a great way to spend a day. Lake trout are caught on the fly in June when they are located in shallow water. Our experienced fly-fishing guides and huge casting decks make fly fishing comfortable and enjoyable. Fly fishing lessons and fly fishing gear (Sage fly-fishing rods and reels as well as Simms waders and boots) are both available at no extra cost.
Species
There are three main species of fish found at Milton Lake, Walker Lake and our other lakes and rivers.
Arctic grayling:
Thymallus arcticus, also known as bluefish and arctic trout;
Prefer cold, clear waters of large rivers and rocky creeks, like the mouth of the Porcupine River where it enters Milton Lake; seldom found in deep water;
Two- to three-pounders often taken in northern Canada; grow up to 16 or 17 inches;
World record is 5 pounds 15 ounces, North West Territories, Canada, in 1967.
Lake trout:
Salvelinus namaycush;
Need cold, clear, well-oxygenated water; in summer will move to depths of 50 to 100 feet, but can be found at 20 feet or less in spring and fall;
May reach age of 40 years, and in cold lakes may take 15 years to reach two pounds; typically grow up to just under three feet in length, and 40 to almost 50 pounds;
World record is 72 pounds caught in Great Bear Lake, North West Territories, Canada, on August 19, 1995; a 102-pound lake trout was taken in a gillnet in northern Saskatchewan in 1961.
Northern pike:
Esox lucius, better known as jack, jackfish, or great northern pike;
Live in almost any type of fresh water, from shallow marshes to coldwater streams; reach greatest abundance in weedy bays of natural lakes and rivers with heavy weed growth;
In the north, can live up to 25 years; grow to 50 inches in the north, and can weigh up to 35 pounds;
World record is 55 pounds 1 ounce in Lake of Grefeern, Germany, on October 16, 1986.
Fishing Photo Gallery
Tackle & Gear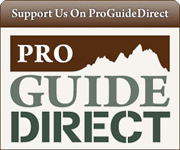 Here is a list of the basics you will need for your trip. I have organized this list on Pro Guide Direct where you can actually purchase the brands and items that I have found to be the best of the best. Any Items that you purchase from Pro Guide Direct will help us earn a living and help you by being ensuring that you have the right gear for the trip. Many of our destinations are pretty remote with no chance to buy things on site.
Milton Lake Lodge Gear List
Species
Rods
Reels
Line
Leaders
Northern Pike
9 foot, 8-10 wt.
Large Arbor with 150 yards of 20 pound backing
#1 Floating line

Short leaders 5-6 feet wire tippet
Grayling
9 foot, 4-5 wt.
Basic reel with 100 yards of 20 lb. backing.
#1 Floating easy to mend line

9 foot leaders ending in 8-12 pound tippet.
Lake Trout
9 foot, 8-9 wt.
#1 Streamer line with 10 -15 foot sink tip (Type 6 fast sink)
#2 Full Sinking (Type 6 fast sink)
3-5 foot leaders ending in 12-15 pound tippet
Fly List
Milton Lake Lodge Fly LIst
Fly Name
Colors
Sizes
Qty for a 1
Week Trip
Tarpon Bunny FLy
chatreuse, olive, tan, purple/black
1/0, 2/0, 3/0
6
Darlberg Diver
black, white olive
1/0, 2/0, 3/0
8
Poppers
assorted
1/0, 2/0, 3/0
6
Gurglers
Assorted
1/0, 2/0, 3/0
6
Assorted big game streamers
Assorted
1/0, 2/0
12
Humpy
red,yellow
14,16
6
Caddis patterns
tan, brown
12. 14,16
12
Royal Wulff
Standard
12,14,16
10
Packing List
Milton Lake Lodge Packing List
| Packed? | Item | Packed? | Item |
| --- | --- | --- | --- |
| | Airline Tickets | | Photo Id/Passport |
| | Cash | | Prescription Medicines |
| | 1 Gortex waders & repair kit - neoprene is not advised | | Traveler's Checks |
| | 1 Wading Shoes – no studs please | | Boat Bag |
| | 1 Rain jacket w/hood (top quality breathable ) | | Bug Spray |
| | 1 Heavy fleece jacket | | Bug head net |
| | 1 Medium weight fleece top | | Camera / film/ batterries |
| | 3 Lightweight fleece or Polypropylene tops or turtlenecks | | Reading & writing materials |
| | 2 long sleeve lightweight fishing shirt | | Bandana/ face sun protector |
| | 3-7 pair underwear ( synthetic is better than cotton) | | Persription glasses |
| | 4 pair wool/ blend insulating socks for under waders | | spare perscriotion glasses |
| | 1 wool or fleece hat (ski type)- | | Toiletry Kit |
| | 1 cap with brim | | Zip lock bags (for lens cleaning cloth,, cash, etc) |
| | 2 pair fleece pants (under waders) – | | Fly Rods |
| | 2 - Pants (Long) | | Fly vest, or chest pack |
| | 2 pair Polypropylene long underwear bottoms | | Reels |
| | 1 pair water proof boots for around camp | | Flies/Fly box |
| | 1 pair fishing gloves - fingered or fingerless | | Fly Lines |
| | 1 polarized sunglass - as good as you can get! | | Tippets / leaders |
| | 1 spare pair polarized sunglasses ( cheap is OK) | | Clippers |
| | 1 Folding wading staff (optional) | | Hemostat |
Rates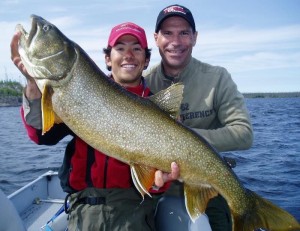 Milton Lake Lodge Pricing
4 full days of fishing: $4,195
8 full days of fishing: $6,995
Walker Lake Outpost
4 full days of fishing: $2,795
8 full days of fishing: $4,495


Prices Include: Round trip from Saskatoon, SK
Shuttle service between hotel and airport
Hearty breakfasts, shore lunches and fine dining in the evenings
Complimentary wine with evening meal
Private bedrooms with double beds, duvets, and climate control
Daily maid service
Complimentary fishing gear
Main lodge with lake view for dining, cocktails, meetings and hot tub
Satellite TV and Internet connection
Satellite telephone service available at a nominal fee
A Professional guide for every two anglers
Fully equipped 18-foot Lund outfitter boats with 40 h.p. 4-stroke outboards
Prices do not include: alcoholic and non alcoholic canned/bottled beverages, confectionary items, therapeutic massage, Cuban cigars, gift and tackle shop items and gratuities.
Why Book Through Flyfishingheaven.com?
Why book through flyfishingheaven.com?
1. Unbiased Advice:
Most people recognize the advantage of our unbiased advice, there are hundreds of destinations to choose from and our job is to know the ones that are right for your needs. We offer the real story you can't get from a lodge owner. Would the outfitter in questions tell you are booking in a less than stellar part of the year? Remember our unbiased advice is 100% free!
2. We Can Book Anywhere:
Our website highlights many of our favorite destinations but we have access to hundreds more. If there are fish there, we can book it. In fact, we will give you 5% back if you book a trip through us that is not on our website! We enjoy learning about new spots!
3. Loyalty Discounts:
How do you qualify for our frequent fisher discounts? First, you have to book a trip, any trip. Then on every trip after that, you will receive a 5% discount automatically. If you organize a group of 8 or more we will give you 10% off! All you have to do is book the first trip and you are a flyfishingheaven.com frequent fisher!
4. Price Matching:
If you find a legitimate price for less than what we are charging we will offer you 5% back to book through flyfishingheaven.com!
Our Pledge
We promise to work for you, not a lodge, outfitter or resort. We pledge to get you you to a destination that will live up to your expectations at the best possible price. You will never be charged more than booking directly (in fact most of our clients are paying less - *see below). We will make sure you are well prepared for your trip with specific knowledge about the gear, the flies, the rods, packing lists, travel documents, connecting information everything. Since we are not tied to a particular destination we promise honest pros and cons of any destination at the time of year you are traveling.

We do earn a small commission when we book a trip as all lodges and outfitters offer this as they depend on agencies like ours for much of their business. This fee is paid by the lodge not you, and they do not keep different prices for direct bookings vs agency bookings, it is bad business.
Payment and Cancelation Polices
A 10% deposit is required if you are booking more than 6 months in advance, 50% deposit is required when less than 6 months until departure date with the balance due 60 days prior to departure. If you are forced to cancel with more than 60 days notice, you may keep full credit towards another trip or receive a refund less a 10% service charge. Deposits on cancellations with less than 60 days notice are not refundable unless your spot can be filled. MC, Visa, and checks are accepted. We recommend travel and or medical emergency insurance for all our trips.
Seasons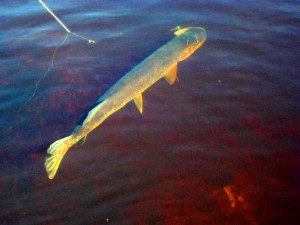 On average the ice comes off the lakes the first week of June. Our season runs from Mid June into the end of August. The first 3 weeks see the pike leaving their spawning beds and aggressively feeding on a mix of different foods. In July they move to the weed beds that they venture in out of for the rest of the year. The Lake trout stay shallow until the water begins warm near the end of June and then they begin to gather over the deep holes. Arctic Grayling can be caught all season long where they gather in the rivers.
Gallery
Please take a look at the  photo and video galleries related to Milton Lake Lodge.

Fishing Photo Gallery
Lodge Photo Gallery
Scenic Photo Gallery
Video Gallery
Activities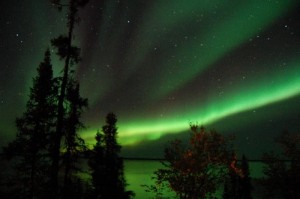 Although this area is spectacular in scenery and wildlife, it is not recommended for those who don't fish or who don't want to learn to fish. This is a great place to learn.
Travel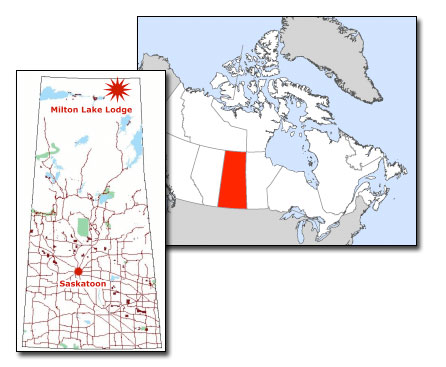 Your adventure with us will begin in Saskatoon where a 1 hour and 40 minute charter flight will take you to Points North Landing. From there you board a float plane for a short, enjoyable journey to the lodge or outpost where the four or eight day adventure will begin!
Most major airlines including Air Canada, Delta, United, and West Jet fly to Saskatoon. Guests are usually able to fly into Saskatoon in the morning in time to catch our flight by 2 to 3pm. A Milton Lake Lodge representative will meet guests and get them to our charter flight. The return flights get back into Saskatoon in the evening and the hotel we suggest has a free shuttle to and from the airport.
Keep your luggage to a minimum — there is a luggage weight limit of 50 pounds per person. The trick is to pack what you will need, and leave all the extras at home. Chances are, if you forgot to pack a particular piece of clothing, we can supply it out of our shop.
A Passport is required for all non Canadians!
Packing List
Milton Lake Lodge Packing List
| Packed? | Item | Packed? | Item |
| --- | --- | --- | --- |
| | Airline Tickets | | Photo Id/Passport |
| | Cash | | Prescription Medicines |
| | 1 Gortex waders & repair kit - neoprene is not advised | | Traveler's Checks |
| | 1 Wading Shoes – no studs please | | Boat Bag |
| | 1 Rain jacket w/hood (top quality breathable ) | | Bug Spray |
| | 1 Heavy fleece jacket | | Bug head net |
| | 1 Medium weight fleece top | | Camera / film/ batterries |
| | 3 Lightweight fleece or Polypropylene tops or turtlenecks | | Reading & writing materials |
| | 2 long sleeve lightweight fishing shirt | | Bandana/ face sun protector |
| | 3-7 pair underwear ( synthetic is better than cotton) | | Persription glasses |
| | 4 pair wool/ blend insulating socks for under waders | | spare perscriotion glasses |
| | 1 wool or fleece hat (ski type)- | | Toiletry Kit |
| | 1 cap with brim | | Zip lock bags (for lens cleaning cloth,, cash, etc) |
| | 2 pair fleece pants (under waders) – | | Fly Rods |
| | 2 - Pants (Long) | | Fly vest, or chest pack |
| | 2 pair Polypropylene long underwear bottoms | | Reels |
| | 1 pair water proof boots for around camp | | Flies/Fly box |
| | 1 pair fishing gloves - fingered or fingerless | | Fly Lines |
| | 1 polarized sunglass - as good as you can get! | | Tippets / leaders |
| | 1 spare pair polarized sunglasses ( cheap is OK) | | Clippers |
| | 1 Folding wading staff (optional) | | Hemostat |